It seems that not long ago, red dots were only seen mounted on rifles. These days, you cannot go to a range without seeing an array of red dots atop pistol slides. As part of this change, we have had companies like Springfield Armory ensure we have plenty of optics-ready pistols milled and ready to accept your favorite dot.
Today, we are going to look at one of the biggest names in the optics world, Vortex, and consider their new offering: the Defender-CCW. I know it has been a few years since big V gave us a pistol optic, but they are here now and have plenty of options built into this little optic to fit a wide range of needs.
As part of this review, I was fortunate enough to get two of these new Defender-CCW red dots and mount them right up on my Hellcat Pro 9mm and my XD-M Elite Tactical OSP 9mm. Yes, I put one of them on the big boy XD-M threaded barrel model, a pistol I affectionately call "Big Monster" due to its size and performance.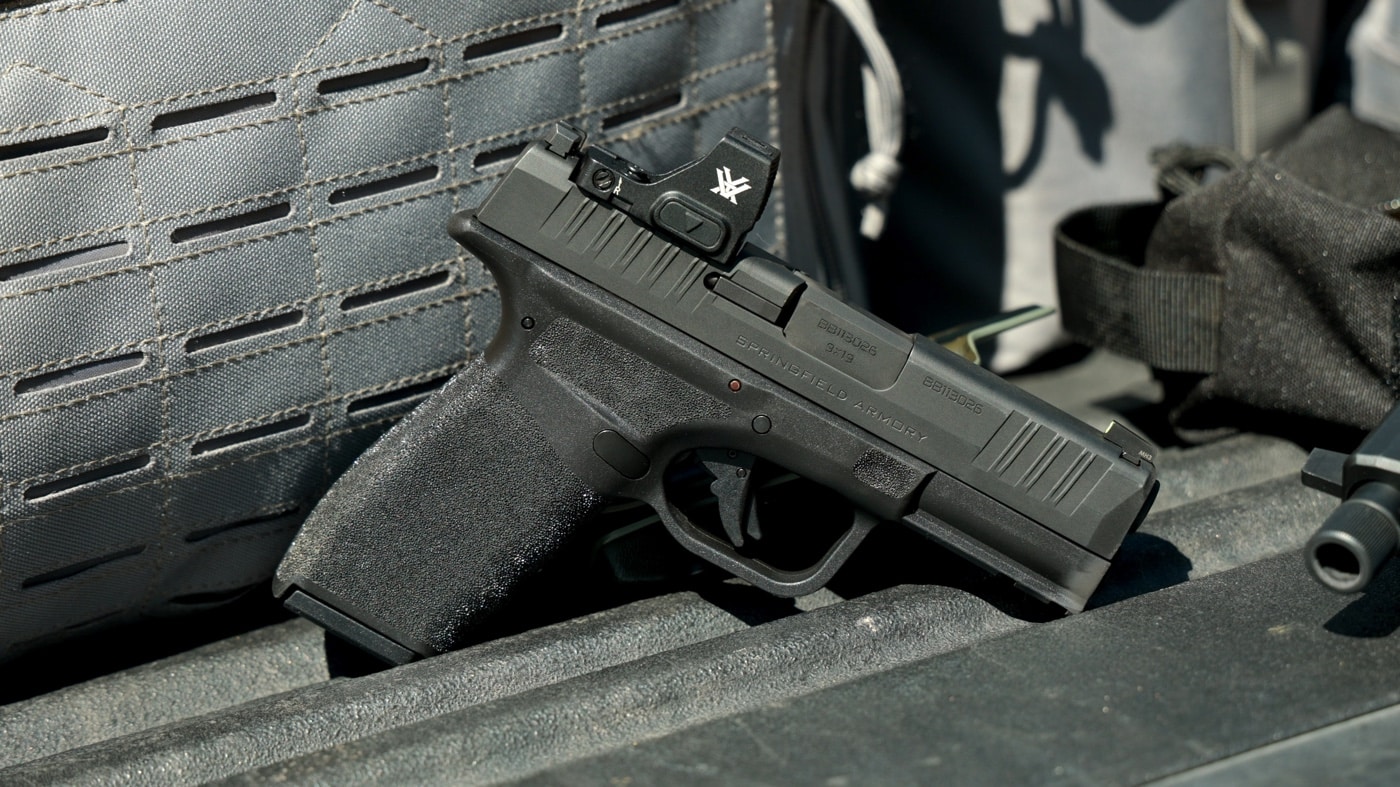 The sight was a breeze to mount up, and since it features a Shield RMSc/SMSc footprint, it mounted directly to the slide of the Hellcat Pro. Nice. Also, in addition the red dot comes with a Picatinny rail mount so it can fit easily on a rail or as an off-set optic on your rifle. For mounting to the XD-M Elite, you can use the Delta Point/Shield plate available from Springfield.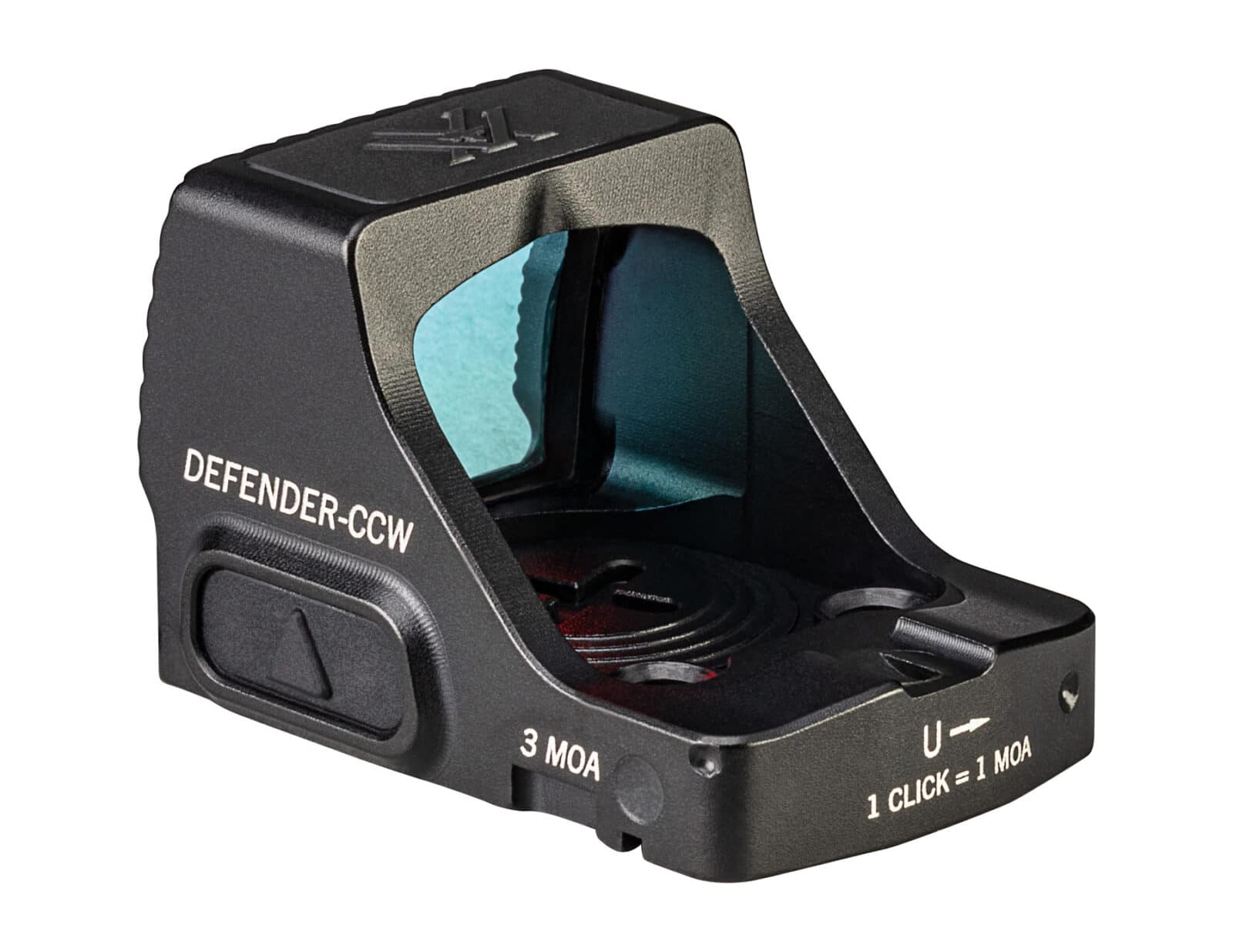 The mounting process is super simple, and all the screws you could need are included, along with an additional sealing plate that will give a bit of extra elevation adjustment.
Brutal Standards
The Vortex Defender-CCW was built to be tough with its new shock-absorbing polymer insert. After the initial zero and first few hundred rounds of flawless performance with both optics, it was time to check the durability.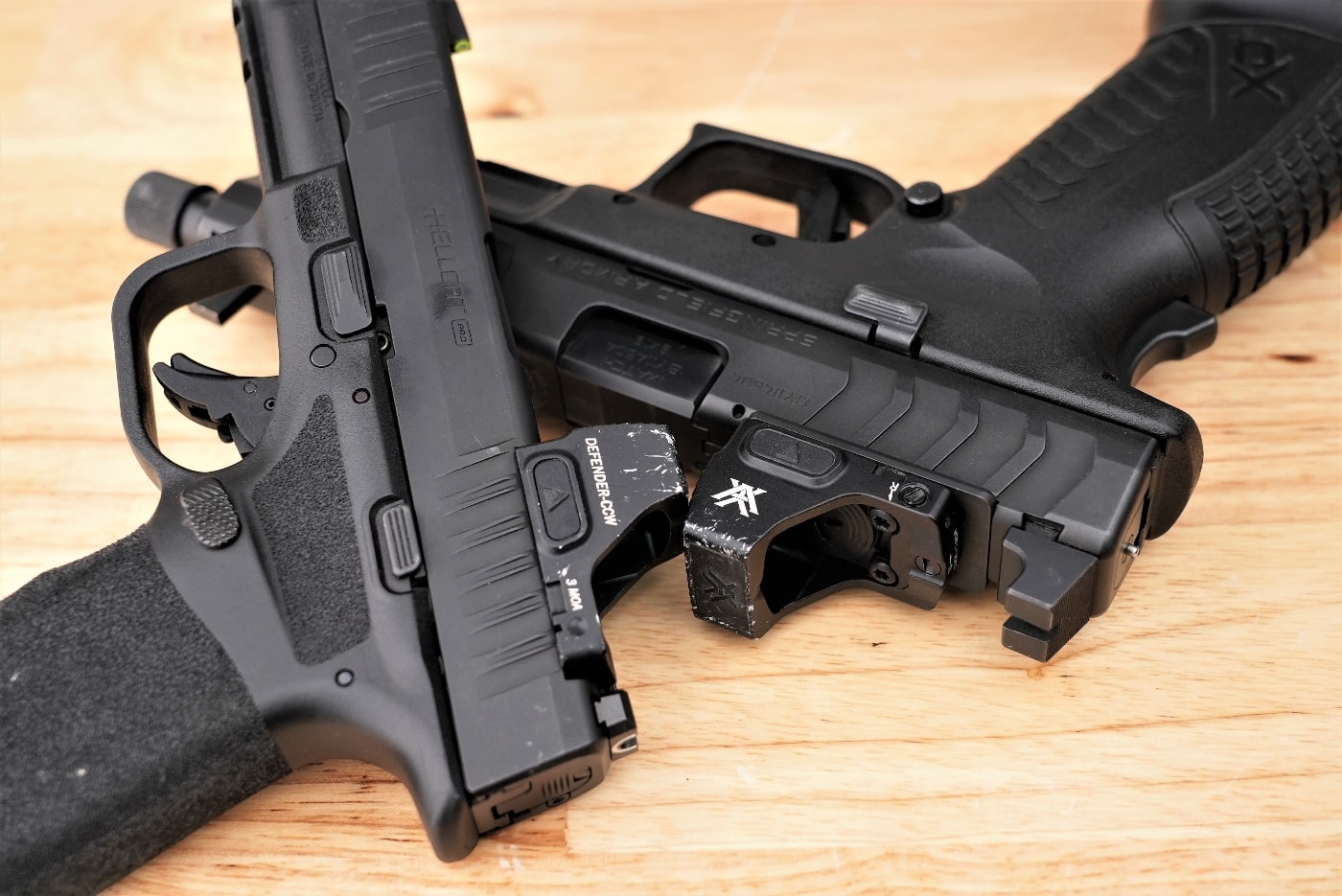 I tested this by doing plenty of drop tests on the steel bed of my pick-up truck and onto hard-packed granite from approximately 6' high. Besides some pretty good scratching and scarring from the hard drops, both optics functioned perfectly and held zero.
The Defender was also built with an aggressive texture on the front of the 7075 aluminum housing, which is purpose-built to rack the slide off the optic. Needless to say, I gave this a try as well, and it took more of a beating during my testing than I would ever expect to give it in real life — even with hard-duty use.
After all the dropping and racking off the optic, I began running another few magazines through the Hellcat Pro and XD-M Elite to verify the zero was maintained, the glass was still intact and that all other functions were still working correctly.
Well, it turns out Vortex wasn't joking when they said it was a duty-ready design. There was no shift in zero, failure of the LED or any other mechanical or electronic failures. Obviously, this is a confidence builder in this optic to see firsthand the abuse it can take while still giving peak performance.
All the Options You Want
The Vortex Defender-CCW has the options and specs we all look for in a modern red dot. The housing is 7075 aluminum for durability. The large hard-coated aspherical lens gives a distortion-free view with extremely bright and clear dot clarity.
You also get motion activation and auto shut off. The timer is set at 14 hours for auto shut off, and as soon as you pick it up the dot will activate to the last brightness setting you had it on. It is offered with 6 and 3 MOA dot options, and you have eight daylight levels of adjustment and two night vision compatible settings should you have a set of night vision tubes hanging out in your kit closet.
If you train or work in austere conditions, it is also waterproof and corrosion-resistant, and the hard-anodized low-glare coating will last for years. And just in case something should go wrong, that lifetime warranty Vortex is known for covers this optic like all others.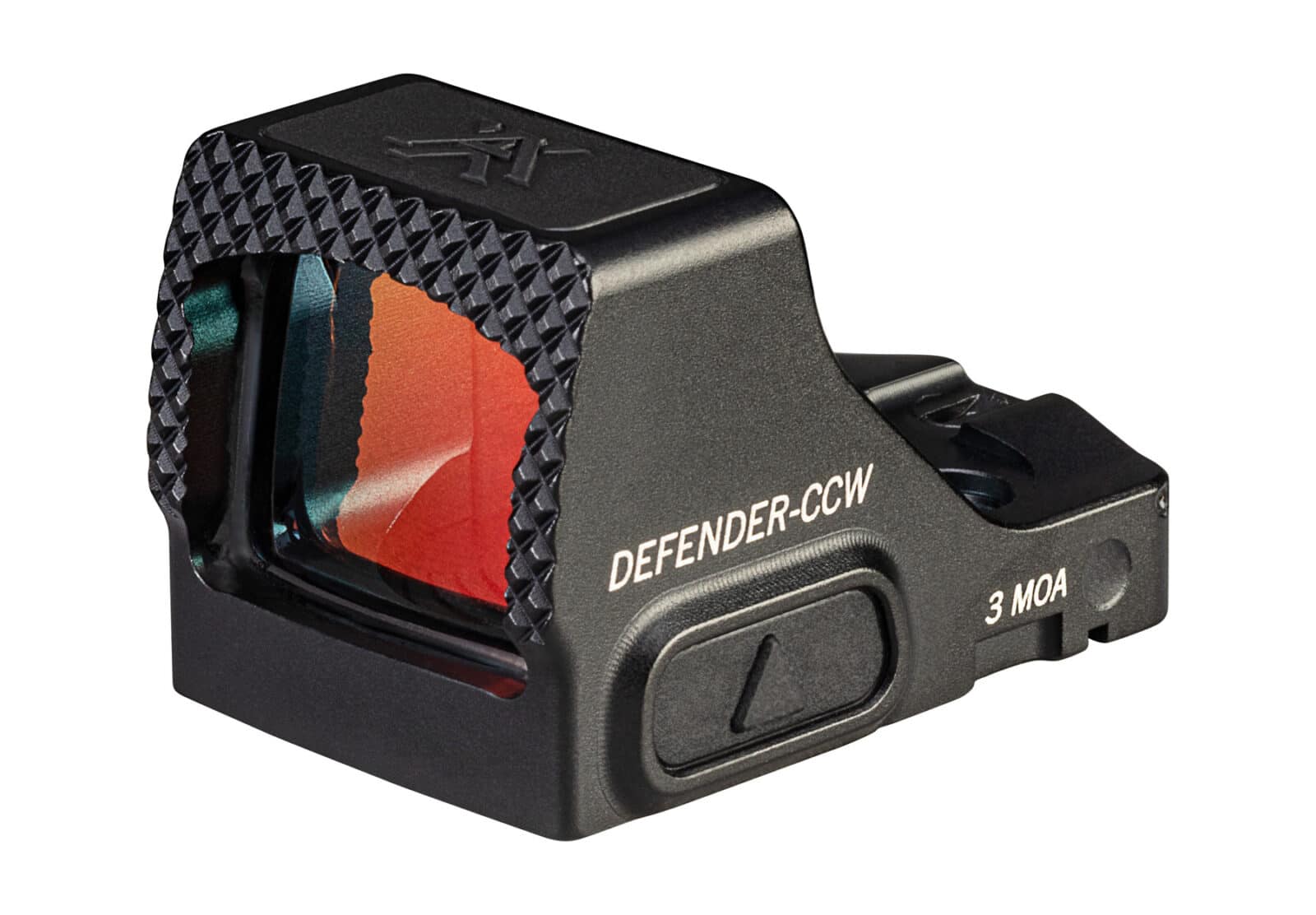 Whether you are adjusting brightness on the fly or zeroing the Defender-CCW for the first time, everything is right where you want it. Vortex includes a tool that makes adjustments and battery changes easy. And speaking of the battery, it's a single 1632 size that is top mounted and will give approximately 9,000 hours at setting 5. The battery life could go up or down depending on your amount of use and what your brightness setting is. The windage and elevation are 1 MOA adjustments, with a clean tactile response as you make your adjustments.
Big Performance/Small Package
Even though the Defender-CCW was designed for concealed carry, it's equally as at home on a full-sized pistol. It has an extremely large window for an optic in its class, yet still conceals and fits nicely on smaller pistols like the Hellcat or Hellcat Pro.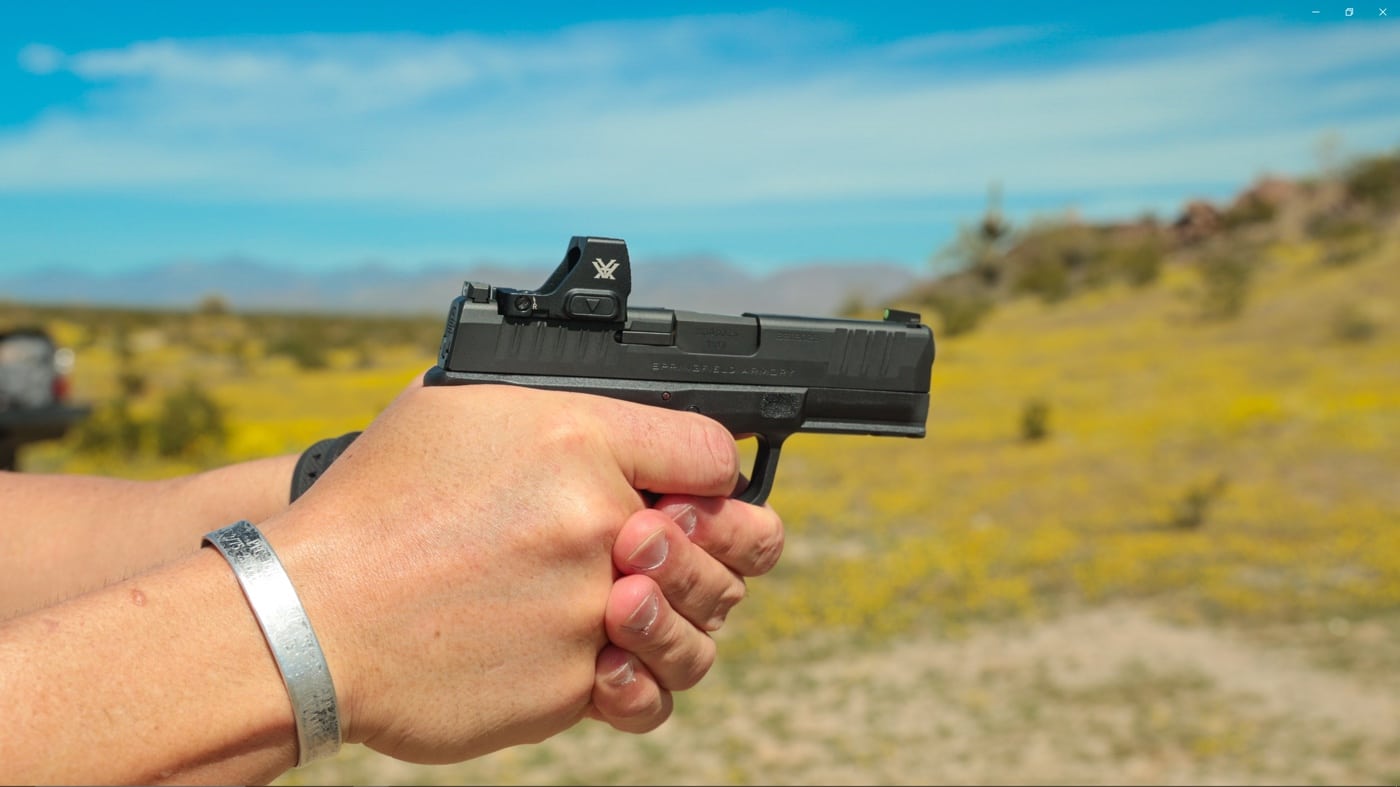 Looking through the glass you have very minimal color variation, and the dot clarity on both my 3 MOA versions tested was very nice. Having an astigmatism, dot clarity is a must for me. On max brightness, even in the Arizona sun, the dot is blazing bright.
The rubberized brightness adjustment buttons on the left and right protrude from the main body slightly, but are recessed slightly into the aluminum housing outline around them to avoid accidental changes in its brightness condition.
Whether I was using my Hellcat or the XD-M Elite, transitions from target to target were easy and the dot was right where I needed it to be when I pressed the shot.
So, to answer the final question that I know all of you are asking, would I carry it? I will answer that question this way. The Defender-CCW still sits on my Hellcat Pro in its beaten and scratched-up state, and this is my EDC pistol. Does that answer your question?
Editor's Note: Please be sure to check out The Armory Life Forum, where you can comment about our daily articles, as well as just talk guns and gear. Click the "Go To Forum Thread" link below to jump in!
Join the Discussion
Featured in this video
Continue Reading
Did you enjoy this video?
49