Why I Was Wrong About the
XD-M

Elite
February 26th, 2022
6 minute read
More than a decade ago, when I first began writing about guns professionally, I kept my distance from Springfield's polymer-framed XD pistols. I'm a bit of a traditionalist. I had a deep affinity for their 1911s and I waxed poetic about the rifles, but I kept my distance from the polymer guns.
It isn't hard to explain. There were lots of double-stack polymer-framed guns. The performance was solid, and the price was competitive, but I personally didn't care for the look of the gun.
The XD-S was a big step forward for the guns for me. The slim, single-stack guns were awesome. And if I'm any indication, it opened people's eyes to the other XD and XD-M guns. After spending some quality time with the XD-S, I picked up its bigger brothers and started to become a convert — of sorts. They grew on me, but I still didn't put an XD-M into my EDC rotation.
The XD-M Elite has changed that for me, completely. For me, the Tactical OSP 9mm in FDE checks all of the boxes.
The Extras
After a lot of experience with the other XD guns, I consider this one to be close to perfect. For out-of-the-box functionality, this gun is high on my list. Why do I like it?
The finish is a Desert Flat Dark Earth Cerakote. This adds a nice protective coating that requires little maintenance. It also contrasts nicely with the Melonite (black) parts.
This gun has Springfield's META (Match Enhanced Trigger Assembly) trigger. The META trigger adds an integral overtravel stop and a flat-front trigger blade. The triggers on these guns are really impressive. The overtravel stop adds to the fast reset and speeds up follow-up shots. It flies.
The barrel, which is 5.28", is threaded to .5×28 and is capped. The whole thing is coated in Melonite. The twist rate in the barrel is 1:10. I've just gotten a Banish 45 suppressor in, and I've been shooting the XD-M even more. The balance is perfect on the XD-M, and it works exceptionally well.
The sights, because it is designed to work with a suppressor, are really tall — more on that in a moment. First, just know that they're robust. Some of the other XD pistols have the red fiber optic in the front post, but this one doesn't. It is a flat-black blade that's built like a tank.
The rear sight has an exceptional shelf. Not only is this a fine target sight, but it is also robust and angled for use as an alternative way to rack the slide. Grab it, hook it on a belt or a boot, and push with your shooting hand. Every gun should be this easy to manipulate with one hand.
The OSP in the name stands for "Optical Sight Pistol," and it features a milled slide ready to accept the red dot optic of your choice. Micro red dots have become both affordable and practical, and this kind of feature is quickly becoming standard (I hope). Simply fit the right plate to the top of the slide and screw down your red dot. The sights are tall enough that they should co-witness (which is why Springfield dropped the red fiber optic front post from the equation). I topped mine off with a HEX Dragonfly red dot from Springfield Armory.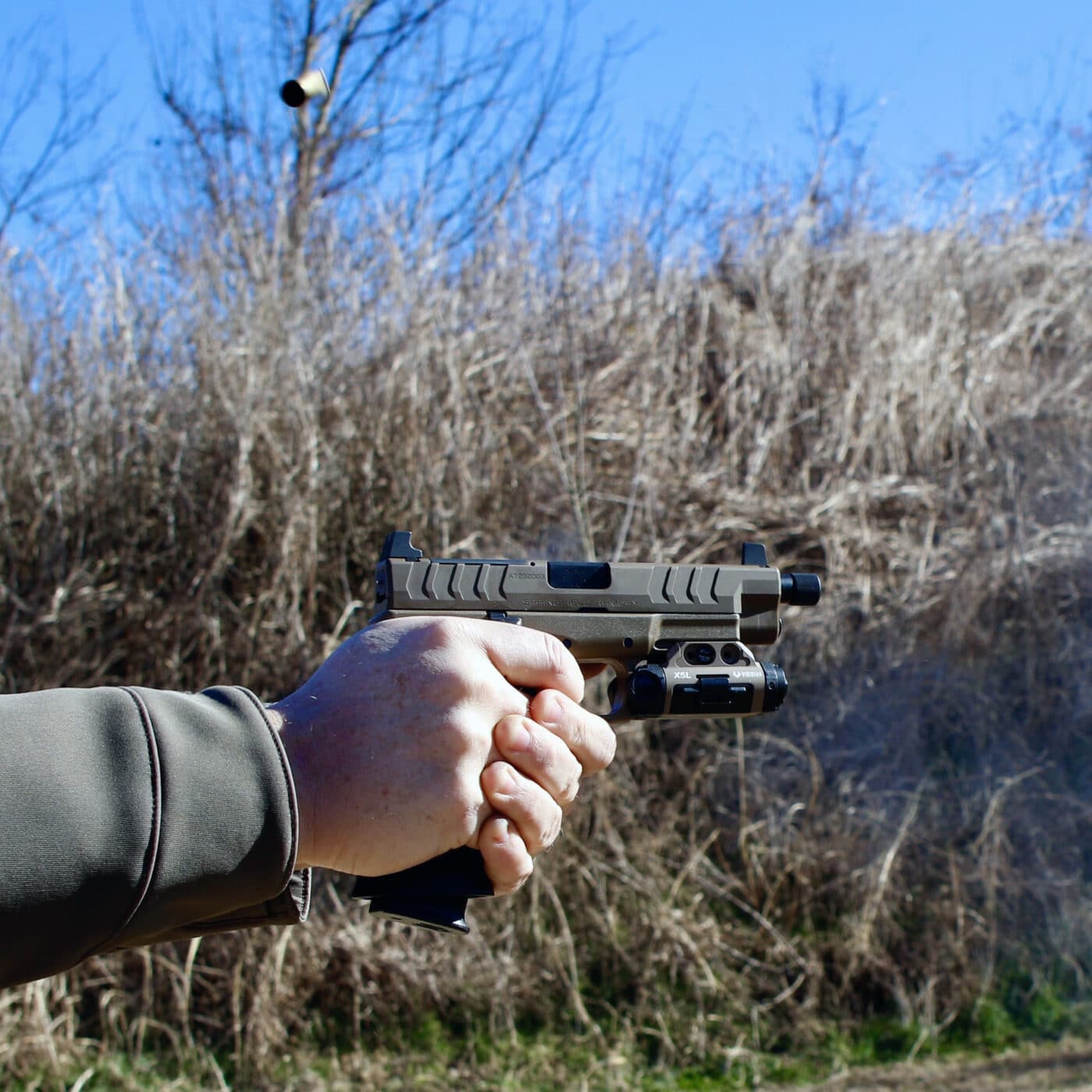 The magazines are a bonus, too. There are two 22-round mags included. They're stainless with polymer caps. The flared and extended magwell is removable. There are other bonuses. The slide release is ambidextrous, and with the ambi mag release you have a fully ambidextrous gun. Also, it has a full-length, one-piece guide rod.
Springfield's safeties. One of the safeties is on the back of the grip. The other — another that requires no mental energy to engage — is built into the trigger shoe. These two levers stand in the way when the gun isn't being readied to fire, but fall when you get a solid shooting grip and a finger on the trigger.
There is no slide- or frame-mounted thumb safety. This set-up is growing in popularity for full-sized handguns and is standard on many EDC pistols. The no-manual-thumb-safety philosophy is built around the idea that you should be able to draw and engage a target without having to think through disengaging a manual safety.
Holsters
I had the XD-M Elite on hand for a couple of months without a holster. Range-time is one thing, but there's nothing like carrying a gun to tell you how well you'll like it. I've since had one built by Ares Tactical. You can read my in-depth review here.
Two things to consider when looking for holsters. One: the design needs to clear the sights. Since the gun has suppressor-height sights, it isn't going to fit in most standard holsters. Two: the threaded barrel and added length may influence how it fits.
The fix is simple enough — ask for a tall sight channel and an open end on any kind of custom design.
And while you're at it, let's add two more considerations. Get the holster cut for a red dot (you will want one, if you aren't already a convert). Even if you don't have a RDS model in mind now, plan ahead.
And add a light. I've had this one molded around the Viridian X5L (which also comes in a flat dark earth). The pistol has three rail slots underneath for adding a light or a laser. Ares Tactical has the Viridian X5L in their line-up, and it provides both a light and a laser, so it was an easy choice.
I've still not found a practical way to holster the XD-M and the Banish 45, but I've not given up.
Shooting
I've become a real fan of how the XD-M line handles. The full-size guns have enough mass and control surfaces to properly mitigate recoil. They shoot flat and fast, making them ideal for both defensive and tactical applications.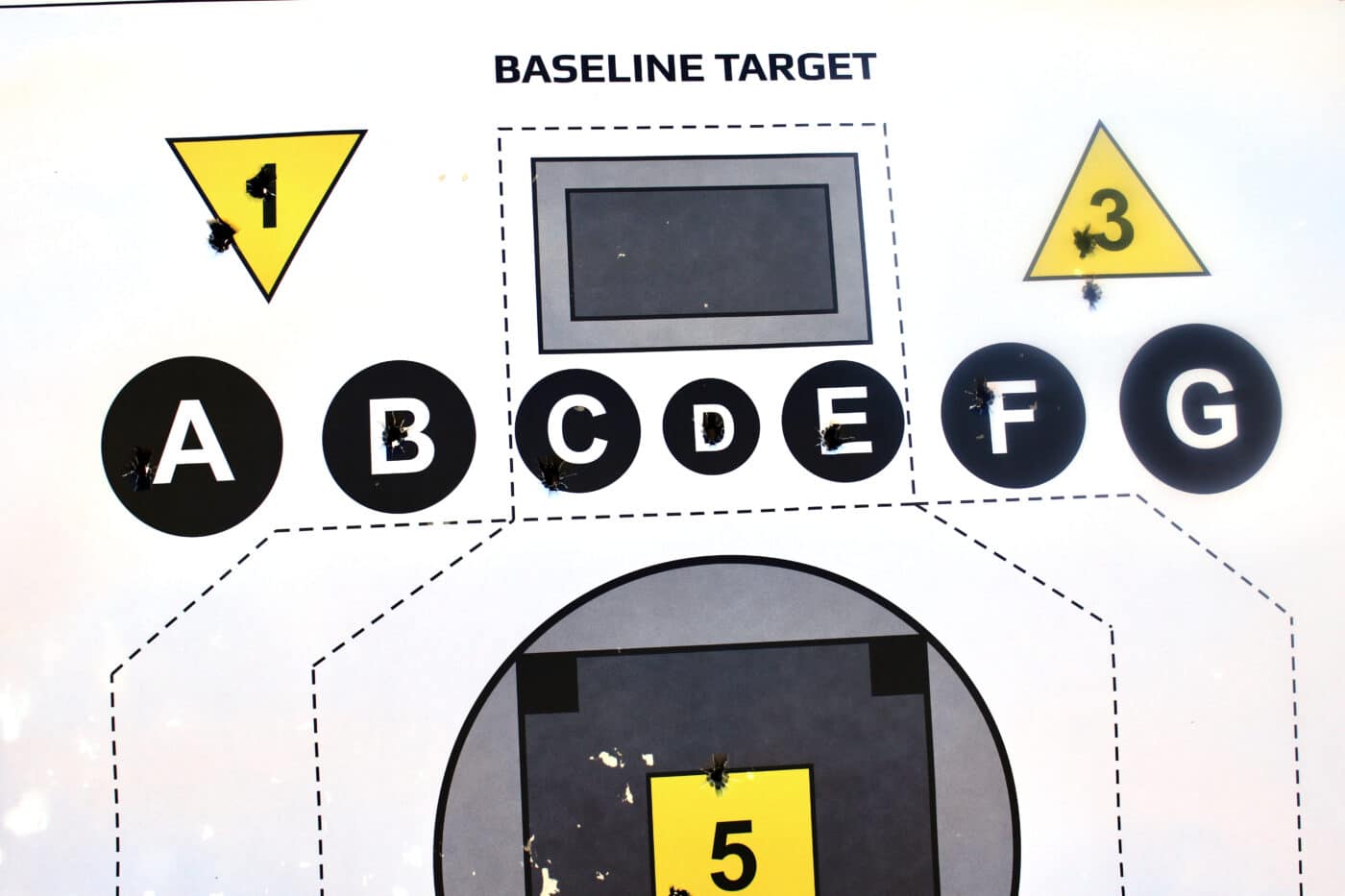 Accuracy is solid and both predictable and repeatable. I'd put the XD-M up against any of my polymer pistols. That's not hyperbole — the design simply works. I've not experienced failures with the gun, but I regularly practice them. The wide serrations on the slide — both front and rear — make manipulation easy. And the super-high rear sight is a dream.
Conclusion
If you look at features and performance, ergonomics and controls, the XD-M competes — and it does so at a cost that some of the competition can't touch. With an MSRP of $733 for this model, the XD-M Elite Tactical OSP isn't going to break the bank.
In the real world, we call that value.
After working with this gun for a couple of months, I can't help but feel that the XD-M is underrated. The XD-M might not be your first choice — but hear this — you'd be missing out. Check it out. I'm glad I did.
Editor's Note: Be sure to check out The Armory Life Forum, where you can comment about our daily articles, as well as just talk guns and gear. Click the "Go To Forum Thread" link below to jump in!
Join the Discussion
Featured in this article
Continue Reading
Did you enjoy this article?
210