Let me start by stating that pistol suppressors are just plain cool and a lot of fun. There are few things as entertaining as fitting out a gun with a "whisper stick" and heading out to the range. So, I am always on the lookout for a new product offering that might give me another reason to get out and do some suppressed shooting.
Recently, I discovered the Silencer Central Banish 45 suppressor, and I can honestly say this can offers a ton of features while remaining very price competitive. If you're in the market to buy a pistol suppressor, be sure to read on.
The Details
I can attest to this quickly becoming one of my favorite suppressors. Possibly my favorite feature of the Banish 45 is the configurable length. Fully assembled, the Banish 45 measures 8.6" in length. But when removing the extension, the suppressor measures only 6.7".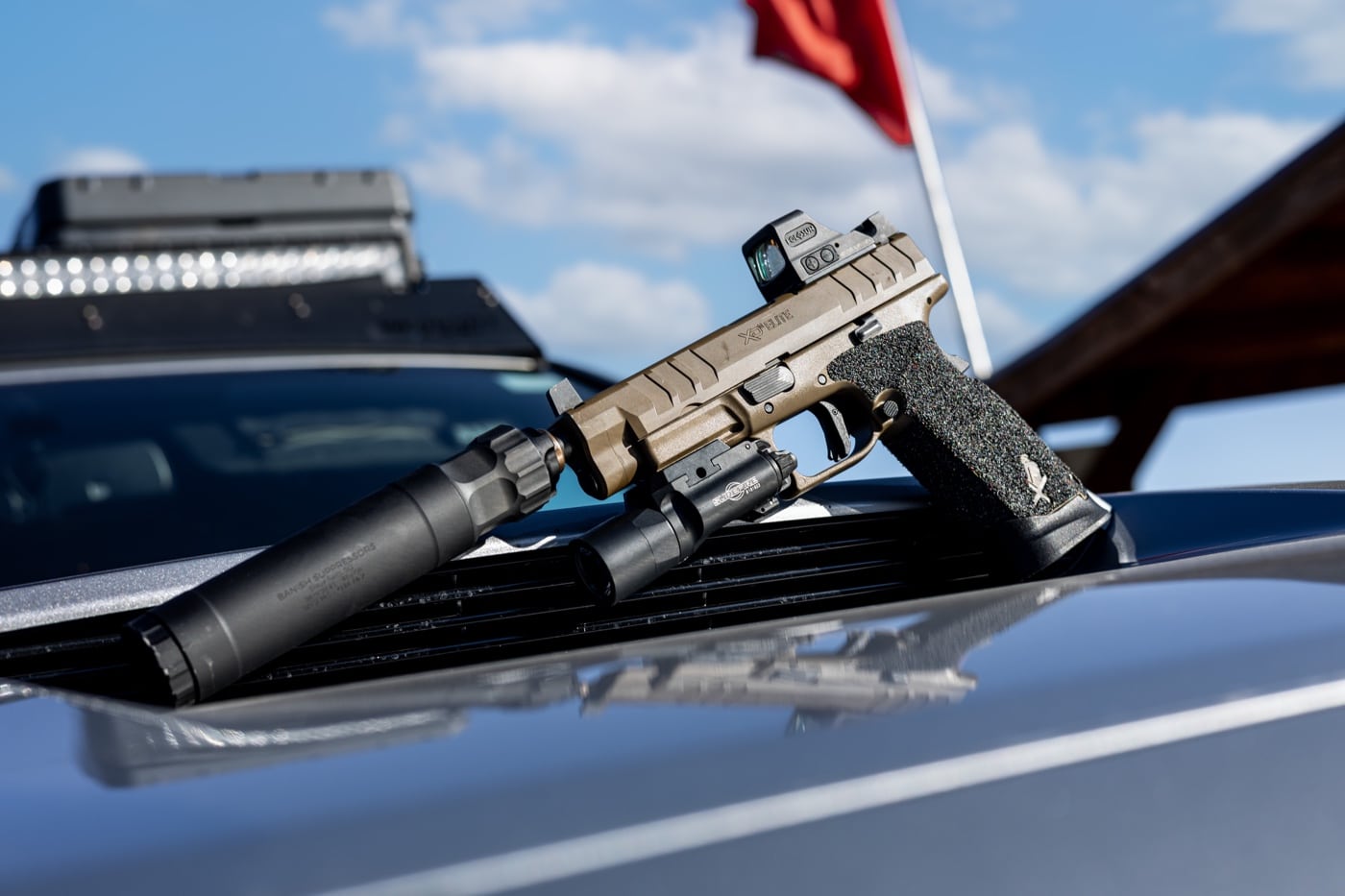 For me, modularity is king. I swap kit around to many different platforms, and being able to adjust add-ons to fit a specific build is a huge advantage. On a pistol-caliber carbine like the Springfield Armory SAINT Victor 9mm Carbine, I may want the full length. On a pistol like the XD-M Elite, I want a shorter overall length for maneuverability as well as improved handling and reduced weight.
The Banish 45 is a multi-caliber suppressor. This means you can shoot all the way up to .45 ACP and all the way down to .22 rimfire. Obviously, a dedicated .22 suppressor would be quieter, but having the modularity is very advantageous, considering each suppressor comes with a $200 tax stamp bill and a six to 18-month wait time.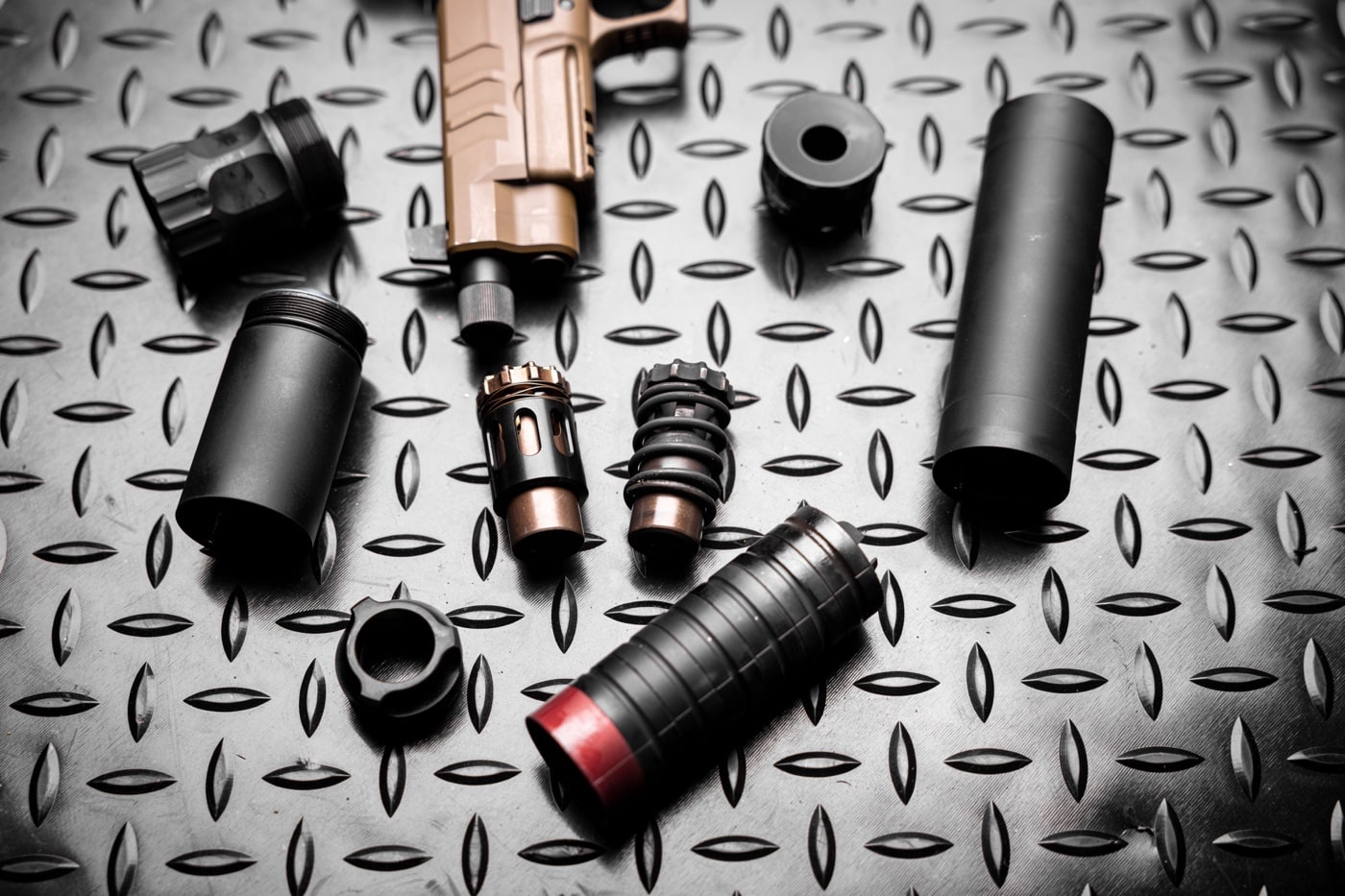 To use the Banish 45 on different platforms, you simply change out the piston inside the suppressor. For my XD-M Elite, I changed the piston to a 1/2×28 to fit the 9mm threads on the barrel. Keep in mind, when swapping pistol caliber suppressors from handguns to something like a PCC or sub gun, you will need to make sure you have the correct piston set up installed.
For pistols that have unlocked barrels that move when fired, you will need the spring around the piston, which enables the suppressor to move back and forth during recoil. For sub guns or PCC, you would remove the spring and install the fixed barrel spacer as those barrels do not unlock and move during recoil.
Hands-On
The Banish 45 was a breeze to thread onto my XD-M Elite, and the weight on the front end made the pistol effortless to shoot, especially with quick follow-up shots. The recoil was extremely minimal. The reduction in sound using the Remington Subsonic 147-gr. 9mm was simply lovely.
I had no feeding issues with my set-up, and there wasn't an unpleasant amount of gas blowback to the face. In fact, I never even thought about the gas blowback during my time with the Banish 45.
I also noticed that the Banish 45 did a great job of cooling and dissipating heat. After a full mag with some rapid fire, the suppressor was still cool enough to remove without gloves. That is certainly a welcome feature if you've shot enough suppressors in your life. I've got a few rifle bags with burn marks as proof. The Banish 45 utilizes a titanium design that is a super strong, lightweight material that can withstand high heat and pressure.
After my range session, I disassembled my XD-M and cleaned the gun from front to back to get all the carbon and gunk out of the pistol. When shooting suppressed, your firearms will get carbon build up much faster because of the gas blowback into the internals. The great thing about the Banish 45 is that I was able to completely disassemble the suppressor and thoroughly clean it as well. In a few minutes, both the Banish 45 and the XD-M Elite were as clean as the day they arrived.
Conclusion
My next goal is to pick up a threaded barrel for my Springfield TRP 1911 so that I can shoot those super quiet 230-gr. 45 ACP rounds. I think the Banish 45 will work perfectly for that set-up.
I can't speak highly enough about the modularity of the Banish series of suppressors. The ease of purchase, paperwork and transfer process with the team over at Silencer Central cannot be understated. You can learn more about the process of buying a suppressor from Silencer Central here.
They make a daunting, complicated process extremely simple. They also happen to manufacture and sell some of the finest suppressors on the market. You're also sure to find one in stock since they design, manufacture, house and sell the Banish line of suppressors all within their own ecosystem.
Once you purchase your first suppressor, I guarantee you will want to suppress every firearm you own. Do yourself a favor and check out Silencer Central for all your suppressor needs.
Editor's Note: Please be sure to check out The Armory Life Forum, where you can comment about our daily articles, as well as just talk guns and gear. Click the "Go To Forum Thread" link below to jump in and discuss this article and much more!
Join the Discussion
Featured in this video
Continue Reading
Did you enjoy this video?
34