Editor's Note: This is the 12th and final part of our 12-part Armed & Ready series from Richard Nance and Handguns magazine. The series covers a range of personal defense and CCW topics. See links below for the other entries:
While we constantly hear how the AR-type rifle is a "weapon of war" from those who don't know much about guns, we know how terrific a firearm it is. A carbine like the SAINT is a great all-around firearm. But is it not suited for home defense? Check out my video above to find out my take on it.
The Why…
Let's go over why the AR is a good choice for a role like this. Firstly, it's the most configurable firearm out there today. You can set a SAINT up exactly like you need it. In my case today, I have a SAINT Victor 5.56 set up with a Trijicon MRO optic.
The SAINT, with a 20- or 30-round magazine, holds more ammo than most handguns you would use for self-defense. Also, it is a lot easier to shoot accurately than a handgun. Sure, you're indoors, but you might have to take a shot down a hallway, or a really precise shot.
Pros and Cons
While the AR does have advantages, there are some relative "cons" to using one. Entering a room with one is more difficult than with a handgun. If you let the muzzle of the rifle "telegraph" your entering a room, a threat in there can be prepared to attack you.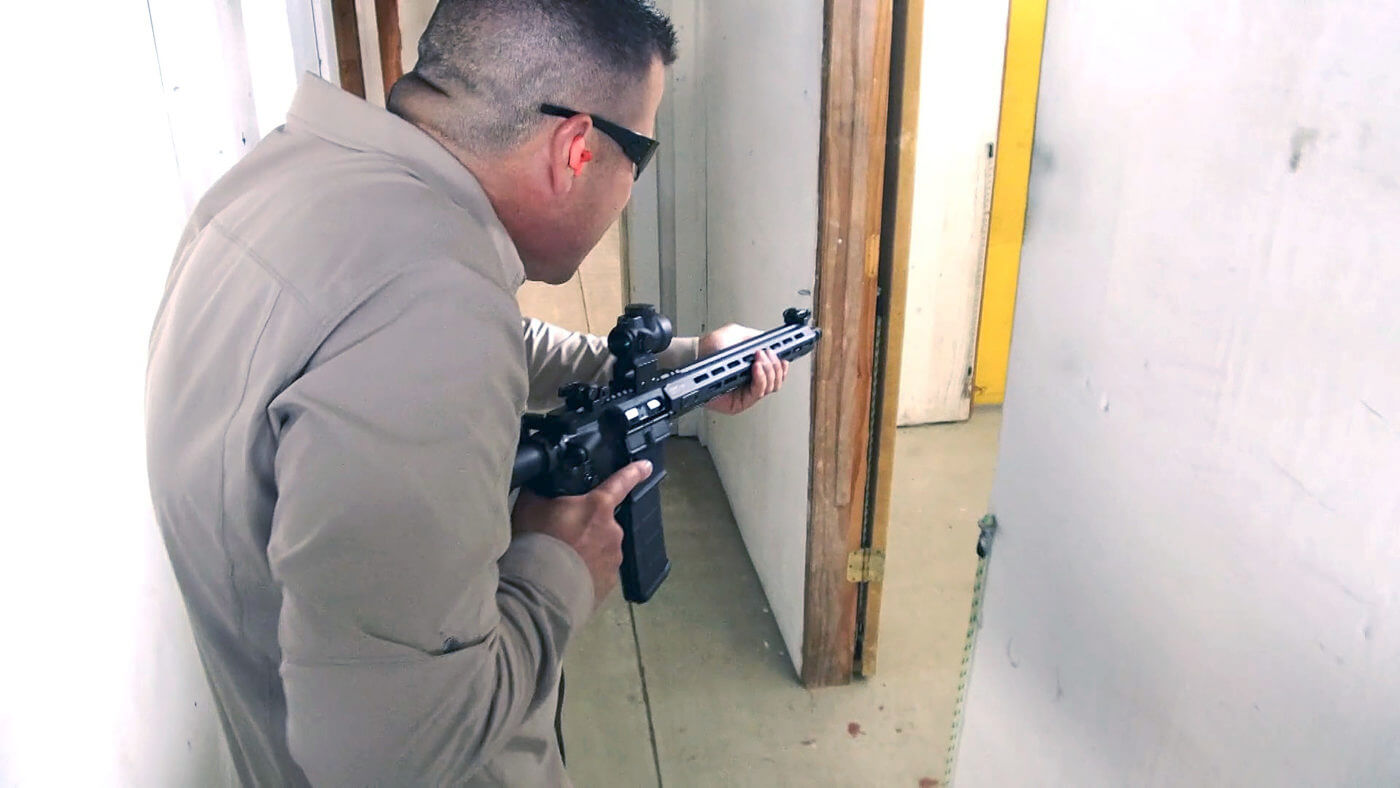 To address this, tuck the butt of the SAINT under your arm as you are entering or leaving a room. This "close quarters" hold will keep the muzzle back closer to your body, letting you enter the room or hallway quickly without giving yourself away. Once you've made it through the doorway, thrust out the muzzle and shoulder the buttstock, and clear the room or hallway.
Survival Tactics
We are often told to "slice the pie" when entering a room where there might be a threat. While this is a sound practice, you might not have the room (or time, if someone is in danger) to do this. It can also make you susceptible to threats down the hallway as you are engaging a room right in front of you. To address this, get as much info on the room as you can from outside, then enter quickly and commit to the room, engaging any threats you see.
When using a SAINT at relatively close ranges, be aware of the sight offset with one of these carbines. Due to the inline stock design and the height of iron sights or optics, you can hit low at closer distances. So, you should aim a few inches high to hit where you intend.
How about using a .223 round indoors? Won't that penetrate every wall in your house? This is a common misperception, and one that I've found is inaccurate from my own ammo testing. The .223 round, while offering you a lot of power against a threat, has a tendency to penetrate far less into walls than most handgun rounds. The bullets tumble on impact against walls, using up a lot of energy in a short distance. As a result, your 9mm will likely penetrate much more than your .223.
Conclusion
Is the AR right for home defense? In my opinion, it is. It offers great performance and power, and less of a tendency to over-penetrate than many handgun rounds. You can set it up with lights and lasers, and have a good amount of ammo on tap if you need it. If you train to work around its unique characteristics (like dealing with its overall length when maneuvering and its sight offset at close ranges), it can be a great option for home defense.
Editor's Note: Please be sure to check out the new The Armory Life forum, where you can comment about our daily articles, as well as just talk guns and gear. Click the "Go To Forum Thread" link below to jump in!
Join the Discussion
Featured in this video
Continue Reading
Did you enjoy this video?
69