I have really been enjoying the new XD-M Elite OSP. I regularly have it topped off with a Trijicon SRO, which is a dream to shoot with, and I keep looking toward the bright side of life with the SureFire X300-U A hanging off the rail.
I've been using the gun as my standard pistol for handgun classes that have a tactical theme to them, like shoot house courses at Alliance Police Training. At the same time, I like to have fun with this pistol as it isn't just for work. It's for those times that the Obsidian9 from Rugged Suppressors exists.
Simply put, this light and quiet 9mm suppressor is fun to shoot. In addition, it's modular, has features that enhances precision, and it flat-out performs.
Modularity
The Obsidian9 is a two-piece suppressor, and as a result can be run in two different configurations. The most obvious and most quiet is the full-length mode. Utilizing both sections of the tube, this configuration bring all of the baffles into play and delivers the most sound suppression. The overall length of the can when fully assembled is 7.8″ with a mass of just 12.7 oz.
If you want to go shorter and lighter, you can run the Obsidian9 in its "K" configuration. Simply remove the endcap, separate the two tube sections and replace the endcap on the front of the now shorter can. This mode brings the length down to 4.85″, and provides a balanced weight of only 8.7 oz.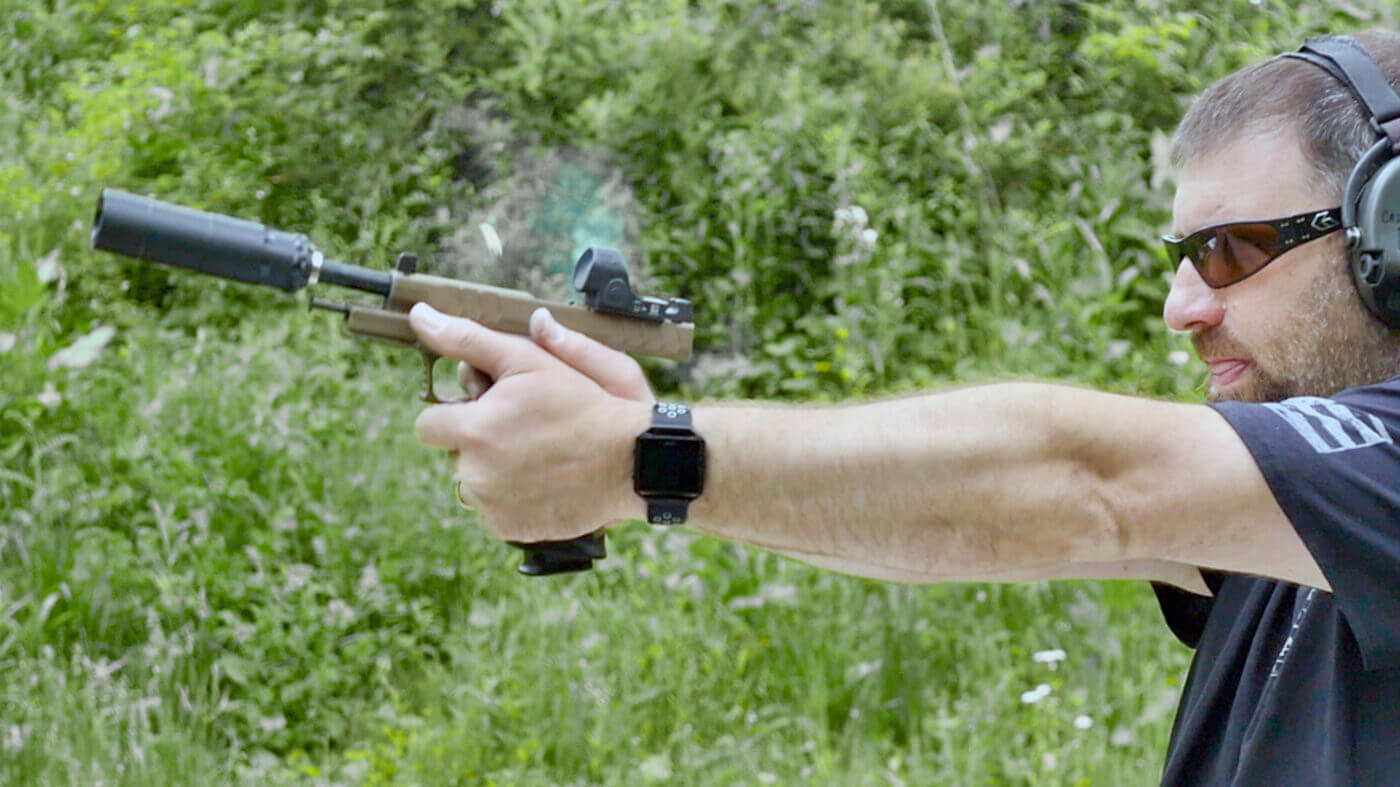 You can run the can on your 9mm handgun, your 9mm carbine or several other calibers. Running .300 BLK or 7.62x39mm subsonic? Yup, the Obsidian can handle it. Got a .22? Thread this guy on when running subsonic and all you hear is action.
The bottom line is that with a single can and one tax stamp you have multiple configurations for several calibers to fit whatever shooting needs you have.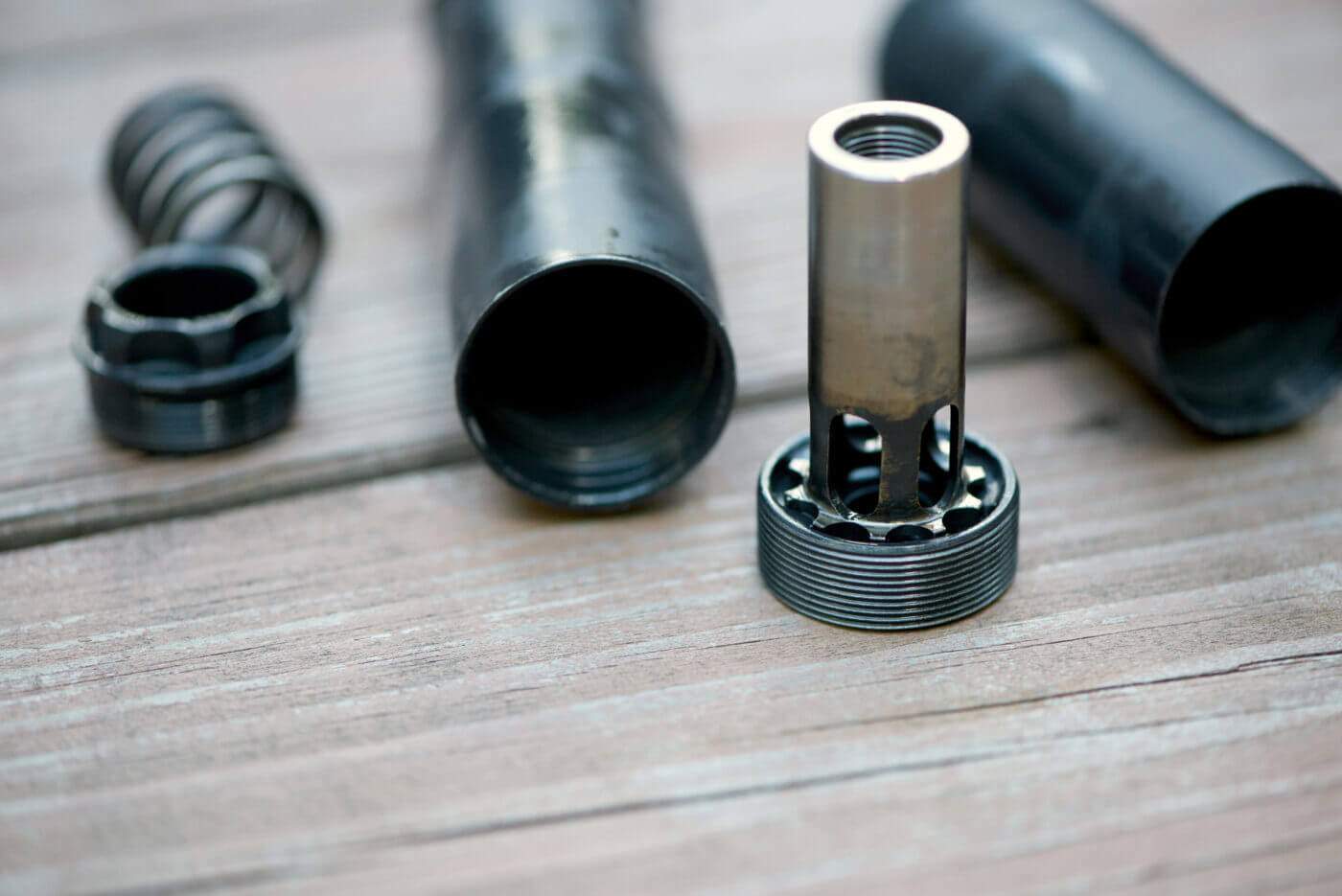 Precision
When I'm shooting with a can, of course I want to be quiet — but I also want to get my hits. Adding a suppressor to your gun can change your point of impact. Typically, you would have to either use Kentucky windage or figure out how to clock your suppressor to eliminate the windage issues.
The Obsidian9 takes another approach. The piston mount can be used to rotate the suppressor. Simply hold your unloaded firearm securely then pull the suppressor away from the gun and rotate — be careful if it's hot! When you release the suppressor, it will lock back into place under spring tension.
Simply rotate until your point of impact is above or below your point of aim. Now windage is no longer an issue, and all you have to do is compensate with the appropriate holdover. Pretty slick.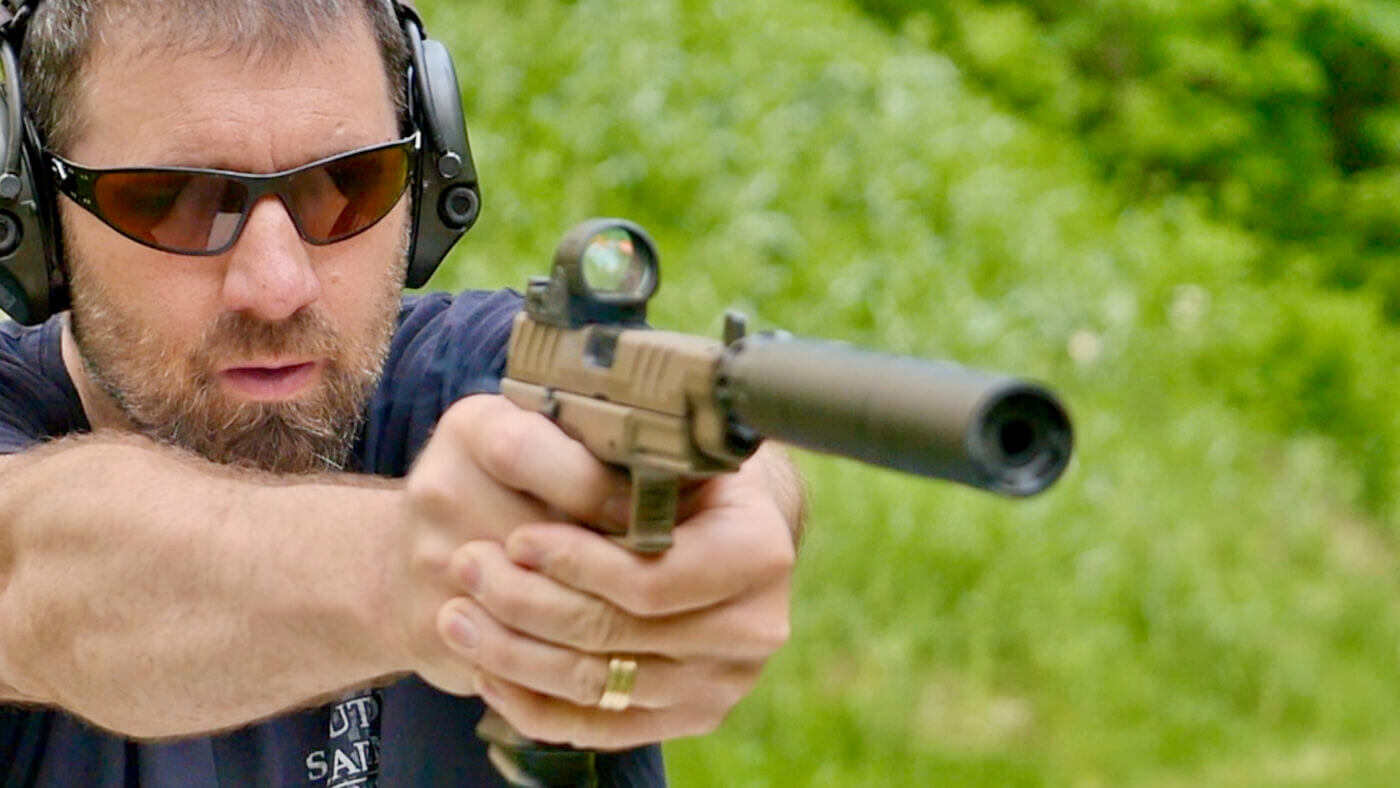 Performance
The Obsidian9 has a decent hush factor. A typical 9mm pistol report runs around 160 dB. Rugged has published that you can expect suppression to 135.5 dB in the short form, and to 121.4 in the full-size configuration. Check out the video and you can hear a significant difference in the sound from no suppressor to Obsidian9 K and then to Obsidian9 full.
Conclusion
When it comes to suppressors, IMO you need to shop carefully. The cost, the paperwork and the tax stamp mean that you need to shop with overall value in mind.
The Obsidian9 delivers. For an MSRP of $799, you get a 9mm suppressor that can be configured in two lengths and will perform well on both your 9mm as well as your .22. It's kind of like getting a bunch of different suppressors for the price of one.
If you are can shopping, make sure to put the Obsidian9 (or 45) on your list to check out! Thanks so much to the team at Black Boar Armory & Coatings for letting me check out their Obsidian9 demo can!
Editor's Note: Please be sure to check out The Armory Life Forum, where you can comment about our daily articles, as well as just talk guns and gear. Click the "Go To Forum Thread" link below to jump in and discuss this article and much more!
Join the Discussion
Featured in this video
Continue Reading
Did you enjoy this video?
32