When it comes to firearms and modularity, a few types rule the roost. The king of modularity these days is an AR-style firearm like the Springfield Armory SAINT. A long way down that same list is the M1A — or is it? If you're looking to mod your M1A you do have some options, and for me, the best option is one I recently discovered — the Delta 14 Chassis.
The Why
Why do I think that? Well, the Delta 14 system is a high-quality, lightweight chassis that incorporates plenty of modern design into a legacy system like the M14-based M1A. It's an American-made chassis system that was designed and is produced in the United States.
And the system itself is impressive, featuring lightweight, durable glass-filled nylon construction, lots of M-Lok slots, and a nice, tight fit. Yep, that's all pretty awesome, but that's not even the main selling point.

The genius of the Delta 14 chassis system is that it's designed to interface with Mossberg 500-pattern stock systems. This opens up a massive amount of stock options that allow you to customize your M1A to an insane degree. You can fit standard stocks as well as stock adapters, such as the excellent ones from Mesa Tactical. This was the part that really interested me.
There are stock adapters out there that allow the Mossberg to use AR-pattern stocks, and the Delta 14 Chassis can accommodate these adapters. This opens up an entirely new realm of stock options, and you can go wild with it. And Delta 14 gives you a lot of options on this. If you want to purchase just the chassis for $199.99, you can do that and pick out the stock of your choice. In addition, the company offers the chassis with a wide range of included stock systems.
So what caught my eye? The chassis fitted out with a Mesa Tactical adapter and the excellent Ace Tactical Folding Stock. For me, this would give the M1A some serious M1A1 Carbine vibe, but "man-sized."
Hands On
This entire setup took me about an hour or so to install on a SOCOM 16 CQB M1A that I had in for review, but it's not necessarily hard to do. Ensuring everything is lined up and the way I wanted it took the most time. The Ace Tactical system for the stock and folder is well done and very smart. Once everything is locked in placed and installed it doesn't move, shake or tumble. Also, the stock locks in both the open and closed positions, and it is solid both ways. This is not going to flop around on you or give you a sloppy cheekweld when shouldering.
I found the Delta 14 chassis system to be incredibly well-balanced on the M1A, especially when using the shorter and lighter SOCOM 16 CQB. The Delta 14 chassis weighs less than a pound (.75 of a pound, to be exact). That's without the stock, obviously. The Ace Folding Stock and Mesa Tactical adapter are quite lightweight, and in the end, the gun remains very well-balanced.
Range Time
The handguard also seems to be quite heat-resistant, and after blasting through a few hundred rounds through the M1A the ultra-thin and light handguard was never too hot to handle. I hardly noticed heat building up and the gun remained comfortable and easy to fire.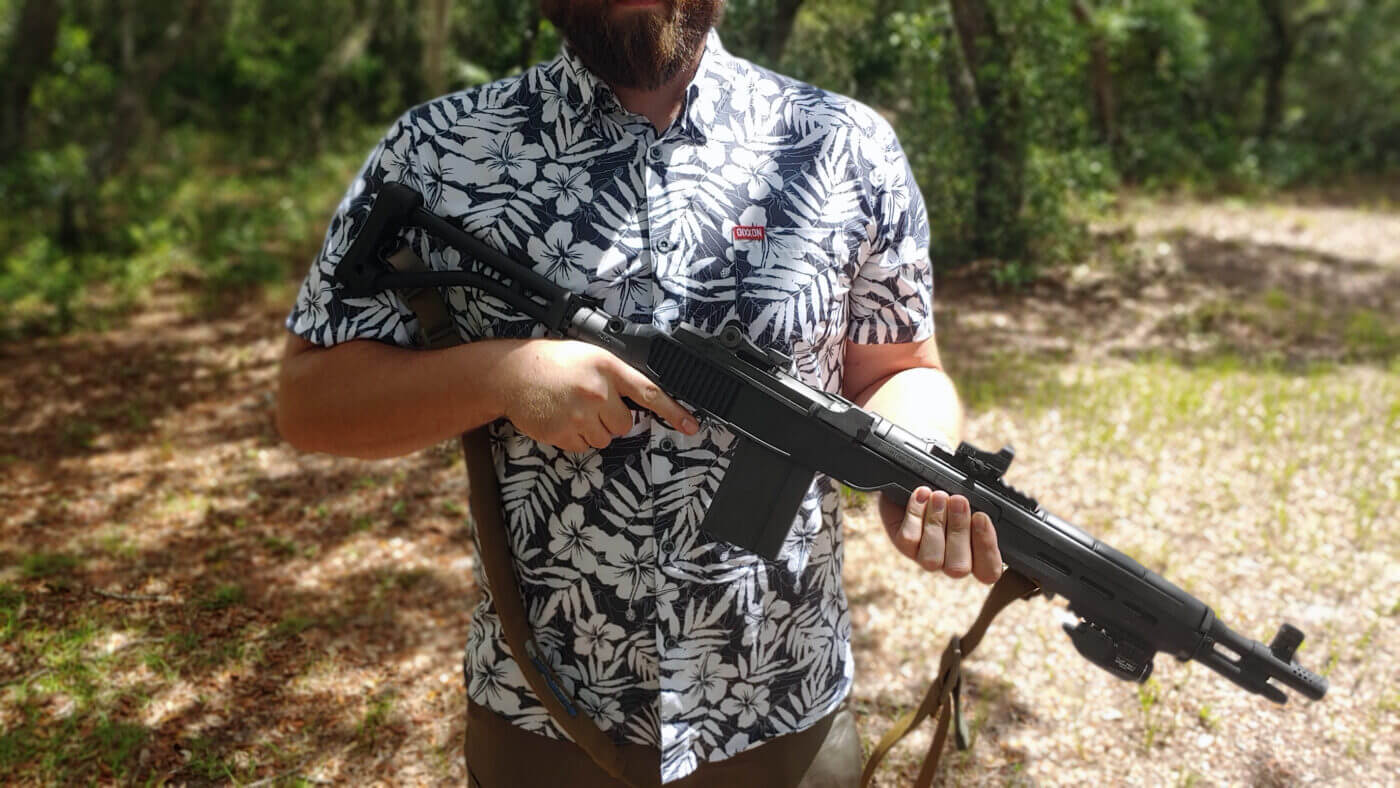 I noted that the chassis is quite slim and handy, and this made the handguard section quite comfortable and easy to get a grip on. The M-Lok rail slots allow for lots of mounting options so you can pick and choose accessories. I like to keep things simple and just tossed on a weapon light, specifically the new Streamlight TLR RM 1.
I also noted that the chassis has a very well-designed magazine well section with a generous opening and nicely shaped "funnel" angles to help you feed in spare mags. Reloading an M1A can be tricky compared to an AR, but this chassis really helps the process.
Conclusion
The design is truly brilliant. I can honestly say that having a full-powered rifle in a true carbine form along with a folding stock is awesome. Folding stock .308 rifles may not be for everyone, but I love it. This is a lot of gun in a very small package.
And for those who think it might be too much gun for a system like this, I didn't find the stock uncomfortable or painful during testing. While the might not be ideal for a precision rifle, it's perfectly suitable for the SOCOM 16's applications. And remember, you can put just about any type of stock system you want on the M1A with this chassis system. I just happened to go the folder route since I had a compact SOCOM 16 CQB in hand.
The Delta 14 Chassis is an awesome mod that you can add to your M1A, and really helps you add customization options to a legacy platform.
Editor's Note: Please be sure to check out The Armory Life Forum, where you can comment about our daily articles, as well as just talk guns and gear. Click the "Go To Forum Thread" link below to jump in and discuss this article and much more!
Join the Discussion
Featured in this video
Continue Reading
Did you enjoy this video?
170