Ever since owning my very first M1A, I have been dreaming of one day acquiring a Sage International Enhanced Battle Rifle (EBR) chassis and transforming the already venerable .308 rifle into a legend. If you are a fan of the Sage EBR chassis, you will also know how hard they can be to find in stock, and at a reasonable price.
But let's start out with a little history on the Sage International EBR Chassis and how it was created for some of the most elite military teams in the world. The M14 has been serving our U.S. military in some form or another since 1959, and towards the later years it was mainly used as a designated marksmen rifle (DMR).
In 1999, Naval Special Warfare, Crane Division approached Jon Klein for assistance in modernizing the M14 rifle. They wanted a rifle that could still fulfill the DMR role as well as be deployed in confined spaces. Thus, the M14 EBR was born. In 2004 the United States Navy SEALs were the first to be armed with the M14 EBR followed by the U.S. Coast Guard, the Air Force and then the Army.
For those not familiar with the Sage EBR Chassis Stock System, it is a chassis that is designed to take the classic M14/M1A platform and move it solidly into the 21st Century. The stock is machined from a solid billet of aluminum for light weight combined with strength, and is designed for a "drop in" conversion that does not require to permanently modify your rifle.
My Turn
Now, after dreaming of this rifle configuration for a very long time, it occurred to me to do a Google search to see what current prices were. I faced down that dreaded verbiage, "Out of Stock" over and over. I did not give up, and one fateful day to my surprise there was one Navy SEAL Grey EBR Chassis in stock at Clyde Armory. I smashed that "Buy" button hoping that it wasn't a "buy now and then get an email saying it's back-ordered" kind of thing.
A week later, it showed up on my doorstep. I was like a kid at Christmas. The one I was able to purchase was the M14ALCS variant of the EBR, which features a telescoping stock with an adjustable cheek rest. It has 5 points of adjustment in the stock and 9 points of adjustment for the check rest, so you can fit it exactly to your needs. The result is a stock that makes the rifle very compact, but also fully capable of being used with an optic.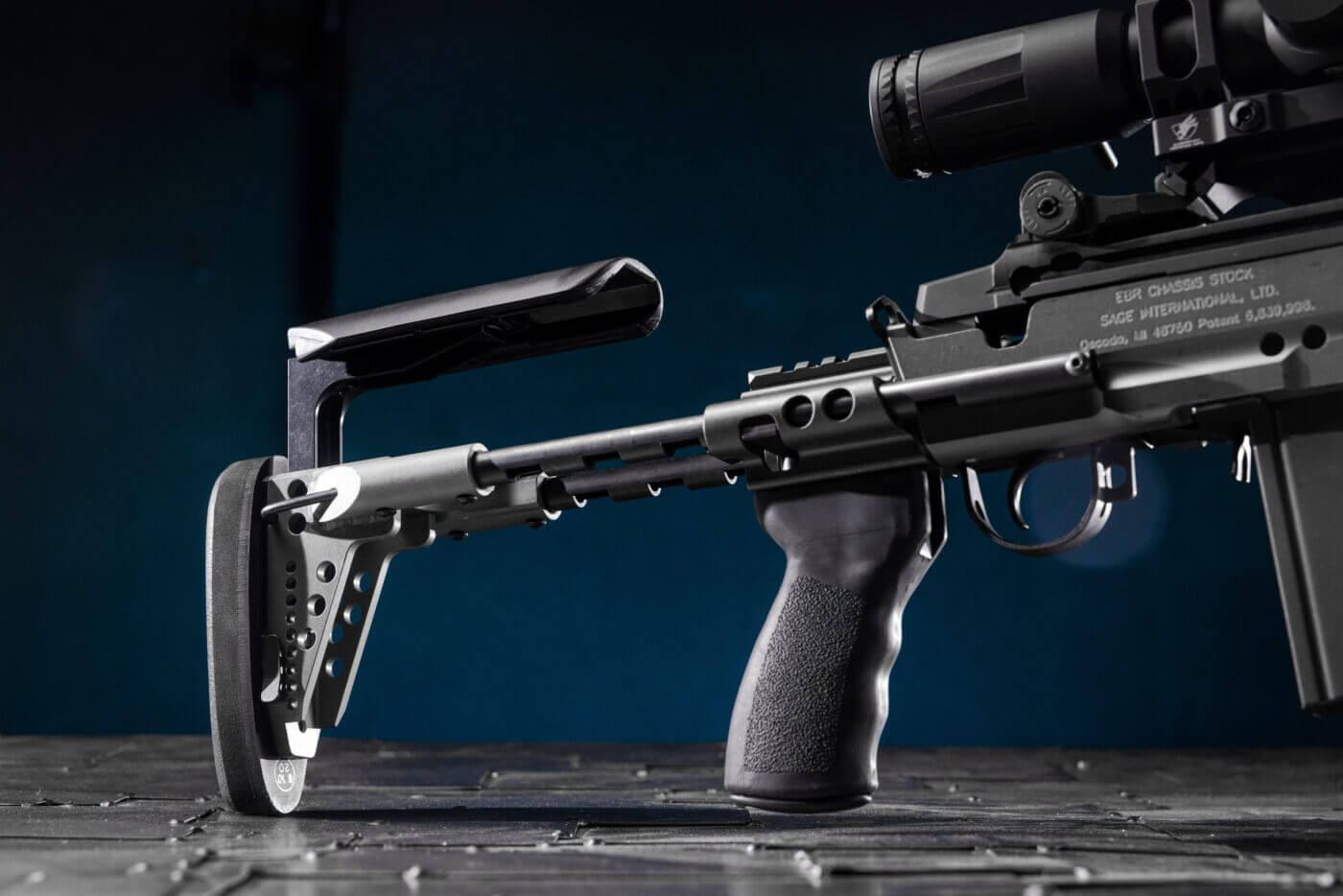 The pistol grip of the stock is an AR-pattern Ergo Grip, and is interchangeable if you so desire. The forend of the chassis system features Picatinny forward mounting surfaces of 3 o'clock, 9 o'clock and 6 o'clock, and a 12 o'clock one-piece machined top with integral rail. Additionally, the chassis system comes with a formed Kydex handgrip with a built in palmswell. The detachable Kydex hand grip minimizes heat transfer generated by high firing rates.
After watching numerous install videos, I decided I should do this rifle justice and have it installed by a pro. I called my buddy Mike who owns Magnum Mike's Custom Gunsmithing, and he agreed to help me out. Mike is a legend and has extensive knowledge on all types of firearms, especially the M1A series of rifles. Mike had the rifle out of the SOCOM stock and into the new Sage EBR chassis in no time.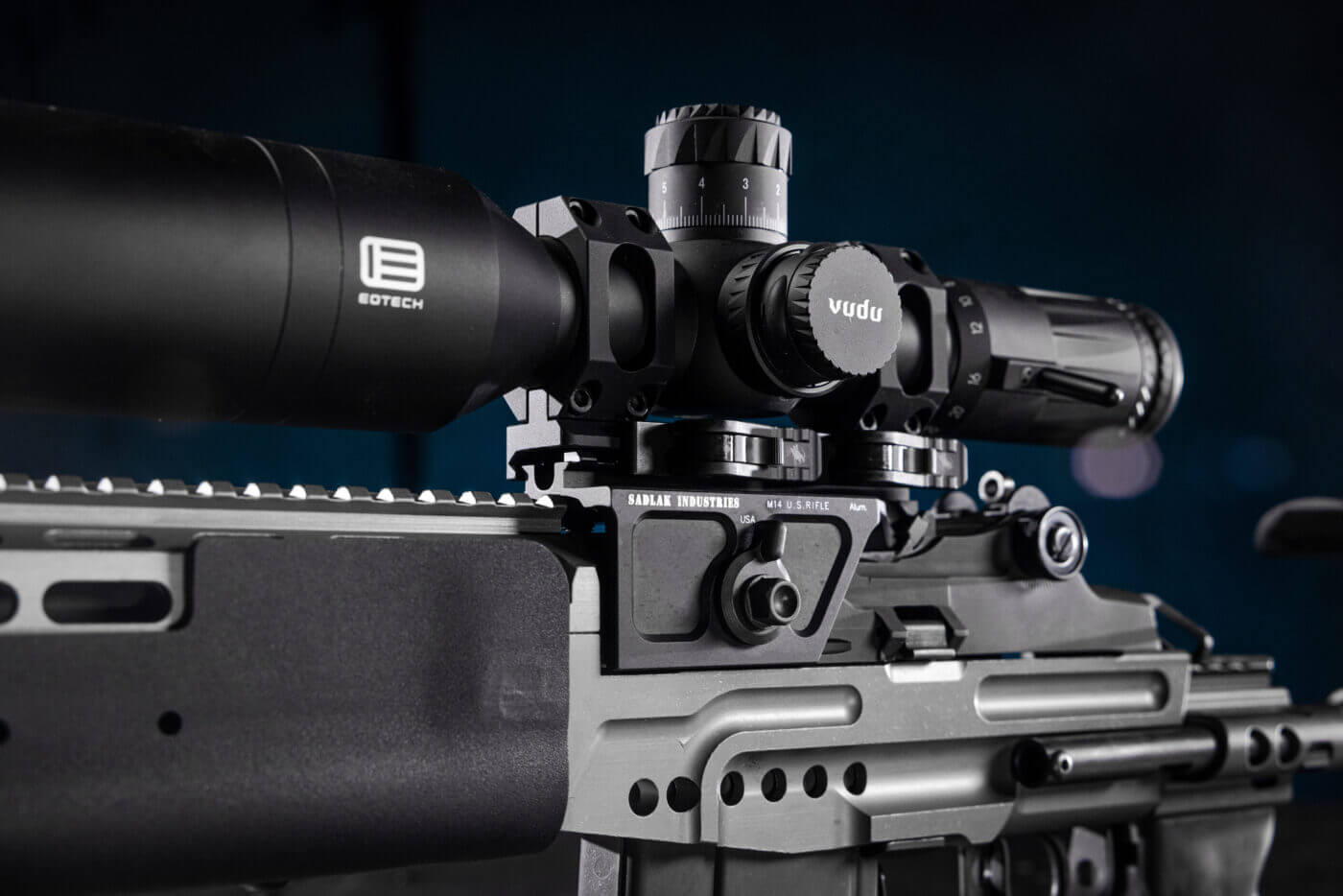 The weight of the EBR-equipped M1A was 11.24 lbs., which is a heavier configuration compared against the standard M1A SOCOM weight of 9 lbs., 2 oz. However, with it you are getting a lot of additionally capabilities and the ability to mount a good amount of accessories.
Like any good EBR build, it needed a beautiful optic with a proper height and eye relief. As you well know, this requires an optic mount for the M1A rifles. In my opinion, Sadlak Industries makes some of the finest mounts available for the M1A in the Sage stock, with an aluminum mount specifically designed for use with the Sage Chassis. They also cleverly machine out a channel through the picatinny rail so that you can still use your iron sights. The mount came with extensive instructions that were easy to follow, and it provides an extremely strong and reliable base for scope.
The Gear
The scope I chose for this build is an EOTech Vudu 5-25×50 with an American Defense Manufacturing Recon low mount. The scope is very robust, tracks perfectly and has a great reticle. In the future, I may switch the scope to an EOTech Vudu 2.5-10×44 and get an even lower cheekweld.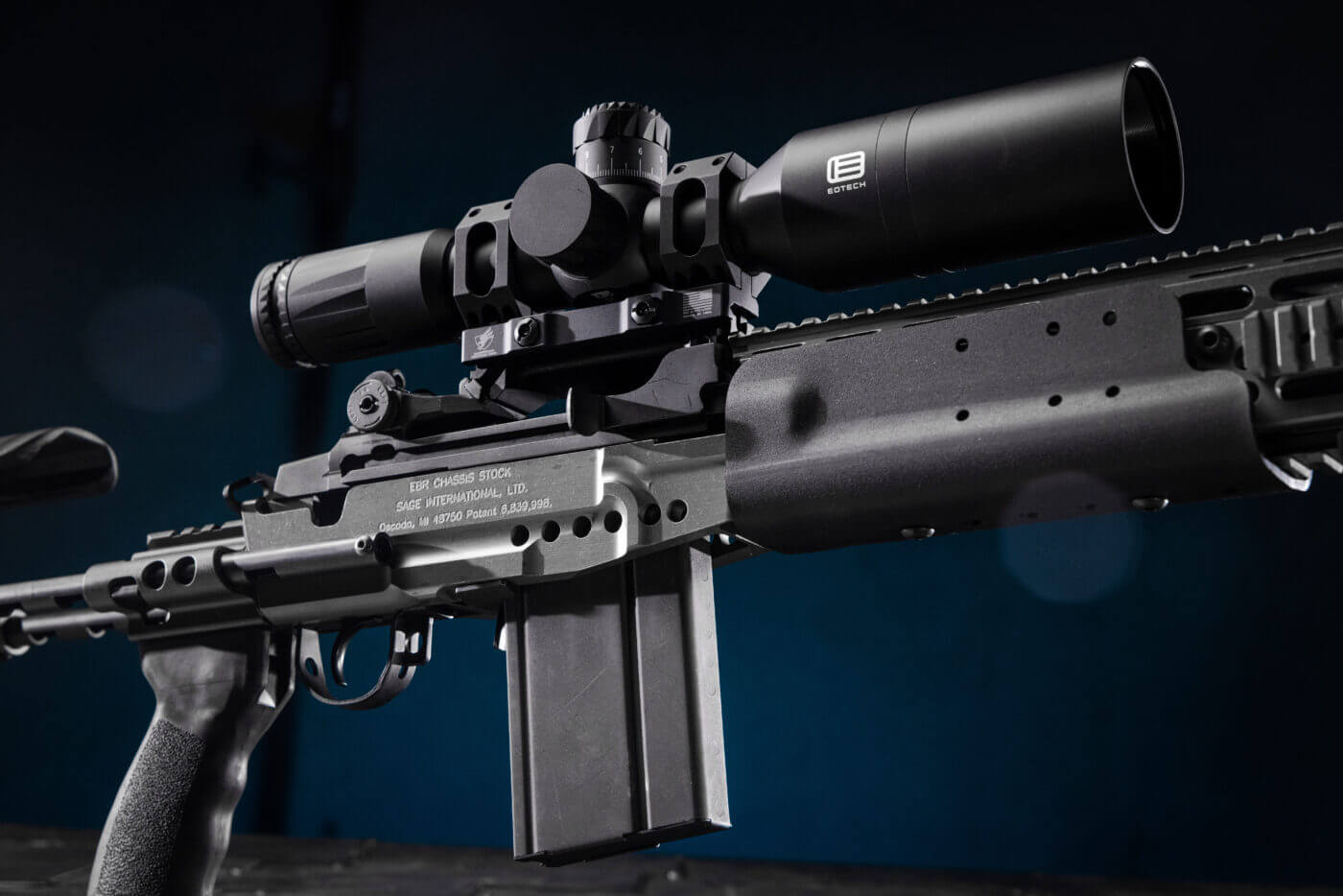 With a high-powered rifle and scope, a bipod is a must. I chose my go-to Atlas Bipod for its lightweight and slim design, while also being one of the strongest designs on the market.
For the rifle itself, you'll see that I decided to use the SOCOM 16 CQB variant because I am also using a suppressor for my build. I've been testing this set-up for a while and I have been very happy with the reliability, function and accuracy of it. This is a handy little gun with a lot of power.
The suppressor I chose is the OSS HX-QD 762 TI. The free-flow design of the suppressor eliminates a lot of the back pressure that would normally come back out of the bolt and near your face. Normally, a suppressor on an M1A would be a very long system. Very, very long. However, with the Sage EBR stock system fully collapsed, the rifle with suppressor measures only 39". This is perfect for most standard rifle bags and offers quick access for maneuverability in confined spaces.
Conclusion
All in all, the Sage International EBR Chassis has exceeded my expectations and it's definitely a bucket list item for my M1A. I plan to do further testing on the M1A EBR and I will be sure to follow this review up with my accuracy and handling results at the range. If you're looking for one yourself, it will cost you in the ballpark of $800 to $1,000. It's admittedly not cheap but definitely worth it if you ask me!
Editor's Note: Be sure to check out The Armory Life Forum, where you can comment about our daily articles, as well as just talk guns and gear. Click the "Go To Forum Thread" link below to jump in!
Join the Discussion
Featured in this video
Continue Reading
Did you enjoy this video?
133