The SOCOM 16 CQB is one of the smallest, most compact variants of the Springfield Armory M1A rifle. With a short 16.25" barrel and collapsible stock, this a gun designed for tactical uses and close-quarters conflicts. But the M1A has a solid pedigree for long-distance performance, so how far can this little gun go?
But before we get started, let's clarify something lots of folks get confused on. The M1A is the civilian sibling of the select-fire M14. Some might use the terms M1A and M14 interchangeably, but the M14 is the original military version while the M1A is the semi-auto civilian version of the M14.
In short, I think the M14 is one of the most iconic battle rifles ever. Even though it did not have the longest of service lives with the U.S. military, it is recognizable by most teen video gamers that may not even know what it is. My 13-year-old son knows it as one of the better "sniper rifles" in his "Call of Duty" games.
And while the M14 may have left service as the primary rifle for the U.S. military relatively quickly, the spirit of the design has lived on with the M1A, introduced by Geneseo, Illinois' Springfield Armory in 1974 ­— and it was an immediate hit.
Why the M1A SOCOM 16?
The M1A was a huge hit with the competition and long-range shooting enthusiasts, as it is known for its reliability and accuracy. In these settings, having a large and heavy rifle is not really a concern. As time moved on, the market became more and more interested in smaller, lighter and more compact firearms. At the same time, there was also the desire to have the larger more effective 7.62 NATO round in a compact package. Thus arrived the M1A SOCOM 16 in 2004.
The idea behind the M1A SOCOM 16 was to provide 7.62×51 capabilities in a smaller, shorter and lighter package than the full-size M1A. So, let's take a look and compare it to my M1A Loaded Precision with an Archangel stock and optic.
| | | |
| --- | --- | --- |
| | M1A SOCOM CQB | M1A with Archangel Stock and optic |
| Barrel length | 16.25" | 22" |
| Weight | 9 lbs., 3 oz. | 13 lbs., 7 oz. |
| Length | 35.5"–38.5" | 45"–46.25" |
On paper, mission accomplished! I have found "on paper" and "in hands" are not always synonymous. But with the M1A SOCOM 6 CQB, they are.
My Perspective
In particular, I tried out the CQB variant fitted out with a Vortex Venom red dot on a mount that replaces the stripper clip guide. I found the CQB very enjoyable to shoot from the bench, standing or walking in the woods. It "feels" good in the hands with the adjustable stock and pistol grip. It comes up naturally to give a quick and comfortable sight picture without the need for a cheek rest adapter — even more so with the red dot.
Recoil is minimal for the 7.62 NATO and, honestly, I really can't tell the difference between shooting this and my full-size M1A Loaded. I felt I was able to get quick follow-up shots from a standing or benched position.
Accuracy
As far as quick target acquisition, it doesn't get much faster. The Vortex Venom is more than adequate for 50 to 200 yards, and even did 300 yard shots with acceptable accuracy. Benching it at 100 yards, I was able to get 2 to 3 MOA groups using PPU M80 FMJ BT 145-gr. range ammo. Considering the size of the red dot at 100 yards, I was more than happy with that. I had no problems consistently "pinging" my IDPA torsos at 200 and 300 yards.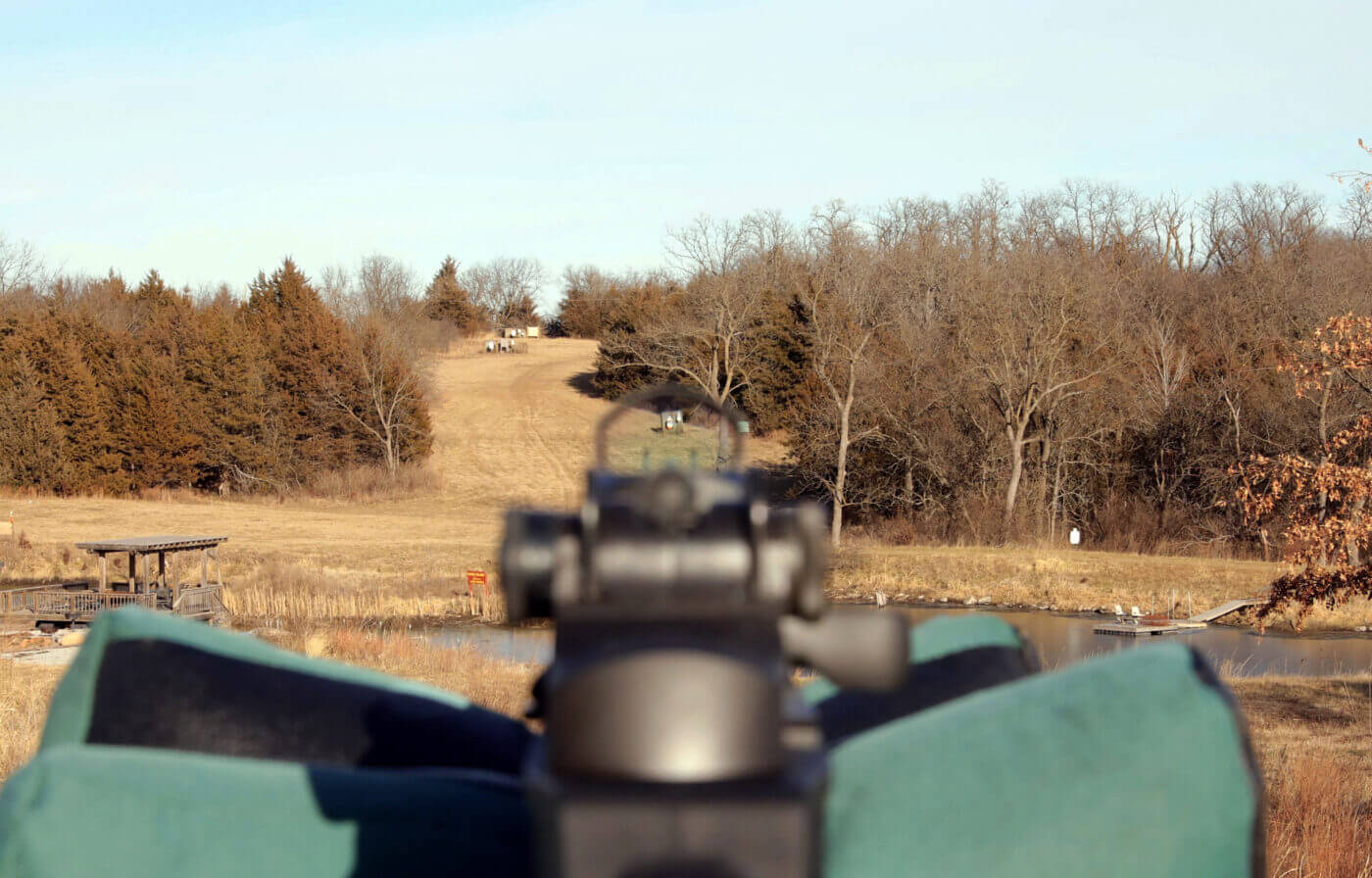 I was not able to test or use the iron sights with it, as the red dot obstructs the view. I plan on really putting this to the test in later reviews, removing the Vortex and trying different red dots on the forward mount, and also using a Burris Scout 2-7×32 and some match ammo. I am eager to see what kind of groups I can get with that and at what distance.
Reliability
The M1 Garand and M14 are battle proven, time tested, reliable and dependable rifles. The M1A SOCOM has the exact same action and mechanics, thus the dependability we have come to expect.
As far as ammo selection, I fed mine everything from TULA to berdan-primed Malaysian military surplus, NATO mil spec. to PPU. It ate everything and spit it out with not a single hiccup or LPS. For me, this is critical because I do not want a weapon that is ammo specific or "picky" as to what it reliably cycle.
Conclusion
If you're looking for a smaller, lighter and more maneuverable M1A, you might want to take a look at the SOCOM 16 family. You have the power of the 7.62 NATO in a carbine-sized package. I love the old battle rifles, so shooting this is has a huge fun factor. I am really excited to see what I can do with this with some of the options and accessories out there. I'm looking forward to seeing what kind of accuracy and distance I can get with the Scout Scope/match ammo and possibly an upgraded trigger. I also want to find a folding stock to make it even more compact and see just how small I can get it.
These days there are a lot of options for compact 7.62 NATO guns. The M1A is an older design that still ranks at the top in my opinion. This design is going to be around for a long time.
Editor's Note: Please be sure to check out The Armory Life Forum, where you can comment about our daily articles, as well as just talk guns and gear. Click the "Go To Forum Thread" link below to jump in!
Join the Discussion
Featured in this video
Continue Reading
Did you enjoy this video?
161