In recent years, thermal scopes have become more common with hunters and law enforcement officers. Without a doubt, they have become more affordable while also increasing the quality of the image. The Armasight Contractor 320 represents an example of this evolution, offering a lot of features at an affordable price. The Gunspot team tests this scope in this review and discovers it delivers incredible value.
Thermal optics keep improving year after year, and that is a trend that won't be going away. Thermal sights are used by not only the military and law enforcement but also hunters worldwide. Why? Because it's easy to spot a target due to its heat signatures.
Grant here at GunSpot served in the United States Marine Corps but didn't serve as a sniper until he joined his local police department, where he was on the SWAT team. During his time in this role, the police department didn't have a thermal optic of its own. Although Grant shot with night vision regularly, thermal was out of reach due to its cost.
While Grant may not have as much experience with thermal rifle scopes as some reviewers. What he brings to the table in this review is years of experience in law enforcement — particularly looking through optics. Naturally, we were both excited when GunSpot was asked to review the Armasight Contractor 320.
Armasight Contractor: Affordable Excellence?
What is the Contractor 320 from Armasight, you might ask? It is a 3-12x25mm thermal weapon sight in a price range that is probably much less than you would expect. The 3-12X digital zoom range lets you cover a variety of ranges well.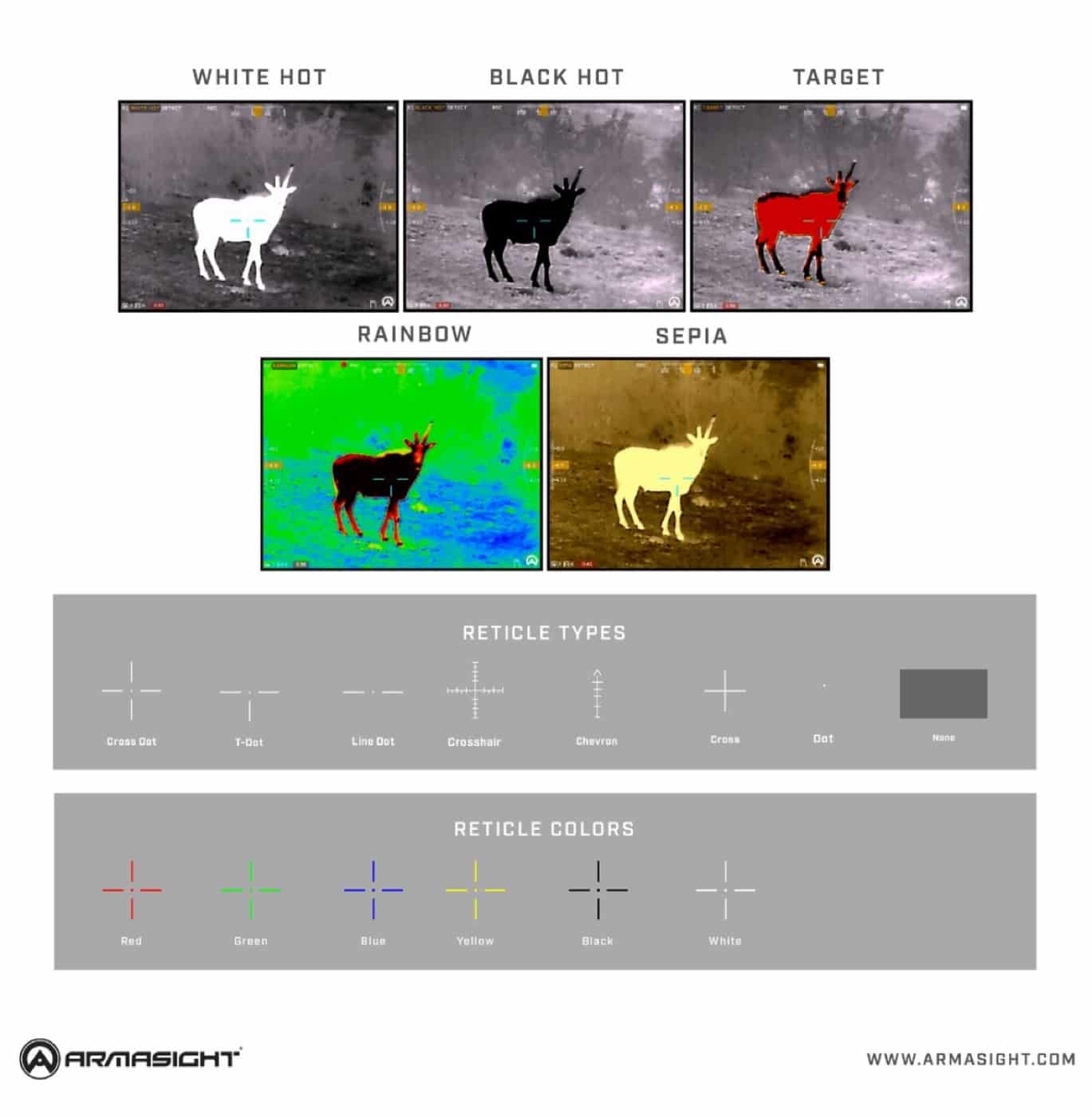 We did some tests before mounting it to a gun where Grant looked through the scope at me, a 6'4" male, and he could see me well through the optic at about 600 yards. Beyond that, the digital pixelation made recognizing the target difficult, although I was still visible out to the max length we tested, at 800 yards.
The sight has a proprietary ArmaCORE 12 Micron Sensor and combines thermal image processing, wireless communication interface, GPS, and internal memory in a single housing. Armasight put a great deal of effort into making this optic lighter, smaller and smarter. Due to a 35% reduction in power consumption with this system, the optic can run off of two CR123A batteries for a full four hours.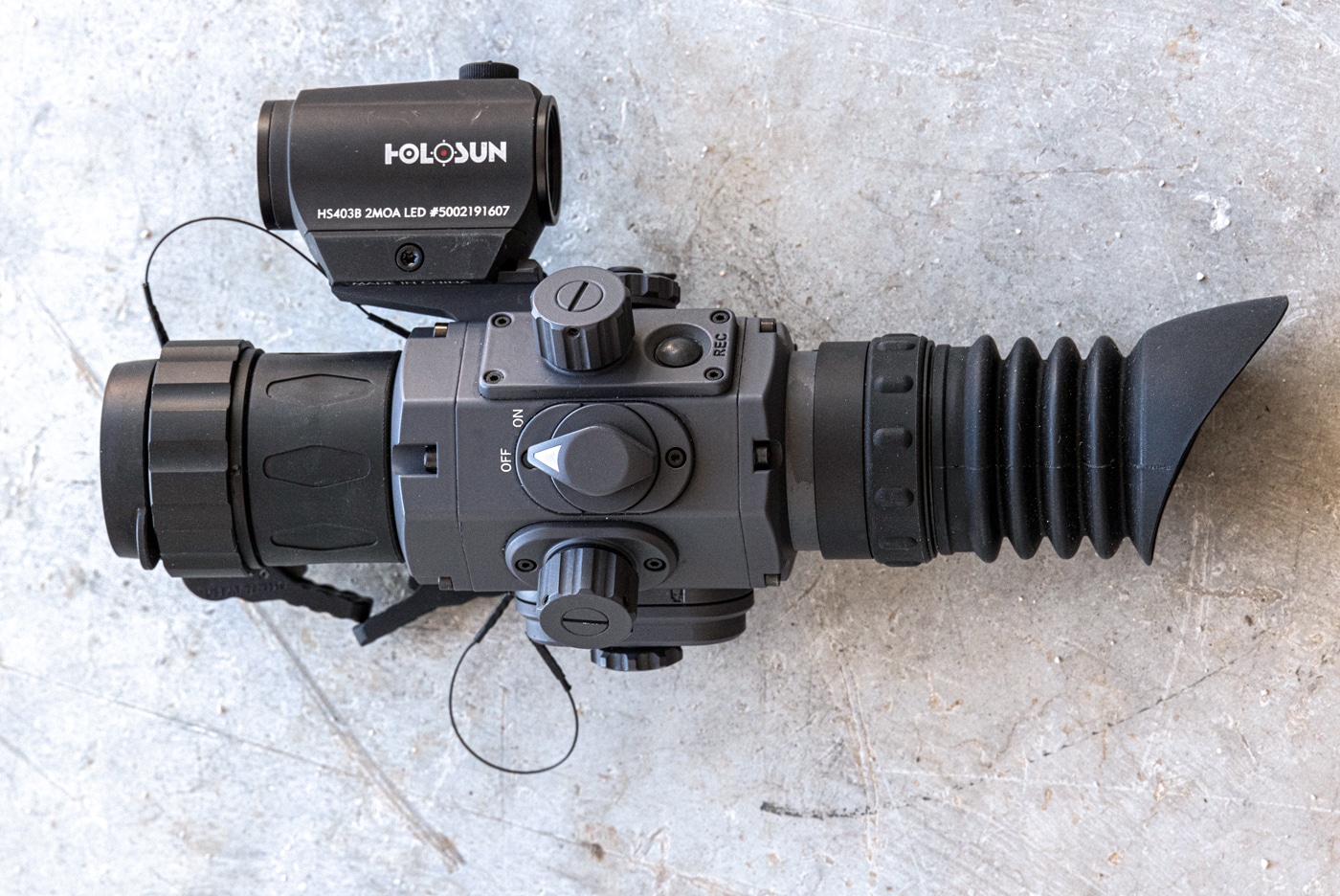 The Contractor 320 3-12x also has multiple reticle options, six reticle colors from which to choose, and five color palette options. The turret knobs adjust with 0.5 MOA increments. The optic also has internal recording, a USB video stream, a Wi-Fi video stream, Bluetooth 5.0 capabilities, and an app for both IOS and Android devices. It has an inclinometer, a level meter and a graphic compass. And you get all this functionality and more for an MSRP of $3,299.
A note about thermal imaging: it is different from traditional night vision. Night vision amplifies ambient light. Thermal works on detecting heat. Both have their place for hunting, law enforcement and military uses.
Ideal Views with the Contractor 320
For this review, we chose to focus on Grant's input and have him evaluate it with law enforcement applications in mind. The first thing that Grant pointed out is that the optic appears to be incredibly robust. We did not do any over-the-top torture tests, but used it the way I would imagine more folks would.
I will say that the housing feels practically bomb-proof. Once you hold it in your hand, you can tell it's built like a tank.
Something Grant often uses to gauge the quality of optics is the performance of the adjustment knobs. In this case, he was very, very pleased. As I've heard him repeatedly say about other optics, he loves to have large oversized knobs on optics. His reasoning comes from times having gloved or extremely cold hands and trying to adjust the optic. Large controls make that easier, and having tactile clicking adjustments like with this Armasight, makes it even easier. The optic housing is also sealed extremely well around the USB and battery compartments.
The color palette options are also fantastic, providing users with a palette for every scenario. In particular, Grant thought the black hot and white hot settings are amazing for still retaining detail in the image. He believes those two settings would be most valuable for law enforcement. For Grant, the sepia setting probably comes in second for law enforcement since it can still retain detail quite well.
The most interesting pallet option for Grant was the "Target" palette. Target is a special thermal image palette that shows mostly in black hot but then shows the absolute hottest parts of the image in red. So, for example, the warmest part of a hog would be red framed in by dark black. It is quite an interesting mode and I feel it'd be very popular with hunters.
Another thing Grant pointed out that was fantastic about the Contractor thermal scopes is its reticle options. Multiple reticle options and six colors let you customize it however you want. The reticle options are dots and crosshairs, then a crosshair with holds and a chevron with holds. This would again provide you with something to fit a wide range of options.
Another fantastic feature of the optic is the built-in Picatinny rail. In our case, we mounted a Holosun red dot to the side to mimic having a canted optic for CQB scenarios. Rolling your rifle over to use a side-mounted red dot on the Armasight works flawlessly. This assures your rifle doesn't have to be only equipped with a thermal rifle scope.
There are clip-on range finders that can work with thermals like this as well should you decide to find one to mount there. Either of those options of course would work well for law enforcement use.
Included with the Weapon Sight
Contractor 320 3-12x25mm thermal weapon sight
Standard Picatinny mount
USB-C to USB-A cable
Thermal zeroing target
2x CR123A batteries
Product manual
Lens cloth
Soft case
Range Time with a 3-12x Thermal Optic
The accuracy of Contractor 320 seemed to us to be good. To zero the optic, we actually used some daylight thermal Armasight targets. These targets have a reflective surface, except for the black diamond in the center. The black diamond absorbs heat and the reflective surface shows cold in the display, and together this allows you to see a defined diamond shape when looking through the thermal scope. When zeroing the optic, we ended up doing it with no zoom and at 25 yards.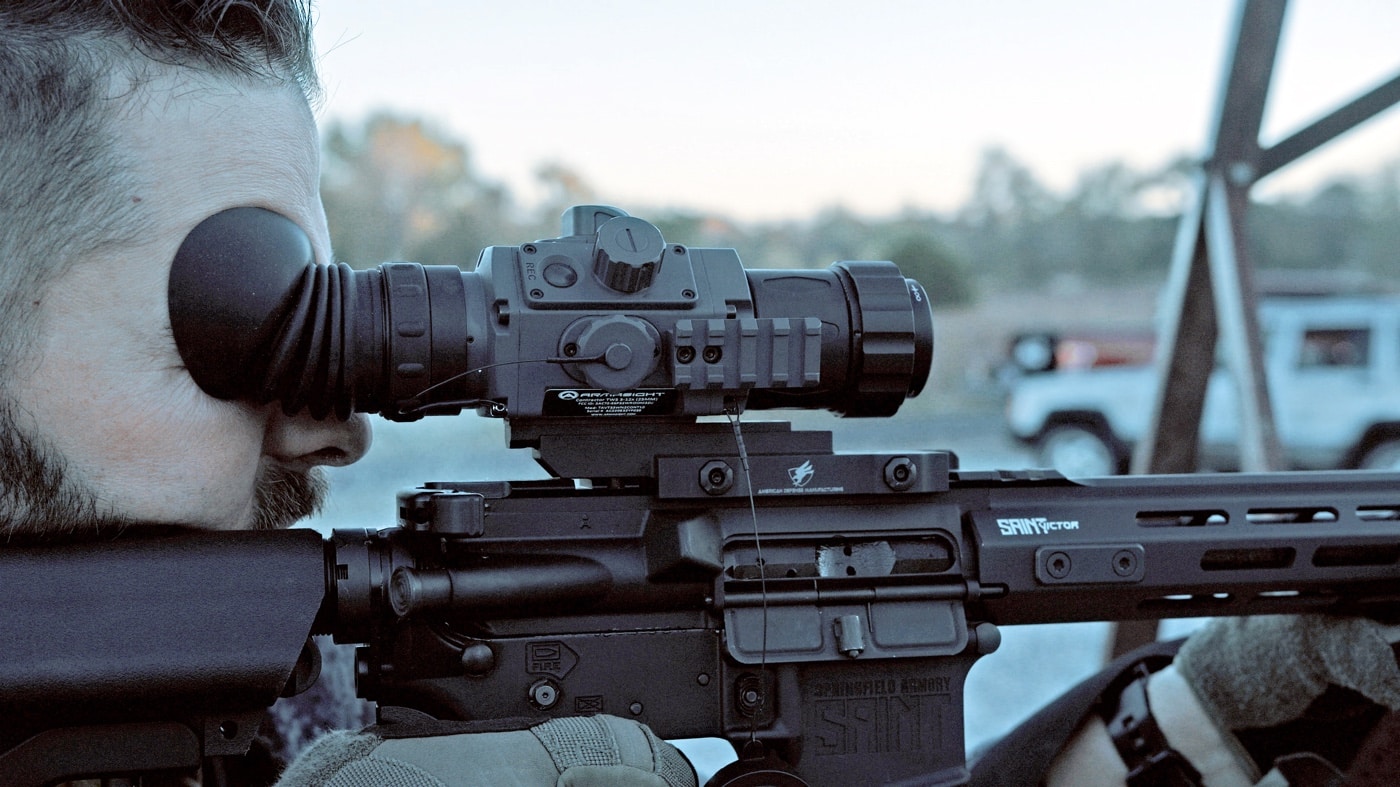 We chose to do this because past 25 yards and once the zoom is engaged, the pixelation causes the target to become less clear and even causes it to look as if it's wiggling. At 25 yards, we were getting good groups, with our best ones being what would be sub-MOA.
Contractor 320 3-12x Specifications
| | |
| --- | --- |
| Detector Type | ArmaCORE 320×240 12um thermal core |
| Refresh Rate | 60 Hz |
| Detection Range | 932m on human-sized target |
| Eye Relief | 45mm |
| Field of View (HxV) | 8.80° x 6.60° |
| Optical Magnification | 3.2x |
| Digital Zoom | 1x, 2x, 4x |
| Display | XGA (1024×768) AMOLED |
| Wireless | WiFi, Bluetooth 5.0 |
| Graphics | Active on-screen graphics |
| Recoil Rating | Up to .50cal |
| Lens System | F1.00; 25mm |
| Diopter Adjustment | -5 to +5 dpt |
| Power Supply | 2x CR123A (3V) |
| Battery Life | 4 hours at 20° C |
| Low Battery Indicator | Yes (in FOV) |
| Environmental Rating | IP67 |
| Operating Temperature | -40° C to +50° C (-40° F to + 122° F) |
| Dimensions | 198 x 88 x 95mm / 7.7 x 3.4 x 3.7in |
| Weight | 0.78kg / 1.71lbs |
| Warranty | 3 years w/ registration |
Conclusion
The Armasight Contractor 320 appears to be a good fit for law enforcement use, based on our experience. The features are plenty, it's built tough, and perhaps the most favorite part is that the scope is only $3,299, which is very inexpensive for a thermal optic — especially one like this.
The price point is for sure something that Grant thinks will attract police agencies. If you're looking for a quality thermal sight for a great price, we'd look no further than the Armasight Contractor 320.
Editor's Note: Be sure to check out The Armory Life Forum, where you can comment about our daily articles, as well as just talk guns and gear. Click the "Go To Forum Thread" link below to jump in!
Join the Discussion
Featured in this video
Continue Reading
Did you enjoy this video?
38