As a fan of high-tech optics, I was excited to recently receive the iRay USA RL25 Rico Micro 384 12 Micron 25mm Multi-Purpose Monocular for testing. Quite a mouthful, isn't it? For the purposes of this article, I'll refer to it as the iRay Rico Micro or iRay thermal scope to keep it simple.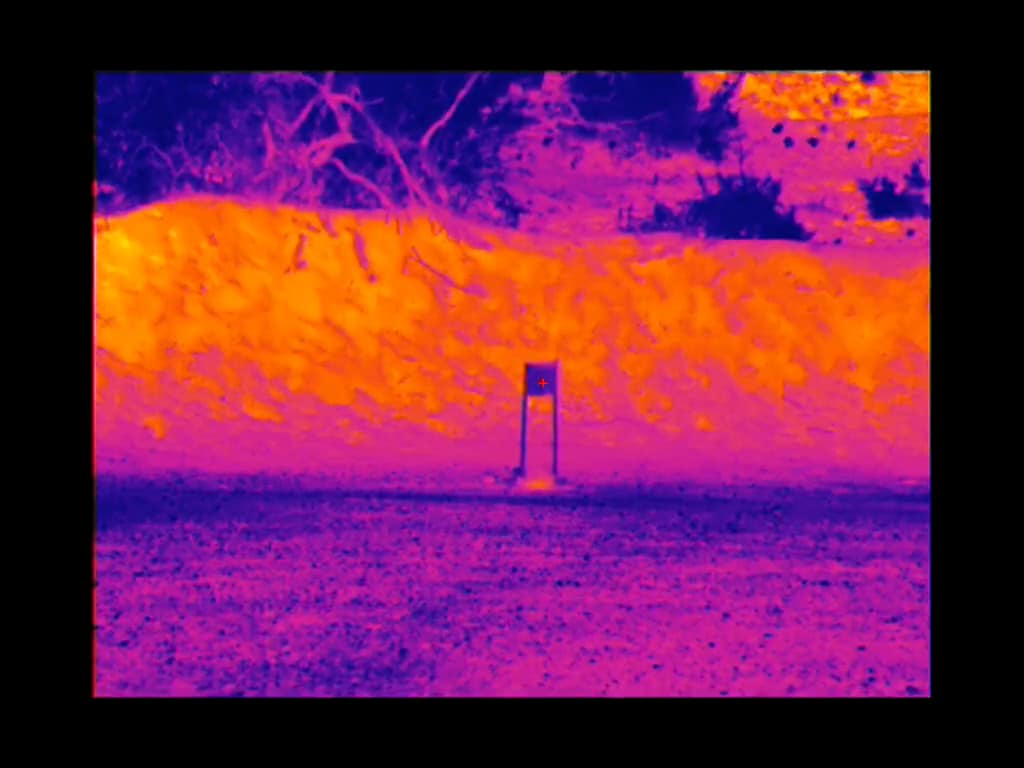 With an MSRP of $2,999, this extremely compact thermal optic can be used as a handheld monocular for scouting, can be helmet mounted, or used on a rifle as a dedicated optic in standalone mode to provide positive ID on targets.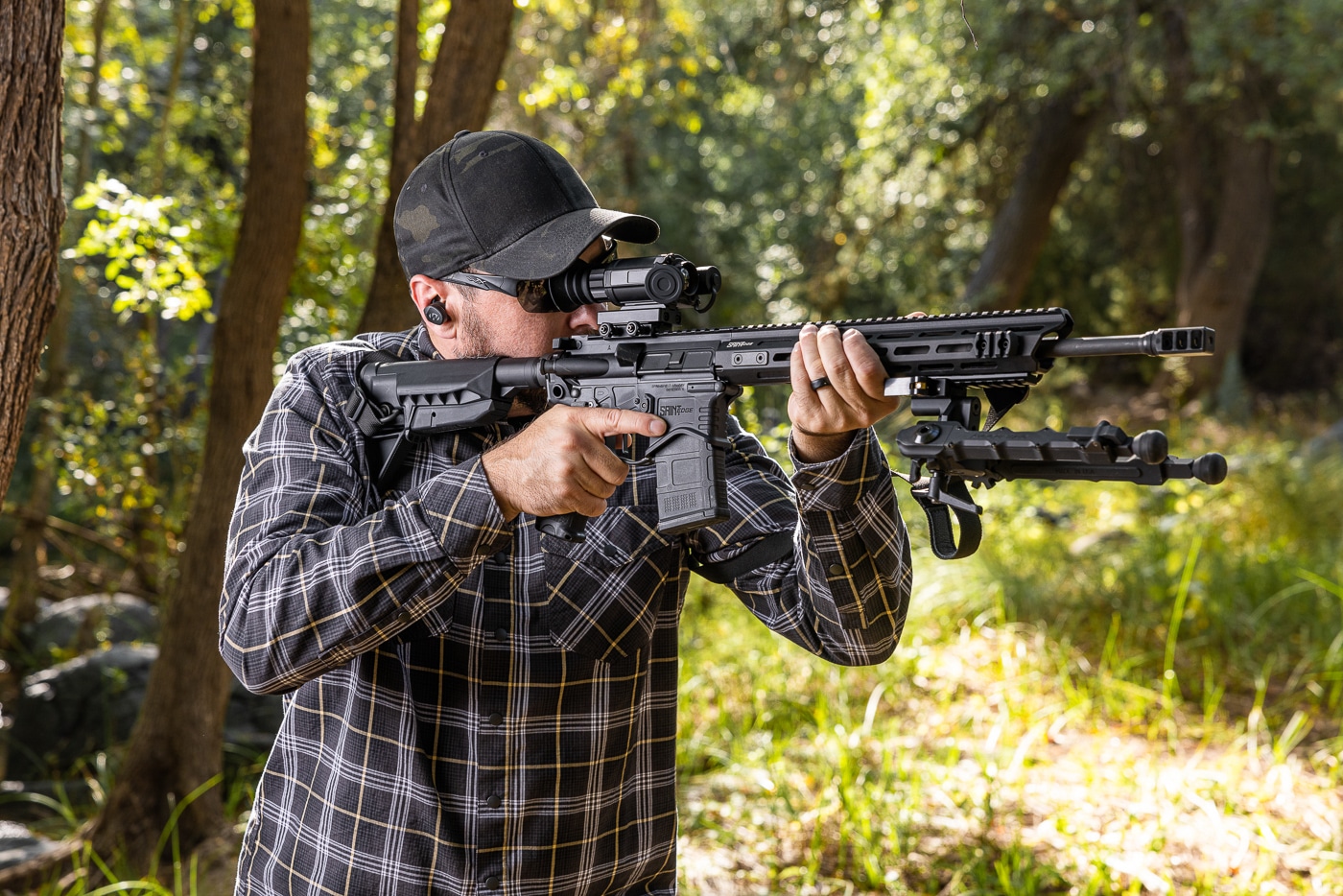 Over the course of a few months, I had a chance to test out some of the features and capabilities of this little unit and mounted it to my SAINT Edge rifle for some range time experimentation. One feature I was particularly interested in was the onboard recording capability (internal 64 GB storage) with an onboard playback feature so you can instantly review footage in the field to verify if you captured the shot.
Initial Impressions
Out of the box, I was impressed with the size of the tiny electro-optic compared to other thermal monoculars with which I have worked in the past. Weighing under one pound, the lightweight nature of the unit doesn't impact how robust and substantial it feels in hand. In brief, it doesn't feel like a cheap plastic toy, but has the characteristics of a rugged, heavy-duty piece of kit.
The soft shell case that accompanied the unit I received contained everything I would need to get started as well, including a detailed full-color manual, two rechargeable 18650 batteries, battery charger, cables for data transfer and external power, eyecups, mounting hardware, and some extras.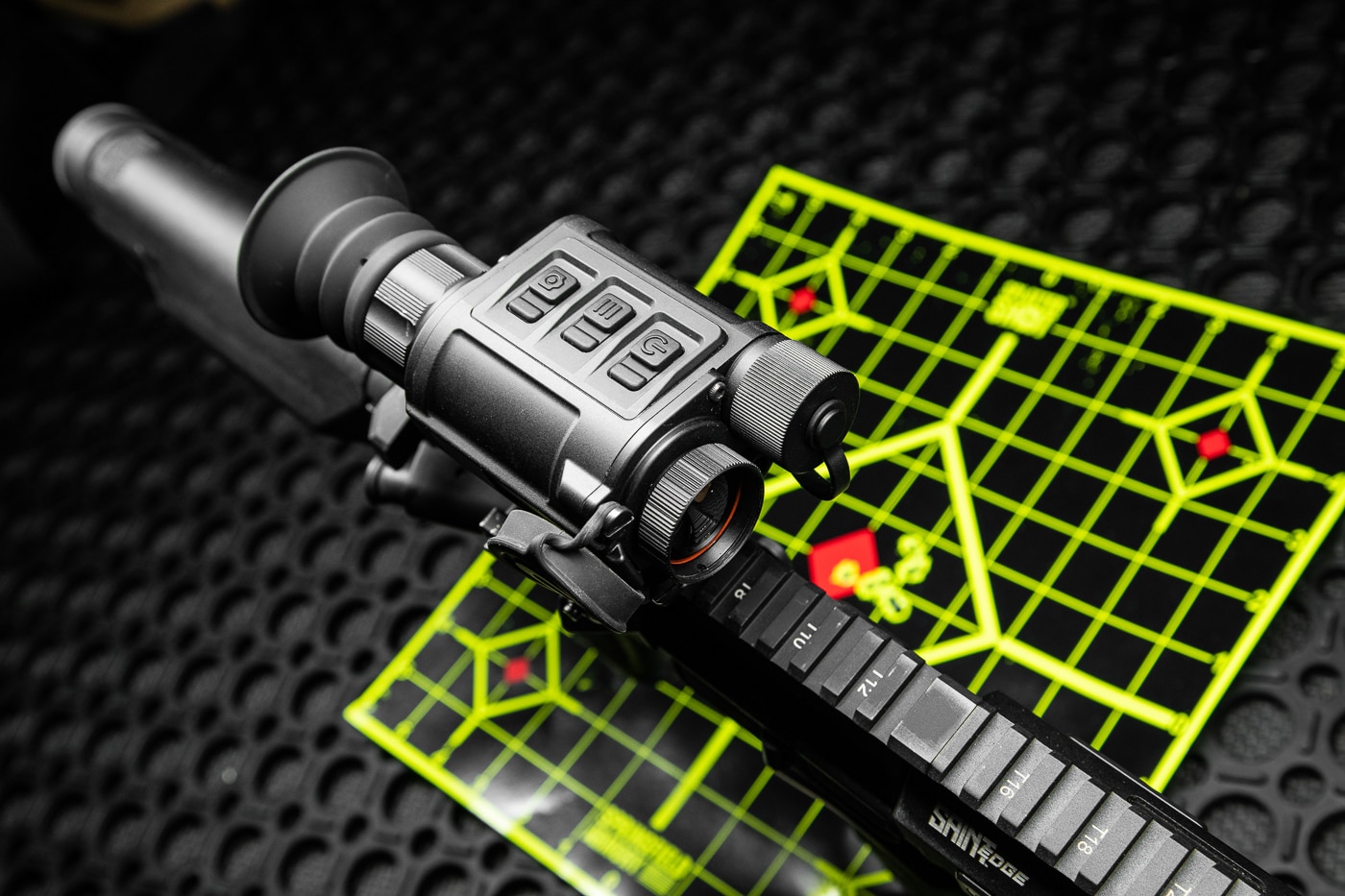 In terms of ergonomics, the body style and button placement all felt easy to utilize and comfortable, it fit in the palm of my hand, and the rubberized coating across the body proved to be comfortable in cold conditions at the range, helping ensure positive control in hand, even during slightly rainy conditions.
Technical Wizardry
The Rico Micro includes iRay's latest high-performance 384×288, 12 μm sensor technology, MATRIX III processing, and a manual-focus f/1.0 objective lens. The sensor's 50 Hz frame rate provided a smooth and crisp image with very low latency to my eye when in use.
In terms of the glass and magnification, the unit featured an optical magnification of 2X and a digital magnification of 4X. I found the crispest, most precise image and best user experience overall at 2X and 1X magnification during my time with it, in both handled usage and weapons-mounted scenarios.
The detection range on the unit is maxed out at an ample 1,375 yards for most hunting or spotting applications, where a thermal optic of this class would be applicable and most optimally suitable. The batteries afford users up to four hours of life, and with two batteries in the package, you should be set for a full day of use.
The on-screen readout is where I felt this unit really excelled and was a standout compared to most other thermals that I have had the chance to play with. You have a wide array of data sets available to you and a good degree of control regarding what information on-screen you'd like to see during use.
On Screen
Accessing the menus through the three top-mounted buttons is fairly intuitive once you get the feel for it. It honestly took me an hour or so of playing with the controls to become familiar with how the menu and options navigation worked screen to screen, but this wasn't due to any lack of intuitive handling. Rather, it was because of the wide degree of menus, sub-menus and features this compact unit affords.
The unit includes four thermal views: White Hot, Black Hot, Red Hot, and Color. Useful displays on the screen also include three zero profiles that can be assigned distances, a working mode (to designate handheld, standalone or helmet mounted), imaging mode, a digital compass, digital zoom, battery indicator and clock.
At the Range
Because thermal optics, including this unit, don't traditionally provide you with a "normal" video view of what you are sighting, you only see the target in a thermal view. This means that there is no "bullseye" to see on a paper target, just a square of uniform color where the ambient temperature of the paper is. So, to zero the optic, I took it to my local 50-yard range, I set out a Splatter Shot target so I could easily detect impacts from the bench rest, and set my SAINT Edge on the bench using an Accutac Bipod and bag rest for stability.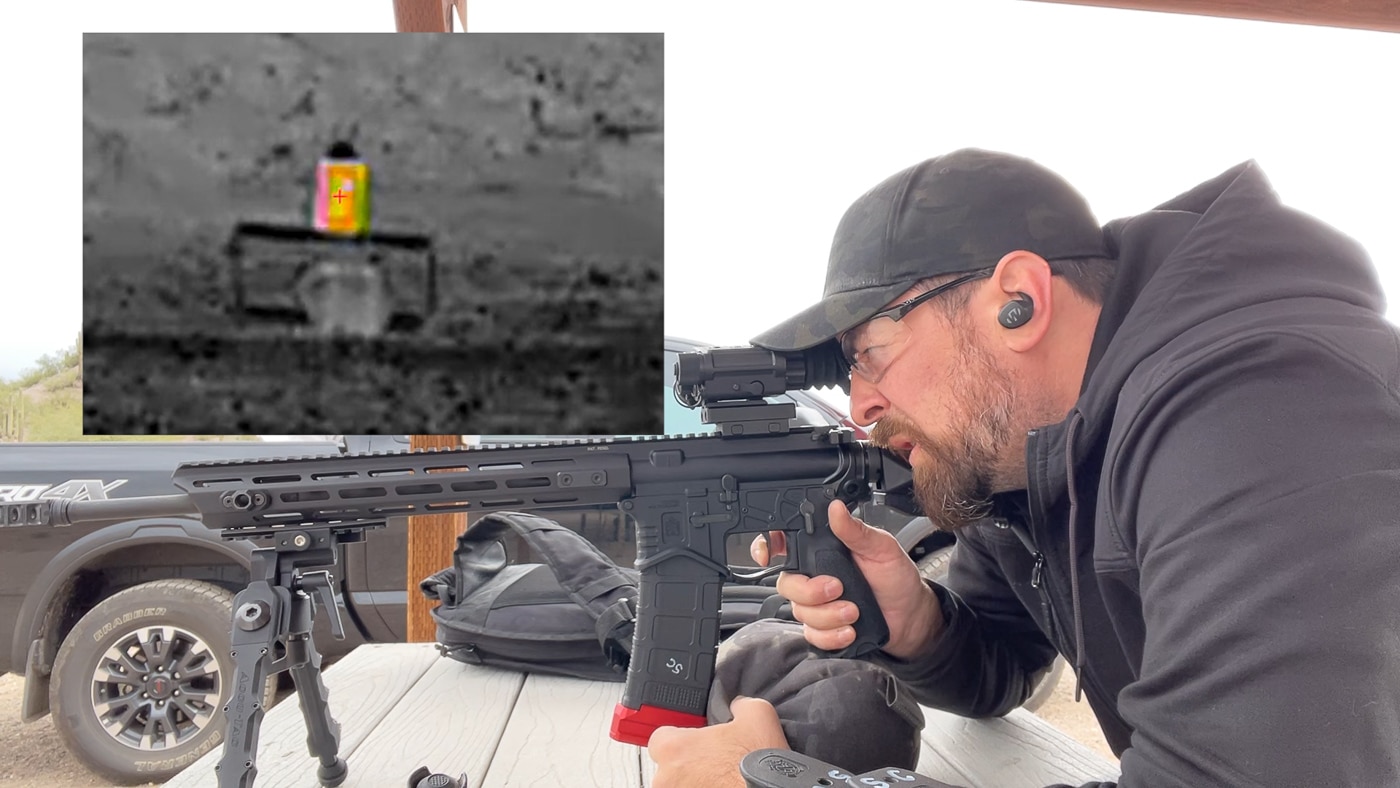 My methodology was crude but effective. I simply set the digital "A" profile on the iRay thermal to 50 yards and held the digital reticle on the center of the target and sent three shots to see where my initial impacts were landing. On this brisk 59-degree morning, through the thermal "Red" view of the iRay, the image showed a monochrome surrounding rage until rounds impacted the berm, which instantly showed where my hits were landing in a spray of warm-colored lead splash. The hot markings in the berm stayed warm for minutes after impact, which gave me time to utilize the controls to adjust the digital reticle accordingly.
Five more rounds sent and when I approached the Splatter Shot target, I was genuinely surprised. I landed a bullseye and then a very tight and consistent group within three inches of it in the center of target. This was positive data, showing the adjustment was on point and the optic and mount allowed me to hold a reliable zero. Again, this was all based on rough shot placement calculation by visually determining the center of target without actually being able to see the bullseye of the target.
Now, because shooting paper with a thermal is only so much fun … I wanted to see what a "warm" target would look like through the eyecup. My schedule not affording a hog hunt for this test, I improvised. I warmed up a gallon jug of water in the truck using my seat heaters and heat cranked to 90 degrees. The jug of water was glowing orange and yellow after a few minutes, so it was "go" time.
I sighted back in using my previous freshly dialed-in distance preset on the iRay and sent a round. Orange, red, and yellow splash! Not gonna lie, it was just good fun, and although I have used thermals a decent amount in the past, the unique view and kaleidoscope of color on impacts never lose their appeal. Like I said, it was a crude test and demonstration for what is truly an advanced and feature-rich optic, but it suited to answer my questions.
Does it work? Yes. Is it fairly intuitive and does it afford you the ability to customize it to your distances? Yes. Did the battery life last the range session and then some? Absolutely. Would I recommend checking it out if you're seriously into hog hunting, predator hunting, or just like to see the world in a different view as an optics enthusiast? Definitely.
Editor's Note: Please be sure to check out The Armory Life Forum, where you can comment about our daily articles, as well as just talk guns and gear. Click the "Go To Forum Thread" link below to jump in and discuss this article and much more!
Join the Discussion
Featured in this video
Continue Reading
Did you enjoy this video?
33