Ayoob Reviews Springfield Custom's XD Competition Trigger Job
February 2nd, 2022
7 minute read
I liked Springfield's XD-M service pistol from the beginning. It had 20 rounds of 9mm on board, even before you put an Arredondo floorplate on the magazine to increase capacity. Trigger reach was just right for me, and I thought its smooth-rolling trigger pull was excellent for "stressful street needs." The ambidextrous mag release button was a plus for someone with an arthritic thumb like mine.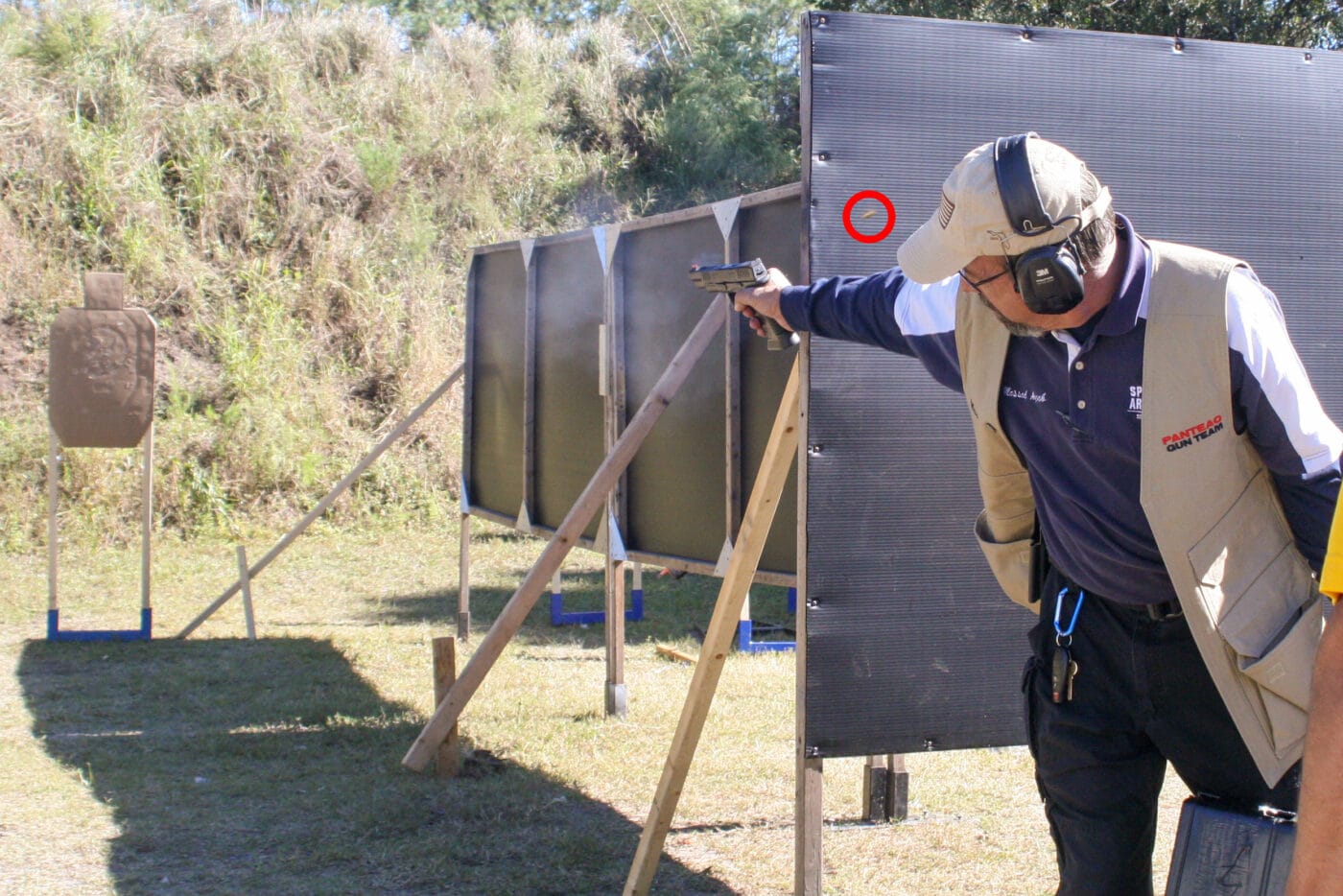 Then I tried one with Springfield Custom's Competition Trigger Job, and was hooked. I bought one in standard length, strictly for shooting matches. When I went to the range in Geneseo years ago with Springfield Armory's Dave Williams to shoot the first extended length 5.25 model, I fell for its wand-like handling qualities and had to have one. It became my favorite match gun for IDPA competition. My wife owns its twin.
The time came when I tested the 5.25" barrel XD-M when it came out in 10mm. I liked it very much and bought it with a view toward maybe using it in bowling pin competition. In an adult lifetime of shooting pistol matches, my all-time favorite for pure fun was the original Second Chance Bowling Pin Shoot, which I shot from the first event in 1977 to the swan song match in 1998. When this iconic event returned as The Pin Shoot, I was there and have been there ever since.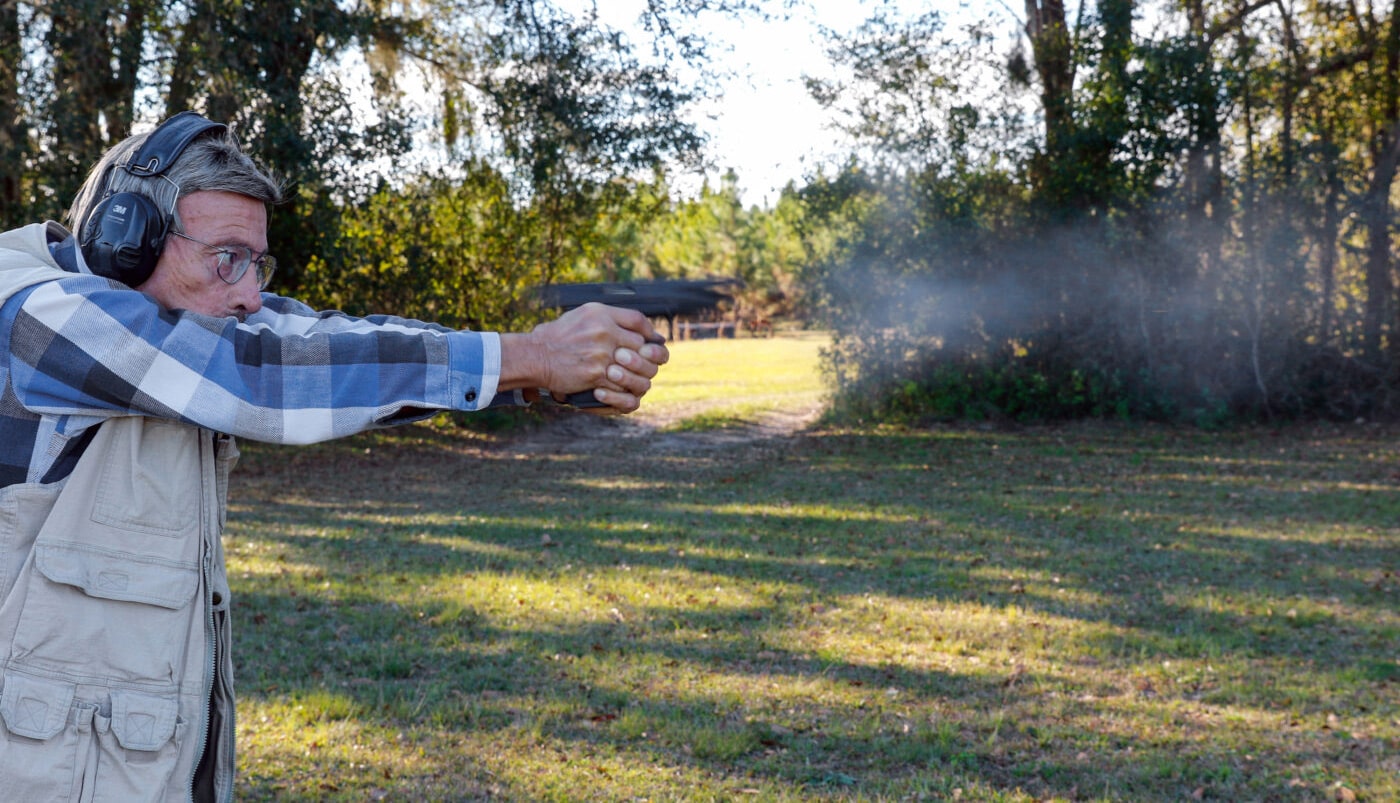 Now, like most, I generally shot a .45. You need power to get those heavy tenpins blown the requisite three feet back off the table. One year I shot with a 10mm, a Mark Morris Custom Delta Elite, and since that was concurrent with the National Junior Handgun Championships, used it alongside my thirteen-year-old daughter Justine, who was shooting a Springfield Armory .45 with +P handloads. We won the parent-child team championship for the sub-junior age group. That left some good memories.
Thinking about a 10mm for pin-shooting, I bought the test gun and sent it to Springfield Custom, under the administration of Custom Pistol Tech Jeremy Sides.
I'm glad I did.
Of Pistols and Purposes
Out of the box, I think the XD-M is fine for the woods-walker who might encounter large, hostile creatures. If one can't carry a powerful rifle or a fast-firing slug-loaded shotgun in such places — and that includes most hikers and anglers — the deep-driving bullets of a properly loaded 10mm are promising. Personally, when I go to Alaska I'm mostly on shooting ranges in or around Anchorage, and a .45 gets me through just fine. My particular need was for pin-shooting in the Stock Gun class, where my Morris Custom gun is not allowed because of its integral (and highly efficient) recoil compensator.
With "emergency shooting" off the table for those particular needs, I wanted a pure target trigger: fast reset, light pull, all of that. Hence the trip to Springfield Custom with the request, "Build this the way you did my 9mm 'match' XD-M's."
The Work
Explains Jeremy, "Our Competition Trigger Job reduces over-travel, shortens reset and lowers the pull weight. Every internal modification is done in-house. We use a Powder River Precision trigger as a base for the over-travel stop. We do some welding and some stoning, and put a high polish on all contact surfaces."
Jeremy added, "The work takes about two hours plus of very specific skilled labor. We charge $195 for the trigger work. Typical turnaround time is two to three weeks."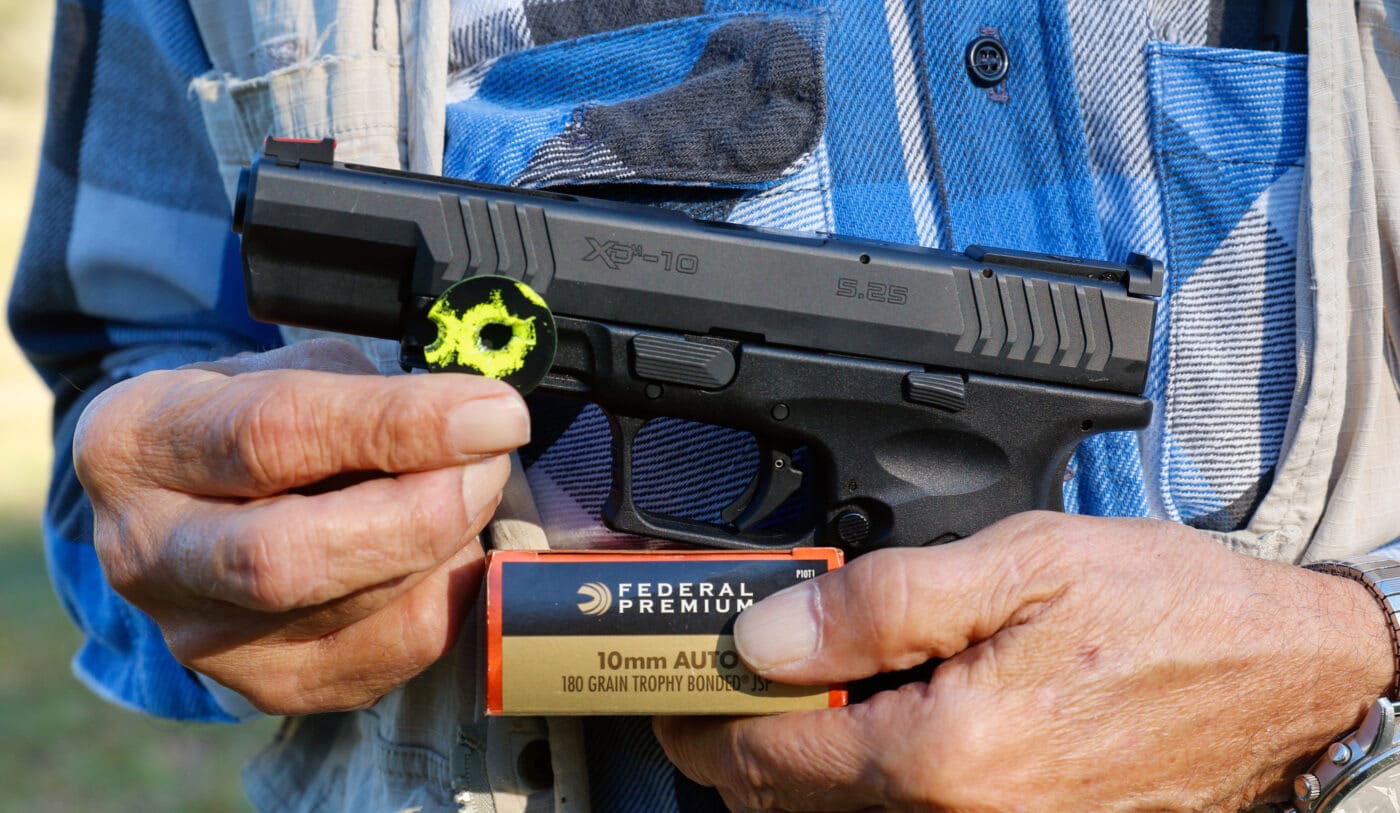 "One thing I always love to tell customers that ask what they can do to accurize my XD/XD-M is to get a Competition Trigger Job," Jeremy pointed out. "When they look at me with a blank stare, I explain to them that the barrel alone is very accurate, as is. But by reducing the overall weight and length of pull on the trigger, you are even less likely to 'drop your shot'. The short reset also helps with faster follow-up shots."
The modified XD-M is, of course, still drop-safe. The standard recoil spring and firing pin spring remain. The trigger bar spring used in the modification is also from Powder River.
Wait time at this writing is two to three weeks. That proved true with my own pistol. The charge of $195 is very reasonable in this reviewer's opinion.
The Result
The trigger pull was indeed clean; reset was fast and palpable; and if there was any over-travel, I couldn't feel it. The same sweet pull that had won me over to the Custom Shop XD-M in 9mm for competition was. there. Pull weight on my Lyman digital gauge was very consistent, averaging 3.25 lbs.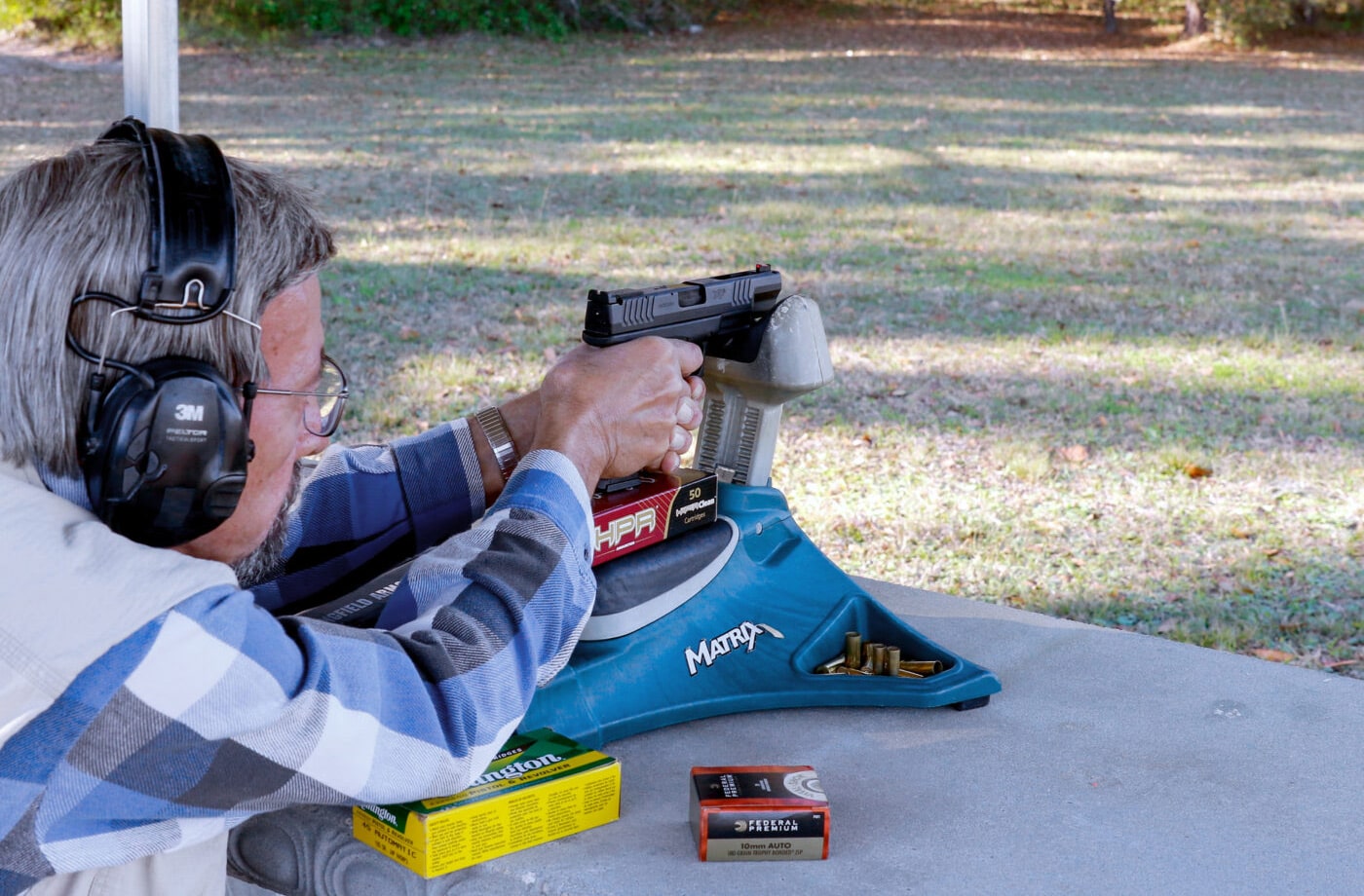 Now, let's be clear: Springfield Armory calls this their Competition trigger for a reason. Their pull weight spec for a duty gun — that is, a defensive firearm intended for use under extreme stress — is 5-6 lbs. This is why Springfield Armory wants a waiver confirming that the gun is to be used strictly for sporting purposes before they put this trigger pull into an XD-M, Jeremy Sides confirms.
I concur. For too many reasons to go into in this article, fairly or unfairly light trigger pulls have historically been associated with unintended discharges. There's also another point that a lot of folks miss: in a perfectly justified self-defense shooting, a "too-light" trigger allows plaintiff's counsel or a politically motivated prosecutor to falsely argue that it did go off by accident.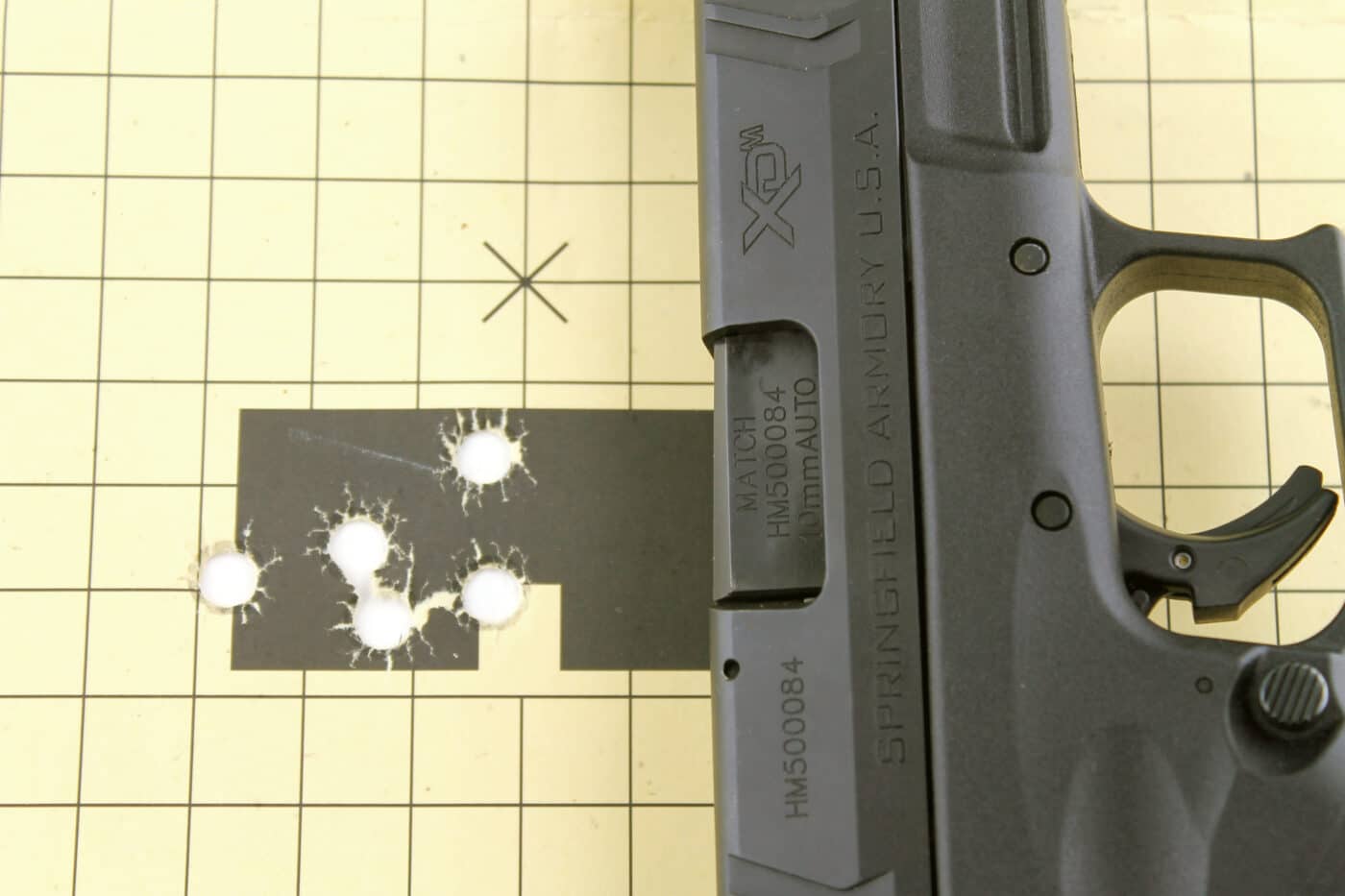 Ever notice that you never hear the phrase "justifiable accident"? After 40- plus years as an expert witness in weapons and shooting cases, I've seen several of both types of situations. Particularly in today's political climate, I don't want to give anyone arguments they can use against me in court. (If you want to discuss this element more, let the editors know in the forum section you can access below this article, and we can see about making that happen.)
Shooting the Pistol
You know that you and the pistol have bonded when you set it on a Caldwell Matrix rest on a concrete bench and fire five shots at a 1.1" aiming dot from 25 yards … and the first three of those 10mm bullets clip the dot, blowing it off the target. Those three shots measured 1.15" apart center to center. From 75 feet, this old guy's eyes couldn't see the three bullet holes as well as the black dot, and I got sloppy with the next couple, but the whole five-shot group still measured 2.45" with four of the five under an inch and a half.
The 5.25's adjustable rear sight with green fiber optic front helped with that. One of the things I like about the XD-M 10mm is the adjustable sights. With the wide variety of 10mm ammo available, the adjustable sights let you dial in for the load of choice and increase the versatility and practicality of the pistol.
The ammo for that five-shot group was Federal's 180-gr. Trophy Bonded, rated for 1,275 fps velocity and 650 ft.-lbs. of energy at the muzzle. Billed as a hunter's load, this jacketed soft point has a wide meplat, something you want when you are shooting a bowling pin, the convex surface of which can deflect force slightly if it's not hit square. In pin-shooting, you have to blow those heavy pins completely off the table, and an edge hit with a round nose bullet can knock it sideways instead of back, requiring more time-consuming shots to dispose of it while the timekeeper's clock is running.
There's a good chance this XD-M 10mm will replace my usual Springfield TGO-II 1911 .45 at the 2022 Pin Shoot. I haven't shot the two side-by-side enough to decide. Bottom line? I'm glad I sent it in to Springfield Custom. And if you're looking for something similar, I recommend you consider Springfield Custom for your pistol. For more information, call Springfield Custom at 800-617-6751.
Editor's Note: Please be sure to check out The Armory Life Forum, where you can comment about our daily articles, as well as just talk guns and gear. Click the "Go To Forum Thread" link below to jump in and discuss this article and much more!
Join the Discussion
Featured in this article
Continue Reading
Did you enjoy this article?
95