I've shot every SAINT rifle available. I've had the pleasure of running each of the SAINT, SAINT Victor and — my personal favorite — the SAINT Edge rifles, putting thousands of rounds downrange with them. And what have I learned from all this? Each runs exceptionally well, and each comes nicely equipped from the factory in relation to their respective pricepoints.
It's no secret that if you're seeking a fantastic AR right out of the box, you'd be hard-pressed to find a better value than any one of the rifles in the SAINT line. But what if you're a tinkerer like me? What if you like changing out parts, trying new configurations, etc.? Then, the SAINT — the lowest-cost rifle in the line-up — makes for a great option. You get a solid foundation, and have some money left over in your pocket for adding on some new parts or gear.
Let's be frank, that's one of the greatest appeals and benefits of the AR platform — the modularity and limitless customization potential that the rifle's design and interchangeable components present to users. I've built (and torn back down) more than my share of AR-15's over the years, so I was thrilled when Mike Humphries, editor-in-chief of The Armory Life, reached out to me with an opportunity.
"Would you be interested in taking a SAINT 5.56mm and kitting it out with a selection of Midwest Industries, Inc. gear?", he asked. Needless to say, I jumped at the chance as I'm a big fan of their products.
Sourcing In…
Per the company's website, "Midwest Industries (MI) was founded in 2003 by two partners in the precision machining industry, united by a lifelong belief in American-made products, American values, and the Second Amendment."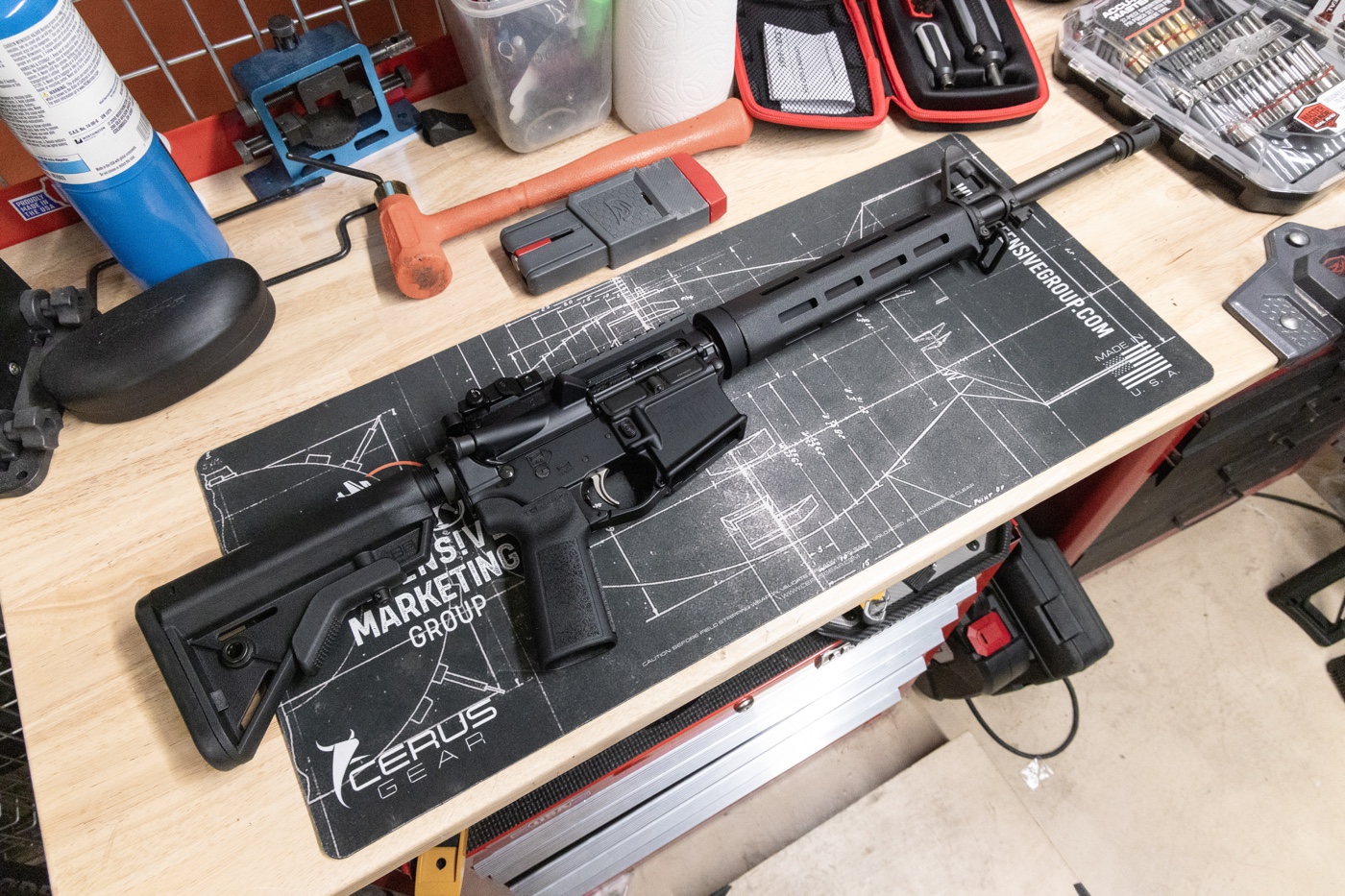 While their product line has evolved to include components and accessories for a number of platforms and for a wide array of brands, they got their start with AR parts. And it was in that section I was looking. My goal was to utilize the strengths of the core SAINT platform, but also try out some interesting enhancements for it from Midwest.
After a good amount of research on their site (and a great deal of fun doing it), I selected the following parts for this project:
Drop-In 3.5-Lb. Single-Stage Flat Trigger
Enhanced Black Nitride Bolt Carrier Group
Combat Rifle Sight Set
Combat Rail One-Piece Free-Float

M-LOK

Handguard
Low-Profile Gas Block
Two-Chamber Muzzle Brake
Now, before we go any further, I want to point out that the SAINT comes equipped and ready to go out of the box with practically every feature you need. In fact, I highly recommend the SAINT line to my friends and family, having personally gifted a few rifles to some of the people closest to me.
I've personally entrusted the SAINT line and Springfield Armory as a brand for home defense, for competitions like the Tactical Games, and for training throughout the years. So, the bottom line is the gun doesn't really need any of these changes. But, I'm a tinkerer, and it's not always about what we need, is it?
So, what informed my choices? I selected some components, like the Midwest Industries handguard and the flat-faced drop-in trigger, out of personal and stylistic preferences. For example, whereas I really do like the appearance of the B5 Systems SAINT's standard M-Lok handguard, I prefer M-Lok across as much surface area on an AR's handguard as I can get for accessories. There were also some other tweaks I wanted to make.
The specific model of SAINT I was working with for this build came from the factory with the A2-style front sight/gas block system. Again, I'm a fan of the iconic and classic look of the A2-style sight, but in practice at the range or for a home defense platform, it wouldn't be my usual preference when equipping an AR today.
As I would be including the Midwest Industries' Combat Rifle Sight Set in this build, I chose to swap out this factory-installed system for the Midwest Low-Profile Gas Block, which also accommodates the Midwest Combat Rail One-Piece Free-Float M-Lok Handguard I had selected.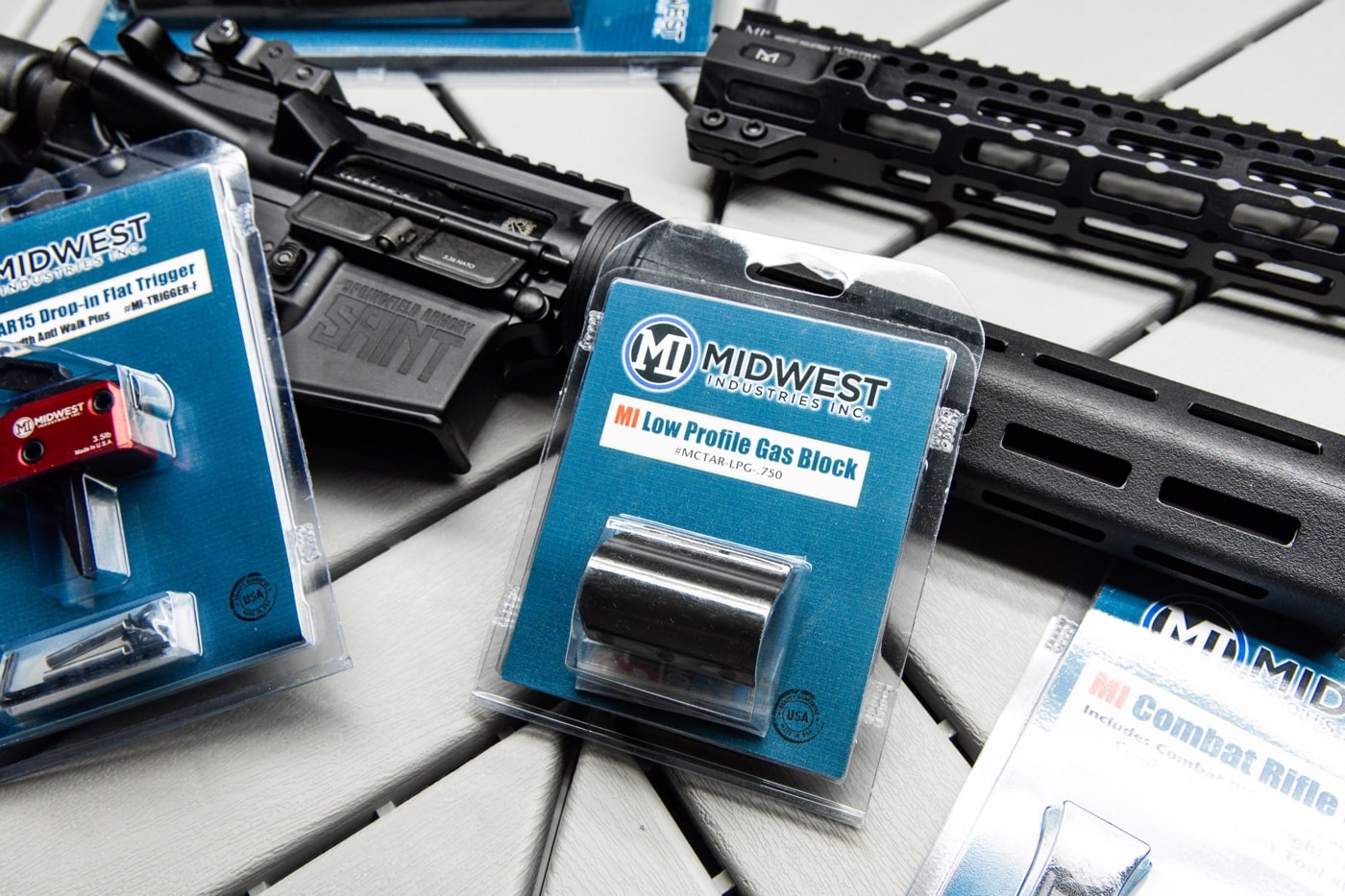 As for the trigger, I was very curious to try out Midwest Industries Drop-In 3.5-Lb. Single-Stage Flat Trigger with included anti-walk pins, as I prefer a flat trigger these days. Don't get me wrong, the standard SAINT's factory-installed nickel boron-coated curved trigger is a solid system, but remember, we are tinkering here. Also, I absolutely love the Modular Match Trigger that is in my SAINT Edge, and I wanted to feel how the Midwest drop-in trigger compared.
I was also curious to see how much the sizable Midwest Two-Chamber Muzzle Brake would help tamper down muzzle rise compared to the conventional A2 flash suppressor on the SAINT. And lastly, I selected the Midwest Enhanced Black Nitride Bolt Carrier Group. This one was more of an "apples to apples" comparison, and I was curious how it would perform.
The Build
For those who have built AR's from a variety of aftermarket components, you probably know that in theory everything should fit together without too much trouble. But, as with everything, it's always good to be careful and cautious. I am sure many of you have learned during the course of building AR's that "Mil-Spec" doesn't always translate to "precision tolerances", but that parts are produced within an accepted range of tolerances.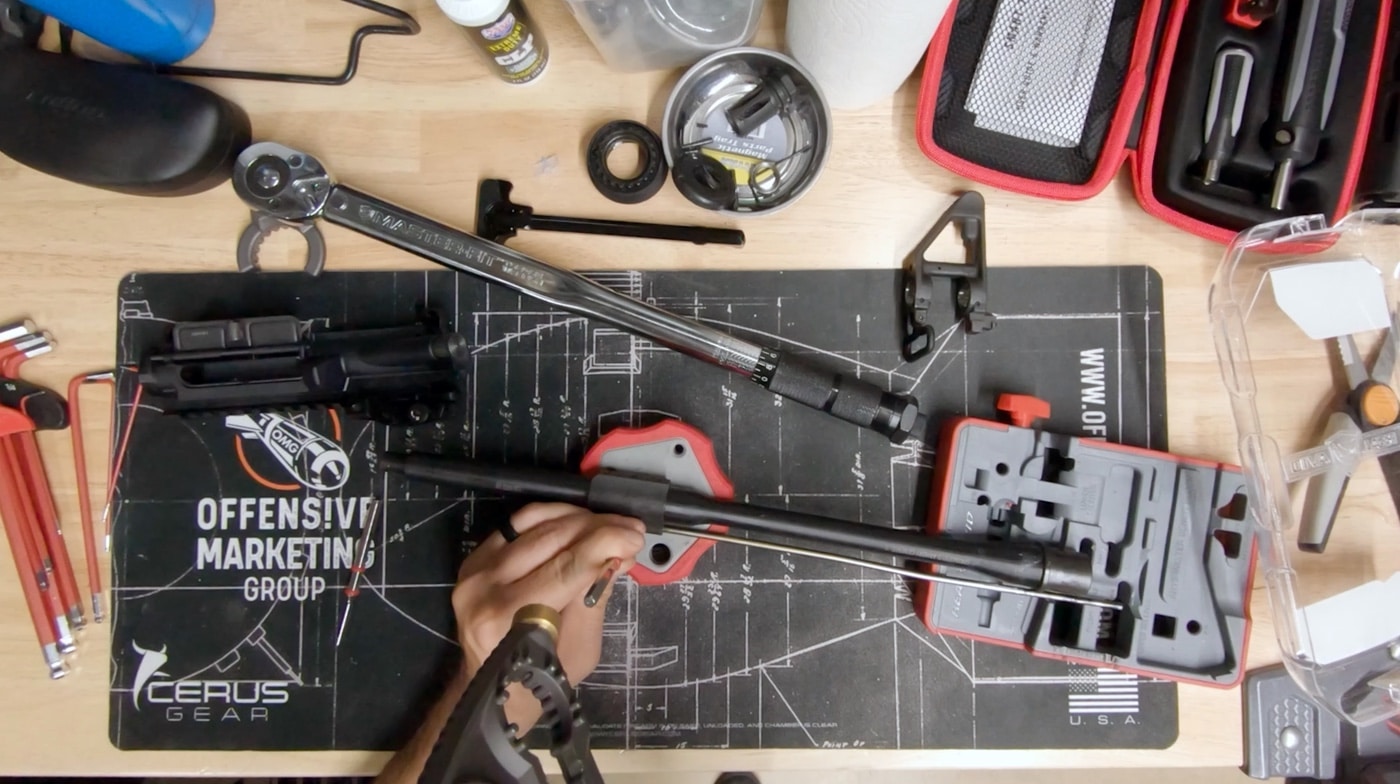 One of the major benefits of selecting the majority of components from a single manufacturer, particularly a highly reputable and high-quality manufacturer that precision machines and quality checks their components like as Midwest Industries, is that you have a much greater chance of completing a successful build without any issues. And doing the same with the base rifle — selecting a reputable manufacturer like Springfield — is also a sound move.
Hitting the gun bench, the build was honestly one of the smoothest I've ever undertaken. This was in part because of the aforementioned precision-machined components from Midwest Industries simply fitting and pairing beautifully with the SAINT's quality components. My efforts were also greatly aided throughout the process by having a suite of Real Avid's exceptional gunsmithing tools at the bench with which to work.
After visually and physically inspecting and safety checking the chamber to ensure there was no ammo in the rifle, I broke down the SAINT and removed the complete upper assembly from the lower. Starting my work on the upper, I removed the clamshell-style M-Lok handguard, which was relatively easy.
The Real Avid Accu-Punch Master Set came in handy when punching the pins out of the A2 pinned gas block/sight system. The Real Avid Master Gun Vise with the articulating jaw and Master-Fit Crowfoot Wrench Set was a blessing to have on hand to then remove the Delta Ring so I could gain access to the exposed barrel.
Installing the new Midwest Low-Profile Gas Block in alignment with the gas port in the 12 o'clock position on the barrel went smoothly. Fitting the included barrel nut over the barrel and mating it with the upper presented no challenge, and then sliding the Midwest "Combat Rail" over the barrel and in alignment with the SAINT's upper was a very smooth operation.
From there, I dropped the Midwest Enhanced Black Nitride Bolt Carrier Group into the upper with ease, and after verifying headspace ensured I was good to go. The last touches for the upper upgrade included threading on the Midwest Two-Chamber Muzzle Brake and installing the sturdy and easy-to-manipulate Combat Rifle Sight Set, which was as simple as putting them into the proper position on the top rail and turning the screws. These phosphated low-profile steel sights were quite impressive and well-made.
With my efforts on the upper completed, I turned my attention to the installation of the Midwest Drop-In 3.5-Lb. Single-Stage Flat Trigger. When removing a trigger in an AR, always wear eye protection and keep a magnetic dish for small parts on hand when working with parts under tension.
Installing the drop-in trigger was very easy. As the name implies, it drops into place. After the trigger and housing were dropped in, I reinstalled the safety and then installed the included "anti-walk" pins using the two included Allen keys that allow you to torque down the pins on each side simultaneously. I added a bit of included orange thread locker for additional security.
Complete Package
Connecting the newly revamped upper and lower gave me a rifle that looked familiar and sleek, and also appeared as a hybrid that fit somewhere between the SAINT Victor and Edge rifles, with the Midwest Industries components bringing it together in a new feel all of its own. The rifle looked fantastic, but it was time to put it to the only test that truly matters: Does it run?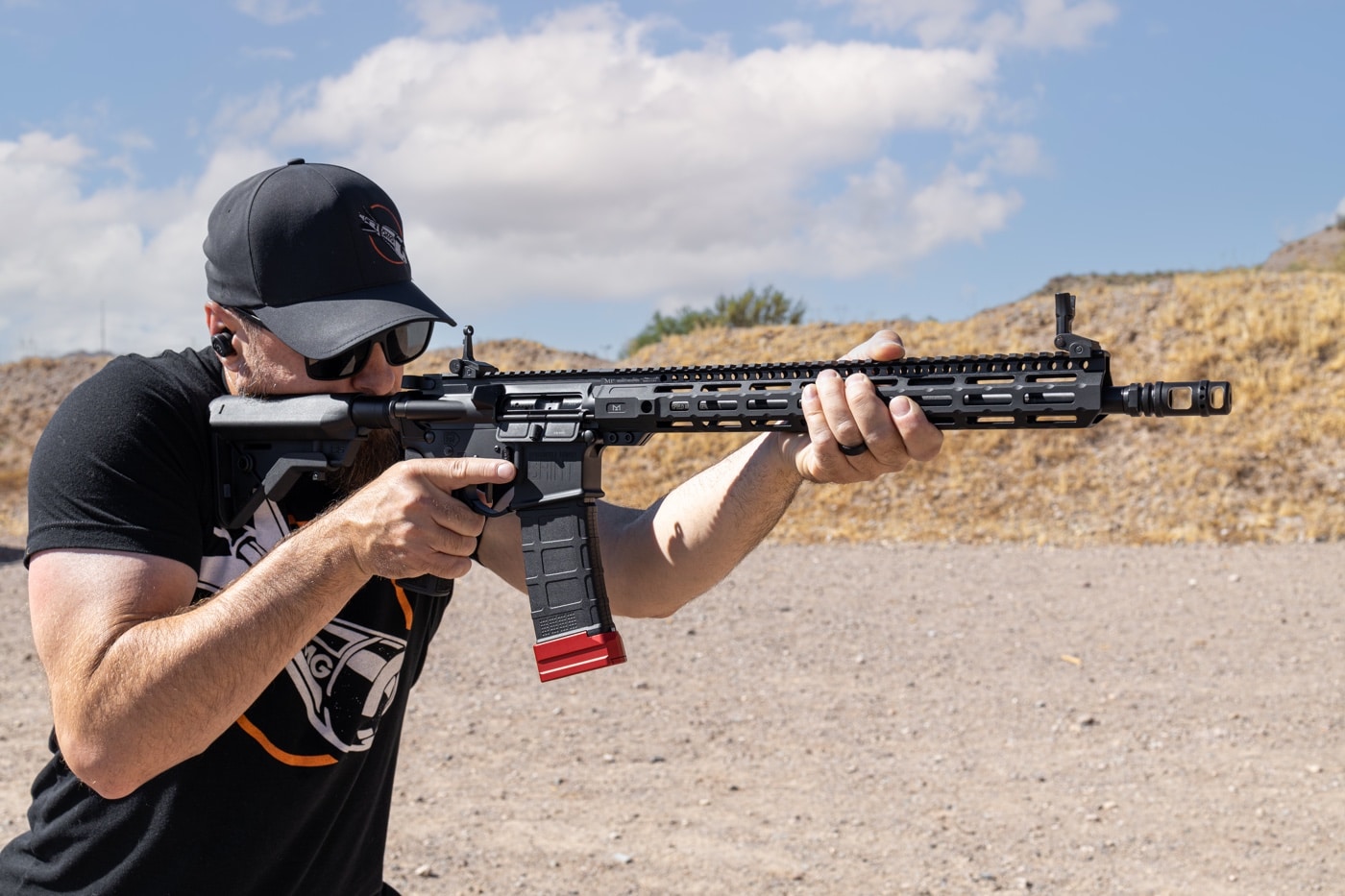 I loaded up the truck and took off to the range. Loading up mags with Remington UMC ammo, I stepped up to the firing line, confident that my gas port alignment was true, my torque settings were applied properly, and that no "jiggle" or "wiggle" would be felt during firing.
Taking aim, flipping off the safety and pressing the newly installed Midwest Industries drop-in trigger, I was delighted that the gun ran — and ran extremely well. In general, it felt as good as my SAINT Edge in terms of responsiveness and rock-solid build characteristics.
I ran half a dozen mags through it and enjoyed it thoroughly. The brake absolutely crushed the perceived recoil and diminished muzzle rise, the trigger was great, and most importantly to me — if only for my own insecurity as an amateur gunsmith — it had no issues or malfunctions whatsoever.
Conclusion
I'm happy to report that with the Midwest Industries components I selected, I received exactly what I was hoping for during this build with the SAINT rifle. I can wholeheartedly say that after this build I trust the quality and capability of Midwest Industries components in equal measure to the SAINT rifle, and would recommend this company to anyone seeking exceptional components for an upgrade or complete build themselves.
Editor's Note: Please be sure to check out The Armory Life Forum, where you can comment about our daily articles, as well as just talk guns and gear. Click the "Go To Forum Thread" link below to jump in!
Join the Discussion
Featured in this video
Continue Reading
Did you enjoy this video?
38