Does This Gun Prove That John Moses Browning Got the 1911 Wrong?
July 21st, 2022
6 minute read
The 1911 is a .45. The .45's home is, and always will be, the 1911. These statements might sound like opinion to some, but to many they are simply fact. Why is this? Both the 1911 and the .45 ACP cartridge were born from the fertile mind of John Moses Browning, revered American firearms designer. And both were developed for a military contract that would result in the longest service U.S. military small arm in our country's history.
So there you have it. The 1911 is the only "true" handgun ever designed, and the .45 is the only chambering you should ever consider. But what about all those popular 9mm-chambered 1911 pistols you see on the market now? Also, how about the potential issues of chambering the shorter 9mm cartridge in the longer.45 ACP-based design? All these shooters can't be wrong, can they? Was the 1911 as it was designed and the .45 cartridge not the best choice?
A New Take
For some, the thought of chambering Georg Luger's European 9mm round in JMB's design is sacrilege. However, what if you think it is a good idea, but you think the complications of getting the shorter round to work in the design are not worth the hassle?
Enter the Springfield Armory 3" EMP 1911 pistol. It is an optimized concealed carry version of the epically cool line of combat handguns. EMP stands for Enhanced Micro Pistol. Unlike most 9mm 1911s that are simply standard .45 ACP guns rechambered for the 9mm, this pistol is designed from the ground up around the Parabellum cartridge. There are eleven unique proprietary parts that define this patented design.
When selecting a concealed carry gun, the devil is always in the details. Some folks want a lightweight, striker-fired, high-capacity, polymer heater or nothing at all. Springfield Armory can indeed hook you up with one of those. However, some of us prefer to hearken back to an earlier, simpler time. For gun guys who yearn for the inimitable feel of cool metal against their skin yet still demand Information Age technology, materials science, and engineering, the EMP is your iron.
Decisions, Decisions…
It's tough for me to get my head around Springfield Armory's dazzling array of classic 1911 pistols. If you can dream it, the wizards at Springfield Armory have you covered. But the Ronin EMP guns fit a certain unique niche — different than the traditional 1911.
In the world of carry guns, geometry is everything. Weight certainly matters, and the aluminum frame keeps things lightweight and packable. When JMB designed the 1911, steel was the only choice. These days, lightweight aluminum is a real option, and one of which the EMP takes advantage.
However, in addition to weight, it's slide and grip length that determine comfort and concealability. Additionally, in this strange little world one size definitely does not fit all. A 270-lb. NFL linebacker could conceivably hide a modest howitzer on his person. A corresponding 110-lb. cheerleader needs something more petite. That's why Springfield Armory offers the Ronin in seven major variations.
In the 9mm compact carry realm, the handgun is available with either 3" or 4" barrels. The smaller stubby 3" gun is 4.8" high and packs a 9-round single-stack magazine. This is the smallest production 9mm 1911 in the world. The 4" version sports a full-sized 5.1" grip and 10-round magazine along with a generous base pad. Which gun is best for you is driven by your body habitus, personality, and ballistic proclivities.
While JMB designed the 1911 with a bushing system, the Ronins (due to their barrel lengths) feature a modern bushingless system where the barrel fits directly to the slide.
Size Does Matter
I despise that phrase. It is the most overused and utterly depleted of double entendres. However, in this case, it simply means that shorter and stubbier dimensions make for a more comfortable carry package.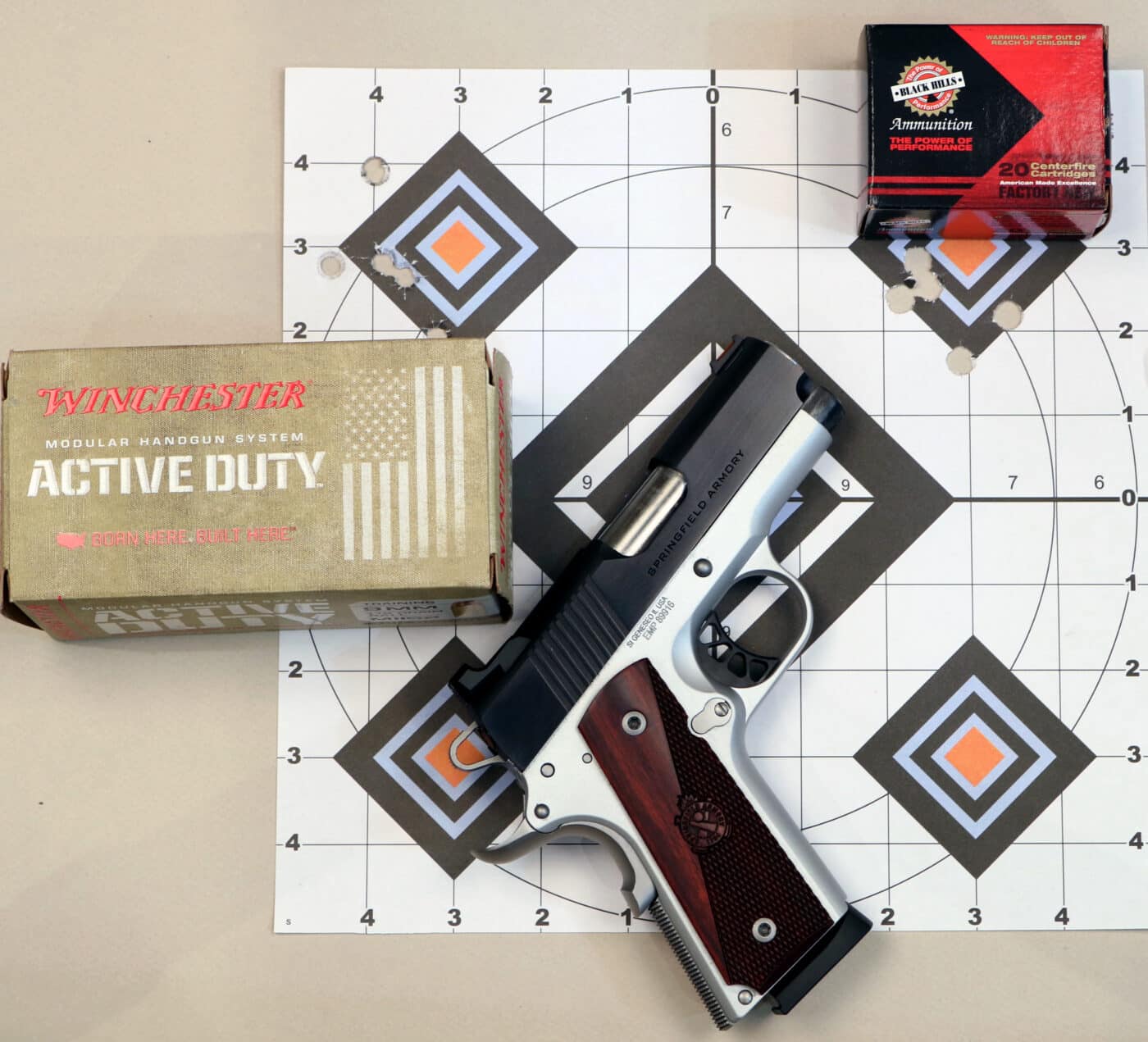 That may seem like a small thing. It's not. My own collection is liberally littered with cool-looking guns that are too bulky or too unpleasant to tote. I have wandered about armed for three decades now. Trust me, if you cannot carry a gun comfortably you won't stick with it.
I have packed heat through many a long day at work in my medical clinic, on grueling cross-country car trips, and on countless delightful dates with my radiant bride. The ideal carry gun will let you forget it is there until you need it. In the world of 1911 pistols, the 3" Ronin 9mm EMP is as good as it gets.
In my experience, grip length determines whether you can conceal a gun or not, while the barrel and slide drive comfort. If the butt is too long, it will angle out and tent your shirt every time to bend over or twist. If the barrel and slide are excessive then it mashes into your butt cheek whenever you sit down. The rub is that practical performance on the range is inversely proportional to these two parameters. The original 5" 1911 is a big gun with a big grip.
Shorter grips are easier to hide but tougher to grab, particularly when rushed, sweaty and terrified. Shorter barrels are more comfortable to sit on, but degrade velocity. Shorter slides also equal a more abbreviated sight radius that adversely affects accuracy. However, each of these liabilities can be mitigated through exceptional design. Springfield Armory is indeed synonymous with exceptional design.
Technical Details
The handgun is built around a forged steel slide and a forged aluminum frame. The frame is finished out in silver Cerakote to complement the base material. Some might worry that the aluminum might wear faster than steel. Perish that thought. Your grandchildren's children might eventually notice something like that, but you certainly won't. The interface between slide and frame is literally flawless.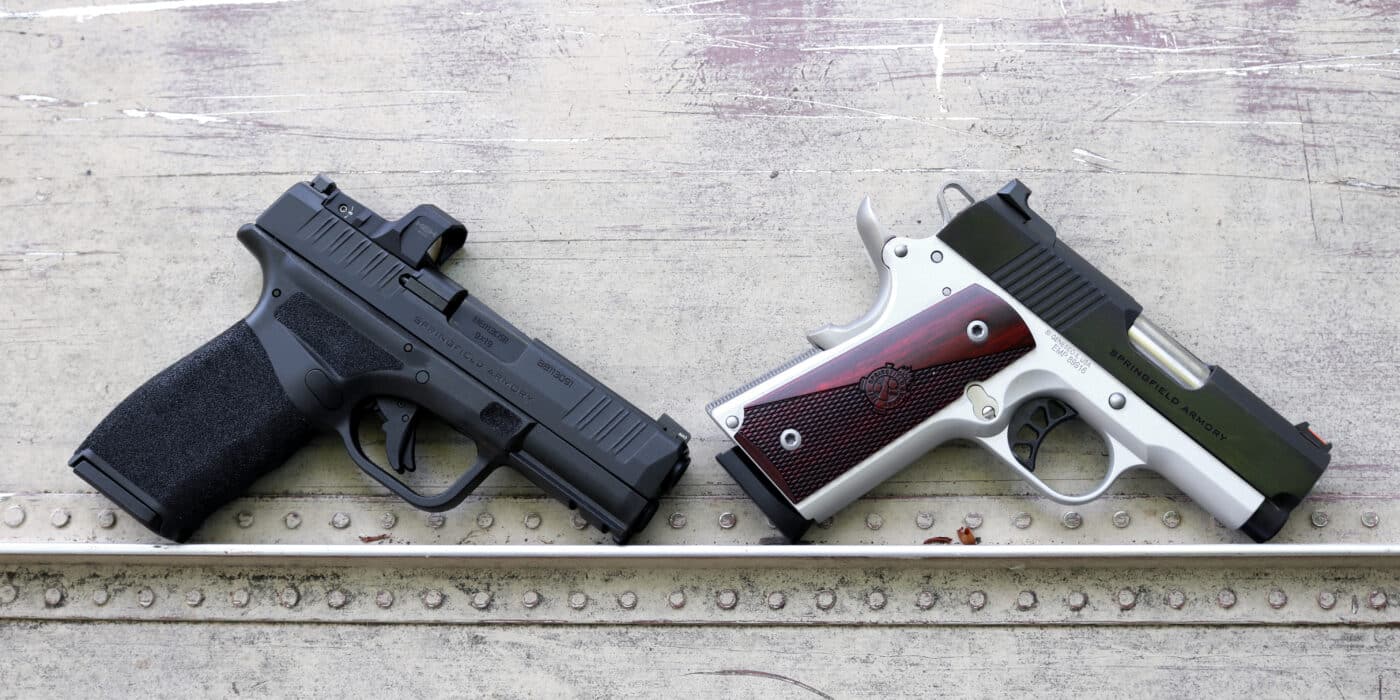 Beautiful hybrid smooth/checkered wood grips will satisfy your inner fashionista, while high-visibility sights make the gun quick in action. The front blade has a fiber optic insert. The Tactical Rack rear unit is serrated to minimize glare and includes a pair of bold white dots. The 3-inch forged stainless steel bull barrel is match grade, sports a fully supported ramp, and interfaces with the slide without a bushing. You can tell at a glance that this tube is more substantial than standard.
The dual captive recoil spring includes a rigid full-length recoil rod. The Gen 2 speed trigger wrings every bit of performance out of John Browning's classic design. An extended left-sided thumb safety facilitates safe Condition 1 carry. Recoil is brisk without being unpleasant, and the grip geometry drops into my hand like an old friend. I'm sorry to tell you this, but if you don't shoot straight with this gun, it's not the gun.
Denouement
The EMP takes John Moses Browning's proven 1911 design and turns it in a new direction. By reshaping it around the 9mm cartridge, adding in new design elements like full-length guide rods and bushingless barrels, and also employing modern materials like aluminum for the frame, the Ronin EMP represents a radical reimagining of the 1911.
But, to my mind, what Springfield did with the EMP Ronin was not so much undo what JMB accomplished with the 1911, but build on it. Is the original all-steel 5" 1911 a beast of a pistol very different than the svelte little 9mm? Undoubtedly. But, they share much of the same DNA. The Ronin EMP simply took what was best about the 1911, and then modified it where needed to maximize its performance as an ultra-compact 9mm for EDC. I'd say they succeeded. How about you?
Editor's Note: Be sure to check out The Armory Life Forum, where you can comment about our daily articles, as well as just talk guns and gear. Click the "Go To Forum Thread" link below to jump in!
Join the Discussion
Featured in this article
Continue Reading
Did you enjoy this article?
523