Eberlestock is a name well-known by hunters, shooters, and military alike. The company got its start with its Olympic-class biathlon racing rifles. But today, perhaps what they are most known for is creating some of the highest quality packs on the market. In particular, their rifle scabbard packs stand out.
The company really does have a fascinating story of developing products out of the love for hunting, shooting and being in the outdoors. They have several products in their line-up that are made to fit very specific situations. But there is one in particular that I chose to be my ultimate backpack — the G1 Little Brother.
The Little Brother is a great backpack that can be expanded or shrunk to fit a wide range of needs. More on that in a moment. The G1 Little Brother is a stand-alone three-day pack. It features both top and front loading. This means you can access the pack from the top of the back all the way through to the base, or you can lay it down and open the whole front to reveal the entire inside contents of the pack.
The pack features lightweight traditional MOLLE as well as laser-cut MOLLE. The pack has several pockets inside with straps to keep items secure, as well as a net flap and two pockets for hydration bladders. The total internal dimensions are 22"x12"x6".
Light Load
The reason I chose this pack was that it seems almost infinitely scalable depending on the mission at hand. For example, let's say you need a pack that is light, and fast with minimal gear. This pack as-is can be perfect for that. On the sides of the pack are webbing straps with fasteners, meaning that you can tighten the pack down for a slimmer depth.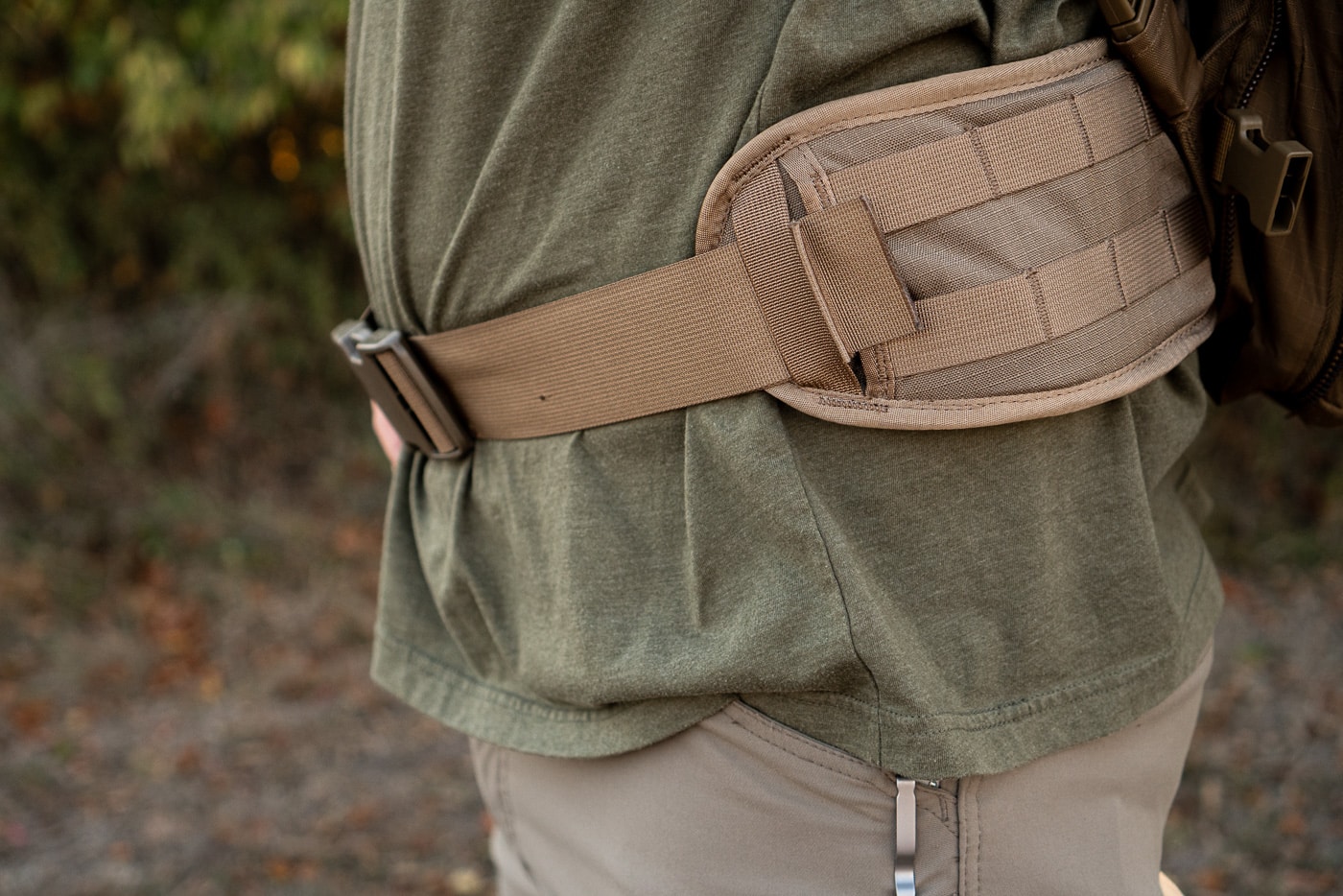 The pack also doesn't come with a waist belt. So, if you left it in the stock configuration you will be set to go with a bag that can hold a fair amount but is still fairly simple and fast to use, although it is bigger than your standard backpack.
The Hunter's Pack
Now, if you are a hunter you can add into this pack what made Eberlestock famous — a rifle scabbard. This pack has a zip-out expansion tunnel that allows you to insert any of the three available Eberlestock rifle scabbards. You can carry your rifle concealed, protected from the elements, in a hands-free, secure way tucked in the tunnel of your pack between your back and its contents.
You can pair the G1 Little Brother with either the Tactical Weapon Scabbard, Rifle Dry Bag Scabbard or the Bolt-Action Scabbard — all of which can be found on Eberlestock's website for an additional $70-$150, depending on the version selected.
Built for Load Bearing
Lastly, if you really need the Little Brother to be a load-bearing pack, then fret not. The G1 Little Brother is up to the task. If your needs outgrow the size of the Little Brother for a specific hunting trip or backpacking trip, there is no need for a new pack; you can simply beef up your Little Brother.
For starters, if this pack is going to really bear a load like packing out an animal from mountain country, the first upgrade you need is the F1 Mainframe (available on Eberlestock's website). Now, this upgrade is not cheap — actually, it's more expensive than the Little Brother — but there is a reason for this.
The F1 Mainframe is essentially MOLLE webbing wrapped around a beefy Intex II frame that is capable of load-bearing 700 pounds! This mainframe is able to be configured in a number of ways to your pack. On the frame itself, it has its own backpack straps and support belt to assist in carrying heavy weight.
A Little Something Extra
Now, if you need some extra carry capacity, there are also options for that. Most noticeably, Eberlestock has a product called the Batwing. The Batwing can attach around the Little Brother pack and be joined with the F1 Mainframe to carry additional gear.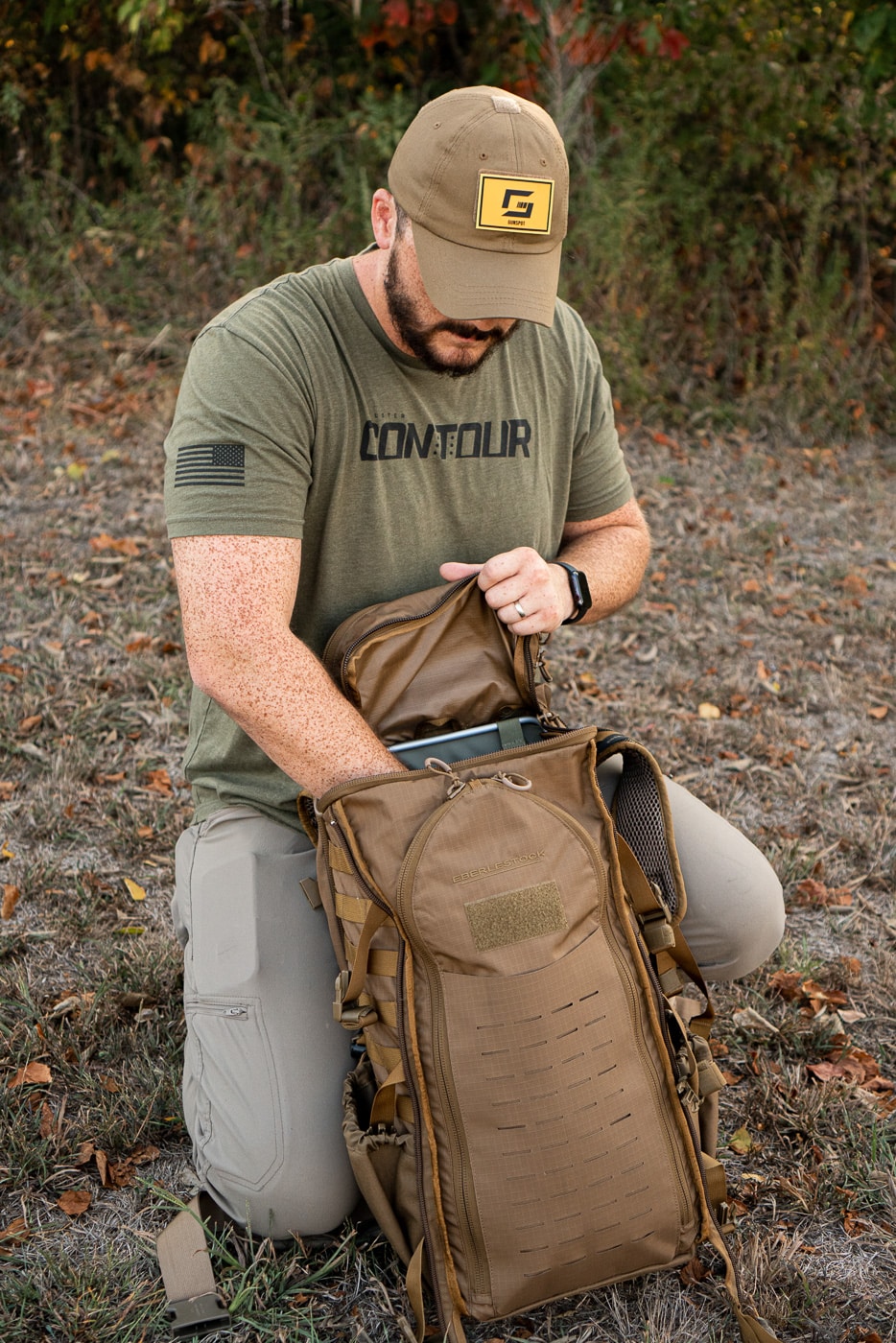 The batwing is a cylindrical-shaped bag that can be attached with webbing/clips. The Batwing is a great addition sold on Eberlestock's site for $49.
The Perfect Pack
I really think Eberlestock did a phenomenal job designing this whole system. Several of their bags are compatible with the gear mentioned above, so if the Little Brother isn't exactly right for you, that's okay. Peruse their website and you will be sure to find something.
All in all, I'm very pleased with the G1 Little Brother. The pack can be outfitted for a simple day hiking trip, a short three-day hunting trip or a long-term backpacking trip. As far as the quality of the gear goes, so far it's outstanding — just as you'd expect from a company like Eberlestock. If you're looking for a pack to fit a large range of situations, give the G1 Little Brother a chance.
Editor's Note: Please be sure to check out The Armory Life Forum, where you can comment about our daily articles, as well as just talk guns and gear. Click the "Go To Forum Thread" link below to jump in and discuss this article and much more!
Join the Discussion
Featured in this video
Continue Reading
Did you enjoy this video?
41