Eberlestock G2 Gunslinger II: Multi-Role Tactical Backpack Review
September 19th, 2021
6 minute read
This is not your typical pack review because the Eberlestock G2 Gunslinger II is not your typical pack. Eberlestock founder, Glen Eberle, is a multi-faceted individual Olympic-level biathlete, fighter pilot, backcountry hunter and innovator.
A great example of this is how he took on the challenge of redesigning the rifle stock used by U.S. Olympic Biathlon Team. He shaved 4 lbs. off the stock while also strengthening it. Glen soon found himself producing stocks for fellow competitors and laid the foundation for his new company, Eberlestock.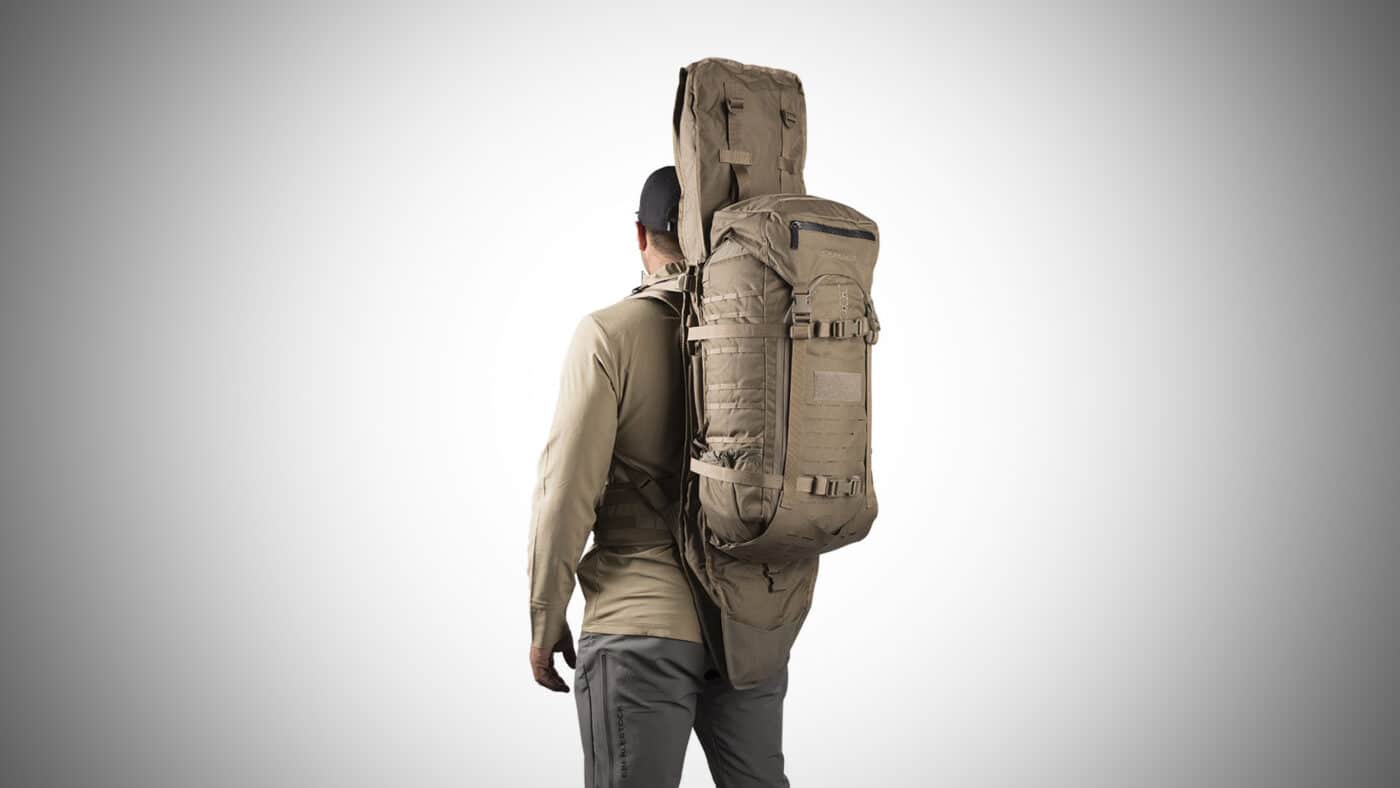 Other countries' competitors were forced to rethink their own rifle set-ups in order to keep up with the Americans' increased performance. This was thanks to having a much lighter rifle on their backs while competing in the grueling ski conditions of biathlon.
Branching Out
Glen Eberle soon branched out the efforts of his company beyond Olympic shooting sports and into the hunting/tactical realms. It's not a huge leap of imagination to see how Glen's biathlon experience, love of backcountry hunting in his home state of Idaho and military service stimulated an interest in improving packs for both hunters and military personnel.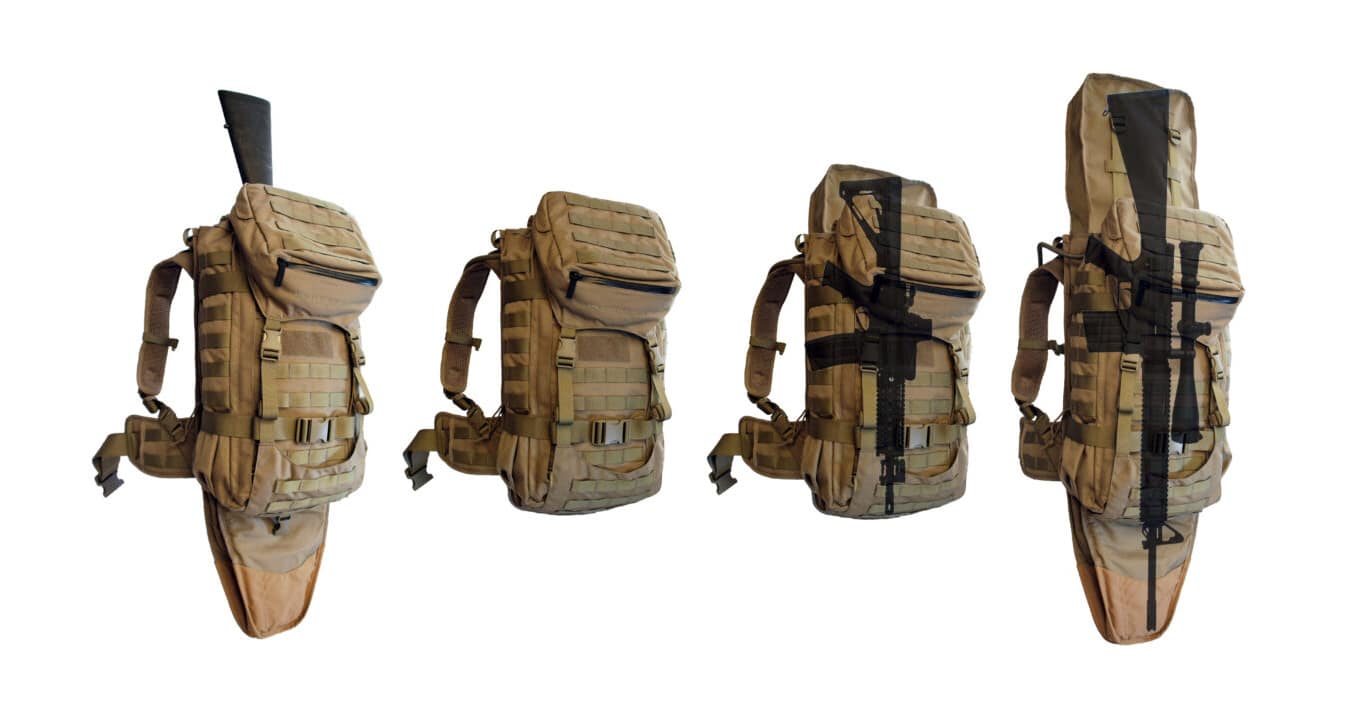 Eberlestock's website offers numerous options of packs, supporting accessories and technical apparel. All of this stems from Glen's early adventures with an industrial sewing machine, putting together packs to support his hunting endeavors. Glen wanted to be able to carry his rifle on this back — remember, biathlon experience — and be able to haul out his quartered-up quarry in as few trips as possible from remote wilderness areas. It wasn't long before the crossover appeal between hunting and military became apparent. After the terrorist attack on 9/11, Eberlestock soon began applying its knowledge to evolving its products for the tactical realm as well.
An Ideal Example
The Eberlestock G2 Gunslinger II (G2) packed I am reviewing here is a terrific example of what the company can offer. And, you can tell that there has been an open exchange of information between Eberlestock and end-users. The G2 Gunslinger II is a mid-sized pack offering 2,700 cubic inches of space. This is categorized as a Three-Day pack. It features an integral full-width scabbard that will accept rifles up to 60" in length and topped off with large optics, and can carry it "butt up" or "butt down."
A removable rain cover slips over the exposed portion of the weapon — barrel or buttstock. It not only serves its named purpose but also covers what exactly is being carried from prying eyes. Do not discount the importance of this in the tactical realm, especially overseas when patrolling into an area.
The pack features Eberlestock's Intex-II frame system, which offers the support of an external frame without the noise or weight. Weight of the G2 is 6.5 lbs. The Intex-II increases the G2's stability for heavier load-outs. The Intex-II frame can be removed or switched out with other Eberlestock internal support products. To keep the pack as compact as possible, the bottom of its weapon scabbard can be rolled up and folded into the pack if you are carrying a shorter firearm. Even if a firearm is not present, the G2's scabbard is not wasted space as other useful items can be placed within it.
With the G2 Gunslinger II, Eberlestock has created a pad and strap configuration to increase user comfort; this is especially important as haul weight increases. Eberlestock's website provides tips for proper fitting of the G2 Gunslinger II — or any other pack. In short, loosen the shoulder straps so that pack is placed above your hips with an adjustable lumbar pad at your upper pelvis. Cinch the waist strap tight, then snug the shoulder straps. Chest and sternum straps are now tweaked along with top-pull straps to make sure the pack is not hanging down from the pack frame. Proper fitting will maximize comfort and endurance in the field.
Field Test
I decided to combine the G2 with Springfield Armory's latest gem — the Model 2020 Waypoint bolt-action rifle. The 6.5 Creedmoor 2020 Waypoint used in the article features an Evergreen carbon fiber stock and carbon fiber barrel. The carbon-fiber stock and carbon-wrapped barrel dominates the Waypoint's aesthetics as well as ergonomics.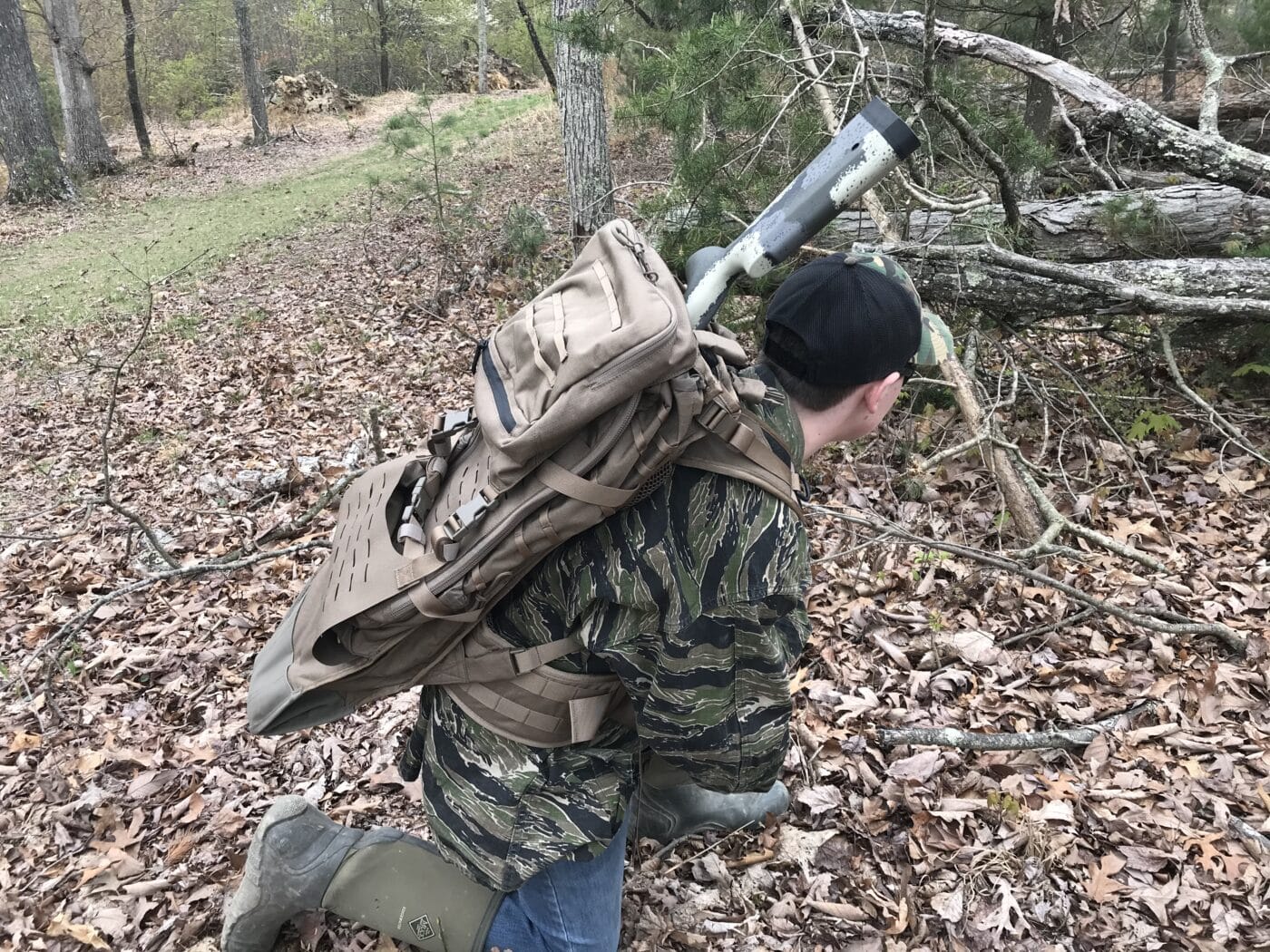 Springfield mates its Model 2020 action with an AG Composites hand-laid, pillar-bedded carbon fiber stock and BSF Barrels carbon wrapped barrel. (A fluted stainless steel barrel is available for less cost and more weight.) The point of using carbon is to achieve a high strength-to-weight ratio; something Glen Eberle would surely appreciate.
You might be wondering if a rifle is easily accessible when in the scabbard of the G2 Gunslinger II. After scouting around the property I normally hunt with the Eberlestock G2 Gunslinger and bringing the lightweight Waypoint along, some testing scenarios were conducted. Different test stages commenced with removing Waypoint from the G2 Gunslinger while still wearing the pack and engaging target simulating a chance encounter with quarry.
Eberlestock makes it so you can quickly and easily get your rifle from the pack without having to take the Gunslinger II pack off your back. Simply reach behind your head with either hand and raise the weapon up. The light weight of the Waypoint allowed for single hand removal from the scabbard. Heavier/longer weapons may require a hand-over-hand technique. Other scenarios were conducted using the G2 as a rest — placed either horizontally or vertically depending on ground cover and engagement distance.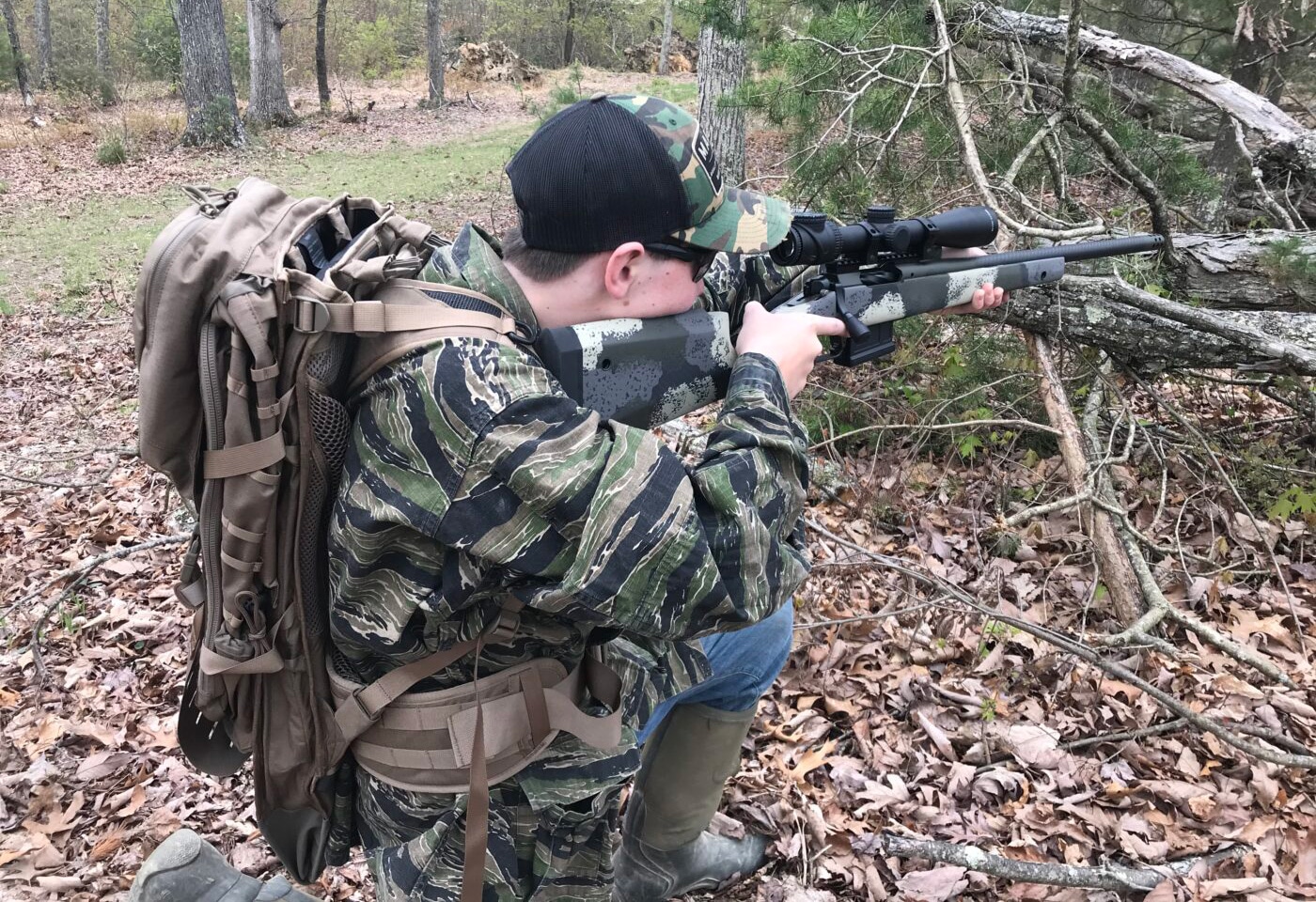 My thought is to use the Eberlestock G2 Gunslinger for an upcoming "Zombie Shoot" where you must load all your gear for the day and carry it with you … no return to home base for a reload/resupply. Your precision rifle can ride in the G2 scabbard with an AR carried by hand, or vice-versa. The G2 pack can be left on or dropped off depending on range master direction before starting a stage. It would be no problem to bring along required ammunition, water, food and other items such as a folding chair, spotting scope and tripod thanks to the G2's internal space and exterior compression strap lashing points. The ability to access gear via top or wide front panel is appreciated.
Conclusion
The Eberlestock G2 Gunslinger II is not a tactical "sniper" only pack. Nor is it a specialized pack like the backpacks designed for carrying an AR pistol.
Hunting is a natural option. A role as a "bug out" bag is another possible use. Your weapon of choice along with spare magazines as well as other necessities could be placed in the G2 until events necessitate use. Flexibility is the Eberlestock G2 Gunslinger II's greatest asset. Anyone looking to maximize the limited space on a human body for carrying items afield should check out the Eberlestock G2 Gunslinger II.
Editor's Note: Please be sure to check out The Armory Life Forum, where you can comment about our daily articles, as well as just talk guns and gear. Click the "Go To Forum Thread" link below to jump in and discuss this article and much more!
Join the Discussion
Featured in this article
Continue Reading
Did you enjoy this article?
40