It has been said the 1911 is the most perfectly designed pistol ever made. If you might question that, just consider the fact that today in the year 2023 people still talk about the legendary trigger, ergonomics and feel of a 1911. By my quick count, that's more than 110 years. With that in mind, it's almost crazy how popular they still currently are. Looks like John Moses Browning knew what he was doing.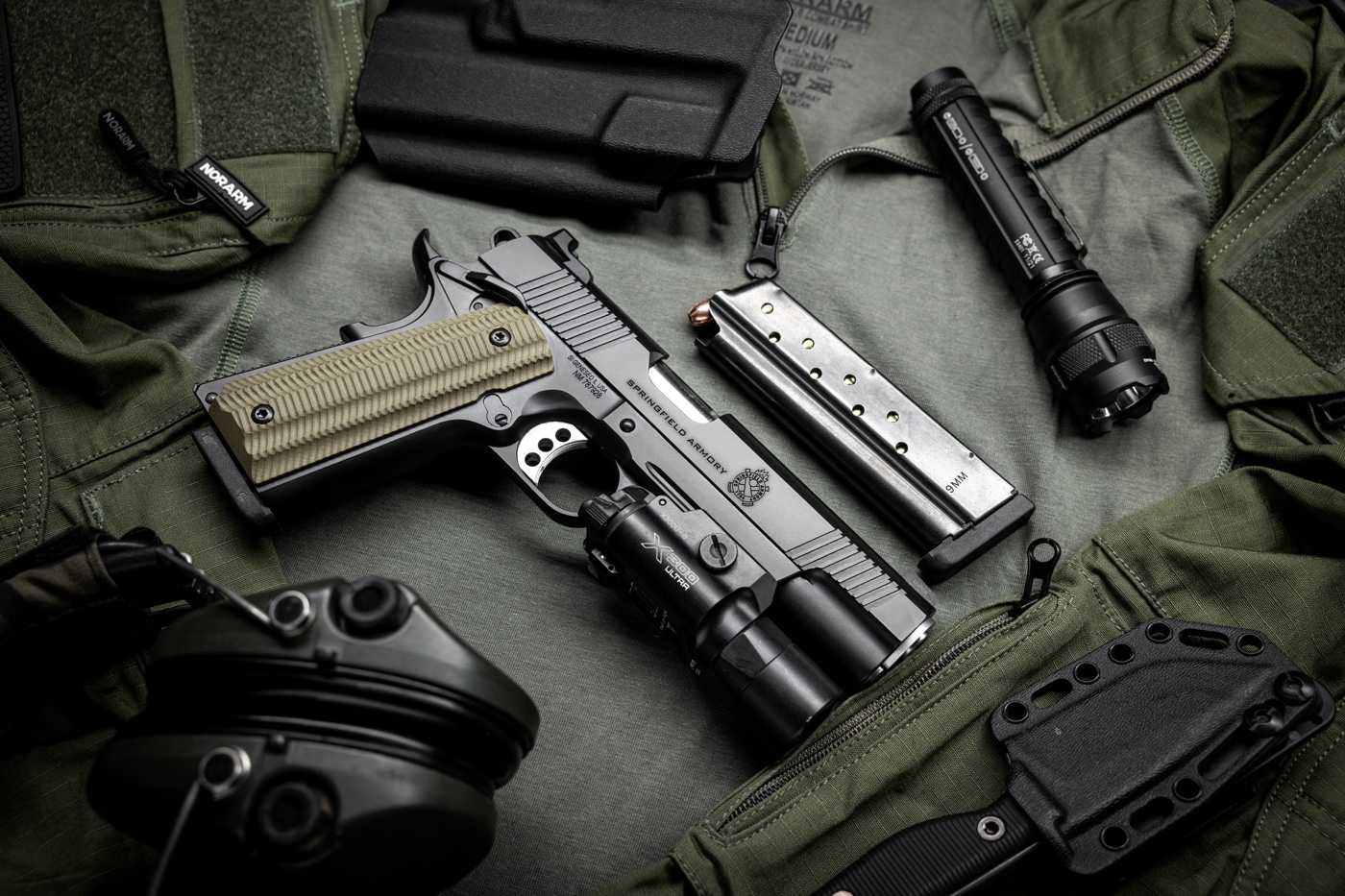 But the design hasn't remained static and unchanging for the hundred-plus years. While you can still get a basic, bone-stock 1911 that is more in line with the old classic 1911, many of today's versions have subtle but important enhancements and upgrades compared to the original design.
I think one of the biggest differences right up front we can all understand is the benefit of modern metallurgy and machinery. Think about our modern CNC machines and forging processes as compared to the processes of the early 20th century. And the best 1911 pistols take advantage of these new benefits, like Springfield Armory's expansive line of offerings. In fact, we are considering the newest addition to the family here, the 1911 Operator pistol in 9mm.
The Ultimate Interface
First, we should talk about what has made the 1911 so popular for so long — the way it feels in the hand, from grip angle to trigger. The first thing most people notice about a 1911 is the weight. There is no feeling of "tactical tupperware" in your hand when you grip the Springfield Operator. The forged steel Operator has a solid feel, and this weight soaks up recoil.
Well-designed angles on the 1911 are also a huge help with target acquisition and fast follow-up shots. A standard 1911 will have a roughly 18-degree angle at the grip, as compared to modern designs with more aggressive angles. This grip angle is natural for most shooters and provides the ability to very easily present the pistol on target, with the sights naturally aligning.
Also, the single-action trigger design of the 1911 has a lot of benefits. With linear, straight-to-the-rear operation, in my experience the 1911 trigger is unmatched in its precision and crisp feel. In addition, the break of the 1911 trigger has often been compared to that of a "glass-break".
The Details
Well, now that we have established all the strengths of the 1911 design, let's consider the specific features of the 9mm 1911 Operator. At its core, this is a 5"-barreled, full-size steel 1911. A good foundation, right?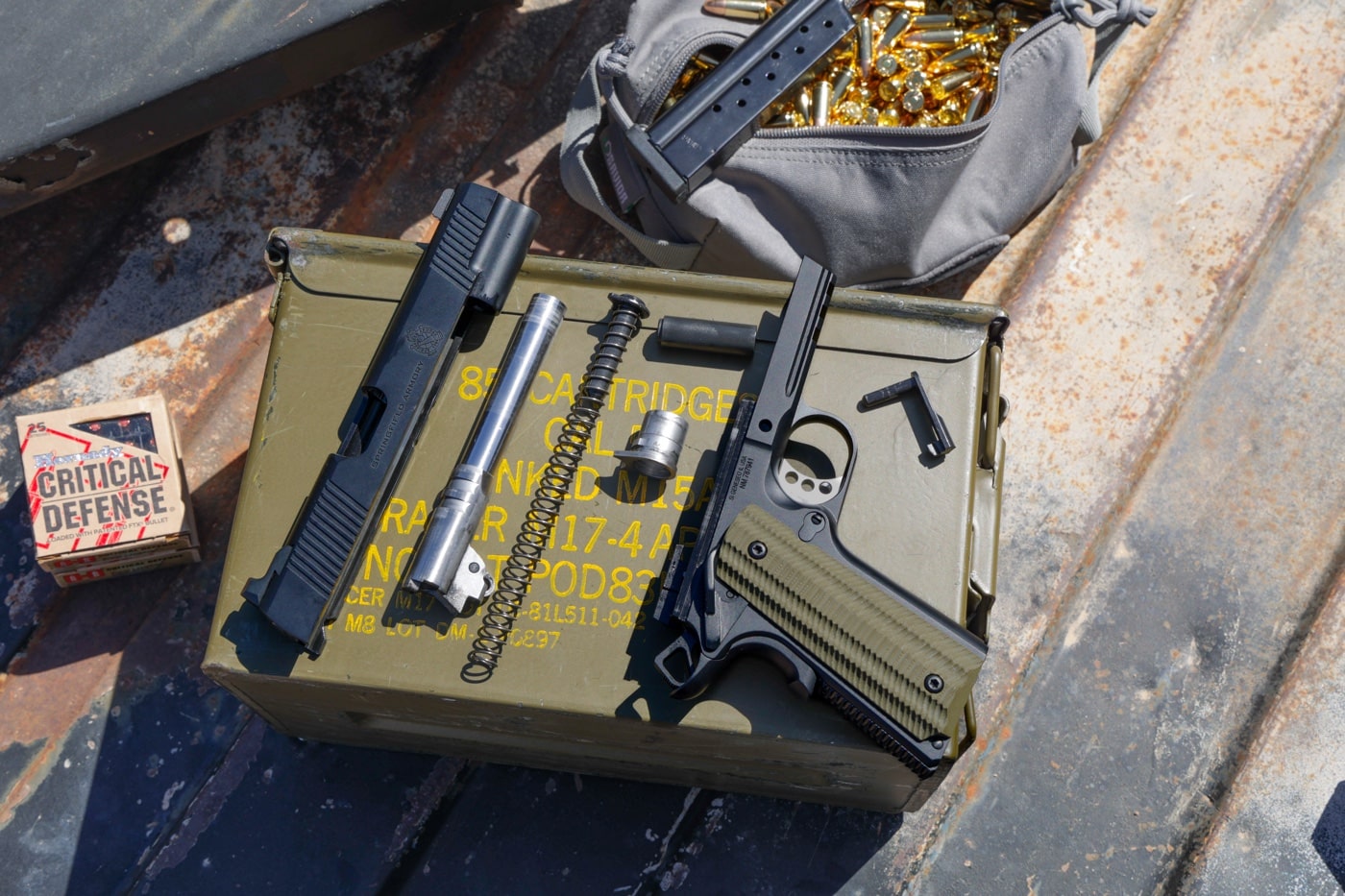 When you first see the Operator, you will likely notice the deep rich black Cerakote on the forged carbon steel frame and slide. This coating is very durable, and it has a deep matte finish with little to no glare reflection. In contrast to the black finish on the metal is an attractive set of G10 VZ Grip with an OD green color. They have an aggressive, non-slip texturing that is matched by similar texturing on the flat mainspring housing.
The pistol's silver-colored skeletonized trigger gives just a hint of a custom appearance while providing that crisp 4.5-lb. break you want. It also features an adjustable overtravel stop. An ambidextrous safety, skeletonized hammer, front and rear slide serrations, Tactical Rack sights made up of a tritium front dot and white rear dots, and an integral strip of Picatinny rail on the dustcover of the frame round out the package.
The barrel of the pistol is forged stainless steel for strength and rust-resistance, and helps ensure accurate groups. In addition, the barrel is ramped and fully supported, and features a 1:16" rate of twist. The ramped barrel also helps ensure the pistol can run a wide range of bullet types/shapes.
Besides the materials and features, I found the machine work on the 9mm Operator to be quite good. When you look at the fine details of the frame, you'll begin to see some impressive attention to detail. For instance, I noted how the lines of the backstrap were chamfered off very smoothly from side to side.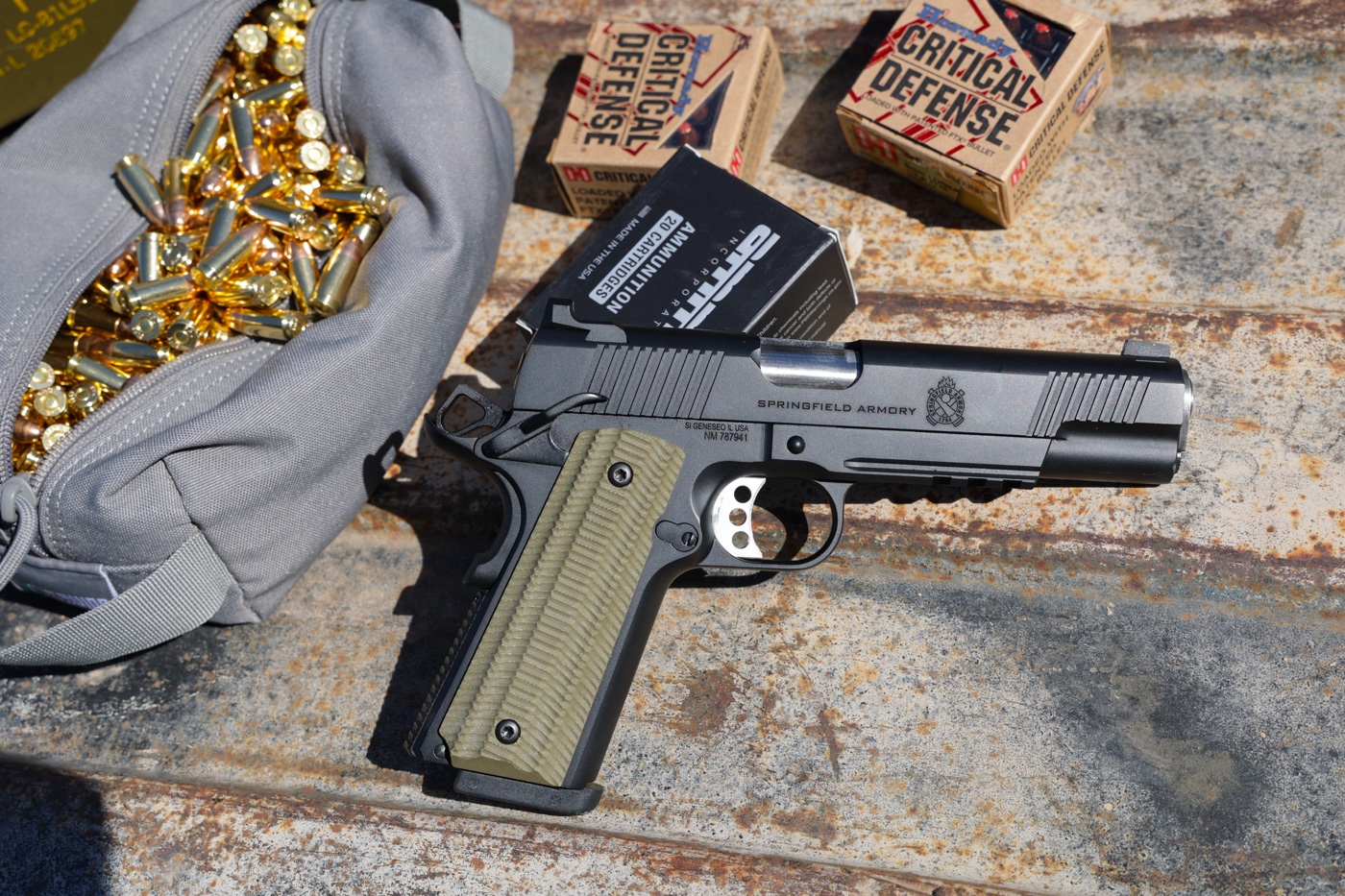 Also, around the triggerguard you'll see perfectly machined glove bevels which will help guide your finger onto the trigger with or without gloves. When you look at the accessory rail you will notice the way it is cut into the frame and gradually terminates into the midpoint of the frame while rising to meet the flat side of the main frame body. In addition, gliding your fingers over the front and rear slide serrations will reveal they've been de-burred and have no sharp surface areas.
Specifications
| | |
| --- | --- |
| Chambering | 9mm |
| Barrel | 5″ |
| Weight | 42 oz. |
| Overall Length | 8.6″ |
| Sights | Tritium front, Tactical Rack rear |
| Grips | G10 |
| Action | Semi-auto |
| Finish | Black Cerakote |
| Capacity | 9+1 (two) |
| MSRP | $1,184 |
Hands On
While I was obviously impressed with the appearance and fit and finish of the pistol, I would not get the true measure of it until I got it out on the range. For testing, I used a mix of 115-gr. ball ammo, 124-gr. ball ammo and some of my favorite self-defense ammo — Hornady Critical Defense.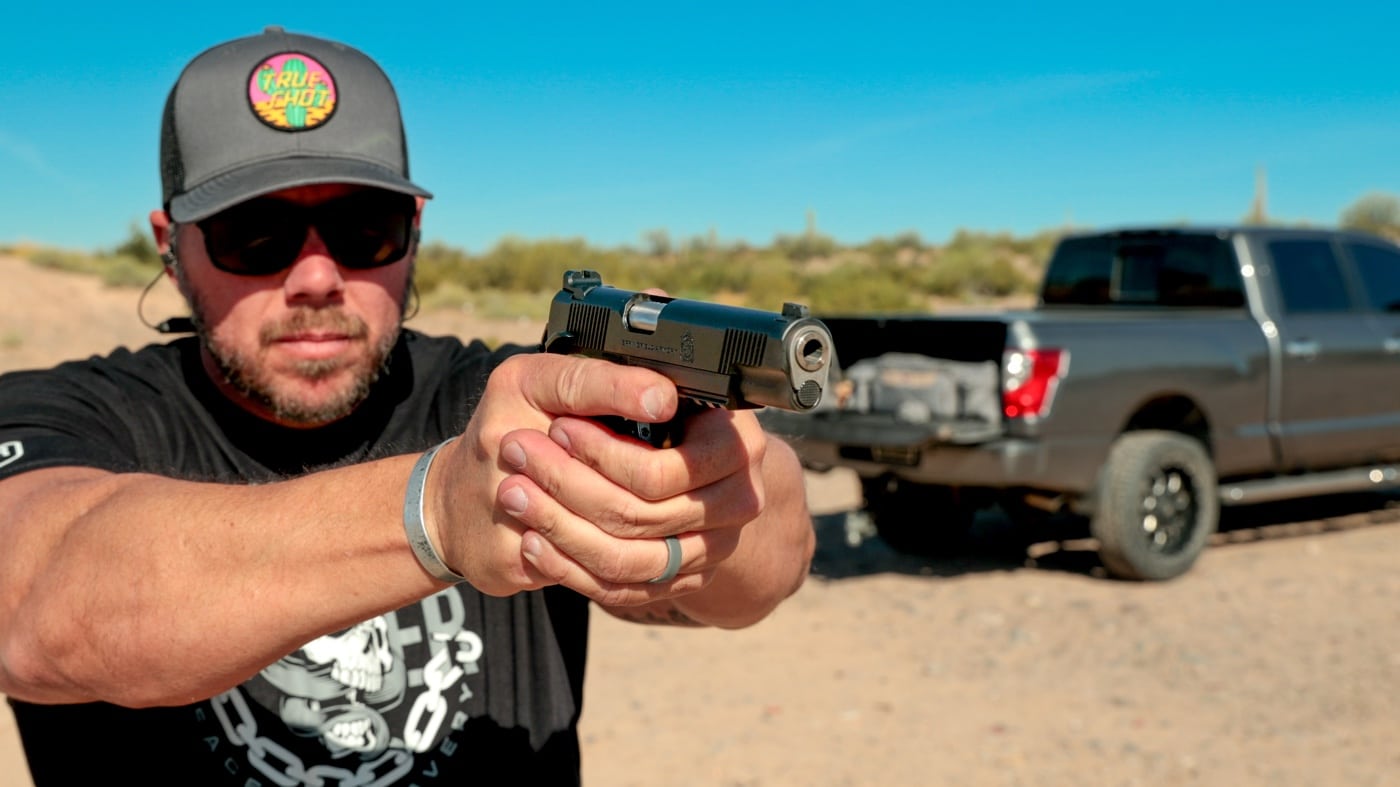 All of the ammunition cycled perfectly through the match grade barrel and exhibited very little difference in felt recoil. You will feel a slight bit more push back with the self-defense ammo in most cases, but it is very minimal.
The textured mainspring housing combined with the VZ Grips gave all the traction I needed to keep the pistol on target and quickly get solid follow-up shots. When you solidly grip the pistol, you feel the backstrap fit tightly into the web of your hand, giving a firm and stable hold. As you come up on target and disengage the safety, you will immediately notice both smooth operation and a very positive snap as it disengages.
The trigger is everything you expect out of a duty-grade 1911, and a bit more. The Operator's trigger consistently pulled right at 4.5 lbs., which is right where you want a duty carry trigger to be. While some might like really light triggers on their 1911, my experience as an LE officer has shown me that most agencies and law enforcement departments have a minimum pull weight on the trigger — usually right at 4.5 to 5 lbs. I think this is a smart move on a pistol like this, and is a pull weight that was right in my comfort zone.
The trigger pull was, of course, smooth with an almost immediate wall followed by a clean break and short reset once the slide had cycled. The tactile interface with the trigger is very positive, with its slightly curved design and the linear serrations on the trigger face. I find that even if I am slightly off on my trigger finger placement, since the 1911 trigger is straight back in operation it's more forgiving than a hinged design.
The 9mm 1911 Operator will come with two steel nine-round magazines, both of which have extended base pads. I have no doubt these will provide years of service. Aligning the sights is made easy by way of the three-dot design, with the front dot featuring tritium. If there's ever a time you move into lower-light conditions, the front night sight will be easy to pick up and get on target.
The cycle of operation of the pistol is smooth and predictable, and it inspired confidence for me whether I was using basic range ammo or high-pressure, self-defense loads. The action of the pistol was quite smooth, with the slide cycling as if it were floating on the frame rails.
I did not have any malfunctions, slow cycles or failures to go fully into battery on any of the loads I tested. With just over 500 rounds through the 9mm Operator, it has proven to be just as reliable as my .45 Operator — which has been a staple in my collection since it came out in late 2021. And since every mechanical device smooths out with use, I'm sure after a few hundred more rounds and a good cleaning and lubrication the action will get even more smooth.
Conclusion
In my experience, even people who regularly carry striker-fired, polymer-framed pistols love the feel of a good 1911 once they get it in their hands and onto the range. And why not? They are great shooters that will last a lifetime if well-made and cared for. And this new 9mm 1911 Operator certainly fits that description.
With its exceptional quality and impressive performance, this 1911 would make for a great addition to any shooter's collection — 1911 enthusiast or not. So, be sure to check this one out and give it a shot. I have no doubt you'll like it just as much as I do.
Editor's Note: Please be sure to check out The Armory Life Forum, where you can comment about our daily articles, as well as just talk guns and gear. Click the "Go To Forum Thread" link below to jump in!
Join the Discussion
Featured in this video
Continue Reading
Did you enjoy this video?
227