I have been a fan of the Hellcat series since its launch in 2019. And when the Hellcat Pro was released with its increased capacity as well as longer grip and barrel, I picked one up as soon as I could. And just when I thought the Hellcat line-up of pistols couldn't get any better, Springfield Armory introduces another exciting variant of the Hellcat Pro.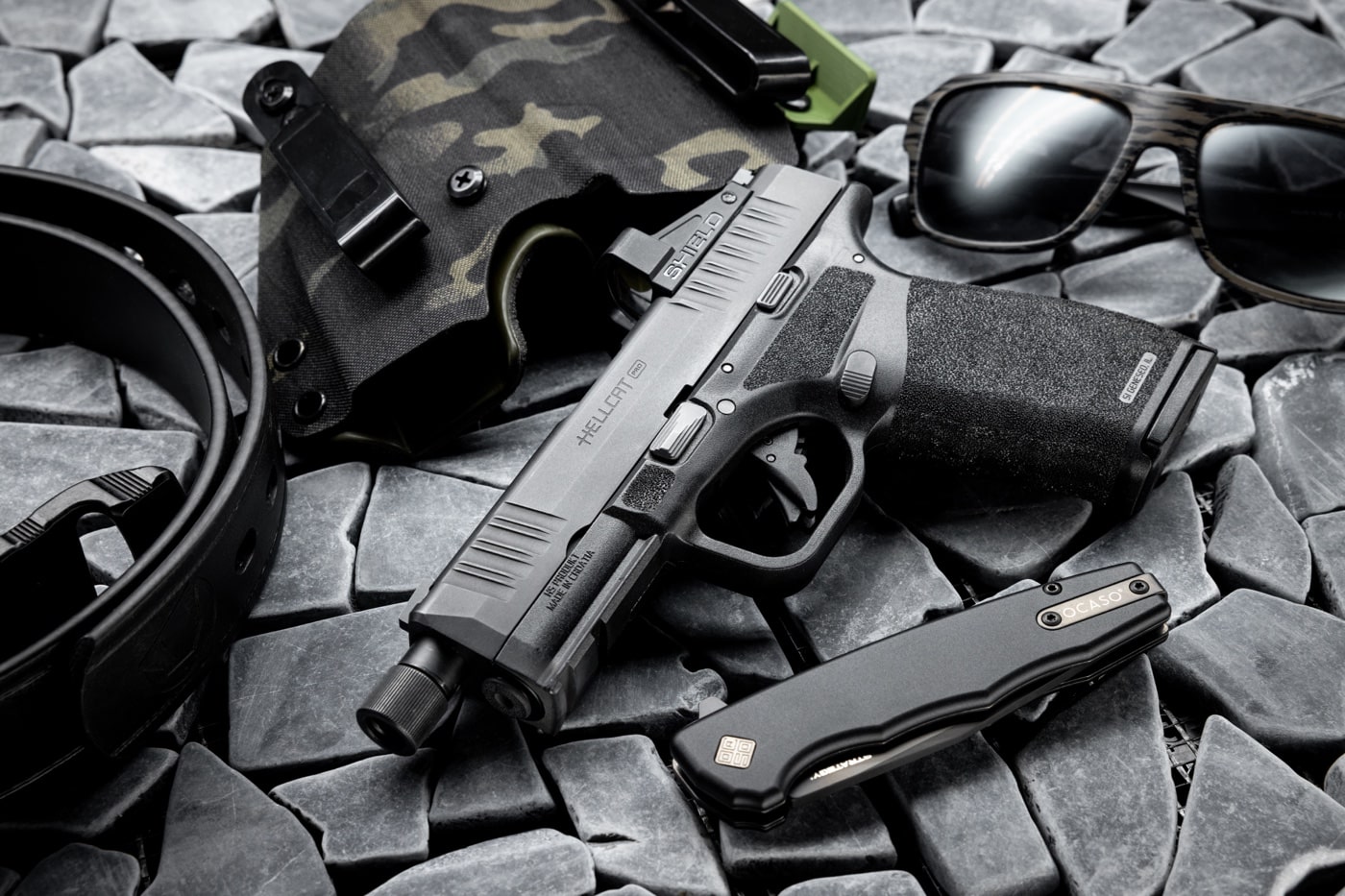 Now available is the Hellcat Pro OSP with Threaded Barrel, exclusively through Sports Inc. This new gun offers you the ability to add a sound suppressor or muzzle device of your choice — something new to the Pro line. Let's take a look at the pistol and see what Springfield cooked up.
Sounds of Silence
The new pistol uses a hammer-forged barrel that is 4.3" long and sports a 1:10" twist with 1/2×28 threads at the muzzle. The hammer-forged barrel has a Melonite finish for the exceptional durability that you've come to expect from the Hellcat family of pistols. Durability testing on the Hellcat was a demanding test of one pistol run to 20k rounds by Paul Carlson here at The Armory Life, so you know these guns will run.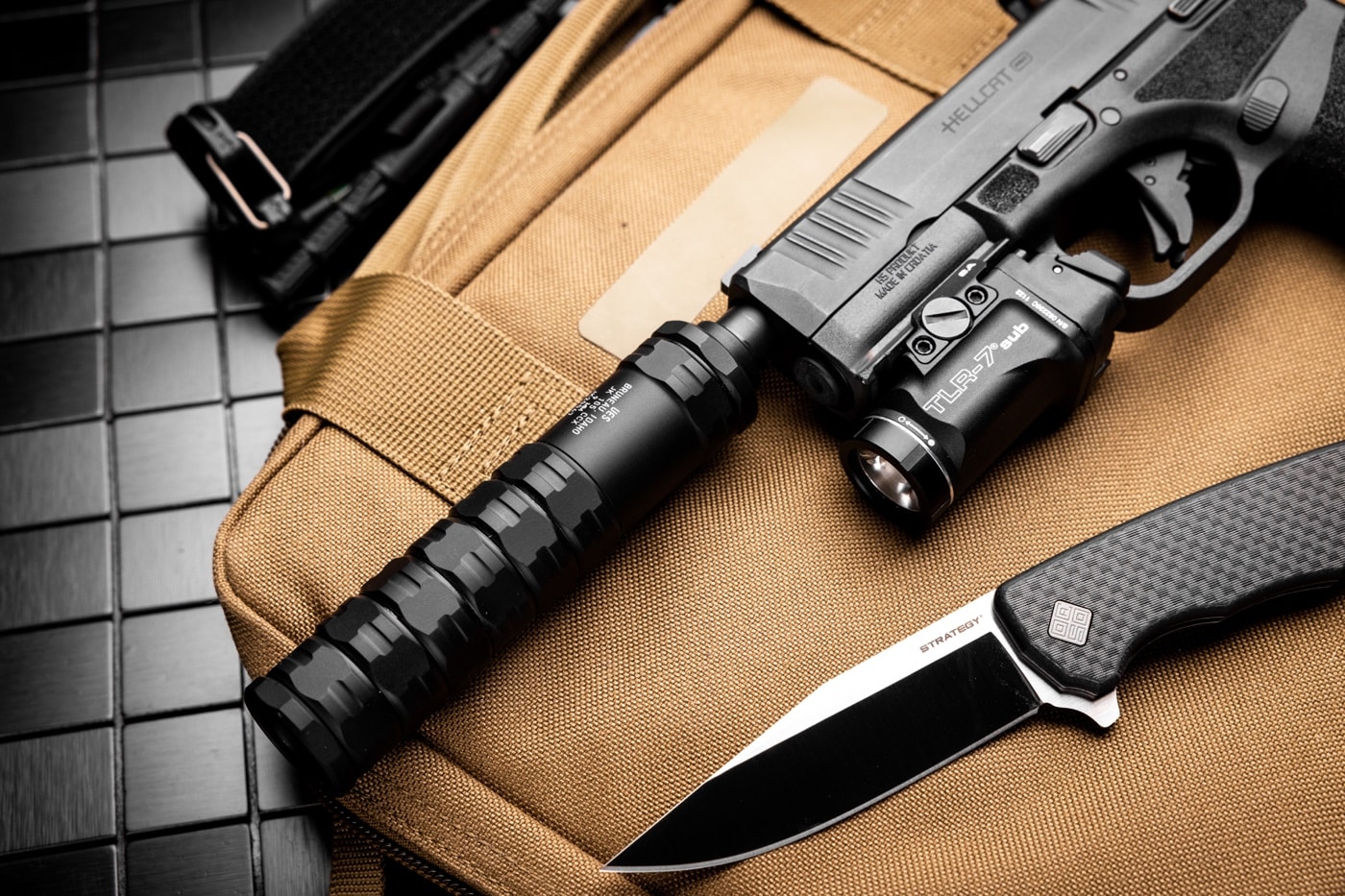 With the 1/2×28 threads, this pistol will be able to accept a broad range of suppressors. This includes both 9mm-specific and multi-caliber suppressor systems. While I suspect most shooters will prefer a compact muffler for the Hellcat Pro, as long as the threads are right full-size cans should also work well.
While adding a suppressor is likely the most popular way to accessorize the new pistol, a compensator is also a possibility. A comp can help moderate felt recoil and muzzle rise by redirecting hot gasses. It does nothing to protect your hearing, but it can work extremely well to keep you on target and decrease your time between shots.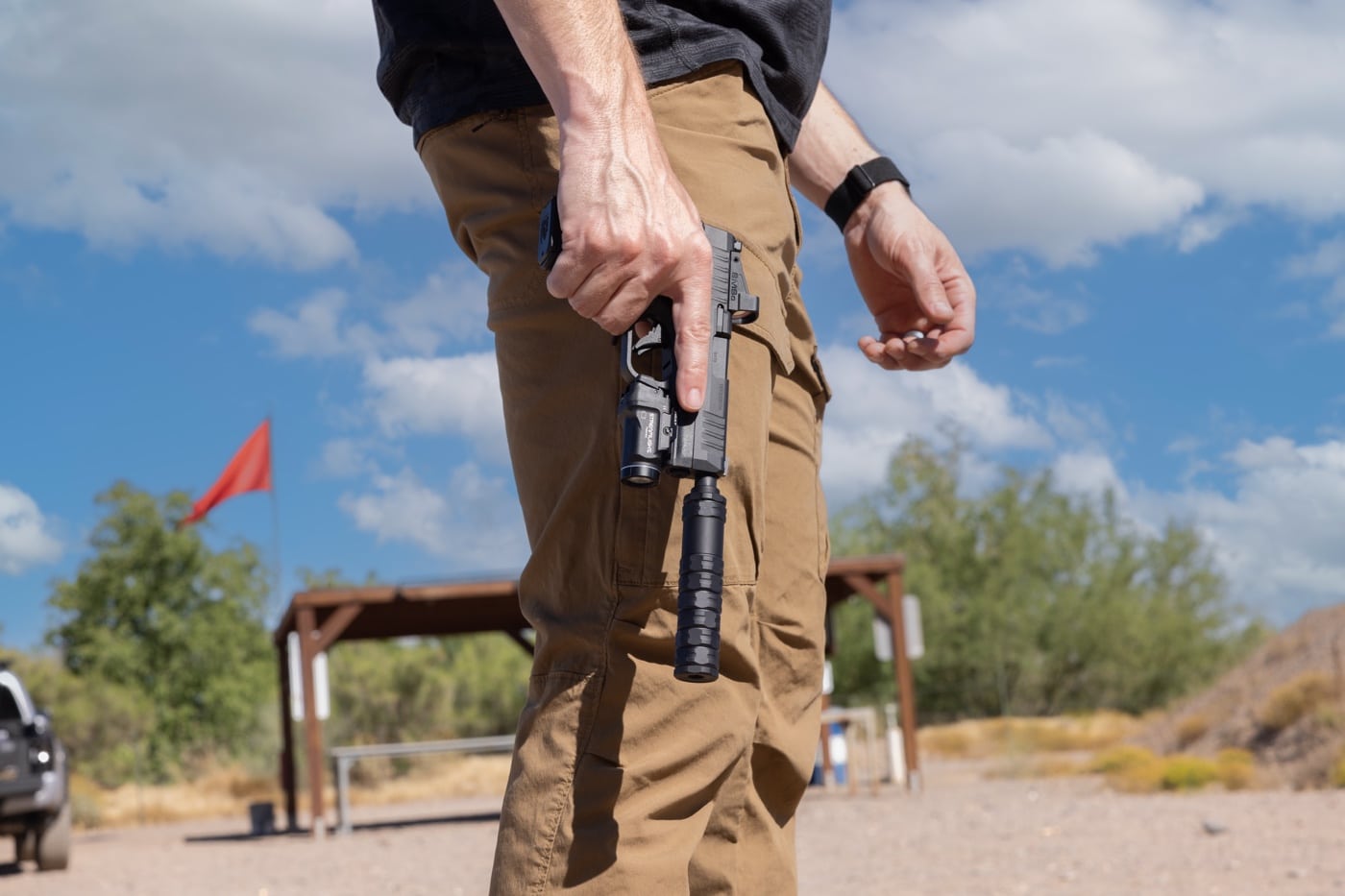 When not in use, the threads are protected by an included screw-on cap. I've never damaged the threads on a barrel, but I can imagine the experience would be a painful one. Using the thread protector prevents me from having to find out.
A Pro's Platform
The Hellcat Pro with threaded barrel is all-black and, frankly, just looks professional. And my experience with them suggests they can play the part well. Just like the barrel, the Hellcat Pro's slide has a Melonite finish that is a deep black. Melonite is a proprietary process that produces a hardened, corrosion-resistant surface that tends to be much tougher than traditional processes like bluing. While it is great in all environments, it excels in the salt air and humid climates.
On my gun, it matches the color of the black polymer frame extremely well. The grip uses the company's Adaptive Grip Texture — a surface treatment that is well known for providing excellent traction in the hand. While the texture really locks the gun into the hands, it is not unduly abrasive against skin or clothing. It's a fascinating surface that looks like staggered pyramids under a microscope.
The sights on this handgun are Tactical Rack U-Dot sights. If you are unfamiliar with the design, they consist of a high-contrast tritium and luminescent front sight paired with a tactical rack U-Dot rear sight. This setup is incredibly intuitive and useful in multiple lighting conditions. Think of setting the dot right inside the U-notch, and you've got a perfect sight picture. Sight acquisition and re-acquiring a sight picture have never been easier or faster.
Taking the sighting system to the next level, this Hellcat Pro also incorporates the easy-to-use OSP, or "Optical Sight Pistol" system. The OSP slide is cut to accept optics and features a cover plate. Remove that cover plate, and you can use micro red dot pistol sights such as the Shield RMSc/SMSc family of optics. The beauty of the OSP system is that it allows you to direct-mount the optic to the slide, which situates it low enough for you to be able to see the irons through the optic's window. You get the best of both worlds; digital and analog sighting.
The pistol's trigger offers a comfortable, safe and predictable pull weight of 5 to 6 lbs. For a pistol meant for concealed carry, you can trust this trigger to only release the striker once you have pressed the trigger fully rearward, which also depresses the safety lever located in the central face of the trigger. In my experience, the trigger pull is consistent, and the break is satisfying and predictable. The trigger reset is quick, allowing you to assess follow-up shots rapidly with ease.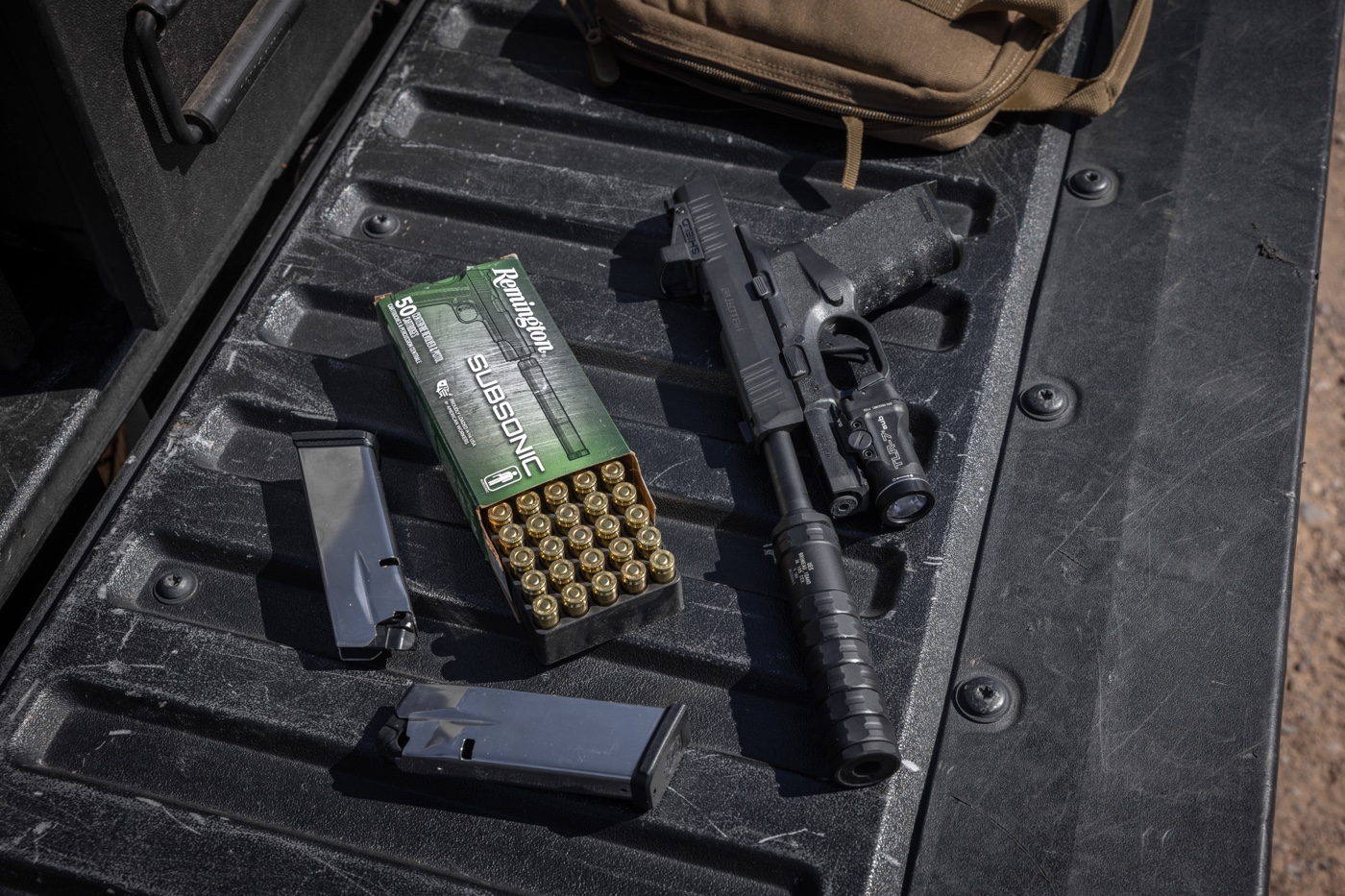 Springfield Armory did a great job designing the controls on this pistol. The Hellcat Pro features a reversible magazine safety that is designed for comfort as well as ease of use. The rear part of the magazine release is smooth and contours into the pistol frame, while the forward section is serrated for maximum grip.
The slide lock lever is serrated and surrounded by a lip built into the frame. This allows the lever to be easily manipulated while also keeping it out of the way of unintended slide locks while shooting. Additionally, the takedown lever is easy to use, with generous serrations on the top and bottom, allowing a simple and efficient takedown of the pistol.
Some additional quality-of-life features on the Threaded Hellcat Pro are the slide serrations on the front and rear of the pistol's slide. These serrations aid in manipulating the pistol in any condition. They provide just enough grip without being too aggressive for a CCW pistol. The Hellcat Pro also features a loaded chamber indicator on the top of the slide. This is a simple yet effective way to quickly, at a glance, see if your pistol is loaded with the most important round, the one in the chamber. After all, knowing the condition of your weapon is one of the most important pistol safety rules you can practice. Finally, the pistol features a Picatinny accessory rail on the frame for mounting weaponlights or lasers.
The Hellcat Pro ships with two 15+1 capacity, flush-fitting magazines, providing you with best-in-class capacity and concealability. Speaking of CCW, the Threaded Hellcat Pro measures in at 4.8" tall, 7.2" long and only 1" wide. When carrying this gun, you'll be surprised at how comfortable and concealable this formidable pistol is.
Specifications
| | |
| --- | --- |
| Chambering | 9mm |
| Barrel Length | 4.4″ |
| Weight | 22 oz. |
| Overall Length | 7.2″ |
| Sights | U-notch rear, tritium/luminescent front |
| Grips | Polymer, integral |
| Action | Semi-auto |
| Finish | Black |
| Capacity | 15+1 (two) |
| MSRP | $667 |
Range Time
During my testing at the range, the pistol ran exactly as I expected, which means it was exceptionally accurate and reliable. I have a Hellcat Pro in Desert FDE I have shot extensively, so I knew what to expect. Since this new version has a threaded barrel, I decided to shoot the gun both with and without a suppressor during my testing.
For suppressor duties, I chose something I think is a great match for a CCW pistol like this: the JK Armament JK 105LT CCX 9mm suppressor. The modular CCX is a superb companion to this Hellcat Pro as it's only a mere 2.6 ounces and 4.6" long in its longest form, and as light as 1.2 oz. and only 1.9" long in its smallest form.
The CCX is unique as it doesn't require a booster. Most pistol-caliber suppressors that attach to tilt-barreled firearms (which is the majority of pistol designs these days) require a small spring inside that allows the suppressor to move back and forth when the barrel unlocks. The CCX is so small that it can directly thread onto the barrel without affecting the performance or reliability of the pistol. Simply fantastic.
Shooting the threaded barrel Hellcat Pro suppressed was as fun as you would expect it to be. Full disclosure here: I absolutely love shooting my firearms suppressed. It's easier on the ears, you can discern your hits with ease and it's just plain cool.
Threading on the suppressor was a breeze, and once it's attached and tight, you're ready to rock. I love the look of the Hellcat with a suppressor, especially when adding a weapon light like the Streamlight TLR-7 Sub I had on hand. Talk about a sweet setup.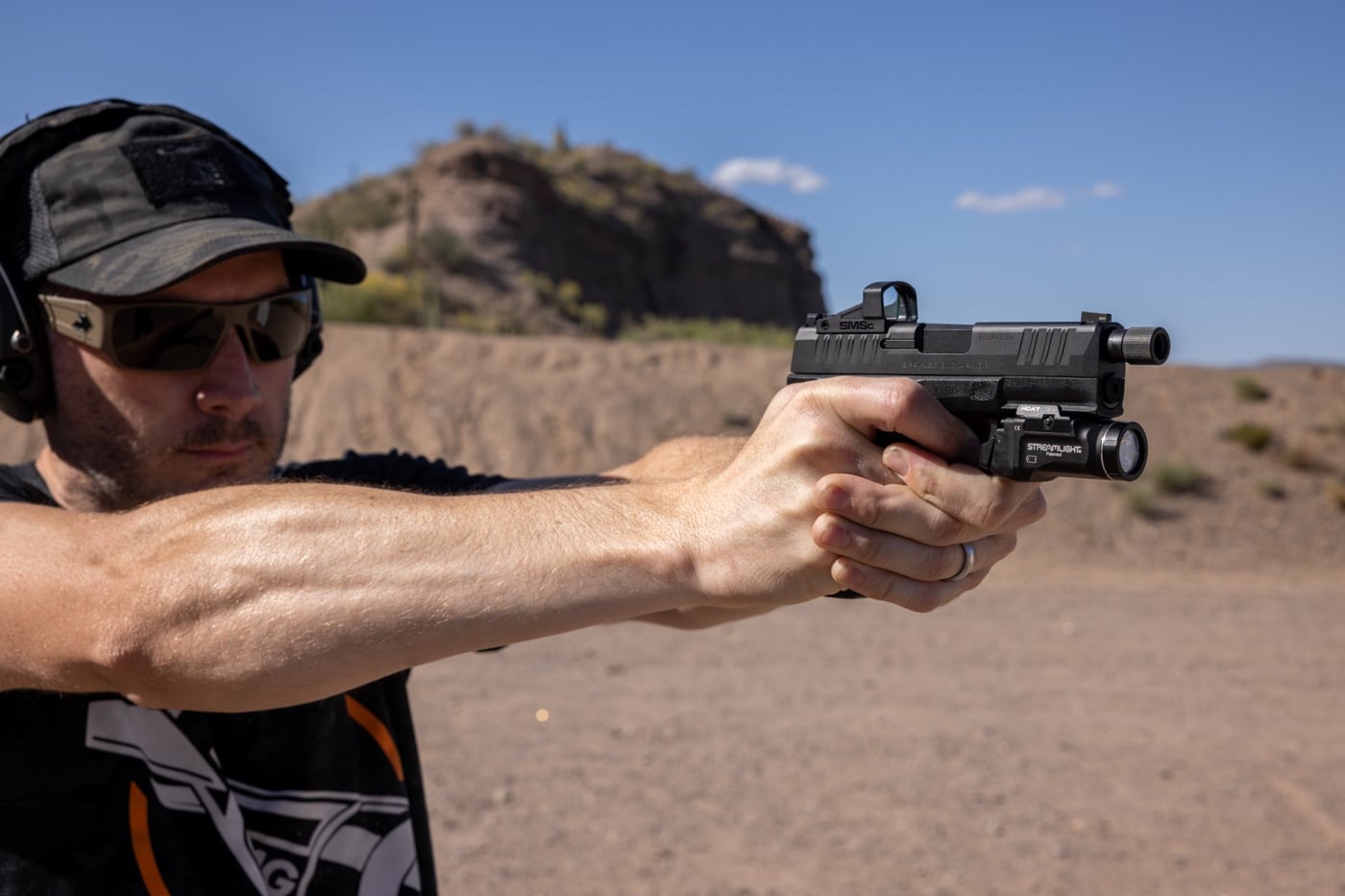 The ammo for this review was provided by Remington, specifically their 9mm Subsonic ammunition. The ammo ran with the JK Armament CCX suppressor and the pistol without any issues. I'm looking forward to testing a few other suppressors out on this setup, but I think it will be hard to beat the CCX in terms of size and weight.
Final Thoughts
One of my favorite aspects of Springfield Armory is its never-ending quest to provide its customers with best-in-class products and options. We all like to have a variety of features, sizes, colors, etc., and Springfield understands this. As a result, it is constantly enhancing its product line as well as offering new variants.
The newest Hellcat Pro with the threaded barrel really piques my interest as I am a tinkerer and tester at heart. I love to see how far I can take something, what I can attach and test on it, and where it might shine or fall short. The threaded barrel option checks all the boxes for me and allows me to spice up my range sessions with my favorite CCW pistol platform, one that has had a home on my hip for the last three years.
If you've ever been interested in shooting your Hellcat Pro suppressed or with a muzzle device attached, look no further than the Hellcat Pro with Threaded Barrel. You won't be disappointed in this exclusive offering from Sports, Inc. Give it a look and be sure to call your local gun store to get your hands on one.
Editor's Note: Please be sure to check out The Armory Life Forum, where you can comment about our daily articles, as well as just talk guns and gear. Click the "Go To Forum Thread" link below to jump in!
Join the Discussion
Featured in this video
Continue Reading
Did you enjoy this video?
126