Free Mags and a Bag: Springfield's 2023 Gear Up
September 15th, 2023
5 minute read
Springfield Armory, a name synonymous with excellence in the firearms industry, just announced an enticing new promotion for its loyal customer base. If you've been considering adding a Springfield Armory handgun to your collection, now is a great time to make that purchase.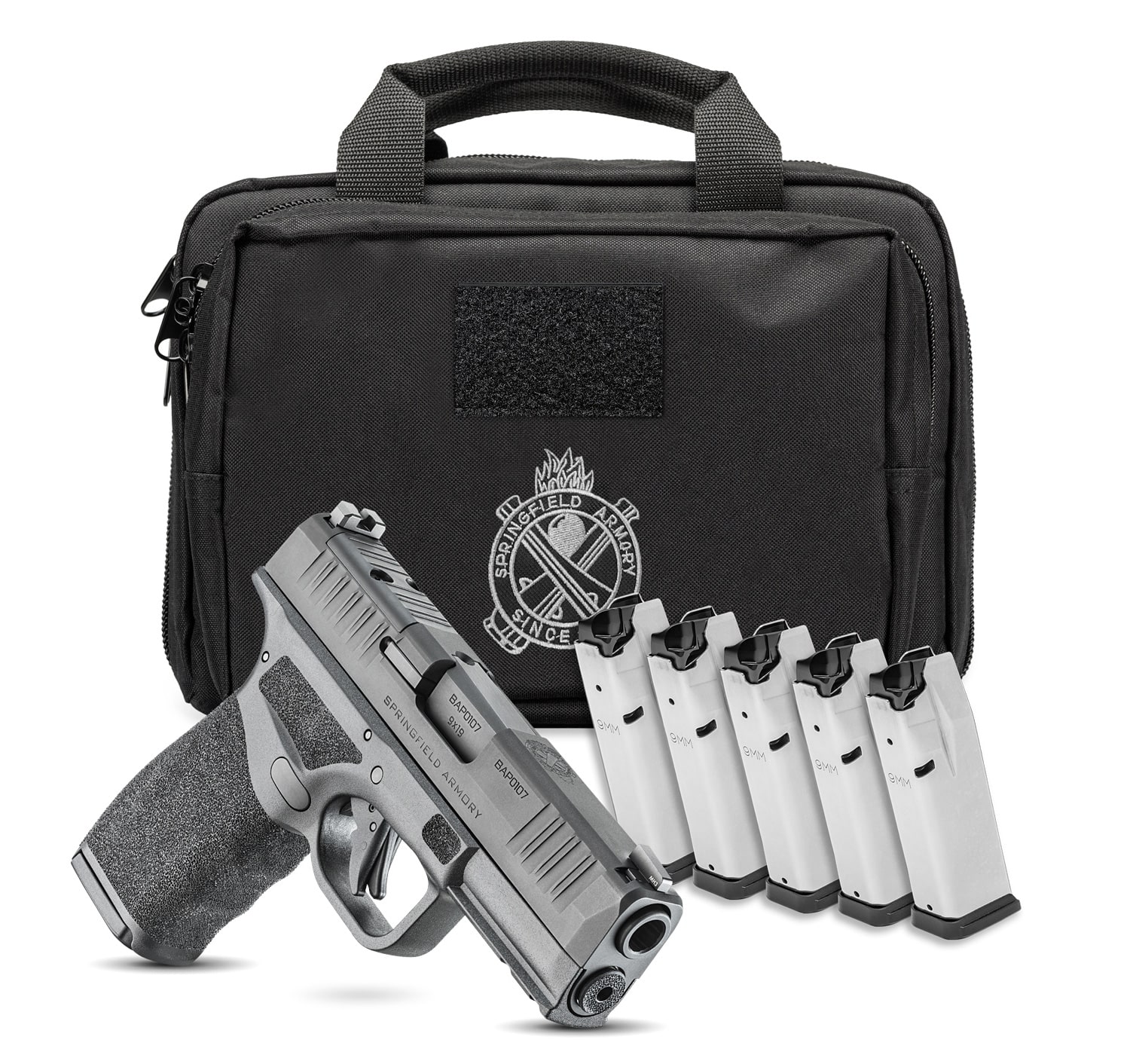 Starting on September 15th, 2023, and running through December 31st, 2023, the Gear Up promotion offers customers who purchase select Springfield Armory handguns the opportunity to receive three additional magazines and a Springfield Armory dual pistol bag adorned with the iconic Crossed Cannons logo. Purchasers must simply show proof of purchase and fill out a redemption form online by January 31st, 2024, to redeem their Gear Up package. The retail value of this package can exceed a whopping $150.
Covered Guns
The Gear Up promotion encompasses a wide range of Springfield Armory's currently available pistols. Whether you're a fan of the original XD, the compact XD-S Mod.2, or have your eyes on an XD-M Elite or Hellcat variant, there's something for just about every handgun enthusiast.
The promotion specifically includes the following:
Hellcat family (both standard and Pro variants)
XD

XD-M

Elite

XD-S

Mod.2
CCW's With Teeth
Designed for concealed carry, the Hellcat family of pistols offer two sizes: the original micro-compact Hellcat and the slightly larger Hellcat Pro. Both guns are incredibly thin, yet pack 11+1 and 15+1 rounds in flush-fitting magazines, respectively.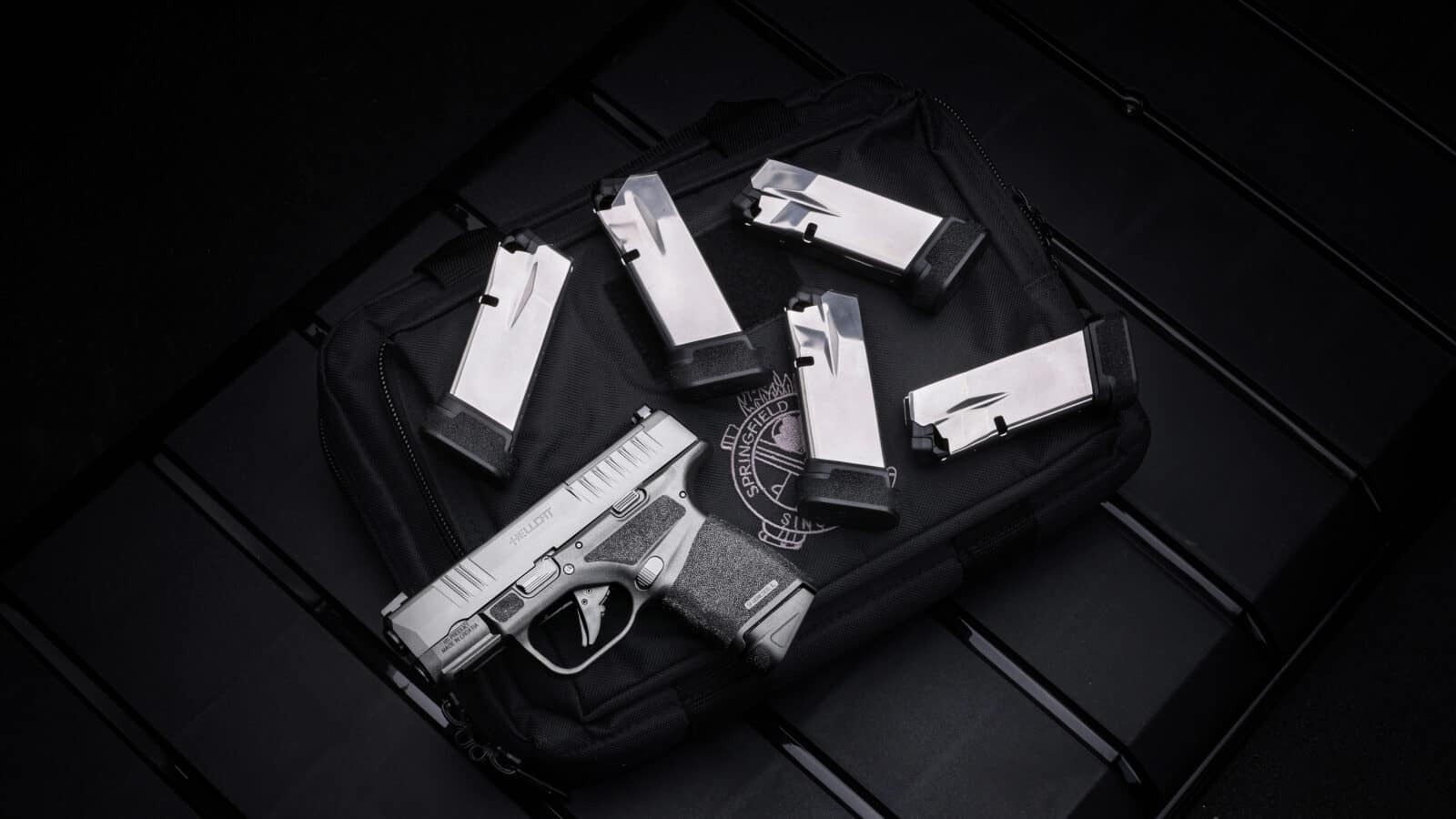 Native SMSc-type optics cuts on the OSP slides means you can attach some of the most popular red dots directly to the slide without the need for cumbersome adaptor plates. This also allows for a very low mount and the co-witnessing of the excellent U-Dot sights.
Utterly reliable, the Adaptive Grip Texture treatment and the excellent factory sights combine to give you an easy-shooting pistol tailor-made for protecting Americans from violent crime.
The XD
The XD enjoys more than 20 years of service in the hands of a wide range of users. With some ergonomic and design cues taken from John Moses Browning's classic 1911, the XD line is a robust defensive pistol available in a range of sizes, styles and calibers.
From a 3" barreled 9mm to a 5" .45, the XD line is the "Old Faithful" in modern combat handguns. The XD line has the added benefit of being available to Americans living in states like California.
XD-M

Elite

By any standard, the XD-M handguns are considered top-tier pistols. The most recent iteration, the XD-M Elite line, is the pinnacle of XD performance. The standard Match Enhanced Trigger Assembly (META) is light and crisp. With match-grade barrels, removable magwells and impressive capacity magazines, these handguns are perfect for competition, hunting and home defense.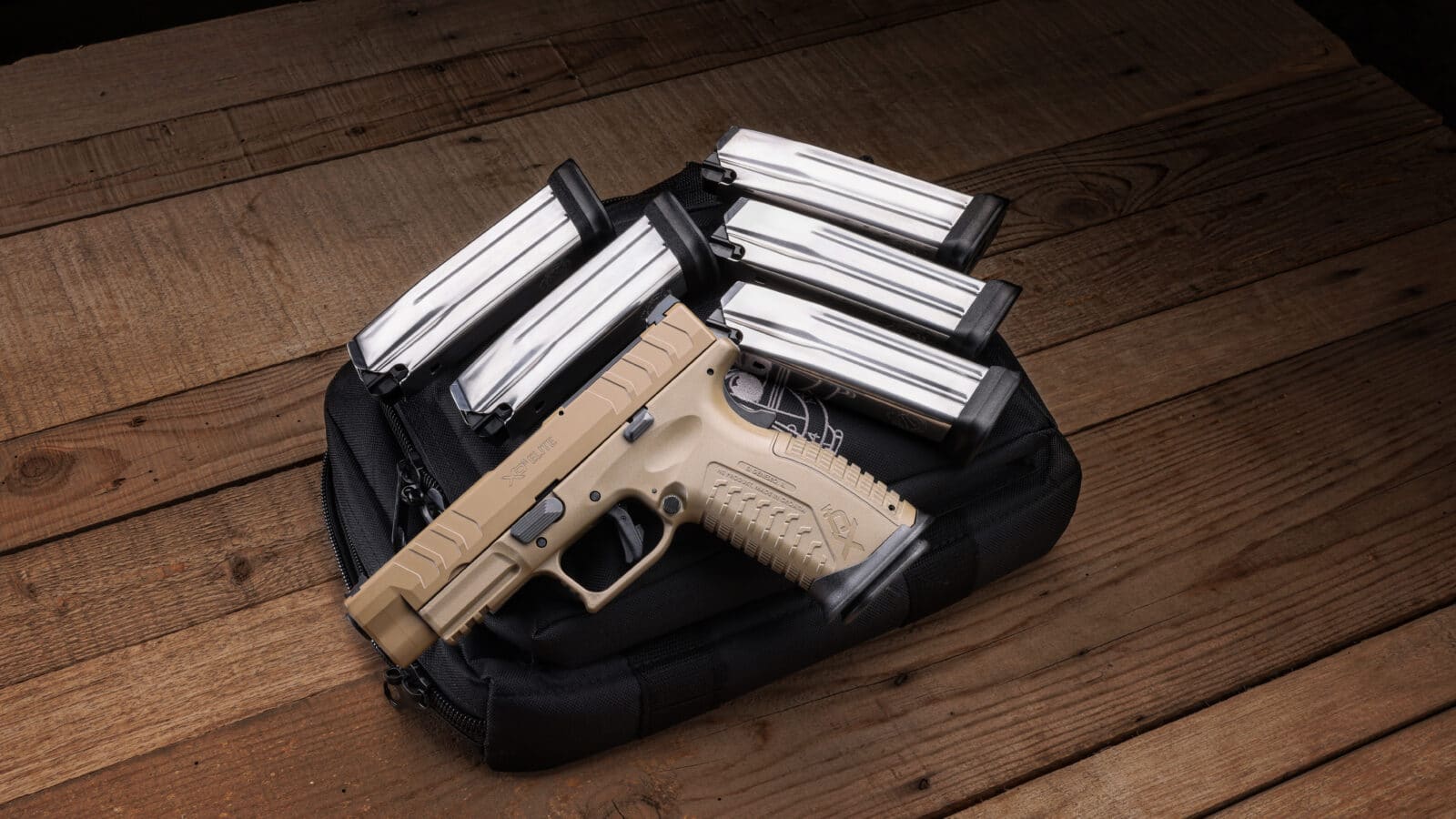 Springfield Armory offers the XD-M Elite in more than a dozen configurations, including compact and full-size models. Chamberings include 9mm, 10mm and .45 ACP. My personal favorite is the XD-M Elite in 10mm with the 4.5" barrel. It is the perfect blend of size and power for me — really a great example of Springfield Armory quality.
XD-S

Mod.2

Available in America's primary personal protection calibers, 9mm and .45 ACP, the XD-S Mod.2 line offers a very slim option for concealed carry. Designed around a single-stack magazine, these handguns have excellent triggers and an ergonomic grip frame that help shooters put rounds in the bullseye.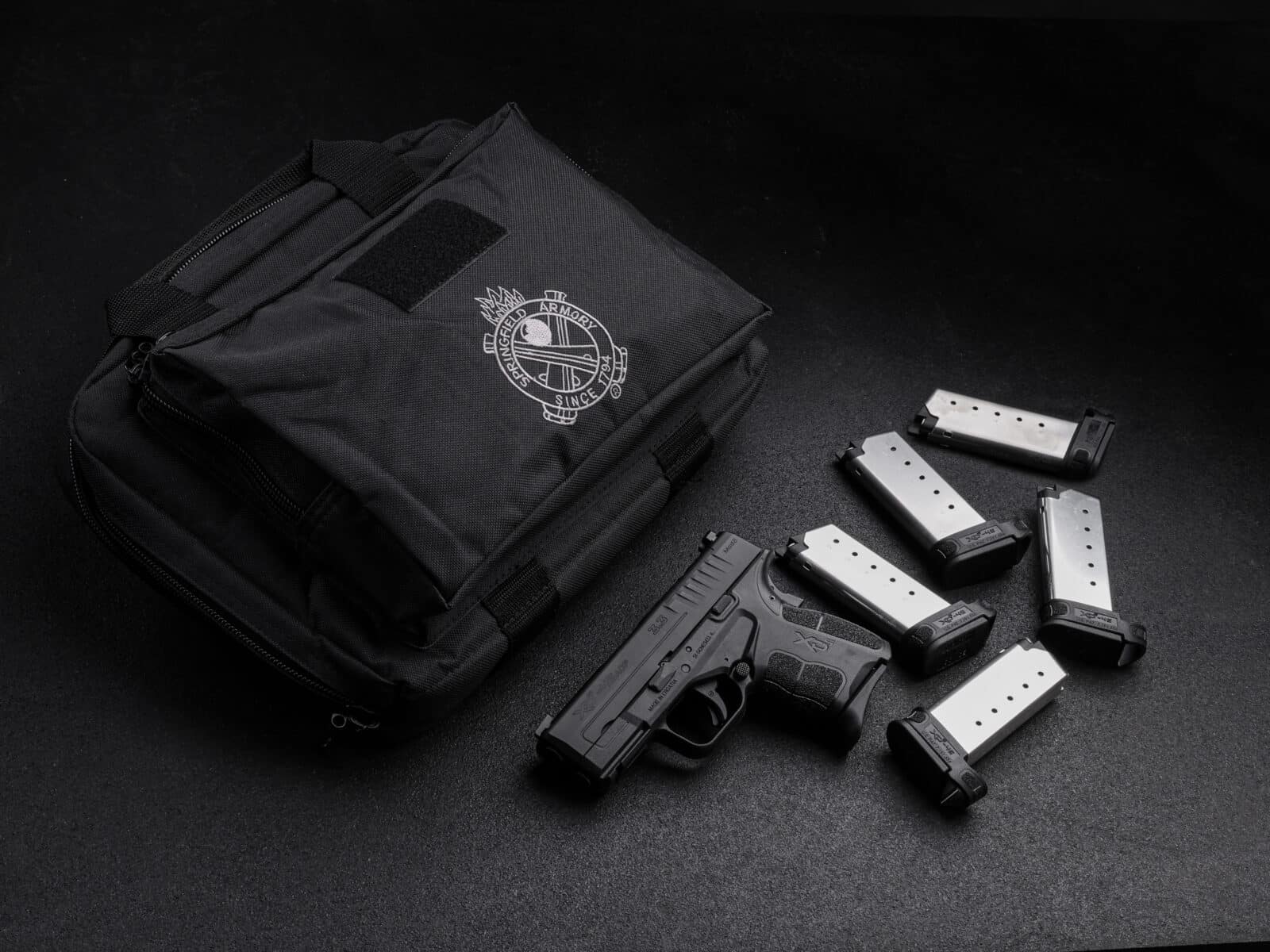 Helping to get on target fast, Springfield Armory includes an optics cut slide as standard on all currently manufactured XD-S Mod.2 pistols. Like the Hellcat, you can direct-mount many red dot sights to the slide for a sight that is much closer to the bore axis. Springfield even offers two XD-S models with a factory-mounted red dot from Crimson Trace.
The Gear
Springfield's offer includes three magazines for their purchased pistol and a branded dual pistol bag. The dual pistol pouch in particular is something special. Its size fits neatly between a range bag and a pistol rug.
It's large enough to carry a pair of pistols, with interior pockets that keep them from banging each other and protect their finish. There is also an interior padded compartment designed to fit eight spare magazines in individual slots. Of course, you can substitute in other accessories. On the outside of the bag is a large, zippered compartment suitable for ammo or accessories.
Other niceties include a Velcro slab for adding a morale patch or name tag. Also on the front of the bag is the famous Springfield Armory Crossed Cannons logo. The bag has a pair of reinforced nylon carry handles.
I find the size of this bag to be perfect for a quick trip to the range to keep in practice. For a longer day of shooting, I find the bag stores easily in my larger range bag, while keeping my Springfield pistols safe from bumps and dings.
Conclusion
Redeeming the Gear Up package is a straightforward process. Eligible buyers need to provide proof of purchase and complete an online redemption form by January 31st, 2024. Once these steps are completed, you can expect a package to be delivered to your door.
Phil Rawlings, Vice President of Sales and LE for Springfield Armory, expressed his enthusiasm for the promotion, stating, "Springfield Armory's pistols are renowned for both their ruggedness and their reliability. And with this new Gear Up promotion, they will receive a great selection of valuable accessories at no extra cost."
For those interested in learning more about this limited-time offer, all the details can be found on the official Gear Up promotion website listed below.
Editor's Note: Please be sure to check out The Armory Life Forum, where you can comment about our daily articles, as well as just talk guns and gear. Click the "Go To Forum Thread" link below to jump in and discuss this article and much more!
Join the Discussion
Featured in this article
Continue Reading
Did you enjoy this article?
186