Finding the right fit. When it comes to pistols, we will spend hours going over specs, looking at photos, and then will finally make that purchase. But what about the holster we intend to carry it in? Will we spend as much time looking at it? I would venture to say we will not. But that is a mistake as your holster is just as important as your gun.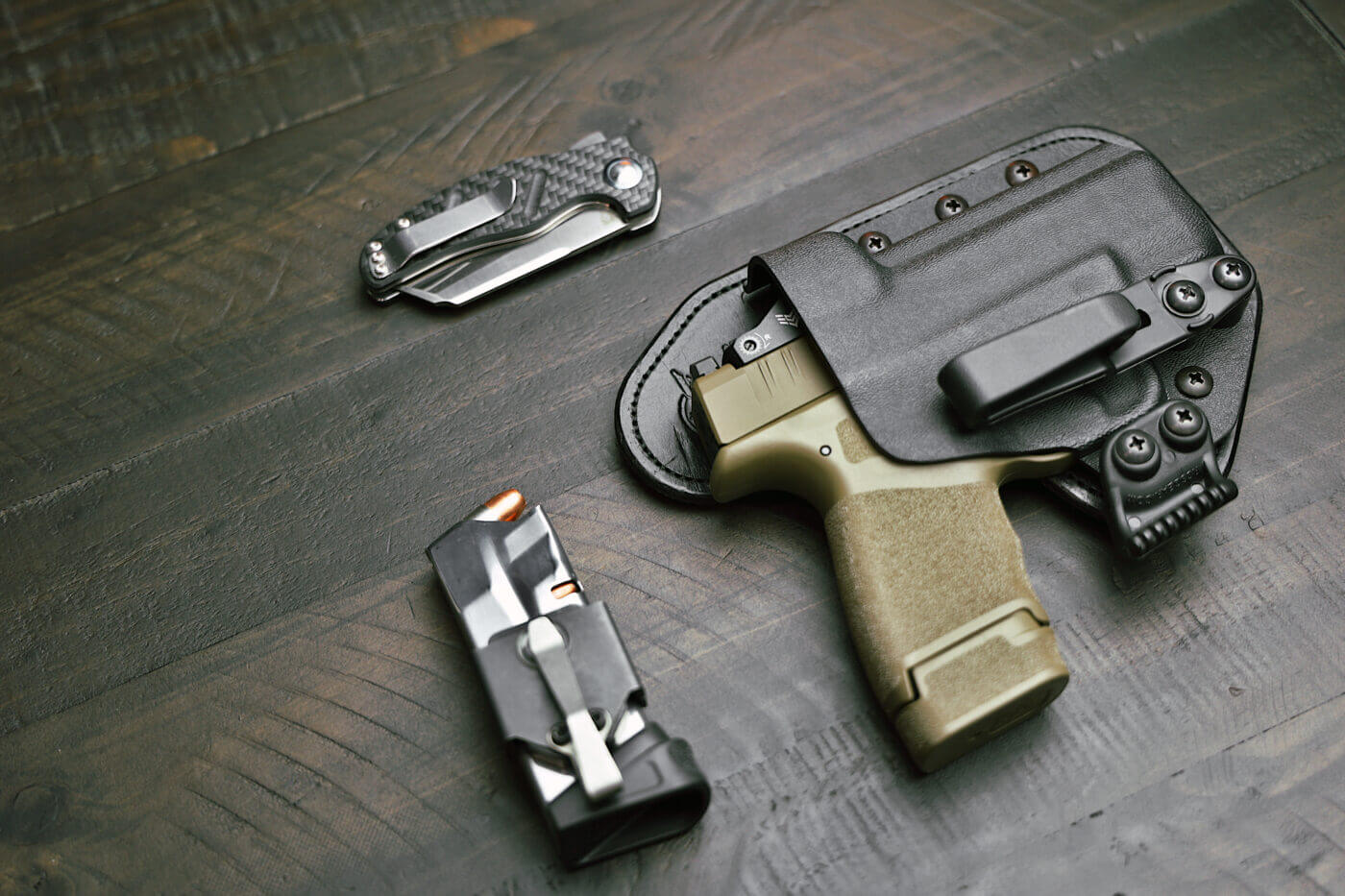 What should you consider when picking out your holster? When it comes to holster materials, there are really three man materials in the game: Kydex, leather and Boltaron. Never heard of that last one? Although Boltaron is very similar in appearance and properties to Kydex, it's slightly different. So, what happens when you combine two of these three main materials?
Hybrid … and Not a Car
Leather is more comfortable than Kydex. I think we can all agree there. But what about combining leather and Kydex? Hidden Hybrid Holsters is producing holsters that give you the comfort of leather where you want it, with the protection and durability of Kydex where you need it.
If you wear an inside-the-waistband holster (or IWB, as it is commonly referred to) you have felt that Kydex dig into you. Although Kydex does make a great durable holster, since comfort can often dictate how much you carry or what size pistol you carry, it is a very important consideration.
The Bits & Pieces
There are some elements that set a Hidden Hybrid apart from other similar holsters, and those are going to be the quality and design. All Hidden Hybrid holsters feature suede-backed 9 to 10 oz. Amish leather. The suede backing is not only molded and minded, but stitched as well. This helps to ensure years of comfortable service.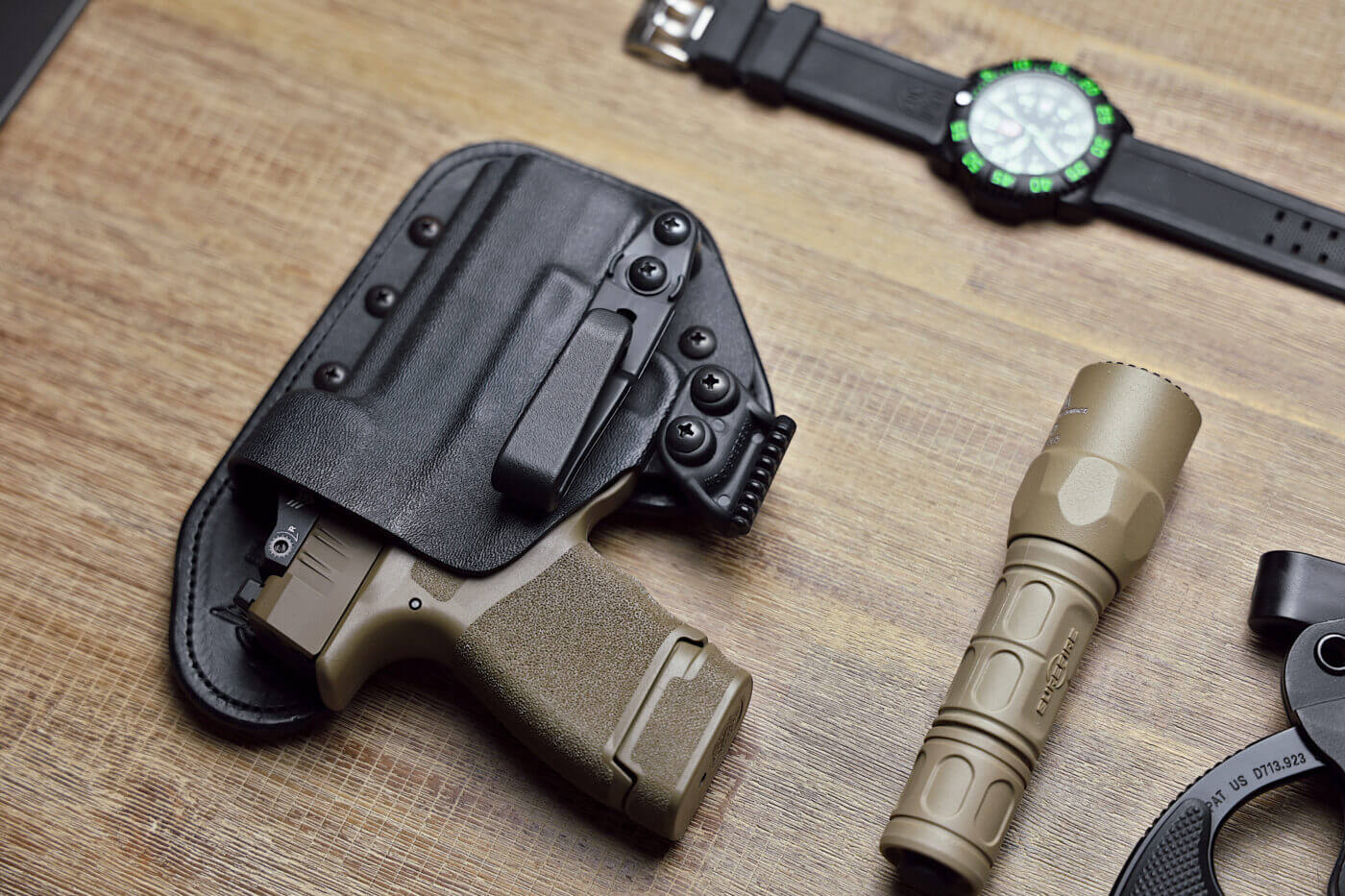 The Kydex is vacuum formed to the exact mold of the pistol you order it for, giving you great retention even while not being worn. The leather is cut to ensure that a full grip purchase can be achieved when unholstering, and also to ensure it's safe upon re-holstering. All of the fasteners are coated to ensure long lasting life against sweat and the elements. When paring a comfortable holster with something like the Hellcat, which is the highest capacity micro compact, carrying all day is no problem at all.
The holster itself is an appendix carry/strong side holster that is available in right or left hand. It is offered in a wide range of color options (including the basic black I selected) and is offered for the entire Hellcat line including the OSP and RDP models. If you haven't seen them already, make sure you catch Paul Carlson's video review of the RDP.
Conclusion
If you're looking for a good deep concealment holster for your Hellcat pistol that is both comfortable and secure, the Hidden Hybrid Appendix Carry Strong Side Holster is a great option. Be sure to check it out.
Editor's Note: Please be sure to check out The Armory Life Forum, where you can comment about our daily articles, as well as just talk guns and gear. Click the "Go To Forum Thread" link below to jump in and discuss this article and much more!
Join the Discussion
Featured in this video
Continue Reading
Did you enjoy this video?
45