By now, hopefully, you've got the chance to see the new SAINT announced by Springfield Armory, the SAINT Edge ATC. If so, maybe you are wondering why the world needed another AR platform gun chambered in .223 Wylde? Well, this one is different. Seriously, it's not just another AR-15.
The SAINT Edge ATC Elite has several unique characteristics, but the defining one is right there in the name. ATC stands for Accurized Tactical Chassis, and the ATC is unlike anything I've ever encountered. The lower of the firearm is monolithic, meaning the lower receiver has the handguard as part of it. It's all one solid piece of 6061 T6 aluminum that is Type III Hardcoat Anodized.
The chassis is rock-solid, providing a truly secure free-float system for the barrel, barrel nut and gas block. The system is designed to allow the shooter to load a bipod without putting any pressure on the barrel and barrel system, ensuring no effect on point of impact.
The ATC employs the Accu-Tite Plus system, which provides two points of tightening adjustment within the receivers. The Accu-Tite Plus system allows you to add tension from the lower against the upper receiver's two locking interface lugs, creating zero room for wobble in the fitment between the two. With all these tightening points, if there is any wobble in the receiver or handguard of your rifle, you can tighten it down and easily remove it.
The forend of the ATC features a lower strip of Picatinny rail for mounting a bipod, and the system has a long upper rail system for mounting optics. You can read Jeremy Tremp's full SAINT Edge ATC review for additional information on these new guns.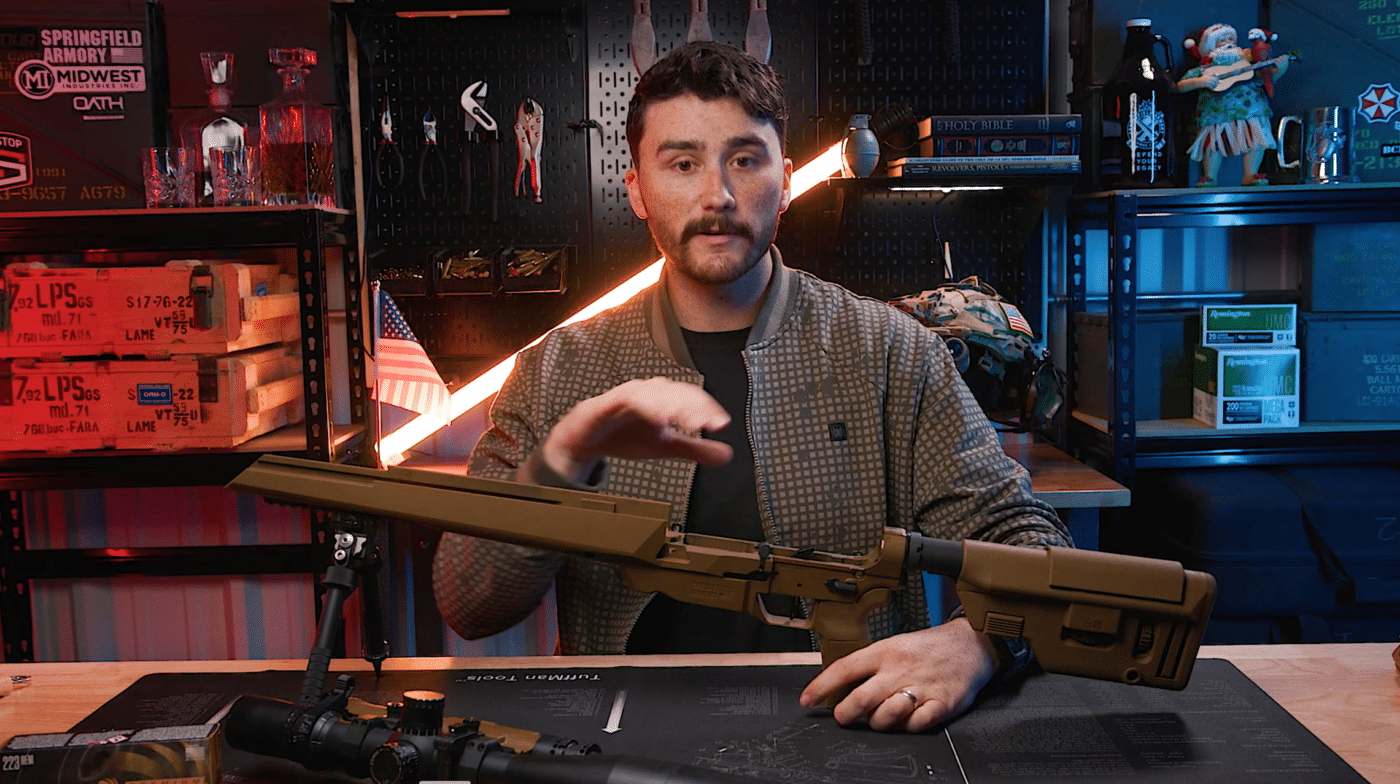 In Practice
The ATC is a good idea in theory, but does it produce good results? Springfield Armory loaned us the Elite variant of the rifle with a tan finish, upgraded trigger and enhanced buttstock so that we could see if it lives up to the hype.
Springfield Armory provides a sub-MOA accuracy guarantee for both the standard black model and the tan Elite for three-shot groups, with match grade ammo and a skilled shooter. Frankly, this is an impressive claim. Most carbines chambered in 5.56 or .223 that you can buy in a gun store will not shoot sub-minute groups. Without extra work, that is.
Springfield Armory provided some high-quality 77-gr. Federal Gold Medal Sierra MatchKing .223 ammo with the rifle for the testing. Barrels are known to speed up velocity during their first 200 rounds, and when you're shooting for accuracy that velocity change matters and will affect your zero.
To familiarize ourselves with the ATC and to get it up to shooting consistent velocities, we set out to get over 200 rounds on the gun before conducting a test. During our phase of warming up the rifle, we shot some 55-gr. FMJ American Eagle rounds. This phase of our shooting was where we focused on shooting this gun at a distance. We ended up working our way out to 500 yards on silhouette-sized steel. However, this was mostly about breaking in the barrel.
For the accuracy test itself, we made targets that consisted of rings with a 1″ outer diameter, and an inner diameter of .5 inches, with a center aiming dot of .1 inches. For our test, every shot was aimed at the center dot in the circles. With a 15X scope, the dot truly isn't visible at 100 yards, but the crosshairs are placed at that approximate position. Then we slow-fired three rounds with that same point of aim for each test. Out of the five, three-shot groups on our first page or targets, three groups were sub-MOA.
We realized at that point that we had by then fired 300 rounds through the ATC without cleaning it. Grant cited his time as a sniper recalling that the 300 round mark was when he started to notice accuracy shifts in his rifle if it hadn't been cleaned properly. We removed the upper receiver and proceeded to clean it with brushes and bore solvents to remove any residue.
With the gun all cleaned up we set out on the second day of our accuracy test to see how it performed. The last time we shot off a bench, and this time we shot from the prone position with a bipod and sandbags as support. The drawback of this day was the fact there were strong crosswind gusts of 20-30 mph on our range, which even at a distance of 100 yards can provide a challenge, especially when trying to shoot sub-MOA groups.
Recording shots was painstakingly slow. We made sure to only fire shots when the wind felt steady. Also, if the barrel felt too warm, we waited, allowing it time to cool before firing again. We made every attempt to remove wild variables in an effort to see what this gun could do.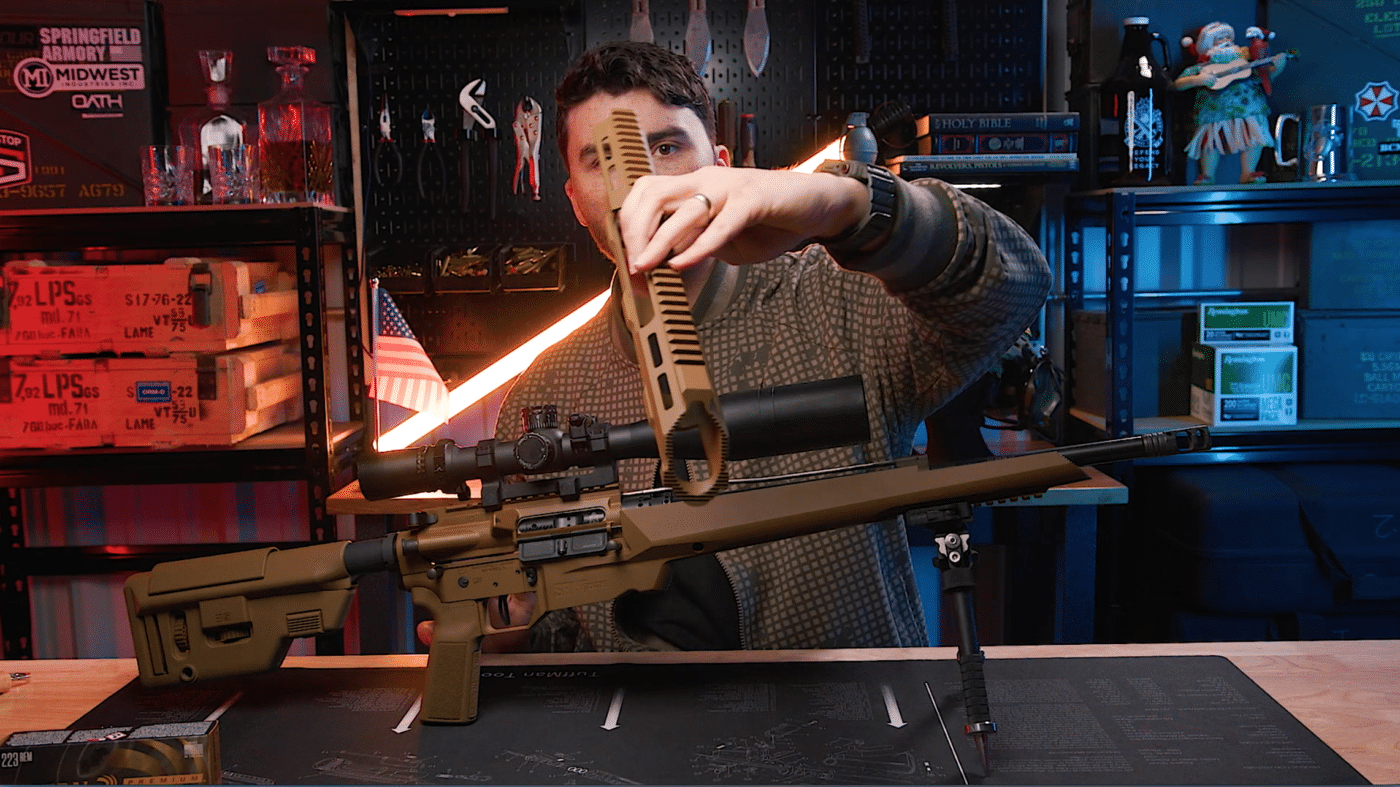 That day we fired six groups, each one consisting of three shots, back-to-back. All of them were sub-MOA. Springfield Armory had proven it could back up its sub-MOA claim. The ATC is one accurate rifle, especially for an AR platform rifle, and for one with a manufacturer's suggested retail price of under $2,000. Keep this gun clean and shoot high-quality, and you are going to get impressive results.
Conclusion
The ATC, in my opinion, will find itself at home amongst those who need precision in an intermediate cartridge gun, whether that be those who love to shoot distance and don't want to always pay the price for larger rounds. Coyote hunters, in particular, will love the SAINT Edge ATC as the accuracy it has is well-suited for shooting at smaller animals like a coyote at 200 or more yards.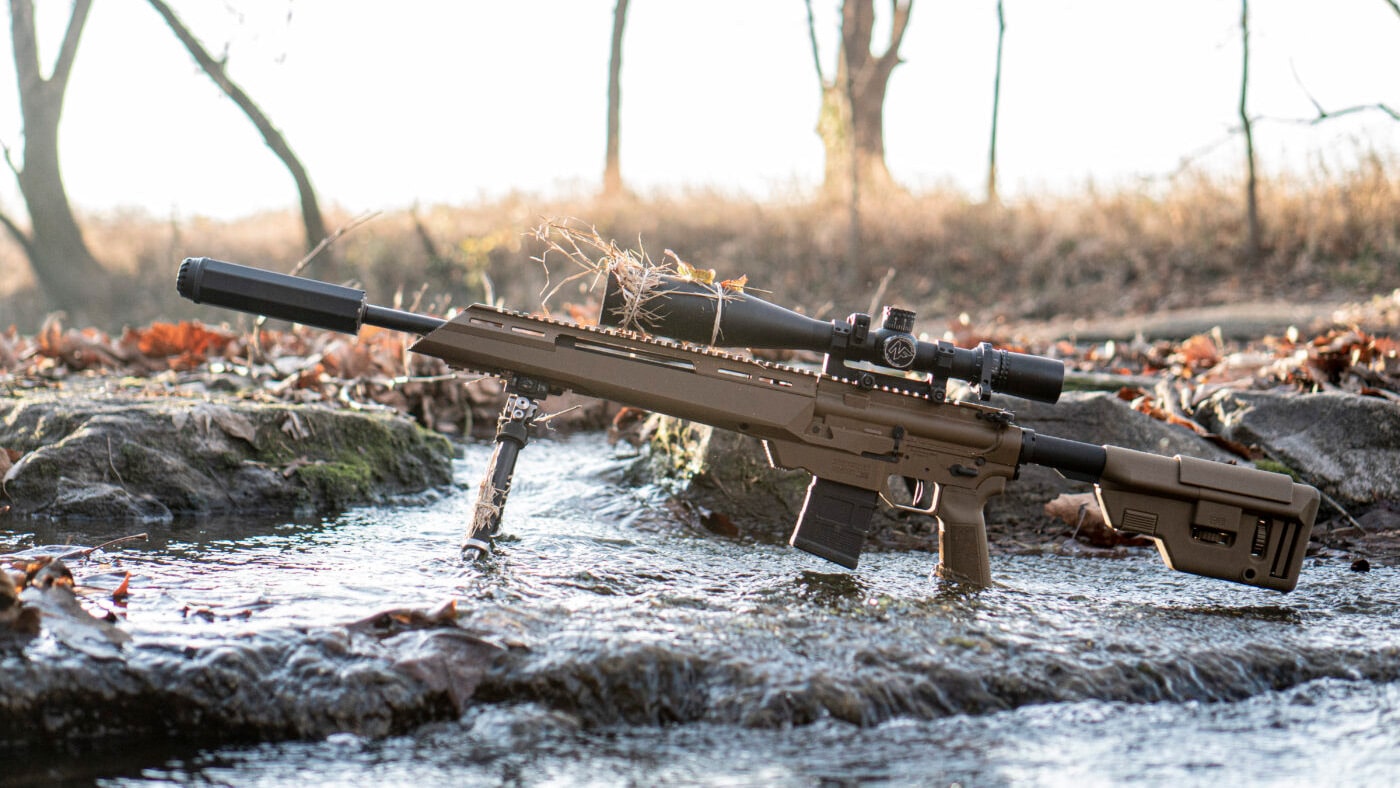 Springfield Armory has done its homework on creating accurate rifles, and it shows. In 2020 we saw the introduction of the Model 2020 Waypoint, which may just be the most accurate production bolt-action hunting rifle, right out of the box, on the market. Now in 2021, we are seeing another rifle built for accuracy in the SAINT Edge ATC. I for one am excited to see what Springfield Armory will do next, and I hope to see an expansion of the ATC line offering more options and bigger calibers.
Editor's Note: Please be sure to check out The Armory Life Forum, where you can comment about our daily articles, as well as just talk guns and gear. Click the "Go To Forum Thread" link below to jump in and discuss this article and much more!
Join the Discussion
Featured in this video
Continue Reading
Did you enjoy this video?
53