New Special Edition Magpul SAINT Victors
April 11th, 2023
5 minute read
Although the AR-15 rifle has been on the scene for more than 60 years, its popularity didn't hit full stride until about 20 years ago. Modern AR-15 rifles are better designed for shooters of all sizes and shapes and have a wide range of application from shooting competitions to hunting. More than a few have been used for home defense.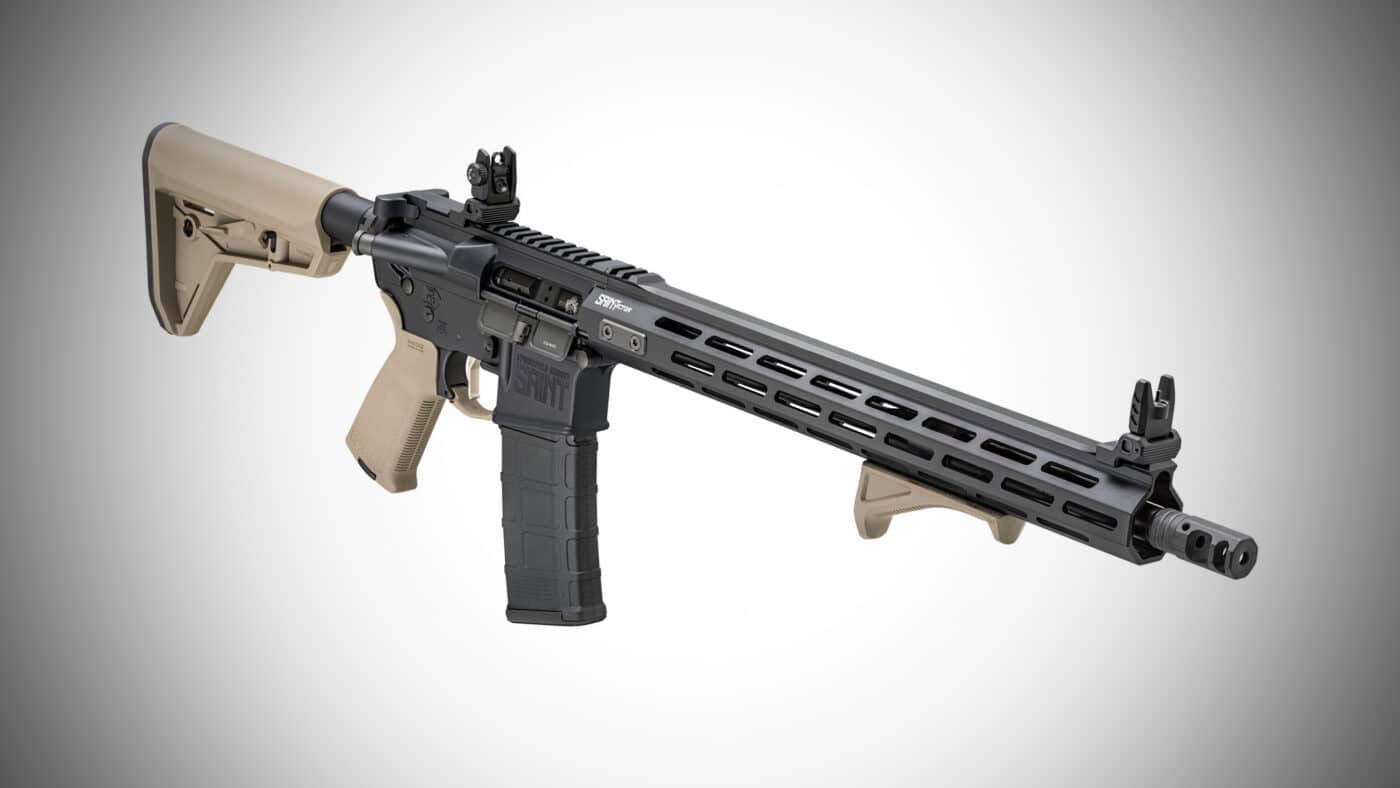 It's believed that there are about 25 million modern sporting rifles in the hands of American citizens. Of those, AR-style rifles are the most popular platform, making them one of the most successful rifle designs ever made in the U.S.A.
SAINT rifles are the AR-style long arms carefully developed by Springfield Armory for a broad range of uses. From the patrol cars of deputy sheriffs to the tree stands of hunters, the SAINT line of rifles is a proven family of sporting rifles.
The SAINT is available in various configurations and chambered for a number of different cartridges. Because of customer feedback, Springfield Armory is now offering the SAINT Victor in three different color options thanks to a collaboration with Magpul.
Beyond Ordinary
The Springfield Armory SAINT Victor is an enhanced version of the SAINT rifle. It is chambered for .223/5.56 NATO and offers features well beyond what you would expect at its reasonable price point. Like all the variants in the SAINT line, the Victor is built on a rock-solid foundation.
Both the upper and lower receivers of the SAINT Victor are crafted from forged 7075-T6 aluminum and are given a Type III hard coat anodized finish. Type III anodizing increases the surface hardness of the metal, which provides better corrosion and wear resistance for a lifetime of service.
The Victor barrel measures 16" long and has a 1:8" twist to stabilize the broadest range of bullet weights. Springfield Armory uses a Melonite treatment process on the barrel. A salt bath nitriding process, the Melonite treatment increases the wear resistance and corrosion resistance of the chrome moly vanadium (CMV) steel. The barrel is threaded and fitted with a company-designed brake to tame muzzle rise when shooting.
A mid-length gas system is used to ensure reliable operation and improved shooting characteristics. Gas is bled from the barrel using a low-profile pinned gas block and routed to an enhanced M16-type steel bolt carrier is utilized. The enhanced M16 bolt carrier group wears a Melonite finish. Each bolt has been high-pressure tested (HPI) and gone through a magnetic particle inspection (MPI).
Other familiar qualities include a G.I.-style charging handle and a single-side safety switch on the left side of the receiver. To keep things in check, a Carbine "H" heavy tungsten buffer is standard. Unloaded, the Springfield Armory Victor package tips the scales at 6 pounds, 9 ounces.
Springfield uses a nickel-boron trigger on the Victor that is a bit slicker than most. This can contribute to greater accuracy and precision. Speaking of accuracy, the company includes a set of spring-loaded, flip-up sights. In an era of cost-cutting, many other brands don't even include sights, never mind top-notch ones like these.
I'm also partial to the 15" aluminum handguard with numerous M-LOK attachment points for the mounting of accessories such as lights and lasers. The handguard is sufficiently long enough to accommodate a wide range of shooting styles, and its extended length gives greater flexibility in finding the optimum spot to mount critical accessories.
Beyond Basic Black
More than 100 years ago, Henry Ford stated you could get one of his Model T automobiles in any color you liked as long as it was black. For most of the AR-15's lifespan, you would think Old Man Ford oversaw production.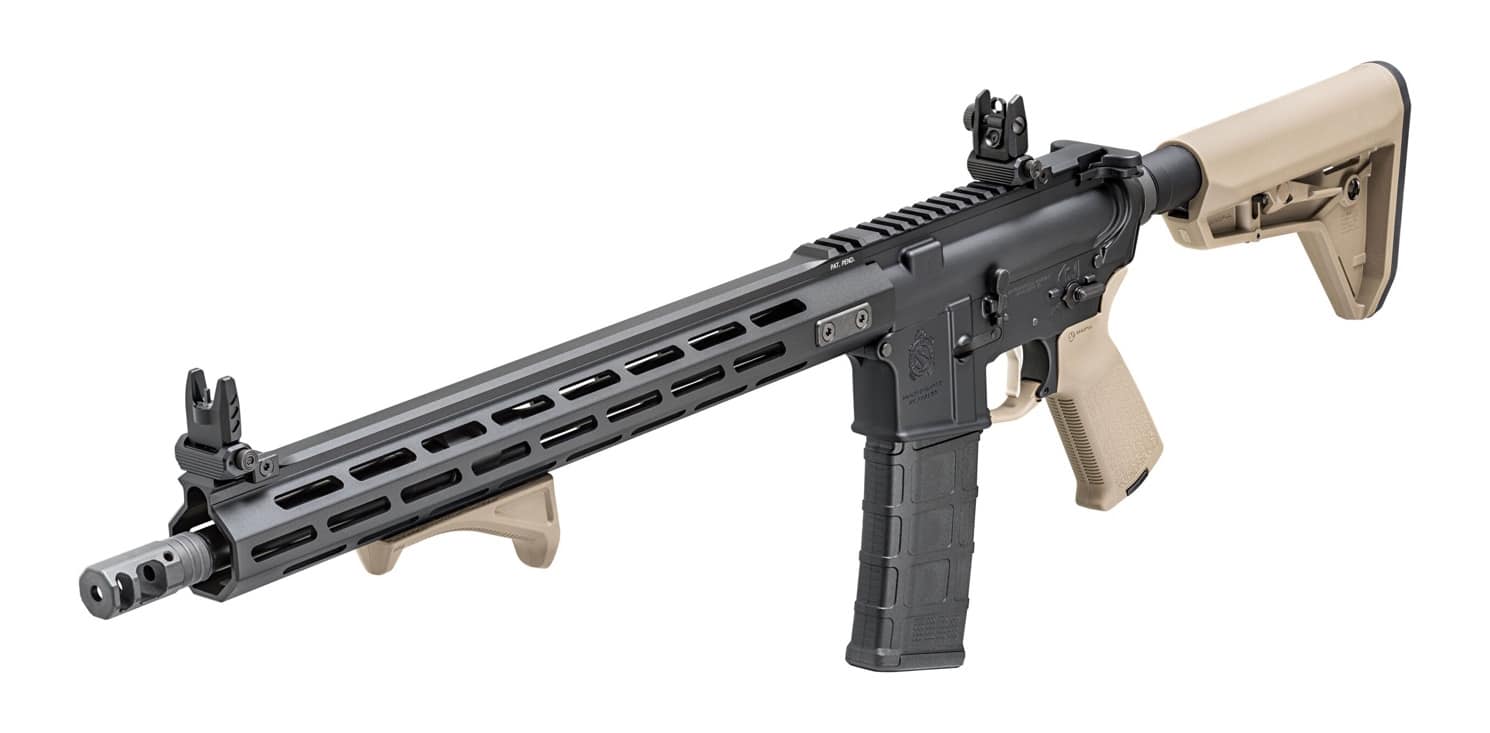 Well, team, the SAINT Victor has gone beyond basic black and is now available in three different color furniture options: OD Green, FDE and Gray. These models all use Magpul stocks, grips and angled fore grip. While the rest of the rifle remains matte black, the Magpul parts are color-matched.
The Magpul MOE buttstock represents a huge improvement over the original M4-style telescopic stocks. An improved cheekweld with a sloped comb enhances both comfort and shooter function. The rollover toe allows easier shoulder transitions, and the rubber butt pad makes for an anti-slip surface and better impact protection. The length of pull is adjustable with a range of 3.3", and a dual slide release latch lets the end user optimize it for a perfect fit.
Rounding out the package is a Magpul MOE Handgrip and Magpul AFG. The MOE Handgrip is a one-piece polymer reinforced unit with an anti-slip texture and beavertail backstrap for a superior hold. The grip also contains a storage compartment for small items.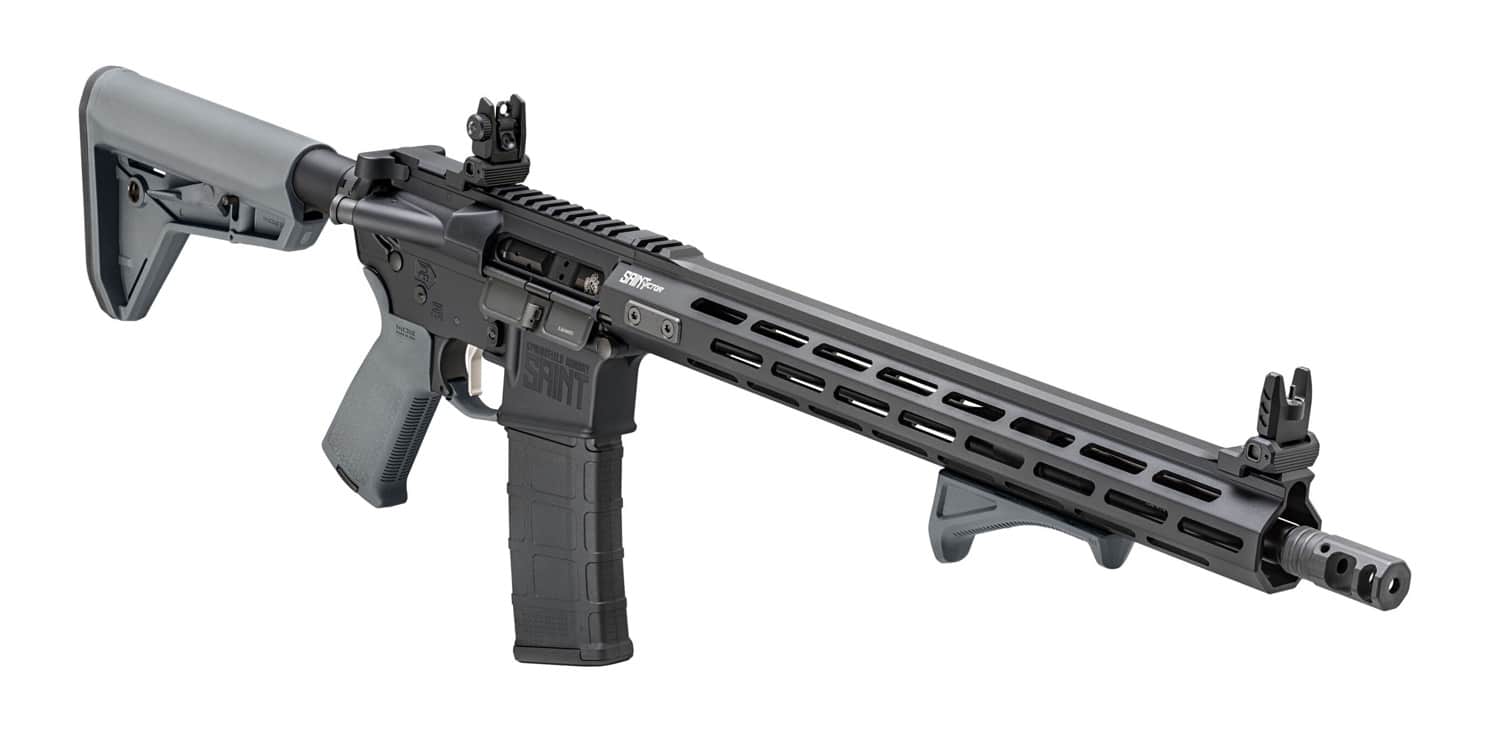 The Magpul AFG, which stands for "angled fore grip", is affixed on the bottom of the handguard and is yet another nice touch that enhances user contact with the rifle and prevents the hand from slipping forward.
Like all Springfield Armory SAINT rifles, the new variations of the Victor will ship with a soft padded gun case with compartments for spare magazines. A 30-round Magpul PMAG Gen M3 is also included in the package.
Final Thoughts
If a quality rifle in something other than monolithic black tickles your fancy, check out the new Springfield Armory SAINT Victor variants. The new color variations go well beyond aesthetics but rate very high in functionality as well. The Victor represents the best buy in a crowded field, and the new color options will undoubtedly broaden its appeal.
Editor's Note: Please be sure to check out The Armory Life Forum, where you can comment about our daily articles, as well as just talk guns and gear. Click the "Go To Forum Thread" link below to jump in!
Join the Discussion
Featured in this article
Continue Reading
Did you enjoy this article?
227