In an industry teeming with scope manufacturers, Nightforce has always had the ability to stand out. This is driven by its reputation for delivering well-built, durable optics that hold their zero. So, we were obviously very excited to get to use the NX8 1-8×24 F1 low-power variable optic (LPVO).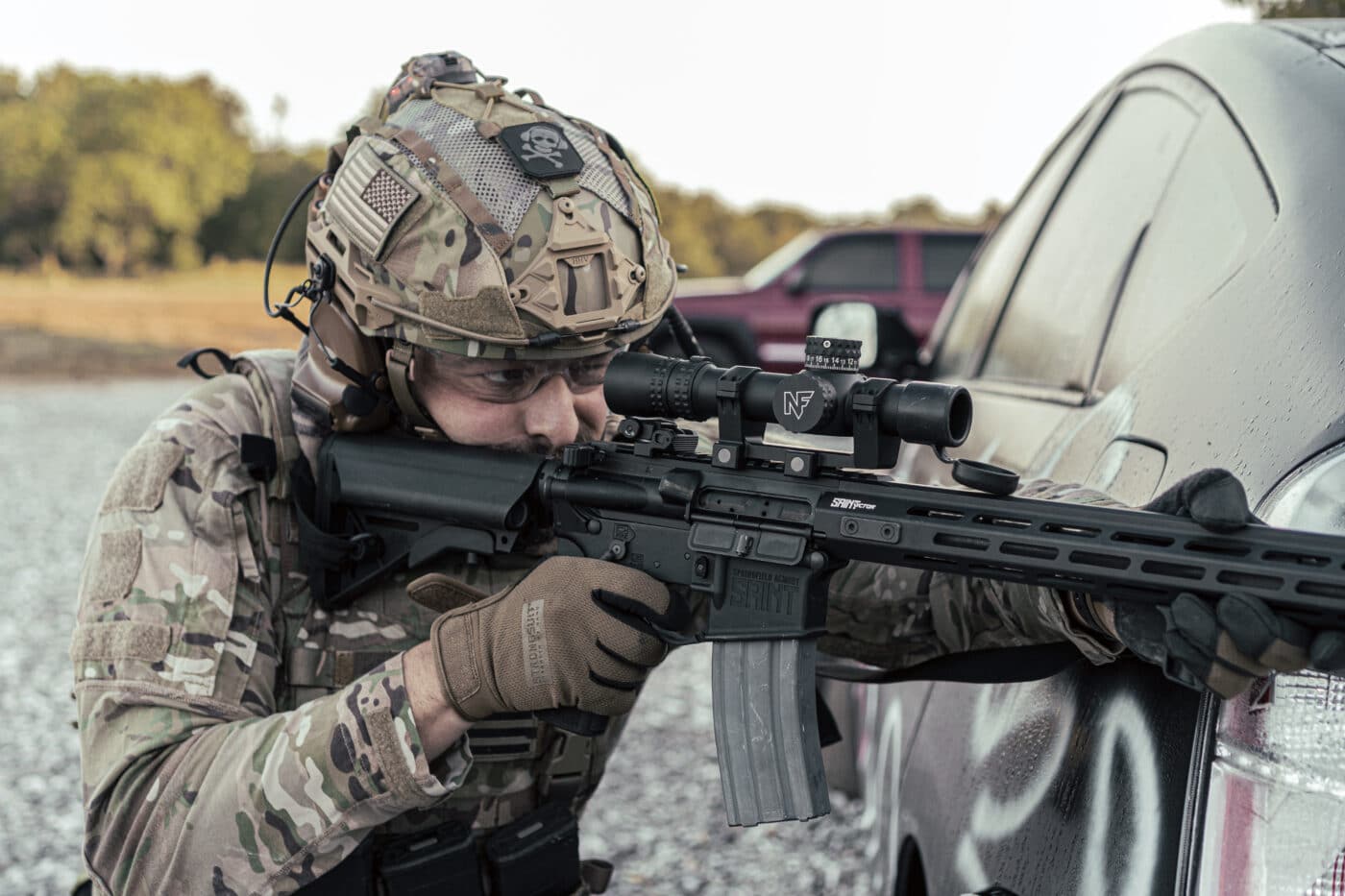 The craftsmanship of Nightforce's products is extraordinary. The scope body itself is a 30mm tube with a 24mm objective lens. The full body of this scope is 8.75" in length and has a mounting length of 5.7", and it is remarkably light at just 17 oz. Seriously. For a 1-8X LPVO to be that light is insane. I'm not sure how Nightforce did it, but they kept this scope small, lightweight and rugged.
The Details
The scope has three adjustment knobs, so controls are simple and straightforward. On the left of the body is a power dial to adjust the intensity of the scope's illuminated reticle, which is powered by a battery. On the top of the scope is the elevation knob. This knob is not capped, has a zero-stop feature and has fine adjustments of 0.2 MRADS. The windage knob is on the right side of the scope. This knob is capped and also has 0.2 MRAD adjustments. There are both 30 MRADs of adjustment for windage and elevation. If you are an MOA shooter and you don't much care for MRADs, don't worry — they have an MOA option available as well.
The optic is a first focal plane scope, and this means the reticle will enlarge as you power up toward that 8X settings. When you are at the low power of 1X, you will mainly be looking at what seems like a simple duplex reticle with three stadia, two sides and a bottom, plus a center dot.
In reality, there is a ton more info in the reticle than what I just described, but at 1X it's simple and clean in appearance. When you are at the 1X setting, you will notice the center dot reticle appears as just a big dot. In fact, when illuminated it can feel just like shooting with a red dot — minus the unlimited eye relief, of course. Also, we found that the illuminated reticle is 100% useable on a bright sunny day.
As you power to that 8X power setting, you will see your reticle grow. As it does, the reticle's features will expand and become more visible to the shooter. It reveals 15 mils of windage holds on either side and 20 mils of elevation holds, with a broken circle center and a small dot in the exact middle. The outer circle is 2.0 MRADs in width and the center dot is .35 MRADs. This reticle is called the FC-MIL reticle (or the FC-MOA reticle if you chose the MOA option).
This optic has a sturdy and sleek appearance, with attractive and effective machined grip textures on all the places you need them, like the turret knobs and the power ring. It also came with a power throw lever in with the scope. It's a really nice feature, but we're not sure you really even need it. The power zoom of this scope is so unbelievably, consistently smooth from 1X to 8X and back down, it's crazy.
The only things we would change on this exceptional scope would be to swap out the rubber lens caps with something more sturdy like the excellent Tenebraex covers. And we'd like to see the top elevation knob be a tad bitter stiffer in operation or lockable. We noticed while running around with a full kit of plate carrier with mags, etc., that we bumped the elevation knob and shifted our zero one time. But, these are pretty minor concerns in the bigger picture with such an excellent optic.
Specifications
Here are the Nightforce NX8 1-8×24 F1 specs:
| | |
| --- | --- |
| Power & Lens Diameter | 1-8×24 |
| Reticle | First focal plane; FC-MIL or FC-MOA |
| Tube Diameter | 30mm |
| Weight | 17.0 oz |
| Length | 8.7″ |
| MSRP | $1,750 |
Conclusion
Again, this optic is quite remarkable. The reticle is bright, the eye relief is good, the light transmission is great and the color rendering of the glass is spot on. With both eyes open, you will forget you are even looking through glass. If you want accuracy and dependability in your target shooting or deer hunting rifle scope, the Nightforce is for you.
Editor's Note: Please be sure to check out The Armory Life Forum, where you can comment about our daily articles, as well as just talk guns and gear. Click the "Go To Forum Thread" link below to jump in and discuss this article and much more!
Join the Discussion
Featured in this video
Continue Reading
Did you enjoy this video?
35