Review: Surefire Ryder 9-Ti2 Suppressor
September 17th, 2021
5 minute read
The Surefire Ryder 9-Ti2 Sound Suppressor and Springfield Armory XD-M Elite OSP Threaded handgun synergistically combine to become something greater than their parts. The XD-M Elite Tactical OSP (Optical Sight Pistol) reflects the current state of the art in full-sized combat handguns. The Surefire Ryder 9-Ti2 is as fine a handgun suppressor as mankind can create. Thread these two magnificent tools together and strap on a Streamlight TLR-8G to create the most effective combat pistol in the world.
Walter Mitty's Ideal Suppressed Handgun
I can count on less than one hand the number of times the CIA has tapped me to travel to the other side of the world to rescue a kidnapped supermodel from the clutches of some evil super-villain. In amongst all the shaving cream commercials and trans-oceanic jaunts on the superyacht I bought with the proceeds from my gunwriting who has time for such? Were the President to call, more often than not I'd just tell him I was too busy.
Who am I kidding? I'm a 55-year-old man with worn-out knees, steadily worsening presbyopia, a family, and a mortgage. The only way I might ever rescue a Sports Illustrated swimsuit model in a faraway land would be if absolutely everybody else to include Nancy Pelosi, Pete Buttigieg and Greta Thunberg were otherwise indisposed. However, there yet remains something to be said for maintaining the proper tools in the profoundly unlikely event I might actually get that call.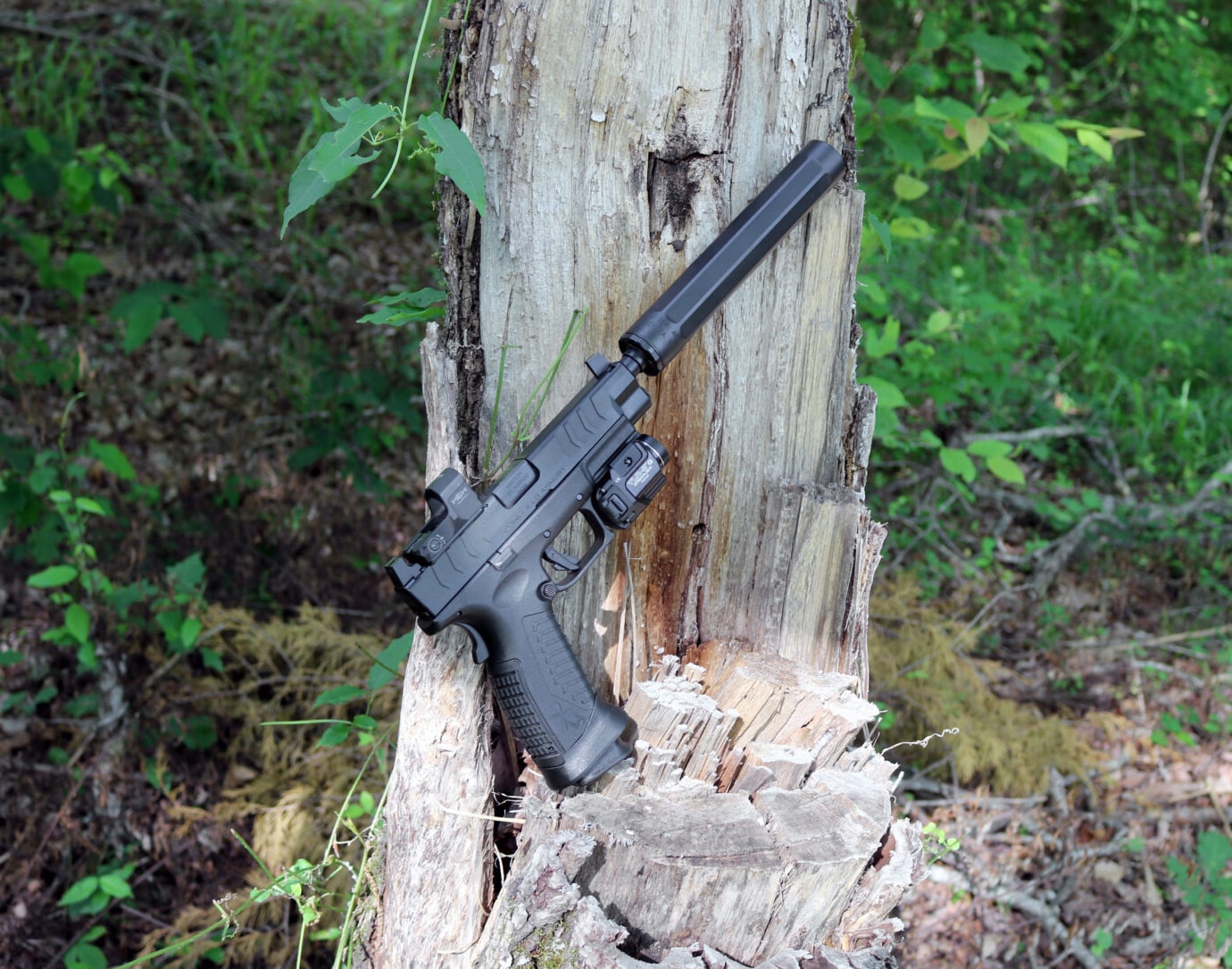 There is something primally satisfying about tactical shooting. I don't hunt. I have no issues with those who do, but that's just not my thing. However, the storied art of tactical shooting embodies the timeless allure of power under control. For me at least it's like golf, only way cooler.
The urge to contrive the optimized tactical handgun spawns from some primordial spaces. Rocking the hottest gun on the range certainly has its appeal. However, unlike a top-end $10,000 Gemspot OM 5 Deluxe Diamond Golf Driver, this rig will actually help keep you and your family safe come what may. This deep into the 21st century the practical applications of a proper tricked-out tactical handgun are fairly obvious.
Practical Tactical
The ideal suppressed handgun system needs to be rugged, accurate, quiet, intuitive and utterly reliable. This weapon should run fast and well while shooting straight and packing a simply breathtaking number of rounds onboard. The symbiotic melding of the Surefire Ryder 9-Ti2 Sound Suppressor, the Springfield Armory XD-M Elite Tactical OSP threaded handgun, and the thumb-sized Streamlight TLR-8G tactical light is all that and more.
The Surefire Ryder 9-Ti2 is one of the lightest, thinnest, most effective pistol cans in its class. Sporting a svelte tube diameter of 1.25″ and a paltry 10.7-oz. weight, the Ryder 9-Ti2 offers a trivial weight burden. Rugged, mil-certified, heat-treated, sequentially-numbered stainless steel baffles and a fluted titanium outer tube define ballistic greatness. A built-in Linear Inertial Decoupler ensures flawless reliability, while exceptional rigidity and concentricity provide superlative accuracy with a minimal and predictable point of impact shift. The Ryder 9-Ti2 is honestly as good as it gets in my opinion.
The 1.25″ outer tube diameter is about the same width as the pistol grip. This offers relatively unobstructed use of the gun's sights. It also allows you to holster the piece in certain carry rigs with the suppressor in place. We committed gun nerds prattle on about pistols and suppressors all the time, but there are precious few ways to actually tote the two together. The Ryder 9-Ti2 can get you there.
The Springfield Armory XD-M Elite OSP Threaded Handgun comes from the factory with a 5.28″ hammer-forged threaded barrel, deep cocking serrations both front and rear, and a truly bilateral ambidextrous pushbutton magazine release. The slide release is replicated on both sides of the gun. The META (Match Enhanced Trigger Assembly) offers an inimitably crisp, fast, and safe striker-fired trigger experience.
What's brand new nowadays is the factory-mounted HEX Dragonfly electronic optical sight. This compact, lightweight slide-mounted optic provides a wide uncluttered field of view along with an easily-accessed 3.5-MOA red dot. The battery lasts around three years, so you needn't fret about it unduly. Replace the battery every odd-numbered birthday, and you're good. Mount up a Streamlight TLR-8G combination light and laser, and the thing hunts like a bloodhound even indoors or in hard dark.
Trigger Time
The positively epic 22-round magazine that feeds the Springfield Armory XD-M Elite OSP Threaded Handgun lasts just about forever. You can get tired of squeezing the trigger before the box runs dry. That's entertaining on the range. However, out in the Real World the fastest mag change is the one you don't have to make. The META trigger and optimized everything conspire to create a delightful and effective shooting experience.
The Ryder 9-Ti2 adds very little weight and even less bulk. What added mass there is reaches out forward to help tame recoil and muzzle flip. All centerfire pistol cans are noisy. However, the Ryder 9-Ti2 employs cutting-edge baffle design to excise the snap from those spunky 9mm rounds. Feed the gun 147-gr. subsonic loads and shoot it in a wide-open space and it is surprisingly easy on the ears. Thread it on, and it will do its part to help preserve your hearing and tactical awareness should you ever have to use this rig indoors or within a vehicle.
The Springfield Armory XD-M Elite Tactical OSP runs like a toddler after Toblerone, and the Surefire Ryder 9-Ti2 Sound Suppressor amps up both the sex appeal and tactical efficiency. The Streamlight TLR-8G shreds the darkness while offering truly surgical short-range targeting. The sum total will ably keep you and yours safe come what may. You may not actually be called upon to rescue a supermodel from a Bond-grade supervillain, but that doesn't mean you can't keep the proper tools handy, just in case.
Editor's Note: Please be sure to check out The Armory Life Forum, where you can comment about our daily articles, as well as just talk guns and gear. Click the "Go To Forum Thread" link below to jump in and discuss this article and much more!
Join the Discussion
Featured in this article
Continue Reading
Did you enjoy this article?
55