Optics on rifles have changed dramatically over the years due to technology and field experience. This might be most obvious on the AR-style rifle. But, the addition of sighting options introduced other concerns. For example, what happens if my primary optic is damaged or stops functioning? What if I need to engage a target at close range, but I have a high-magnification scope mounted?
A possible solution is the addition of a secondary sighting system through the use of a 45˚ mount.
Recently, I have been exploring the advantages and benefits of running a low powered variable optic (LPVO) scope and a 45-degree mounted reflex sight on my SAINT Edge rifle. The firearms community has been utilizing this combo for some time and, whether it's dedicated 45-degree offset iron sights or red dot optics, it seems the trend has increased in recent years as competition shooters have taken to employing this configuration throughout the sport.
I can certainly see the benefit of being able to reliably reach out to distance to engage targets at longer range with the LPVO, and then rapidly be able to transition to utilize a 45-degree mounted dot to acquire and engage targets at shorter distance — literally with just the swift repositioning of your rifle. However, as with all things, actually putting a new rifle configuration or shooting technique into practice will truly determine if it's as beneficial as it seems like it would be for me.
The Details
I recently got my hands on a few pieces of kit that I was eager to run in this specific off-kilter manner. For the reflex optic, I was going to run Viridian Weapons Technologies RFX 25 Green Dot Reflex Sight. For the 45-degree mounting solution, I would be fixing the optic to a Strike Industries Ambush 45-Degree Optic Mount. The magnified optic of choice for this range session was the EOTech Vudu 1-6x24mm.
As I unboxed the Strike Ambush 45-Degree Optic Mount, one of the first things I noticed was that a high-degree of engineering and consideration went into its fabrication and that the finish and aesthetic of the angular construction makes it an appealing accessory in general. It would be easy to write off a 45-degree mount as merely an angled piece of aluminum, but after examination and review, clearly there is far more than meets the eye to it. The Ambush 45 attaches easily to any 1913 Picatinny rail and affords users a modular, dual-mounting plate design that fits most mainstream red dots that are available on the market today. The 45-degree angle should allow you to position your dot easily and not interfere with most LPVO scopes as well.
The Strike Ambush 45 comes with a dual footprint mounting plate, which has the SI Multi-Optic Mount on one side and the Aimpoint Micro Standard footprint for T-1/T-2 compatible red dots on the other side. This is a pretty neat feature. The SUS630 hardened stainless steel Picatinny rail mount is ambidextrous for use on either side.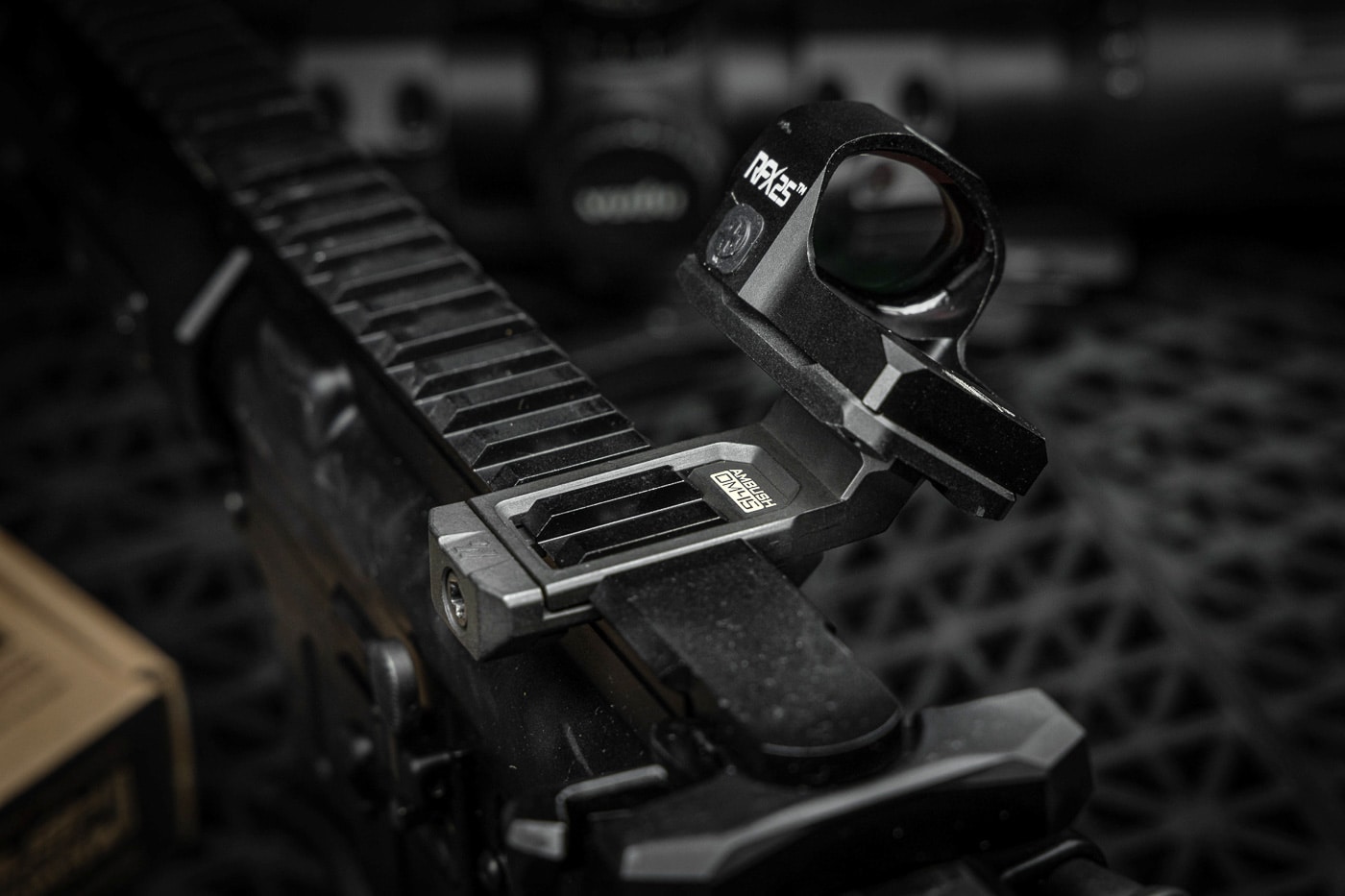 Another nice design consideration is that the 6061-T6 aluminum-constructed mounting plate can simply be flipped over to select the MRDS (mini red dot sight) of your choice, but also oriented to work with the right or left side of the Picatinny rail. I fixed the mount to the position on my SAINT Edge's Picatinny rail and then simply attached my EOTech magnified optic directly in front of it on the rail by a few slots.
The RFX 25 from Viridian Weapon Technologies is a 3 MOA green dot with a 20x28mm viewing window and Docter mounting footprint. A Picatinny mount is included in the packaging, and one thing I absolutely appreciated with this unit and look for in my dots today is the auto shut-off feature because I am a habitual battery waster. The RFX25 also includes Viridian's INSTANT-ON technology, which is a nice feature.
The lightweight 6061-T6 aluminum body of the optic is solid and designed for rugged use, featuring an IPX6 waterproof rating and in general just feeling very well-constructed. It is billed to fit most compact and full-sized optics-ready pistols that utilize the Docter mounting footprint. Finally, this optic includes eight visible and two night vision brightness settings, and boasts 30,000+ total hours of battery life.
Range Time
Hitting the range, I loaded my SAINT Edge with Remington UMC ammo and was eager to try my hand at running the new set up. The first thing I experimented with was performing a few rapid transitions between optics, firing on targets at varied distances. I set the EOTech at a 4X magnification, acquired a target placed approximately 60 yards away, fired three shots and then rotated the rifle 45 degrees to utilize the RFX 25 to put rounds on a target placed approximately 20 yards away from my firing position.
Going into this drill, I knew this particular range session wasn't designed to be scientific, per se, but simply was to allow me to feel out the new set up and see how I felt about the overall ease of transitioning from the EOTech magnified scope, which is an optic mounted in a position I am very comfortable with, to the 45-degree mounted RFX 25, a fairly fresh experience for me.
It honestly took me a few mags to start to feel smooth about the transition, but once I became comfortable with the regiment of switching between the optic that was best suited for the distance of engagement, it became more fluid, comfortable and accurate, and I was able to then increase my speed.
One thing I particularly enjoyed was the window of the RFX 25, which is quite large for such a small optic, and I really like having the real estate to acquire my sight picture while also being able to easily and quickly pick up the ultra-bright green dot. In terms of dot quality, there was no distracting blooming at a high level of brightness, and the dot was crisp and very easy to pick up. This was true even when I pushed myself to make the transition to acquire the dot as quickly as possible when swapping to the 45-degree solution.
Regarding the mount, the Ambush 45 is just simply solid and stable, and held up without any loosening or jiggling during a full morning of drills and use. I think the combination of the two products was exceptional and, after a successful range trip, I am eager to utilize a number of dots on the mount because of the Ambush's modular capability.
Conclusion
My takeaway on the 45-degree mounted optics configuration overall is that it will likely have a place in my rifle configuration and planning going forward. Why? Because of the versatility that it affords when I need both a magnified optic and an immediately available close-distance engagement solution. It's an easy, rock-solid solution that doesn't impede any of my range of motion, weapons system manipulations, or diminish any other capabilities that my rifle affords me. I also think that offset iron sights could be an interesting option.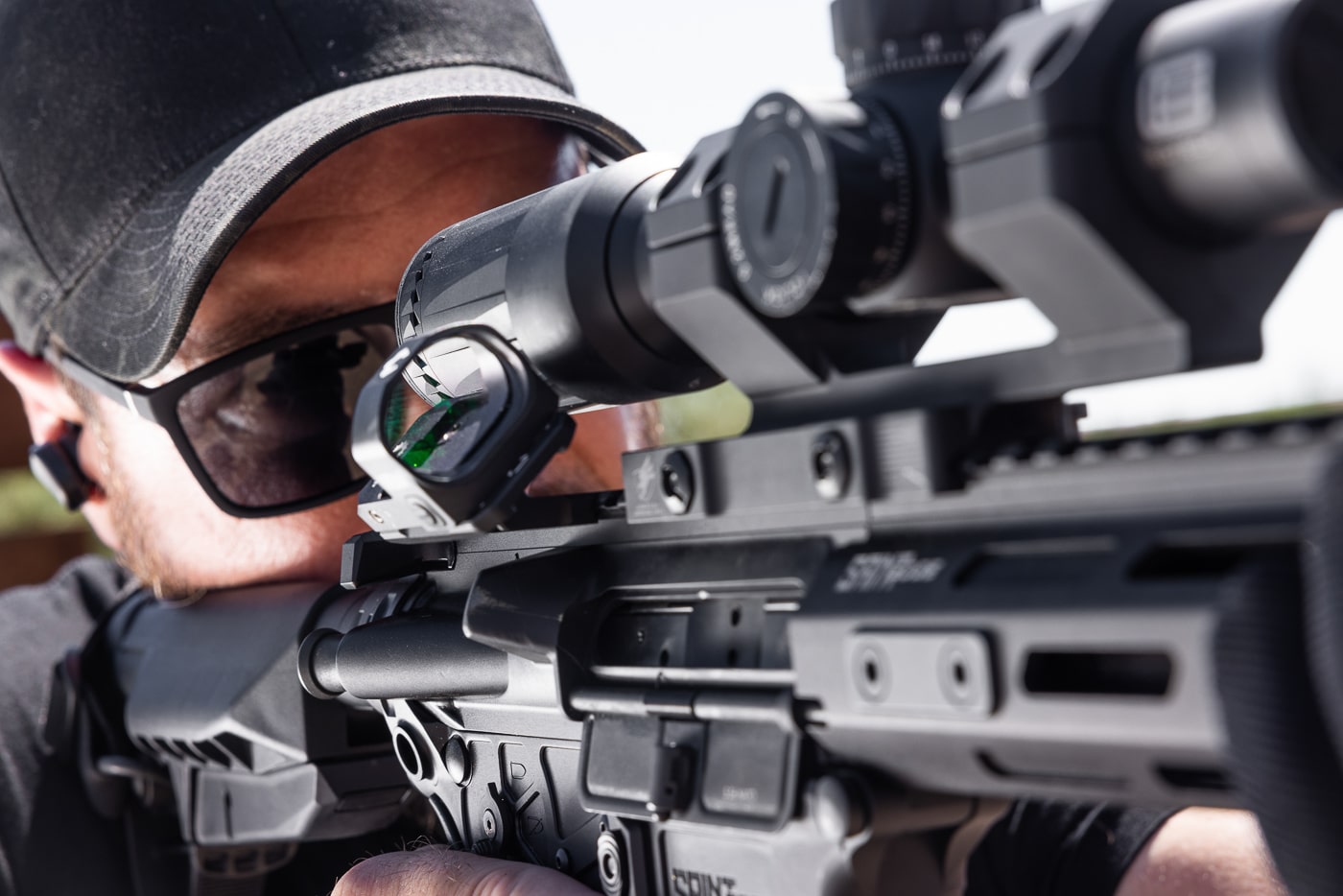 Personally, the enhanced capability to quickly transition from one optic to the other when the target ranges dictate was also a really satisfying, effective, and minimalist motion to go through during drills. For these simple reasons of economy of motion and enhanced capability with virtually zero drawbacks, I genuinely think going off-kilter with the dual-optic combination helped me shoot straight, better and faster than relying solely on a magnified optic and manipulating the variable power alone.
If you haven't played around with 45-degree offset mounts, I highly recommend you check out the Strike Industries Ambush 45 and the Viridian RFX 25, or dot of your choosing, for yourself to see what works for you. It provides an entirely …new angle… to your shooting experience.
Editor's Note: Please be sure to check out The Armory Life Forum, where you can comment about our daily articles, as well as just talk guns and gear. Click the "Go To Forum Thread" link below to jump in and discuss this article and much more!
Join the Discussion
Featured in this video
Continue Reading
Did you enjoy this video?
64