Anyone who is a fan of the M14/M1A family of firearms no doubt knows of Smith Enterprise. And, after seeing Smith Enterprise's custom work on the M1A for an earlier project with me, I decided to work with them to create a special M1A SOCOM that was a sleeper 3-Gun competition rifle.
If you haven't yet caught the earlier article on the Smith Enterprise, Inc. (SEI) Crazy Horse Rifle, go check that out here for some history on Ron Smith and Andy Horton over at Smith Enterprise Incorporated (SEI). I also did an in-depth interview with Ron that you can read here.
After getting the M1A Standard Issue rifle back from Smith Enterprises as a Crazy Horse Rifle, I was curious what they could do to one of my M1A SOCOM rifles that I am so fond of. I love having variants of rifles in a series of barrel lengths or calibers, with the 22" M1A being fantastic for dialing in some precise groups and sitting still. At the same time, the 16" version is much more agile for some running and gunning fun.
Coming Up Short?
The SOCOM 16 is one of my favorite variants of the M1A rifle for a few reasons. I love to add suppressors to my rifles, and with some modifications, the M1A SOCOM is a great option for suppressing and keeping the overall length still relatively short.
The 16" M1A SOCOM is lighter than most of its siblings, which makes it much easier to shoot unsupported as well as manipulate with ease and quickness. Lastly, I think it simply looks fantastic. Proportionally it's a beautiful rifle, and the stock options are great from the factory.
When I sent the M1A SOCOM to Ron Smith and Andy Horton over at Smith Enterprise, I told them to do their magic with no restrictions. The only stipulation is that I wanted the rifle to host a smaller red dot rather than an LPVO or something similar in size. This way, the rifle would keep its agility and be a great companion to the Crazy Horse rifle, which can achieve accuracy over great distances. I wanted this SOCOM version to be more of a "run and gun" one to 200-yard rifle.
The Details
Ron and Andy got to work doing what they do best, creating some of the finest M1A upgrades that the world has known. One of my favorite things about sending firearms to craftsmen like them is letting them work their art without trying to put them inside of a box. It's exciting to me to see the end results that are usually beyond all my expectations. Smith Enterprise did just that, yet again.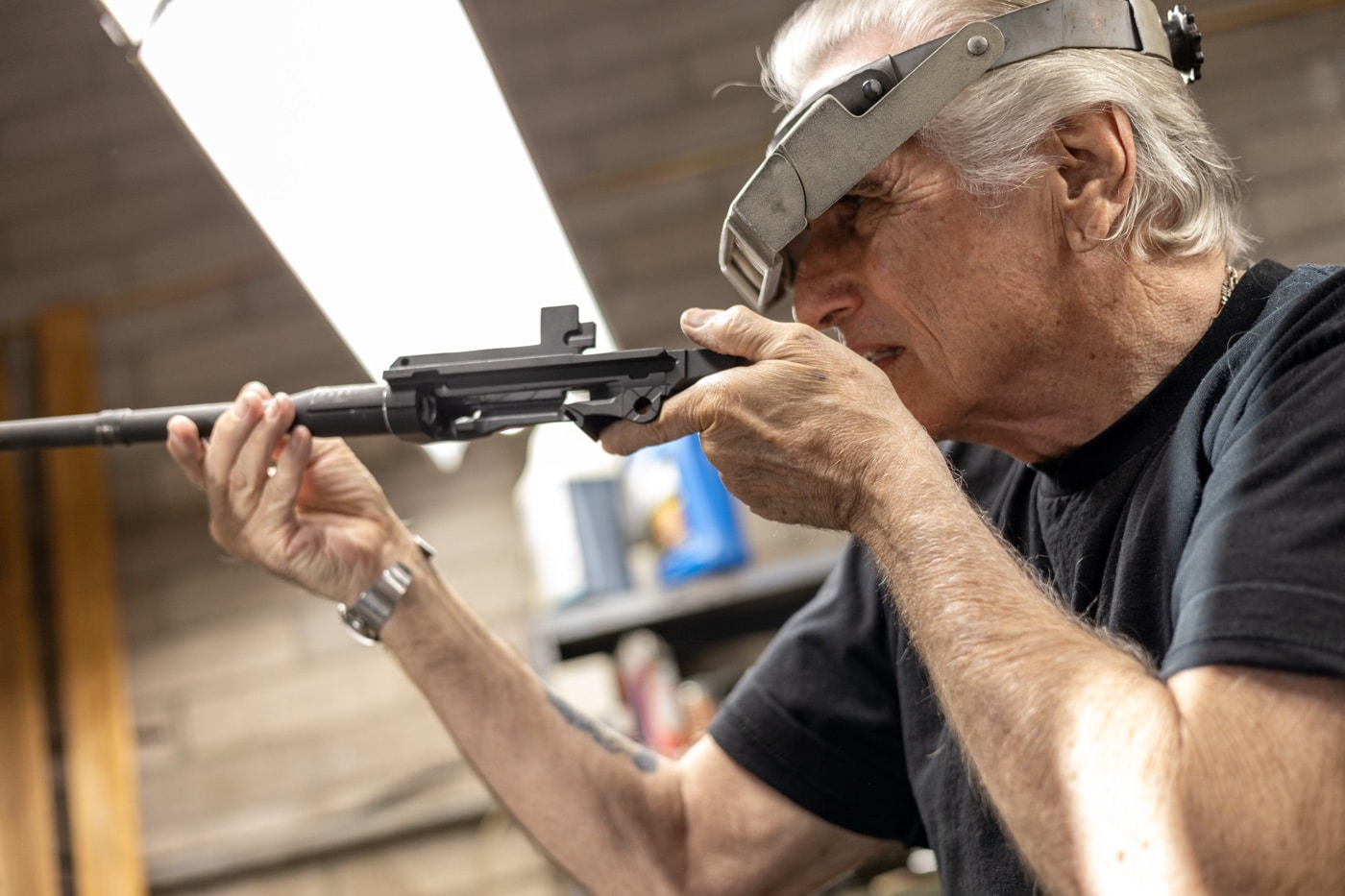 When I picked up the rifle from Smith Enterprise, I immediately thought of a "sleeper" car. A sleeper is a vehicle that looks mostly "stock" but has a monster of an engine inside. The new M1A SOCOM had subtle hints of some new blood, but to the casual observer, it was mostly the same. I love it.
Right off the bat, you could see the new muzzle brake developed by Smith Enterprise to tame the recoil of the .308 cartridge while not overly concussing anyone to the left or right of the shooter. It's made from 8620 steel with 60RC surface hardness and is salt bath nitrided for a corrosion-resistant finish.
Making it possible for the new muzzle device to be attached is the SEI SOCOM 16 Gas Lock. I would highly suggest this upgrade to all M1A SOCOM owners. The new Gas Lock takes the M1A thread pitch and adapts it to the traditional 5/8×24 thread pitch. Once installed, you can use any .30 caliber muzzle devices that you wish, including suppressors!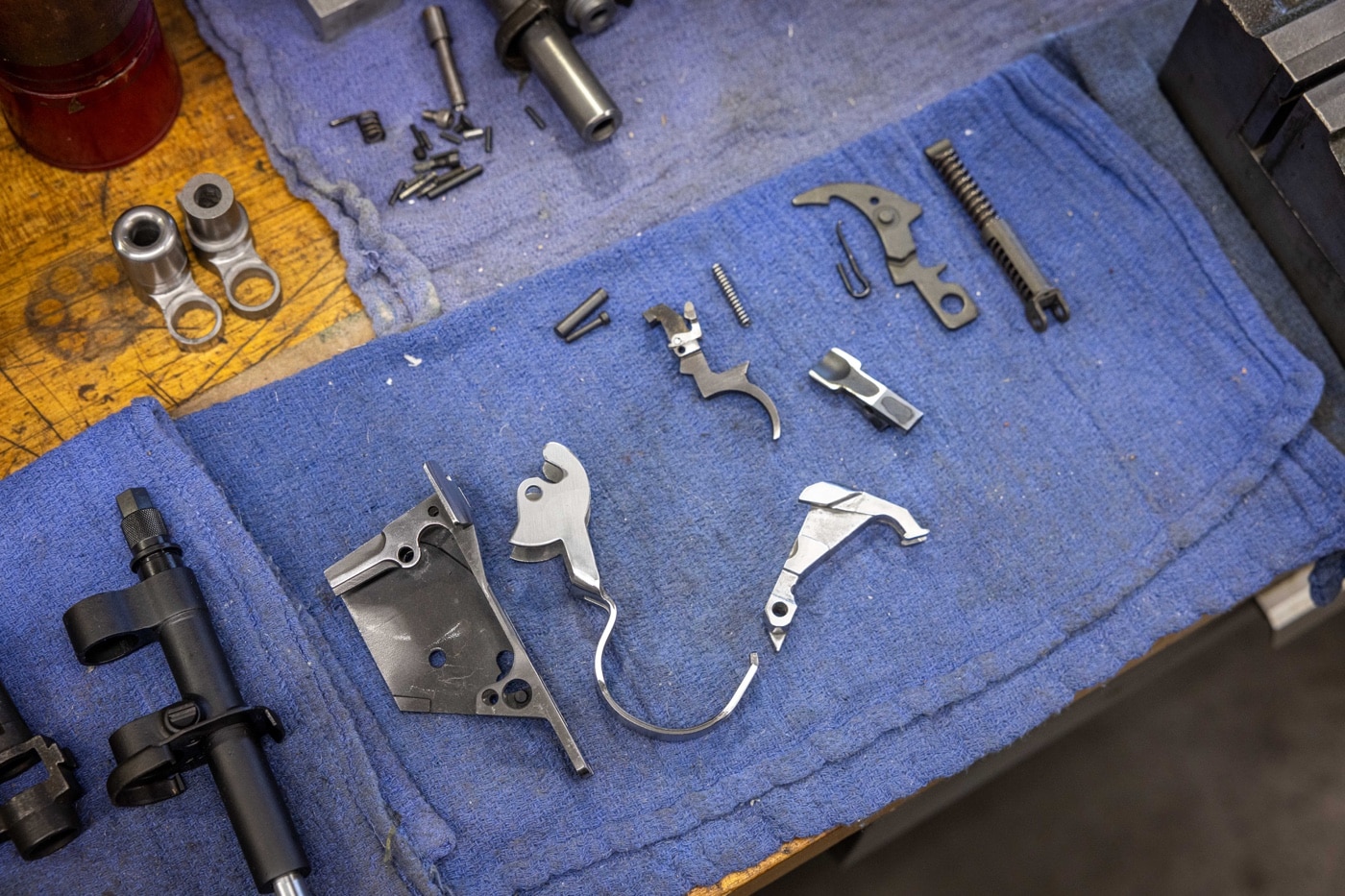 Keeping the original barrel, Smith removed it and then machined an 11-degree crown on the muzzle. They then polished the feed ramps and salt bath nitrided the barrel for refitment.
Smith added their heat-treated M14 National Match front sight, 4140 Chromoly and MIL-I-171 manganese phosphate finished to reduce glare. The match sights feature a narrow, .062" wide front blade for a crisp, clean sight picture.
Continuing backward, you will find the addition of the SEI Warfighter Gas System. The "Warfighter" gas system includes the M80HT Gas Cylinder, SBR Hard Chrome Piston, and M80HT Standard Gas Plug. These parts are the same ones that come standard on the Crazy Horse rifles and have been combat proven by the U.S. military. This is an extremely rugged, robust and reliable gas system for the M1A series of rifles.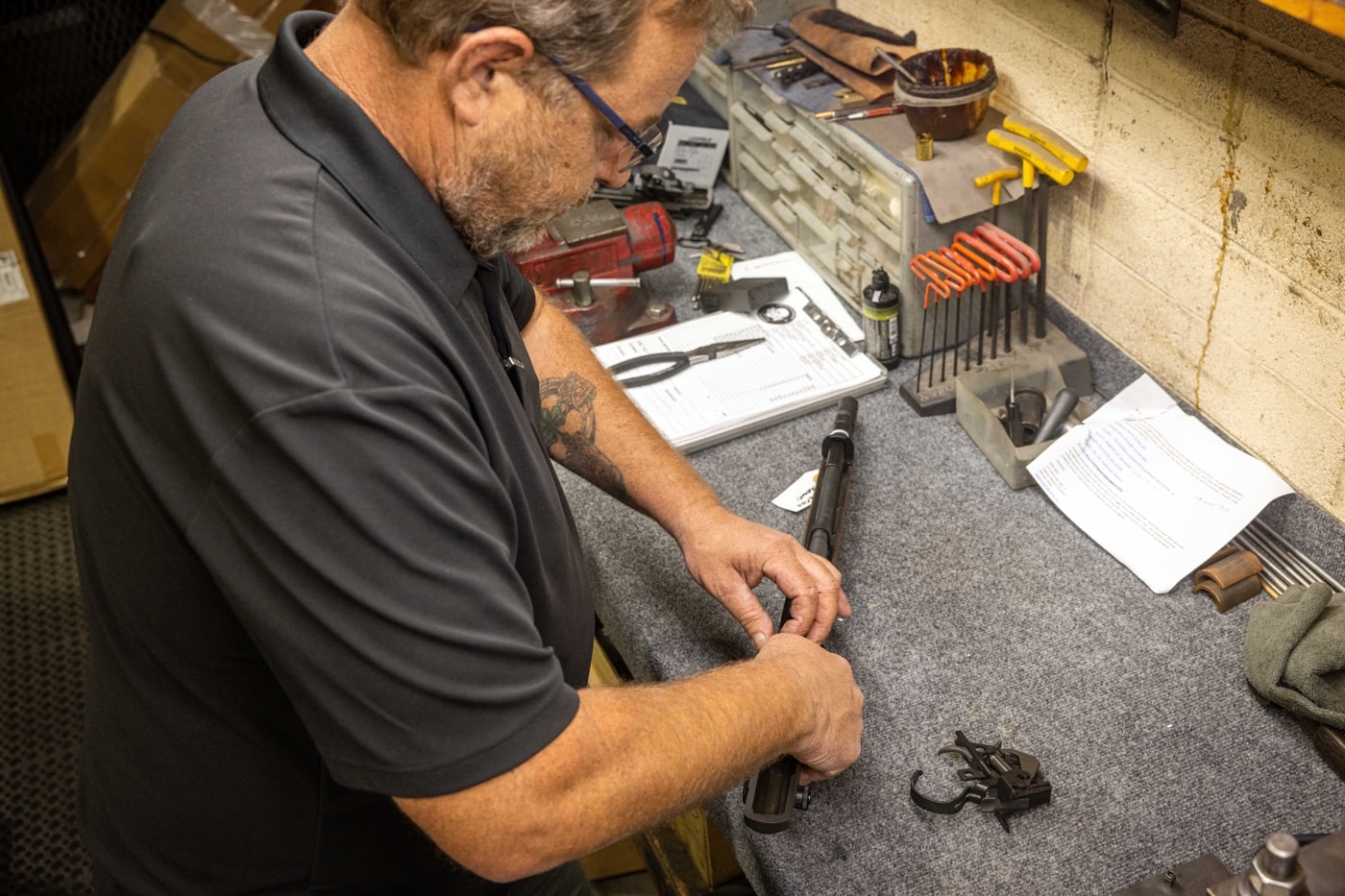 Now comes the optic. With my direction on keeping the rifle agile and light in weight, Smith chose a Trijicon RMR red dot and attached it to a custom version of their M14 Extended Scope Mount. The scope mount is wire EDM 4140 CM steel manufactured, double heat treated, with M80HT corrosion resistant 60 HRC surface hardness. Suffice it to say the mount is extremely rugged and holds zero perfectly.
Going the extra mile, Smith milled out areas of the mount that weren't needed to take as much weight off as possible. The result is a skeletonized rock-solid mount putting the RMR in a perfect position for quick sight acquisition without materials getting in the way or adding unnecessary weight. It's minimalist and elegant at the same time.
The rifle's op rod was polished and then sent off for a salt bath nitride. This was cool to me because as much as I love the op rod saying "SOCOM16" on it, this makes the rifle a bit more unique to me while also blending in a bit more to the subtle rifle theme.
An absolute must-have upgrade comes in the form of the SEI Extended Bolt Stop/Release. This allows the M14 bolt stop/release to act more like an AR15. Simply press the bolt stop to release the bolt, feeding a round into the chamber rather than manually pulling on the op rod. There is also much more surface area making it intuitive and tactile even while wearing gloves. The Extended Bolt stop/release is made from bar stock and case-hardened for rugged durability.
Rounding out the upgrades to the M1A SOCOM is the SEI trigger job. Bringing the trigger to a crisp 4.5-lb. break, the feel and repeatability of the new trigger is exceptional. After asking exactly what Smith does to the triggers, Ron simply smiled and said, "A few springs and 40 years of experience". I guess we will just have to let their secrets reside in the performance and feel of their parts.
Hands-On
Taking the rifle out to the range, I was excited to feel the difference from what I have known the rifle to be to its new SEI form. I loaded up a few mags of Remington UMC .308 and prepared for some .30-caliber steel-smashing fun.
First impressions on weight were very impressive. For the added features to the rifle, it felt mostly the same as my factory SOCOM rifles. When shouldering the rifle, the Trijicon RMR perfectly aligned with my eyes. I appreciated how the custom extended mount set the red dot more forward on the rifle. With the red dot more forward, you gain more field of view around the optic which helps on quick target transitions from your peripheral vision.
The trigger is most excellent. It's tactile and feels tight, enabling precise shots as well as quick follow-up shots with accuracy. A good trigger really makes your shooting experience more pleasant as it's the main way you interact with your firearm.
Reloading the rifle was fun and felt like a new experience with the SEI Extended Bolt Stop/Release. Instead of giving up my grip or reaching under the rifle to actuate the op rod, I was able to load in a magazine and then hit the bolt release to feed the rifle fresh new rounds. This was a great advantage as it's easy muscle memory for me from my AR-15 rifles.
If you've shot a .308, you know the satisfying thump your shoulder receives from the rifle cartridge. Without a good muzzle brake, that thump can bring you off target a good deal, making your follow-up shots slower. The SEI Muzzle Brake really tamed the muzzle rise of the .308, enabling me to get back on target faster without feeling like I am fighting the rifle to do my bidding. It's impressive how much work the muzzle brake does while being fairly minimalist. We've all seen those muzzle brakes that look like they belong on a .50-cal., whereas the SEI Muzzle Break could be mistaken for a factory option. It's clean and does the job perfectly.
One day, it would be fun to run this rifle in a 3-Gun "Heavy Metal" match alongside one of Springfield's legendary 1911 pistols. Of course, I would also have to wear tiger stripe camo and use a leather holster for maximum effect.
Conclusion
After a few hundred rounds, I can say that this is precisely the rifle I hoped Smith Enterprise would deliver. Ron Smith and Andy Horton are true master craftsmen over at Smith Enterprise, creating some of the finest M1A/M14 upgrades in the world. With their history and pedigree creating precision battle-proven M14s for the U.S. military, Smith Enterprise is ready to make your M1A dreams come true.
Editor's Note: Be sure to check out The Armory Life Forum, where you can comment about our daily articles, as well as just talk guns and gear. Click the "Go To Forum Thread" link below to jump in!
Join the Discussion
Featured in this article
Continue Reading
Did you enjoy this article?
74