Springfield EMP 1911 Holster Round Up
September 26th, 2021
7 minute read
Designed for concealed carry, the Springfield EMP 1911 pistol is an exceptional choice for self-defense outside of the home. But the gun is only part of the total personal protection package. A key component of any self-defense package is a quality holster.
We are fortunate to live in a time and place where there is an incredible variety in holster options for the Springfield EMP. From inside-the-waistband (IWB) to outside-the-waistband (OWB) plus specialty carry systems, you can find something that will fit your needs perfectly.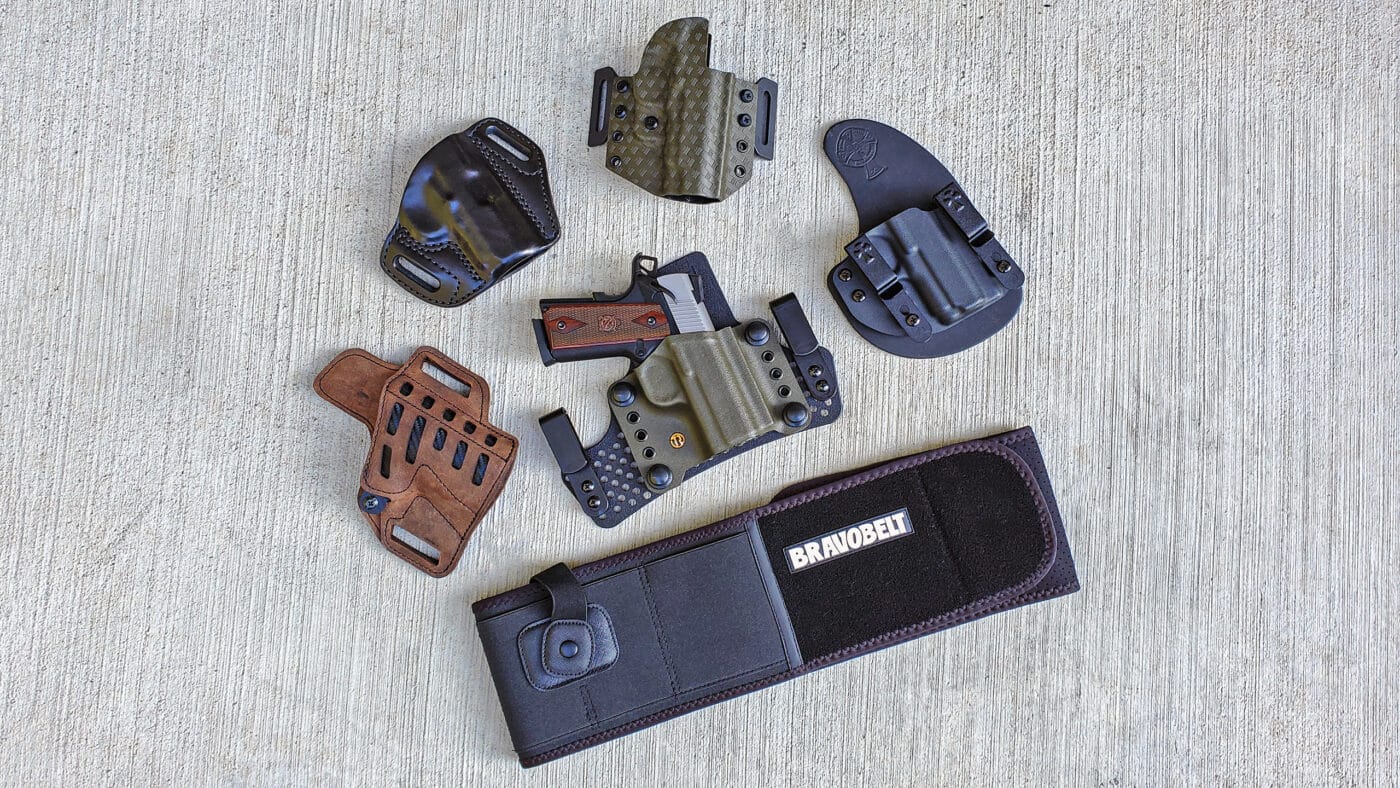 In today's article, I take a look at some of the best holsters available for the EMP 1911 pistol. I cover a range of options – both in style and in components. I hope you find it helpful, and I encourage you to include your favorite EMP holsters in The Armory Life Forum thread on this topic.
Mitch Rosen 5JR Express Holster
Mitch Rosen Gunleather is widely regarded as a premier holster maker. All of the company's rigs are handmade here in the United States and exude true craftsmanship. Many people consider these rigs to be the best holsters on the market. I have a hard time arguing against this because of the incredible quality of these fine leather rigs.
One of the best holsters available for the Springfield EMP is the 5JR Express holster. This is an OWB rig that is designed with integral belt loops. The leather is extremely comfortable, and the design keeps the EMP very close to the body to aid in concealability.
The EMP fits extraordinarily well inside the holster. It truly feels like you're putting a glove on your gun due to the sure hold that is not too tight or too loose. It allows a very easy draw stroke. I picked up the Mitch Rosin 5JR Express directly from the Springfield Armory store for only $75. For a Mitch Rosen Gunleather holster – that is an incredible bargain!
TacRig Flex Holster
The TacRig holster quickly became one of my favorite holsters for the EMP. Its modularity is like no other holster on the market. The system allows you to switch from one firearm to another, move your gun from IWB to OWB, to your bag, even mount a gun in your car, your gun safe, on your refrigerator, bed frame, or even a wall without ever removing your gun from the shell of the holster and never exposing the trigger of your gun.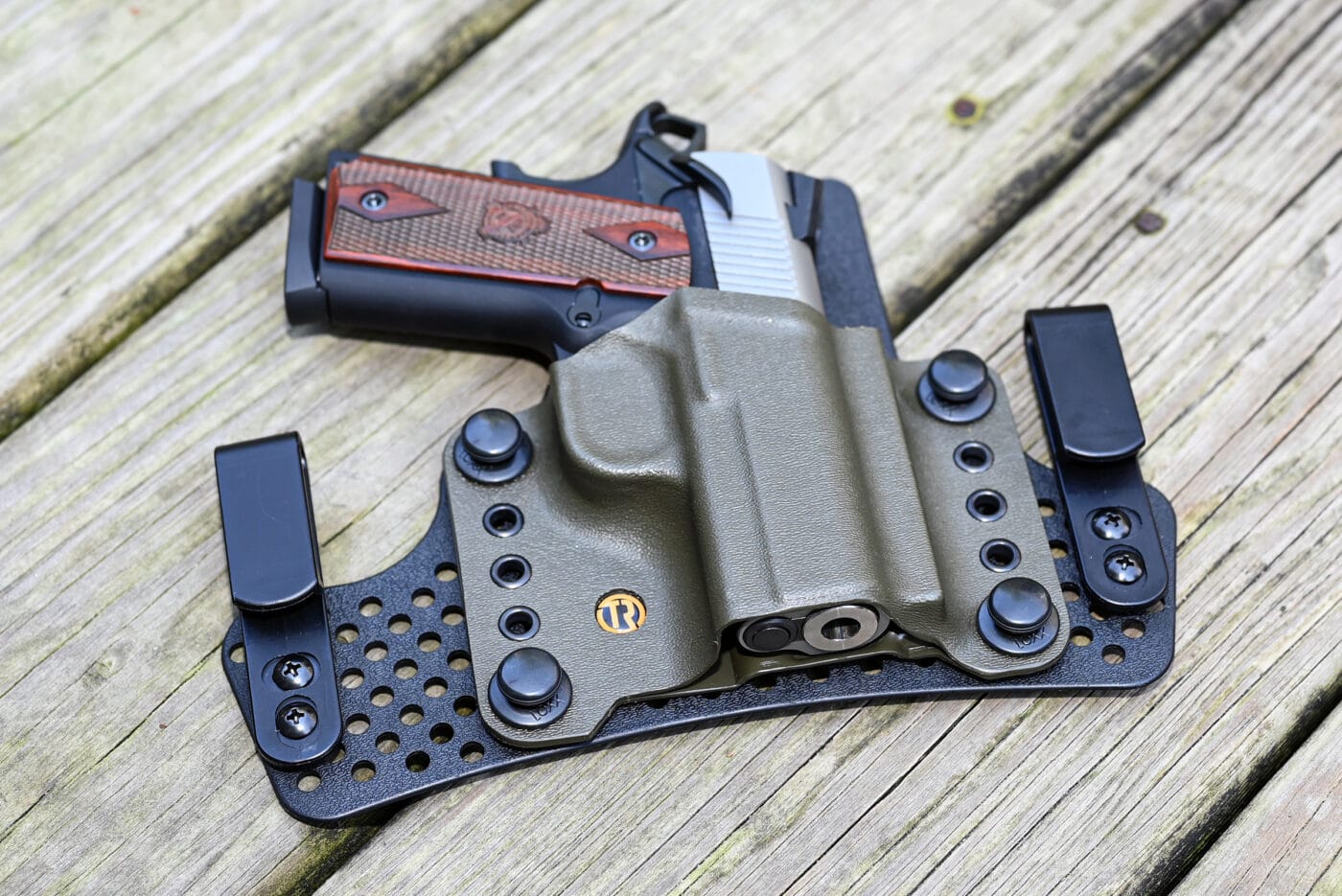 One feature of these holsters is the ability to take the holster shell off of one backer and move it to another. During the move, your Springfield EMP pistol stays safely in the shell. If you have to transition the gun from one system to another, this can help reduce the potential of an unintended discharge. I know it sounds a little crazy, so let me explain the actual holster shell first.
TacRig uses a polymer called Boltaron for the holster shell. A thermoplastic made here in the United States, Boltaron claims to be more durable than Kydex with increased resistance to temperature extremes. I have been told Boltaron will not lose its shape in the heat or become brittle in cold. So far, all the shells I have from TacRig have held their shape as well as their tension on the gun with no problem at all in every condition I have put them through.
The back of the holster for IWB carry is breathable and engineered to be compatible with practically every semi-automatic firearm on the market. The backer is a rubbery material that is strong and durable. There's literally no need to break the backer in because it is so flexible and lightweight. The EMP fits and carries very well in the holster shell. You get that positive click noise that tells you the gun is safely secured inside your holster.
A system that allows you to move your firearm to different locations all while staying inside that holster shell is simply genius. It is an incredible system for $169.99. I know the price may sound a little high to some readers, but you are really getting multiple holsters all in one which in my opinion makes the TacRig Flex package an incredible value.
CrossBreed The Reckoning Holster
Old school meets new school with the CrossBreed Reckoning holster for your EMP pistol. CrossBreed is well known for the original SuperTuck hybrid holster the company pioneered. Since that time, the company expanded its offerings. One of the company's more recent holster designs is the Reckoning.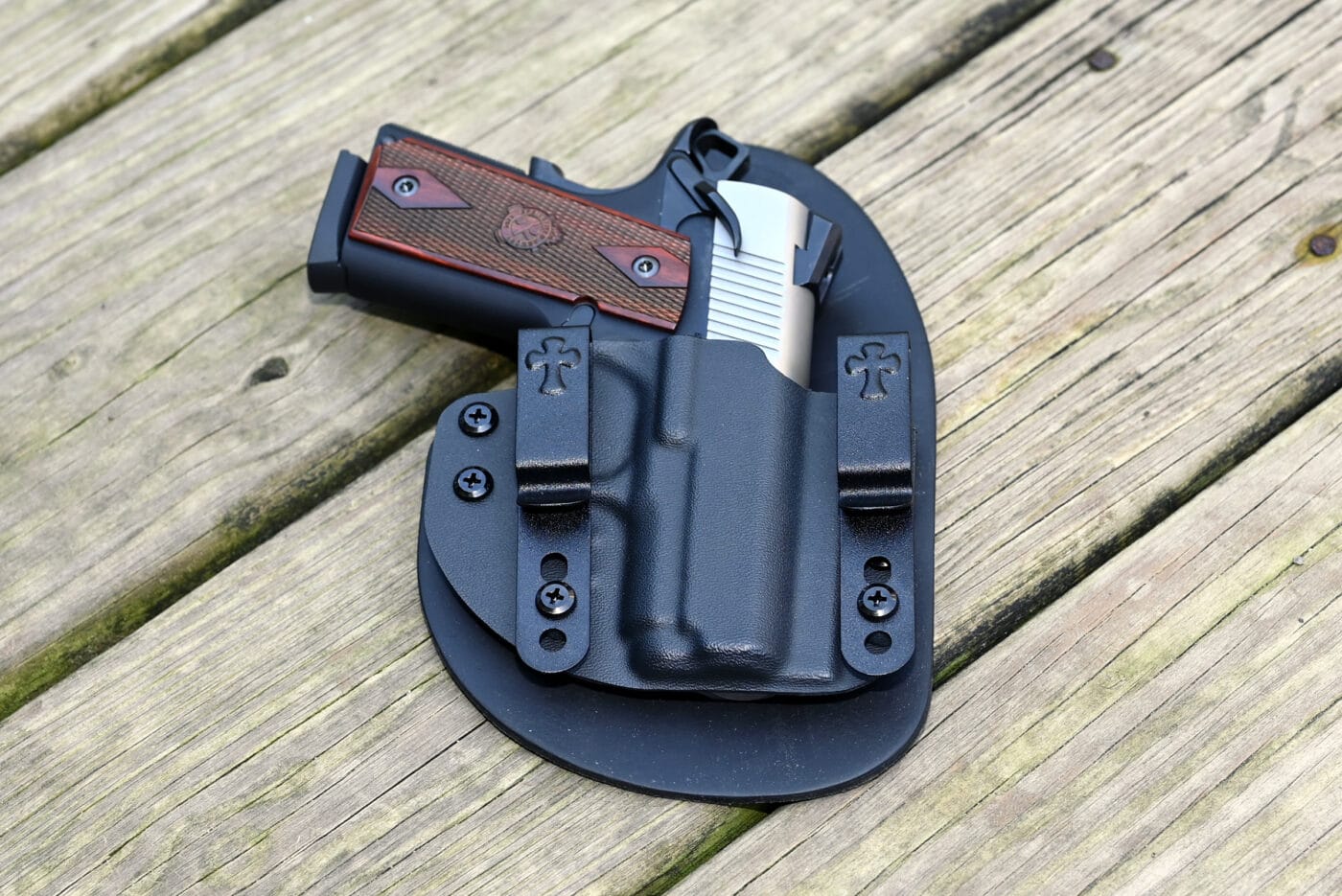 The Reckoning is a hybrid design of leather and Kydex that features multiple retention adjustment points. Another great feature is you can change from outside-the-waistband carry to inside-the-waistband carry by just adding the included hardware so the user can completely customize the holster to their exact needs and wants.
You can adjust the retention on this holster through the use of a screw system – a quick turn of a driver allows you to make a near-infinite level of precision in draw resistance. The Reckoning Holster can be worn inside of the waistband, appendix carry, cross draw or outside the waistband.
I have always been a huge fan of hybrid designs due to the comfort of the leather with that adjustability of Kydex. With a versatile CCW pistol like the EMP, this level of flexibility in the carry rig is welcome. The Crossbreed Reckoning Holster is priced right at $74.95 and is backed by CrossBreed's lifetime warranty. CrossBreed will even let you try their holsters out for two weeks with your EMP to get a feel for how it carries. If the rig doesn't work for you, you can send it back.
I recommend reading Mike Humphries' CrossBreed Reckoning review.
Upper Hand Holsters OWB Concealed Carry Holster
I am normally not a big fan of Kydex-only holsters, but Upper Hand Holsters truly live up to its name. This holster gives you the upper hand in the concealed carry game. This OWB holster has a distinct curve that fits your body perfectly. This simple yet effective design brings your gun closer to the body allowing the gun to sit high and very tight to the person carrying it. In turn, this creates less printing while conceal carrying.
The holster weighs in at only a few ounces because Upper Hand trims all excess material from the holster once it is formed to the exact model it is designed for. My EMP fits perfectly and carries incredibly well. I have forgotten I had the gun on me at times.
Upper Hand proudly crafts these holsters right here in the USA and even adds an optics cut to every model automatically which is nice for those who prefer to carry with a red dot optic on your pistols. The best part of a full-Kydex holster is the color and design options. If you really want to add your own personality into carry Upper Hand Holsters, has you covered. My holster costs $69.99.
Versacarry Compound (OWB) Holster
In my opinion, Versacarry offers some of the best-looking holsters on the market. I just love the company's rustic leather designs, so naturally, I needed one for my EMP 3". The Compound OWB The Compound (OWB) is very unique. Technically speaking, it is a hybrid holster. However, it is not like any other hybrid-style holster I have ever seen.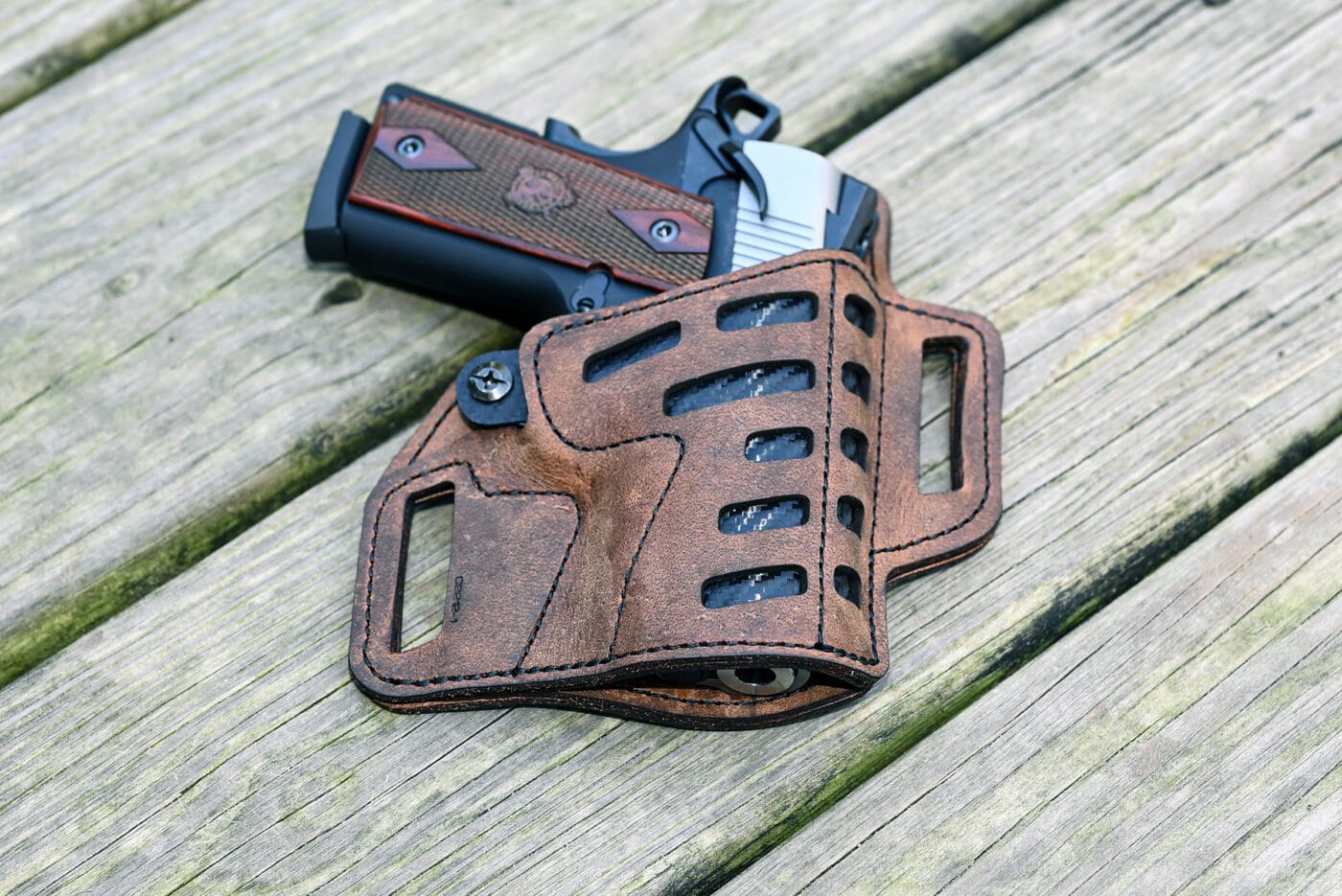 The holster is constructed with an infused layer of polymer sewn in between layers of the buffalo leather Versacarry is so well known for. The design gives you more strength and durability while not allowing Polymer to contact the firearm. Each holster is handcrafted in the USA and features adjustable draw tension. This incredible-looking and very functional holster won't break the bank with its $74.99 price tag.
Editor's Note: For another incredible option, check out the author's Versacarry Rough Rider holster review.
Bravo Belt
This is a totally different method of carry and one that is really starting to gain some traction in the concealed carry world. The Bravo Belt Belly band is an extremely soft elastic band that is adjustable to fit most people with just simple Velcro. It has a holster built right into it that will accommodate pretty much any gun that is between 4" and 8" in length. It fits the EMP perfectly.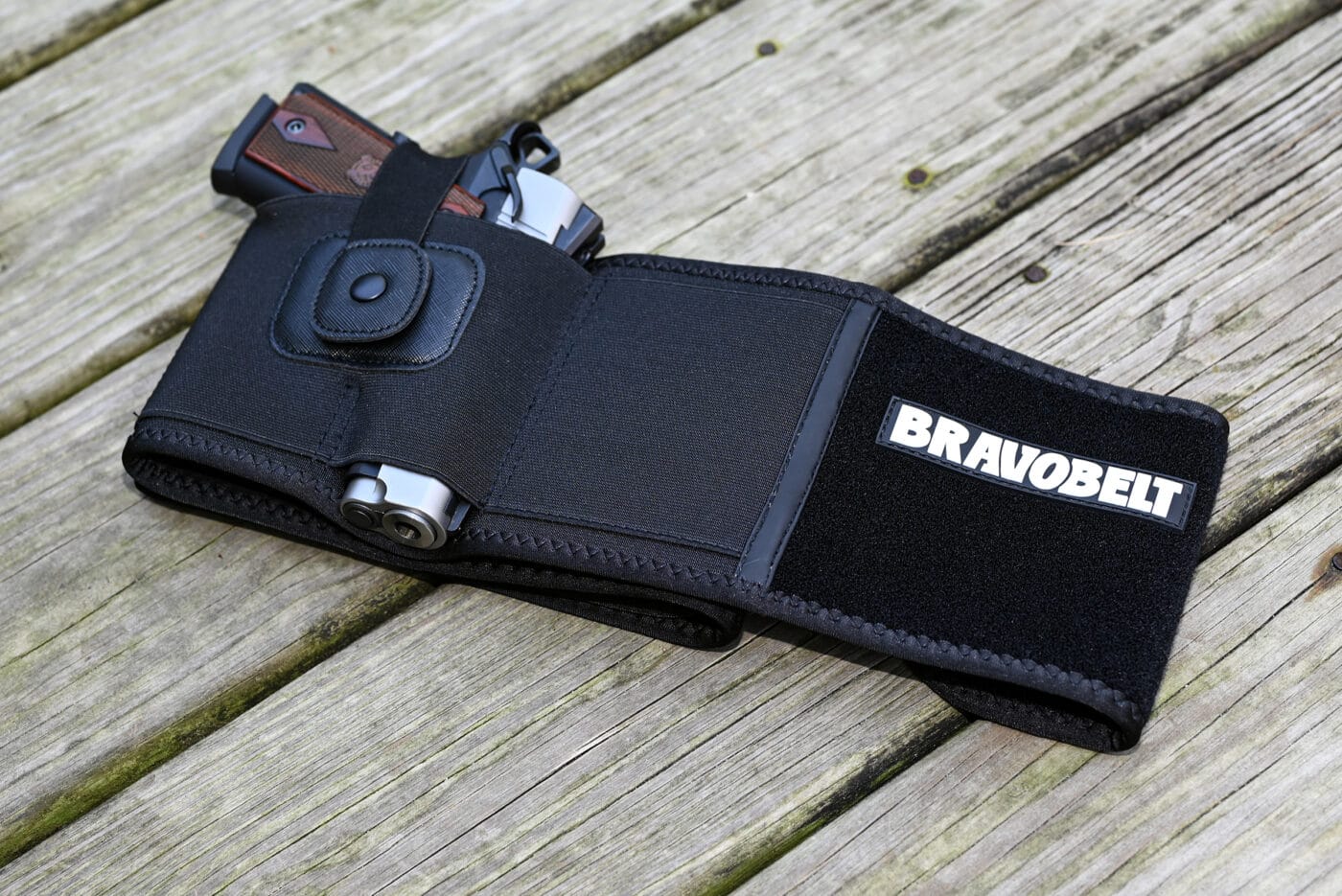 The holster portion has an elastic strap that ensures your gun will stay in place at all times. Also built into the belly band is an extra magazine pocket and even a cell phone pocket. The belly band is perfect for when you don't have a belt. If you wear sweatpants, gym shorts or yoga pants, a lot you know it is nearly impossible to carry a gun without worrying about it falling out or pulling your pants down. This is exactly where the Bravo Belt shines. The Bravo Belt only cost $29.95 and is sold through their Amazon store.
Final Thoughts
The above are my top picks for Springfield EMP holsters, but there are many more. What are some of your favorites? What works well for you? Leave all of your EMP holster suggestions in the forum. I'd love to see what you are finding works for your needs.
Editor's Note: Please be sure to check out The Armory Life Forum, where you can comment about our daily articles, as well as just talk guns and gear. Click the "Go To Forum Thread" link below to jump in and discuss this article and much more!
Join the Discussion
Featured in this article
Continue Reading
Did you enjoy this article?
72