Springfield SAINT/Hellion Gear Up Promotion
November 12th, 2023
5 minute read
Santa is coming a little early this year for anyone who buys a new Springfield Armory Hellion, SAINT, SAINT Victor or SAINT Edge rifle. If you buy one of these rifles between now and January 31, 2024, Springfield is offering a Gear Up package that includes an optic, sling, extra magazine and a $200 voucher for Alexo Athletica premium sportswear. The total value of this promotion is up to $500 — which is an enticing deal any time of the year.
Gear Up Rifle Deals
Springfield Armory is offering two Gear Up deals for semi-automatic rifle buyers. The first is for anyone buying the Springfield SAINT rifle, while the second redemption level is for the SAINT Victor, SAINT Edge and Hellion rifles. Both are substantial offers and worth taking advantage of.
Let's take a look at each of the deals.
SAINT Gear Up Offer
If you buy a standard Springfield SAINT rifle, the company is offering a sweet deal that includes all of the following:
HEX Dragonfly 3.5 MOA red dot sight with riser
additional magazine
Gray Ghost Gear single point sling
$200 voucher for Alexo Athletica x Springfield Armory Readywear clothing
HEX Dragonfly
The HEX Dragonfly is a non-magnifying red dot optic that is great for fast acquisition of close targets. This proven design works great on rifles like the SAINT in addition to full-sized pistols like the Echelon.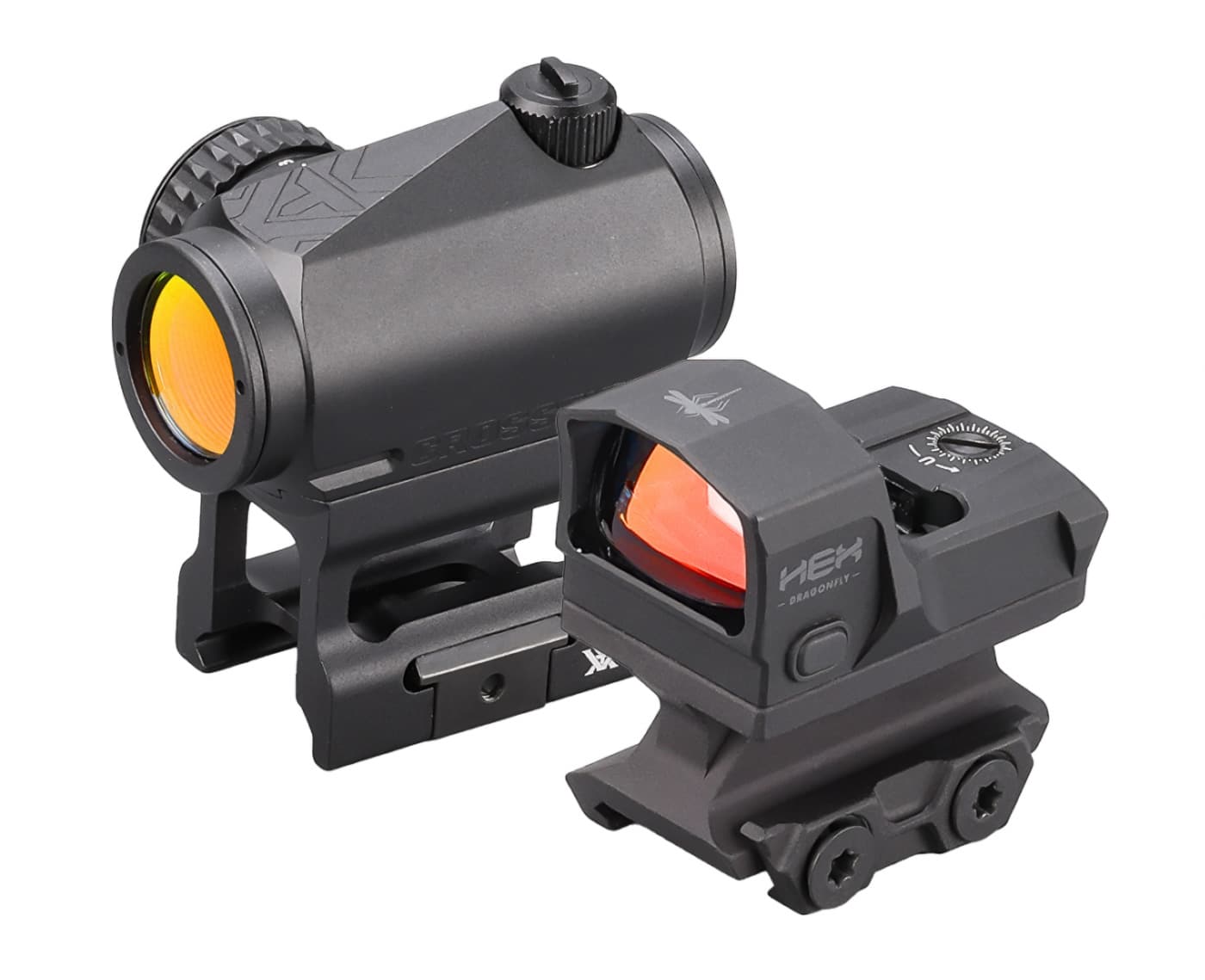 I've run a Dragonfly on my special edition 10mm XD-M Elite with an OD green slide, and it proved to be an exceptional sight. It's held up to a regular beating from full-power loads. I have no doubt that it is 100% reliable on the SAINT as well. Be sure to read Paul Carlson's HEX Dragonfly review for additional information on the optic.
With the Dragonfly, Springfield Armory includes a riser. The riser brings the optic up to eye level when mounted on the rifle. Many people intend to add a red dot sight to their AR, making this offer an incredible value.
Magazine
With this Gear Up promotion, you will receive one additional magazine. The magazine matches the type and capacity of your rifle's original magazine. For many people, this will be a 30-round Magpul magazine. Extra magazines are things you should be buying with your rifle, so submitting a Gear Up claim is a no-brainer.
If you have purchased a low-capacity model to comply with the laws of your state, the free magazine will match the capacity of the original.
Gray Ghost Gear Sling
From my experience, I believe a sling is a mandatory piece of gear on any defensive rifle, and there are many high-quality ones on the market that might meet your requirements. As part of this Gear Up deal, Springfield is offering a single-point sling from Gray Ghost Gear. The Gray Ghost Gear single point sling uses a QD-type attachment.
Alexo Athletica x Springfield Armory Readywear
Alexo Athletica x Springfield Armory Readywear is performance clothing that includes options for both men and women. The clothing is designed to be compatible with concealed carry including articles with built-in holsters. Generally speaking, this high-quality clothing is good for recreation, a casual day out or hitting the gym.
As part of the Gear Up program, Springfield Armory includes a $200 voucher than can be used on the Springfield Armory store website to purchase Alexo Athletica x Springfield Armory items. You can see some of the items that were introduced here.
Hellion, SAINT Victor and SAINT Edge Gear Up Promotion
If you purchase a Hellion, SAINT Victor or SAINT Edge, you are also eligible for a Gear Up package. This package includes:
Vortex Crossfire 2 MOA red dot sight with riser
additional magazine
Gray Ghost Gear single point sling
$200 voucher for Alexo Athletica x Springfield Armory Readywear clothing
With the exception of the optic, each of the components in this promotional package is identical to the prior one. Magazines will be matched to the caliber of your rifle and offered in standard or reduced capacity depending on your state.
Vortex Crossfire Optic
The Crossfire optic is a red dot manufactured by Vortex Optics. With a 2 MOA aiming dot, this optic is best suited for close- to mid-range targets. Bright enough for fast, short distance shots, the aiming dot is also fine enough for excellent accuracy to longer ranges.
Vortex designed the optic with a brightness adjustment dial on the side of the housing. The lowest two brightness levels are night vision compatible.
Like the Dragonfly above, the optic comes with a riser. The riser puts the optic at the lower-third co-witness height. This allows you to keep the iron sights in the bottom of the sight window for an easy transition should the battery every fail.
Details
"Springfield Armory's SAINT and Hellion lines of long guns are renowned for both their impressive performance and exceptional value," says Phil Rawlings, Vice President of Sales & Law Enforcement for Springfield Armory. "With this new Gear Up promotion, customers will also receive a great selection of valuable accessories and gear at no extra cost."

This Gear Up promotion runs from November 1, 2023, through January 31, 2024. You have to make your purchase during this time period. Be sure to save your receipt.
After purchase, go to this page. The web page will walk you through submitting a claim to redeem the Gear Up promotion. It is a straightforward process that should not take you more than a few minutes.
You can submit a claim as late as February 29, 2024. However, I recommend submitting your form as soon as you can.
Editor's Note: Please be sure to check out The Armory Life Forum, where you can comment about our daily articles, as well as just talk guns and gear. Click the "Go To Forum Thread" link below to jump in and discuss this article and much more!
Join the Discussion
Featured in this article
Continue Reading
Did you enjoy this article?
105