Vaultek is known for being at the forefront of the industry when it comes to integrating highly innovative and advanced biometric technology and app-based features for firearms safekeeping and storage devices. They have dominated this space as a top-tier provider of beautifully crafted, rugged, precision-engineered solutions, both in a large format and portable form factor.
I have been fortunate enough to work with an array of Vaultek products over the years, and as both a home security and tech geek as well as a firearms enthusiast, I have yet to come across a single Vaultek product that has not impressed me. This comes primarily from the functionality and capability the Vaultek line presents, and also for their streamlined and highly refined aesthetic appeal.
For example, part of my own EDC includes the ultra-portable and airtight Vaultek Lifepod 2.0, which fits perfectly in my backpack during my day travels. It also contains my Springfield Hellcat that I reviewed as it rests on my bedside table each night. To say this portable safe and its contents never leave my side wouldn't be far from the truth.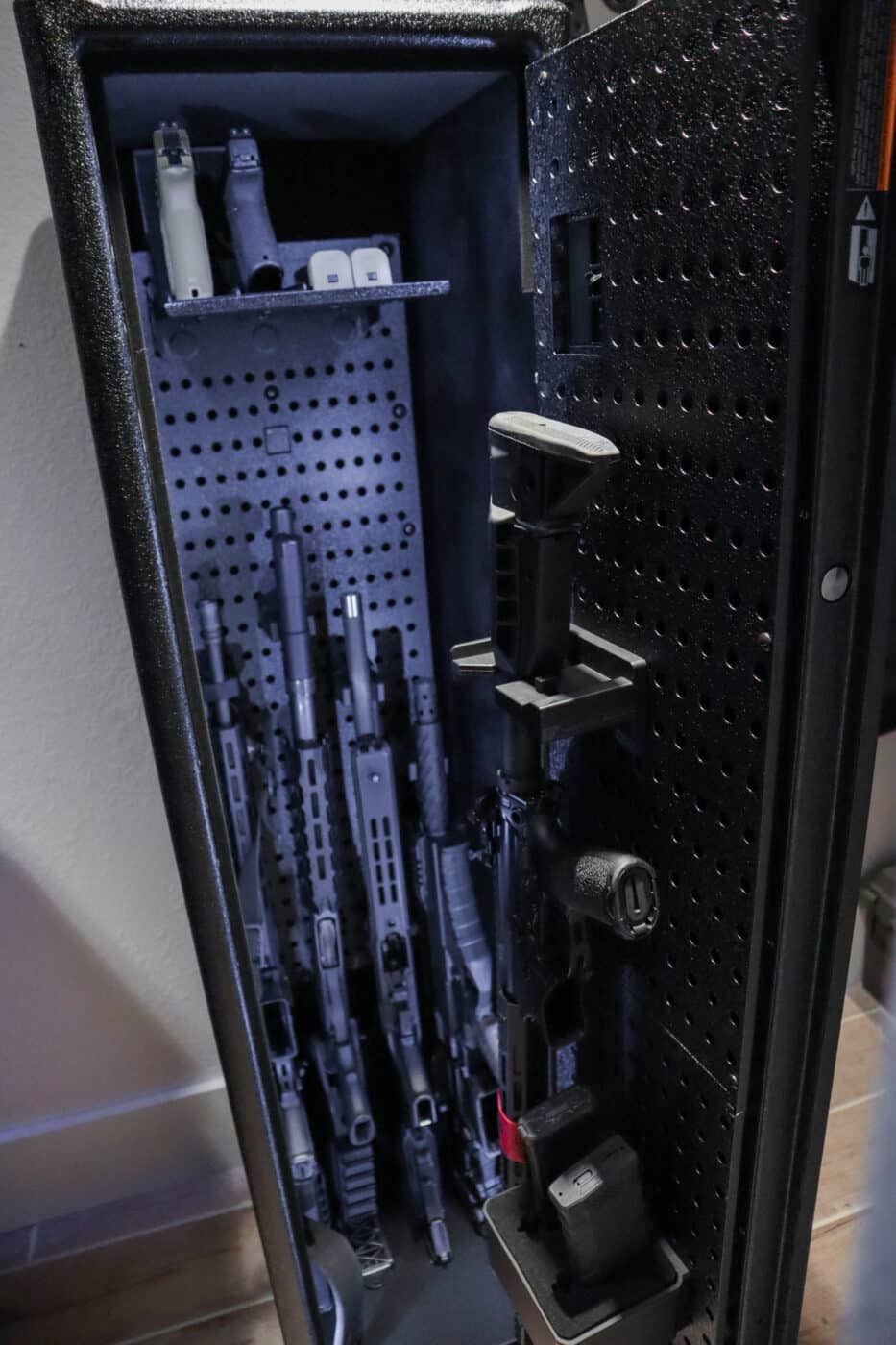 For the larger firearms in my collection, I have also very much enjoyed the RS500i, which I had a chance to review and use over the last year to store multiple long rifles, pistols and numerous accessories. An aspect I have always loved about the RS line is the modularity and ingenious line of accessories that let me rearrange and customize the interior of the safe to suit whatever line-up of firearms and gear I needed to at a moment's notice.
Stepping Up
When I heard that Vaultek was coming out with their largest release to date, the most spacious and modular addition to the "RS" (Rifle Safe) line-up, the RS800i, I knew I had to see what was in store and what had been improved upon from its predecessor, the already excellent RS500i.
Right out of the gate, the biggest difference between the models is that the RS800i affords increased space for storage and modular optimization, while still maintaining a relatively compact footprint, especially when compared to other rifle safes on the market when considering size and actual storage capability.
Looking at this new safe from the outside and working our way inward, the RS800i features a rugged, formed steel body, and uses Vaultek's signature metal forming techniques with anti-pry design features integrated throughout. This model's measurements come in at an exterior dimension of 54″ X 14″ X 16″ and an interior measurement of: 53.25″ X 13.75″ X 12.6″.
One of the most eye-catching features in the RS line for me has always been the sleek array of premium entry methods that are available to the user, including the Biometric Scanner, Numeric Keypad, Backup Keys, and the extremely handy Vaultek Smart Key Nano, a small remote button that can be carried on your person discreetly, or hidden as a panic button in an area of your choosing.
The Advanced Control Panel houses a crystal clear LCD screen that relays all of the critical safe information, the biometric scanner, and a backlit illuminated LED numeric keypad. At a glance, within this interface you can view your battery status and determine if the safe is charging via the hardwired connection or what percentage of battery backup power is remaining. The easy-to-read status icons indicate your settings for Wi-Fi connectivity, which is how the safe communicates to your external devices such as a tablet or smartphone.
Additionally, setting notifications for impact and tampering detection, sound, and interior light status and settings are a nice touch, affording you full intel on your safes current state. The status bar icon also indicates the main safe status, such as whether or not it is locked or opened. I particularly like the LED backlit keys and the proximity sensor that automatically illuminates keys when your hand gets close for easy viewing in low light, a fantastic feature for those "bump in the night" moments.
To this same effect, the oversized fingerprint scanner is extremely easy to program, and responds exceptionally quick for fast access and can store up to 20 different fingerprints so you can grant access to additional users.
Once you have gained access to your RS800i through one of the various methods, a total of four solid steel locking bolts retract and the door automatically swings open via the finely tuned spring release, which is just downright cool. As the door opens, the interior space of the safe illuminates and emanates a cool-white light via the 11 integrated LED modules embedded throughout the inside of the safe. Having a quick, well-lit and easy view of the contents of your safe is crucial under duress — and just makes it downright convenient and pleasant to look at as you showcase your collection.
More Is More
One of the first differences and enhancements I noticed between my RS500i and the new RS800i is the increased depth, which truly allows you ample room to outfit your unit comfortably with up to eight long guns, multiple pistols, plus magazines and accessories. A capability that really shines with this increase in interior space is the ability to now store your AR's with magazines fully attached, even on the included door peg board. The barrel mount extensions allow for storing rifles with sights or optics, and you can also store pistols front-facing inward, for rapid draw and readiness at a moment's notice. The interior pegboard is beautifully finished and allows for complete modular accessorization.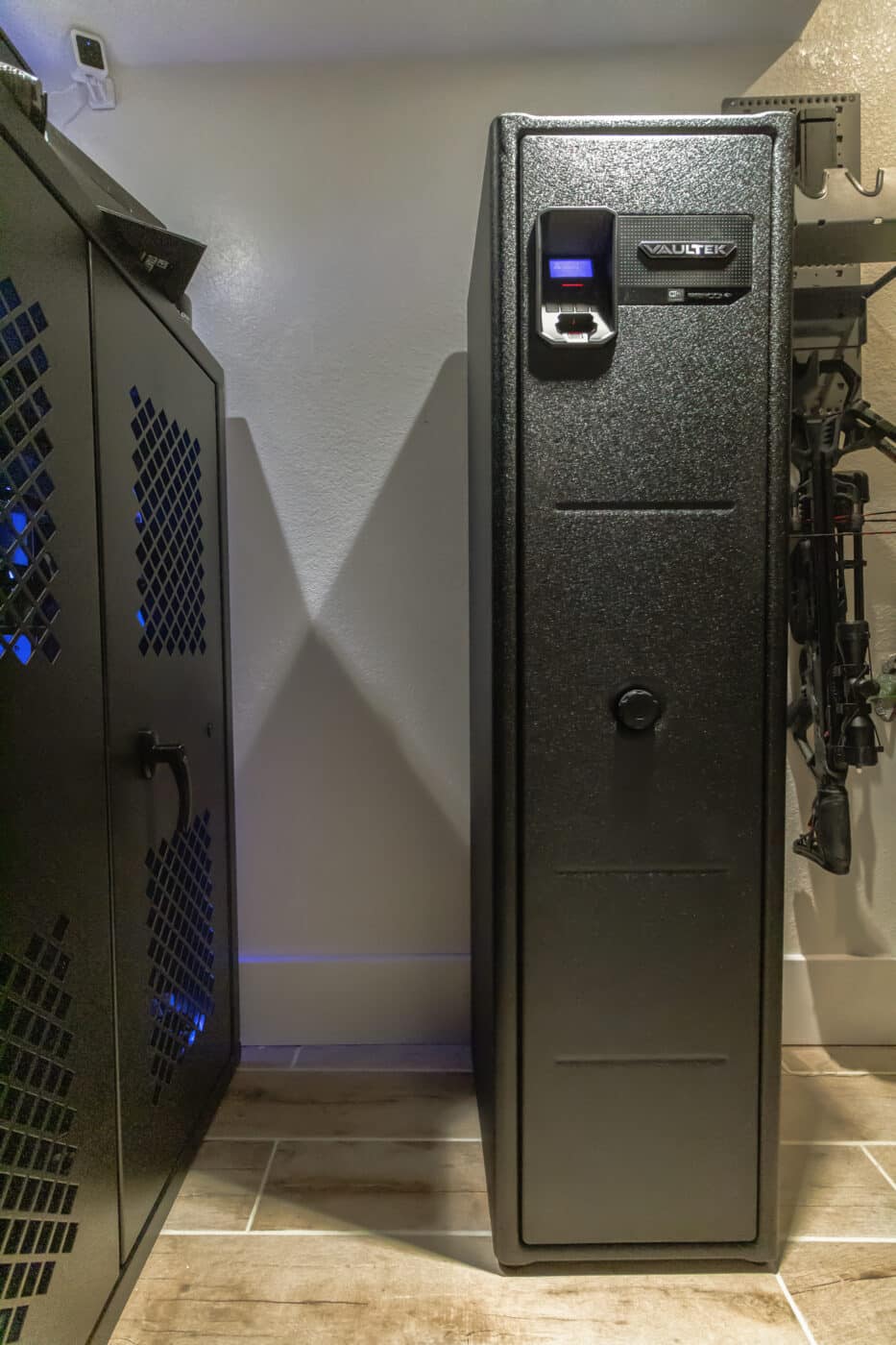 The wide array of accessories that come with the RS800i include a universal twin pistol holder, 2/3 width shelf, single holder for a pistol or AR magazine, and four barrel mounts. The artfully engineered and durable line of accessories specifically designed for the RS800i are available through Vaultek and provide a virtually limitless set of storage configurations. Lastly, the padded interior provides a padded base for rifle stock protection, which is great for keeping your collectible gear in show-worthy condition, and also helps dampen sound when storing and retrieving your gear.
What's Included with the RS800i?
The Vaultek RS800i comes with a number of accessories that include:
Backup Keys
Rechargeable Lithium-ion Battery
Charging Kit
Mounting Hardware
Front Door Mount
2/3 Width Shelf
(4) Barrel Mounts + Adapters
Single Pistol / AR Mag Holder
(1) Velcro Barrel Mount + Adapter
Twin Pistol Rack
Smart Key Nano
Set Apart
The app and web-based integration is where the cool-factor for Vaultek just skyrockets. With the ultra-slick and beautiful Vaultek app for smart devices, you can receive real-time alerts regarding your safe's activity, tamper detection, humidity detection, power levels, and more. I love how intuitive it is and how much control and monitoring it affords. If someone's trying to access or tamper with my safe, or hard-wired power is affected for any reason at home, I want to know about it. I am big on having back-ups to my back-ups, if you know what I mean.
The online web dashboard also provides a second vantage point to manage your safe and monitor live safe data as well, which is a really nice feature to have and also features a similarly designed, clean and easy-to-use interface.
The level of detail, care, and consideration Vaultek infuses into each of their products runs the full spectrum of design, infusing flawless functionality in a forward-thinking form, the RS800i does not disappoint as the latest addition and enhancement to the Vaultek lineup. If you're looking for the maximum offering in interior space, modularity, technological capability, and overall wow-factor when it comes to looks, then look no further than the RS800i. MSRP is $1,799.99, and an RS800i PLUS Model is also available with additional accessories for an MSRP of $2,049.99.
Editor's Note: Be sure to check out The Armory Life Forum, where you can comment about our daily articles, as well as just talk guns and gear. Click the "Go To Forum Thread" link below to jump in!
Join the Discussion
Featured in this video
Continue Reading
Did you enjoy this video?
45