Review: Viridian
E-Series

Green Laser Sight for the Hellcat
February 14th, 2023
7 minute read
Viridian Weapon Technologies opened its doors in 2006 with the introduction of the first green laser sighting system for firearms. That was quite an achievement because you can't create a green laser by simply slipping a blue filter over a red laser. In fact, the development of a combat-capable green laser was impressive.
Fans of green lasers feel that they are much brighter and easier to pick up against a target than a comparable red laser's "dot." In many circumstances, this is true. But there is a lot more to the story…
Past Green Laser Problems
There was much to overcome technologically just to get green lasers up and running — not to mention making them practical enough to be a commercial success. It had taken many years of refining before I felt comfortable recommending green lasers for purchase over red lasers.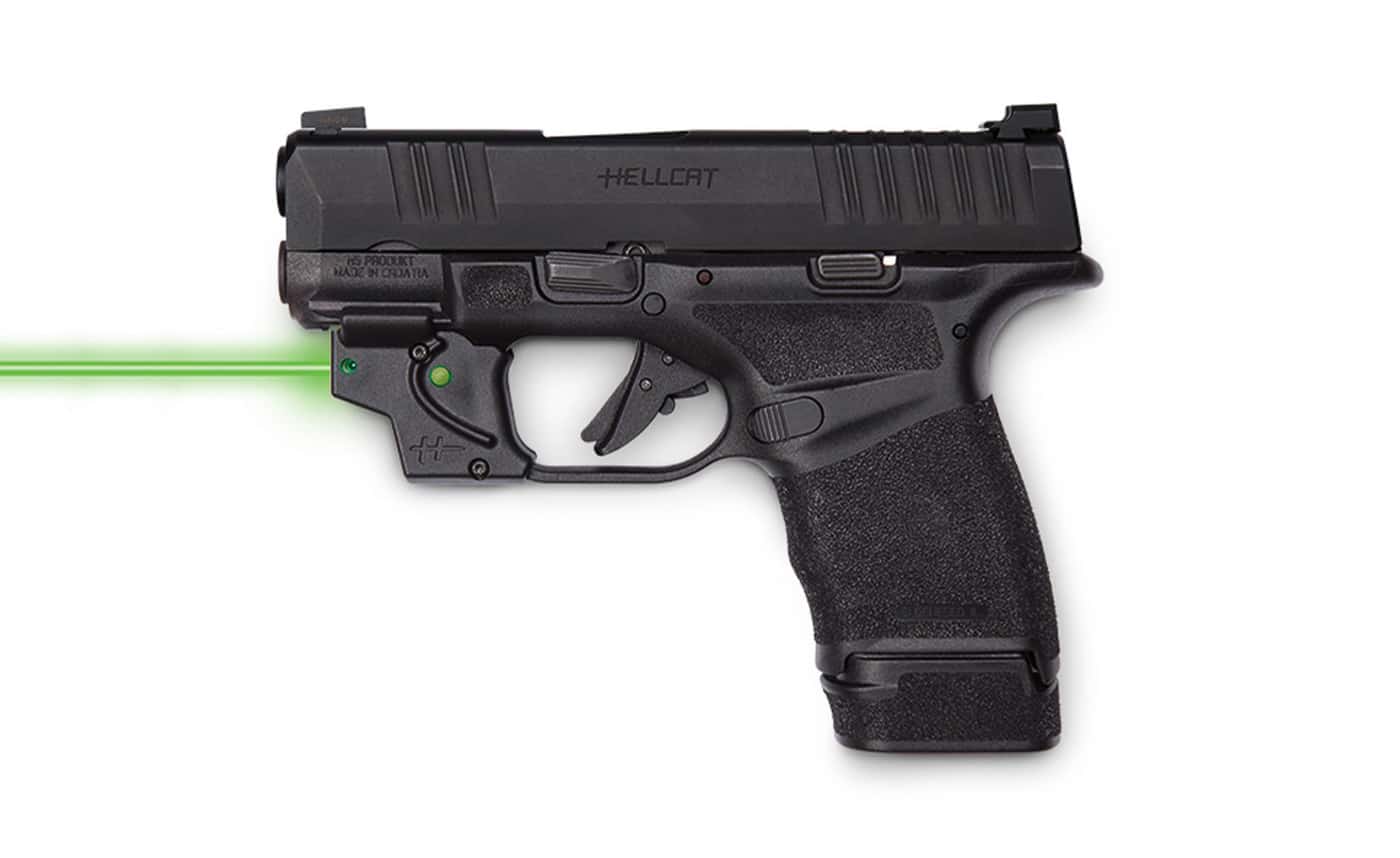 Here were problem areas that needed to be resolved:
Sensitivity to cold. Cold used to degrade green lasers to the point of inoperability in cold environments, which made them impractical for law enforcement use above the Mason-Dixon line.
Battery issues. Early green lasers sucked electricity down rapidly — much faster than red lasers — and they still do. However, the drain is not as pronounced as it once was, and I feel quite comfortable recommending green lasers over red.
Battery Availability. More batteries or sometimes more expensive and less readily available batteries had to be used to provide green laser power, often making the unit larger and less practical for pistol use. Today's green lasers use conventional batteries which are cheaper and easier to find, making green lasers more practical for use on pistols.
Greater Expense. Until recently, green lasers were priced anywhere from $100 to $200 more than red lasers, depending on the brand. While overall price differences between red vs. green lasers have been reduced considerably, a few companies charge as much as $100 or more for a green laser sight as they do for their identical red version. However, Viridian's E-Series Red Laser and Green Laser sights are priced the same — $132, which breaks down a price barrier that may have kept firearms consumers from "going green" for quite some time.
Because of these "problem" areas, in the past I didn't tend to recommend green lasers for purchase if an equivalent red version was available. But all that has changed now, especially when you look at the Viridian product line-up.
Laser Sight Advantage
Before we discuss the Viridian Lineup and the E-Series laser sight, it bears covering what the advantages of laser sighting systems are, and why it's worth adding a laser sighting system to your defensive handgun.
To begin with, understand that laser sighting systems, regardless of type or brand, are not stand-alone sighting systems. A laser sight complements, backs up, and is a force multiplier for, iron sights or red dot optical sights. While any handgun can run just fine on iron sights alone, a handgun shouldn't rely on a laser alone. Any laser dot can wash out or be difficult to see in bright high-noon sun. Laser sights are at their best when used indoors, in shade, or in early morning or late afternoon hours. Of course, they are at their best in total darkness.
Simply put, laser dots are not available for use 24-7, while iron sights or red dots are. This is true even of Viridian green laser sights as bright as they are. But if you think of it from my description, lasers will be effective during peak hours and locations of criminal activity.
Now that we have this information out in the open, let's review some of the advantages of laser sighting systems, in order of priority:
Enhanced accuracy on the part of the shooter. With a laser as with a red dot sight, there is only one focal point being used — the dot. There are no focal choices of the front sight, rear sight, or target in play with the laser sight. All ocular focus is on the target, greatly simplifying the aiming process.
Because of having a single aiming focal point, lasers greatly enhance threat recognition. When using iron sights, the focus is on the front sight, keeping it the sharpest part of the three-point focal plane, while the target and the rear sight are blurred. This means we can't clearly see a target as we initiate a trigger pull. It also means we aren't able to as easily distinguish between a smartphone or handgun, or some other benign or dangerous object in a potential threat's hands because our focus is on the front sight or shifting back and forth. A laser dot painted directly on a target allows you to clearly see everything about it while maintaining a sight picture.
Speaking of sight alignment, a laser sight needs none. You can aim your handgun while holding it in any position — standing, kneeling, hip-tuck, sitting or grounded. As long as the beam has a clear path to the target, you will hit what the dot is painted on — as long as you follow the fundamentals of shooting. Your gun can be held in a one-hand "hip-tuck" position, pointed out in a one-hand stance. If your shot is good, you will hit your target.
Changing a threat's mind is perhaps the most important thing a laser sight can do for you. Any day a citizen or cop can use a firearm to thwart a violent criminal without firing a shot is a good day. When a threat sees the laser dot shining on them, all doubt has been erased as to where the bullet will go. It's a powerful force multiplying deterrent.
The Green E-Series
Installing and operating the Viridian E-Series laser on the Springfield Armory Hellcat couldn't be easier. The E-Series Laser consists of two halves. Simply install the included 1/3N battery into the battery compartment half — verifying polarity — then clamp the halves onto the rail and trigger guard and secure them using the included screws and driver.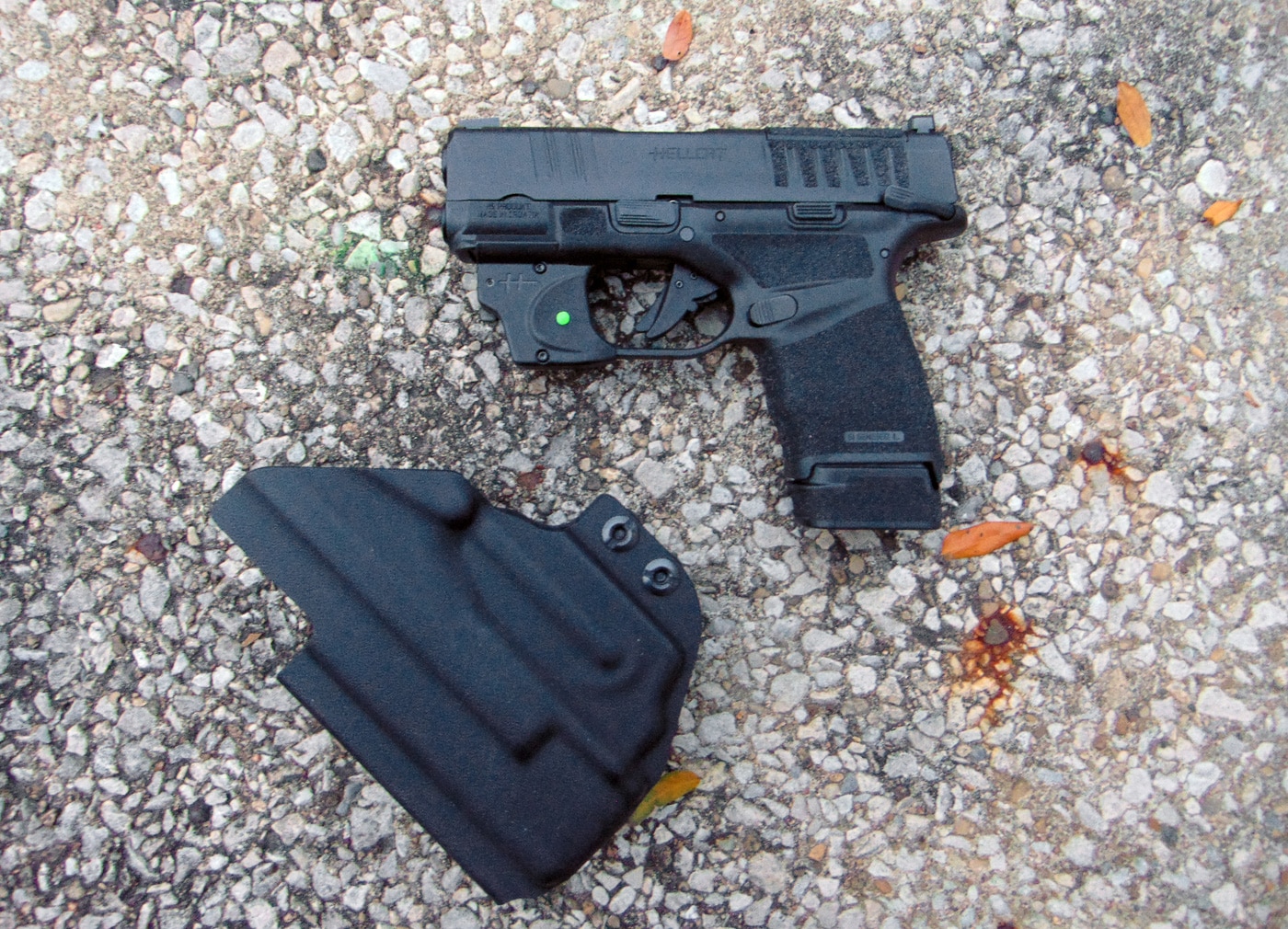 The E-Series off/on switch is ingeniously simple. It is ambidextrous and located in a fingertip-shaped indentation on the E-Series body — which keeps your trigger finger pointed safely in a straight line outside the trigger guard toward the target. A gentle push by your fingertip locks the laser "on" and leaves it there until you push it again. There is no pulsating laser to cycle past, nor a true momentary position. The E-series switch works so easily and intuitively that no momentary setting is needed. The green laser is so bright that no pulsating mode is needed to locate it. Here are the E-Series' specifications:
| | |
| --- | --- |
| Range | 100 yards daylight/2 miles at night |
| Battery Life | Constant laser with 60+ minutes of battery life (Note: red laser version has 6+ hours of battery life) |
| Switching | Constant On with 5-minute automatic shut-off |
| Strobing Effect | None |
| Price | $132 |
Once the laser sight is installed, ensure the dot is aligned with the sights. In my opinion, the Hellcat series of pistols has one of the best sight set-ups on the market. The front sight is a Tritium dot surrounded by a green luminescent ring mated to a Tactical Rack U-Dot White Outline Rear.
In order to properly align the laser dots with the iron sights, I use the main hallway in our house, which is the longest distance in which I might encounter an intruder. After ensuring the pistol is unloaded, I stand at one end of the hallway and align the sights on a fixed point on the wall. I then activate the laser dot and, with the sight adjustment tool, move the laser dot to a point just atop the front sight, checking it several times to make sure the alignment is correct. That setting has always worked well for me regardless of laser sight being used.
I have been carrying the Viridian-equipped Hellcat on the street using the nicely executed Viridian Kydex IWB holster. The holster holds the Hellcat securely in place, yet allows a quick and smooth draw. Tension is adjustable and MSRP is only $49.
Wrap Up
It's nice using a green laser sight made by the company that pioneered green lasers and helped make them practical for the everyday consumer, and not just high-end military and law enforcement units.
Check out the wide variety of green laser sights — Viridian also has red laser sights if you prefer them — as well as several laser sights for AR-15s and other long guns with Picatinny rails. You won't regret it.
Editor's Note: Please be sure to check out The Armory Life Forum, where you can comment about our daily articles, as well as just talk guns and gear. Click the "Go To Forum Thread" link below to jump in and discuss this article and much more!
Join the Discussion
Featured in this article
Continue Reading
Did you enjoy this article?
64