Viridian E-Series Hellcat Red Laser
June 26th, 2020
4 minute read
Springfield Armory made a noteworthy introduction to their product line up with the Hellcat. American consumers signaled their acceptance by snatching up Hellcats off dealers' shelves. And this popularity garnered attention from aftermarket vendors, with them producing holsters, sights, lasers and more.
On Target
Viridian Weapon Technologies, well-known for its excellent lights and lasers, has added a Hellcat offering to its Essential Series (E-Series). The Hellcat E-Series Red Laser Sight is designed to offer the Hellcat owner a reasonably priced laser system for their compact 9mm. And with a price of just $132, it definitely won't break the bank.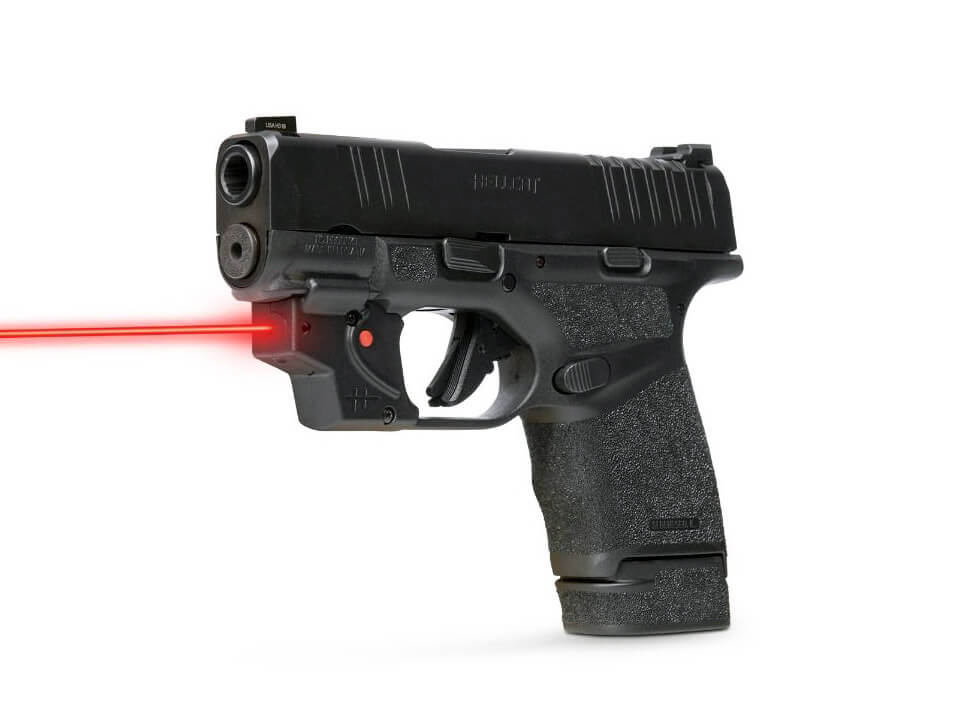 The Viridian E-Series unit features a rugged but lightweight polymer body that is simple to attach. It clamps around the front of the Hellcat's trigger guard and interfaces with the pistol's integral strip of rail. An ambidextrous on/off button allows flexibility for either hand use, and a five-minute auto shut-off system ensures you won't inadvertently burn off your battery.
The unit is powered by a single 1/3n lithium battery (included with the laser), providing six hours of constant laser use. Sighting in the unit is easy with separate windage and elevation adjustment points. I personally begin with matching the iron sight point of aim at 10 yards with the laser, and then confirming once at the range.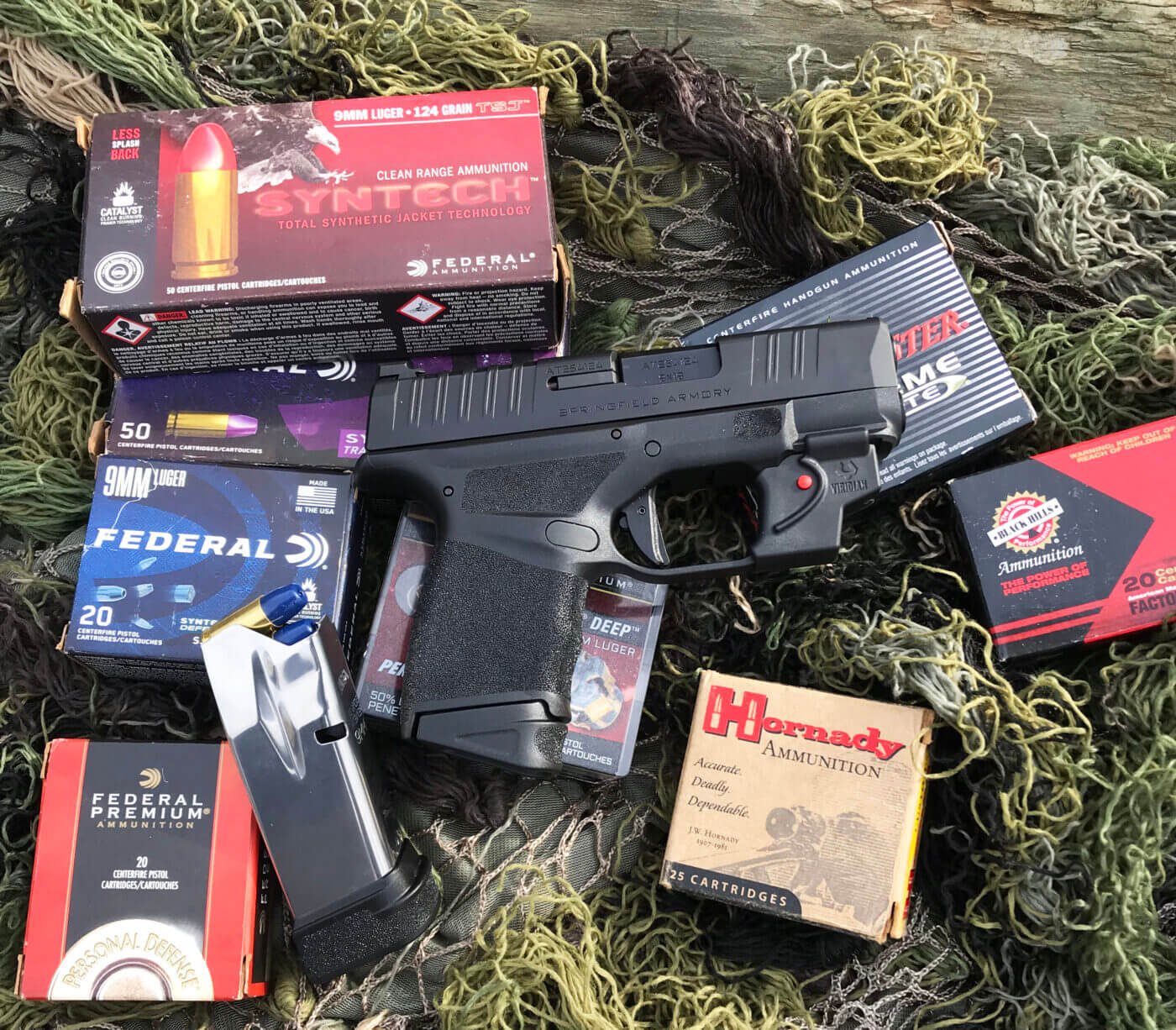 The Viridian laser can be seen in most daylight conditions out to 25 yards. This is a fair poke for a personal defense situation, considering most engagements will be up close and personal.
In Practice
While technological quick fixes should not be used in lieu of training, lasers on a personal defense weapon can be a viable option. Focusing on the target is one of the key concepts of laser use. The natural pointability of the Hellcat comes into its own in this realm. If you can put a red dot on your target, you will not have to take your eyes off the threat to align sights, etc.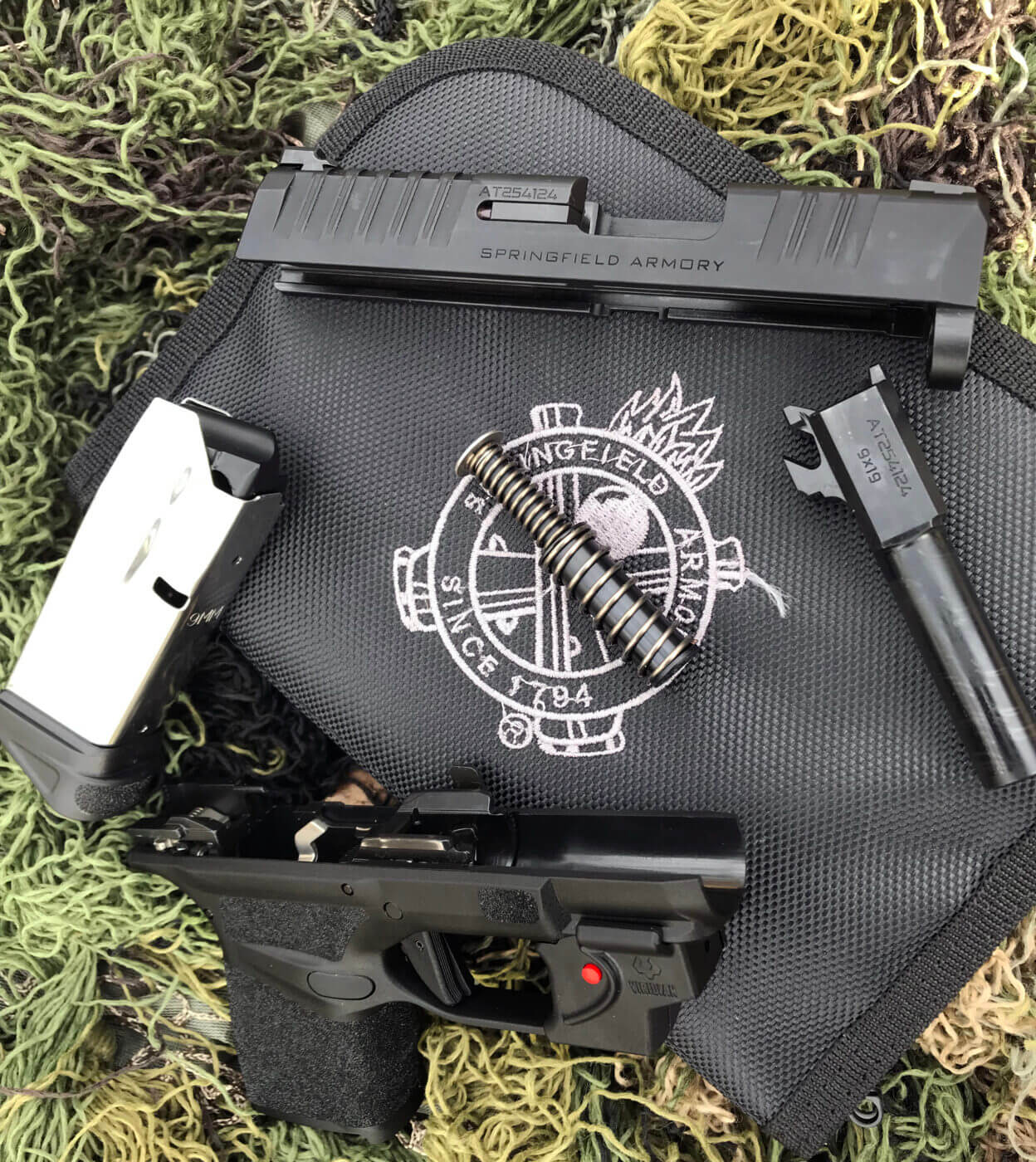 For me, the Hellcat/Viridian E-Series laser combo proved very capable at quick target engagement, with the front sight "flashing" on target and then my eyes picking up the red dot, confirming proper weapon alignment. On the range, shots broke faster than it takes to read this description. A user will discover after practice and training the laser can be spotted with no reference required of the iron sights.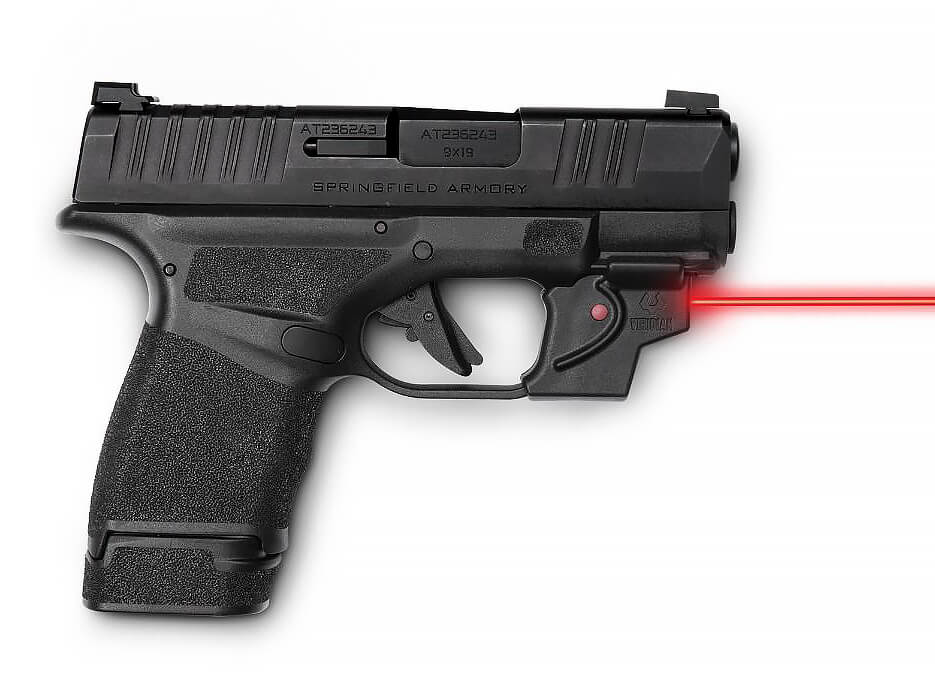 From a defensive tactics standpoint, the Viridian E-Series laser would also prove very useful at providing feedback when iron sights are not an option. What am I talking about? No sights? Imagine a scenario around a vehicle in an awkward position, hugging an engine block or axle/tire area where getting proper sight alignment is problematic, to say the least. A laser shining under/around the vehicle on a target you can see without overexposing your head would allow you to engage a threat that would be very difficult with just your iron sights.
Conclusion
The positive benefits of the Viridian E-Series laser sight are hard to deny. The shooter can get the weapon on target quickly, especially in low light, without having to spend an inordinate amount of time aligning iron sights. Training and familiarizing yourself with your Viridian E-Series laser-equipped Hellcat will pay dividends in getting smoother and faster with this process.
Outside of defensive situations, lasers are also useful training aids. They can help the shooter see how the gun is moving during practice fire. They are also useful for dry-fire exercises since you can see if you are slapping the trigger and potentially pulling your shots.
The Springfield Armory Hellcat is a great addition to the concealed carry market, offering amazing performance. Want to wring out even more capability from one of these micro 9mm pistols? Then be sure to take a look at the Viridian E-Series Red Laser Sight for it.
Editor's Note: Please be sure to check out The Armory Life Forum, where you can comment about our daily articles, as well as just talk guns and gear. Click the "Go To Forum Thread" link below to jump in!
Join the Discussion
Featured in this article
Continue Reading
Did you enjoy this article?
64