Shield Sights has been building slide-mounted red dots for a long time. I was first introduced to Shield's products on the fancy open guns of forward-thinking USPSA shooters. The lightweight slide-mounting design with a small footprint stood in sharp contrast to the typical large, heavy, frame-mounted pistol optics of the late '90s.
It's clear to me that Shield has benefited from its quarter-century of experience in building reliable micro red dots, learning how to build a tiny bit of technology that has to take a lot of abuse, slamming back and forth atop a reciprocating slide.
And their newest offering – the RMSw — carries on that tradition by taking ruggedness and durability into an entirely new medium. Check out my video review of it above, and keep reading this article that continues below.
A Deluge of Benefits
The new RMSw features all the toughness one has come to expect from a Shield RMSc optic, with the addition of being waterproof (that's what the "w" in the name stands for).
Before I start testing a product, it's my habit to become familiar with it and all its features — and that's what I did with the RMSw. I decided to mount it on my Springfield Armory Hellcat OSP, and I had very little trouble doing so. Once mounted, the one thing I would have liked for it to have would have been pronounced clicks when adjusting windage and elevation, (although this is a matter of what I'm used to and not a necessity). However, I had the dot on at 25 yards in no time.
This is when the fun began. The Hellcat itself is a very shootable gun despite its small size and light weight, and I have some experience behind this diminutive heavyweight (check out my 20K-round Hellcat test). I worked some single shots from concealment drawing from my Burdette Custom scabbard, and I found the 4 MOA dot to be very easy to quickly pick up.
Moving on to some more rounds downrange, I started to shoot it fast. This is when the sight (and the Hellcat) brought a broad smile to my face. While firing three to six rounds rapid fire on a high center chest-sized target at 7 yards, I was easily able to keep the dot in the window between shots. I wasn't running a timer, but I can comfortably say I was able to run .20 splits, make hits, and track the dot throughout. This is impressive considering the size of the Hellcat and the relatively small window of the Shield RMSw. This combination is extremely shootable. (Make sure to watch my in-depth test of the Hellcat and the RMSw with the Mantis X10 Elite training system).
RMSw Durability
Shield Sights is no stranger to the need for durability in its products. I mentioned that my first exposure to Shield's dots was with USPSA Open shooters. That is an informative statement. First off, USPSA shooters tend to be high-round-count shooters. I feel comfortable speculating that the typical competitor shoots more each month in matches than most shooters put down range annually — or longer. Then there is the practice time.
Also, consider that at Shield's introduction to the market their primary customer was putting their dot on top of a gun chambered in .38 Super. This round pushes a 115-gr. slug at almost 1,500 fps. Even when compensated, as open guns typically are, this produces serious slide velocity. This sharp movement of the slide increases the forces a slide mounted optic has to endure. Shield Sights' red dots proved they were up to the task.
That durability has lived on in Shields' newest designs, and the RMSw ups the ante. The RMSw has a newly designed aluminum housing that is thicker and beefier, and it's the first Shield dot to feature a new hard-coated polymer lens. It also has one more very important feature…
Waterproof Red Dot Sight
As noted above, the key part of the RMSw name is that "w". This sight is a completely waterproof design. The battery compartment is sealed with a rubber gasket that sits between the sight and the optional mounting plate (the plate is offered to ensure a complete seal with the rubber gasket on a pistol with a narrow/slim slide like the Hellcat). Shield rates the waterproofness to 20 meters for up to 30 minutes. 20 meters is 66 feet of water, which is not a trivial depth. It amounts to three times the pressure you experience standing at sea level.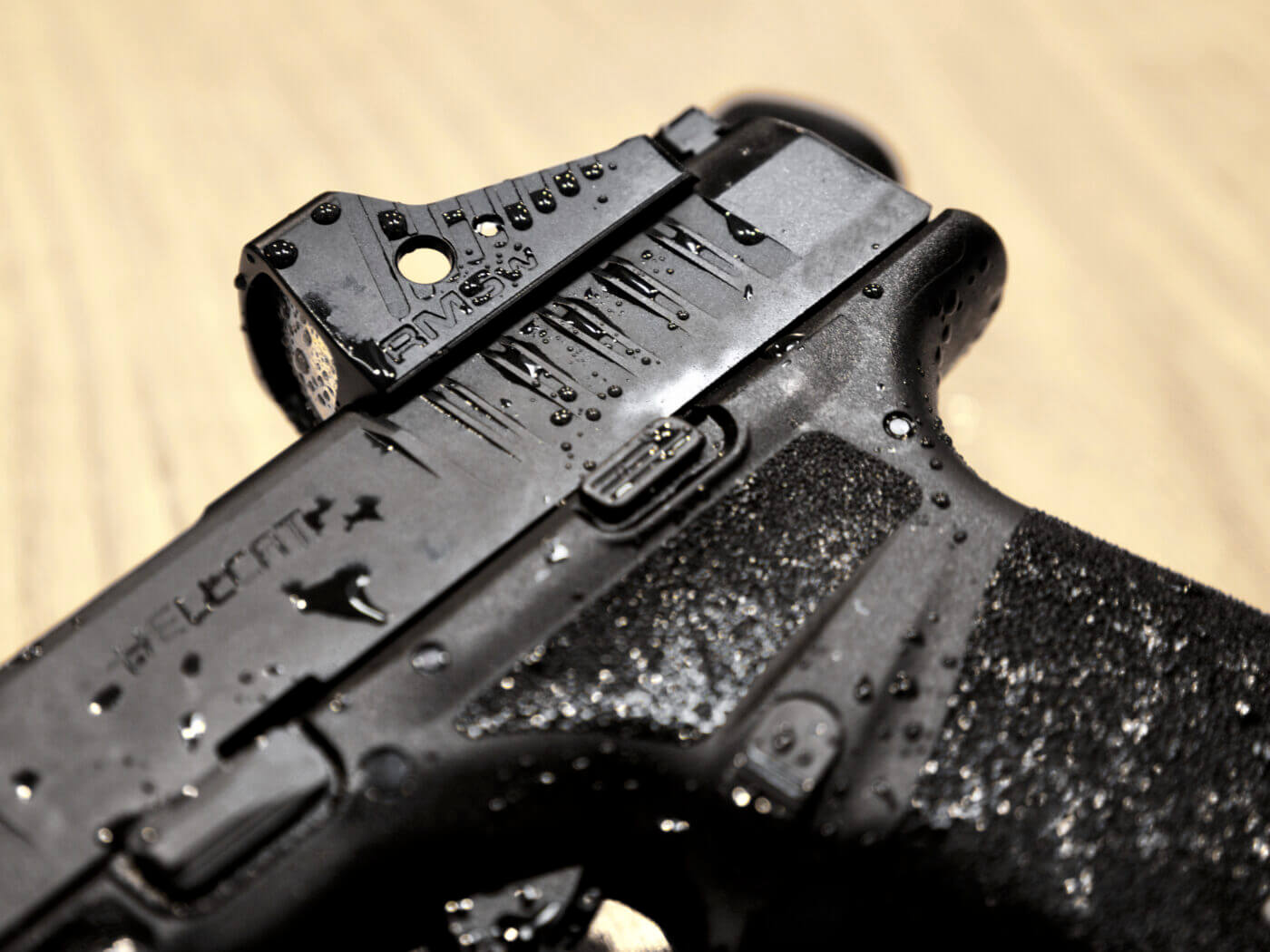 Now, for me and my Hellcat, I couldn't care less about how deeply and how long my optic can be viable in water. What matters for me is, can my optic survive a training class in a downpour? Or, can I manage getting caught in a serious rain while carrying and still count on my gear? Can I get pushed into the pool without destroying my optic?
I didn't have the opportunity to take the Hellcat to depth. (Note to editor, I'm a certified diver and I think we should test the RMSw further this winter… off the coast of Florida…) What I did do is submerge the fully loaded Hellcat with the RMSw in water for 15 minutes. I removed the gun, gave it a shake, and fired it.
Both the gun and the RMSw performed wonderfully. It took me a moment to find the dot with all the water drops on the window, but after firing two shots it was easy to track the dot. Weeks later the sight is still fully functional. Your watch is waterproof. It seems like your red dot should be as well.
Shield RSMw Specifications
| | |
| --- | --- |
| Aiming Dot Size | 4 and 8 MOA |
| Light Source | Red LED (no LASER) |
| Magnification | 1x (none) |
| Lens | Polymer with hard coat |
| Power | 3v CR2032 battery |
| Battery Replacement | Sight removal required |
| Brightness Adjustments | Automatic |
| NV Compatible? | Yes |
| Body | Aluminum |
| Weight | 0.62 oz |
Conclusion
Sitting atop of the Springfield Armory Hellcat OSP, the Shield RMSw makes for a shootable, durable and waterproof red dot solution. The street price of the RMSw is right around $470, which places it solidly in the realm of other quality slide-mounted red dots for the Hellcat. The fact that the RMSw cowitnesses with the standard U-Dot sights that the Hellcat ships with is a real bonus.
All said, I appreciate the qualities of Shield's RMSw. It's a worthy companion to the Hellcat as it is shootable, durable and — as the "w" denotes — waterproof.
I'm only able to find one aspect of the RMSw that I dislike. I have been told that my testing and evaluation period is up on this loaner model and I need to return the sight. Instead, I wish it were mine for good. Oh well…
Editor's Note: Please be sure to check out The Armory Life Forum, where you can comment about our daily articles, as well as just talk guns and gear. Click the "Go To Forum Thread" link below to jump in and discuss this article and much more!
Join the Discussion
Featured in this video
Continue Reading
Did you enjoy this video?
66