Surefire XSC WeaponLight Review – The Perfect Hellcat Companion?
September 15th, 2020
5 minute read
Many people fear being blinded. When attacked in the darkness, you are fighting blind. You need an illumination tool like the new Surefire XSC Micro-Compact Pistol WeaponLight to turn your Hellcat into the survival tool it was designed to be.
In this review, I take the Surefire XSC for a spin to see if it has the chops for self-defense work.
It packs serious night-shredding illumination into a package about the size of your thumb. Producing 350 lumens and offering both constant-on and momentary-on operation via a handy and intuitive control system, the XSC brings literally unprecedented capabilities to the world of micro-compact concealed carry pistols.
The Surefire XSC changes everything.
Desperate Need
In January of 1983, a cult led by a 49-year-old mental patient named Lindberg Sanders kidnapped Memphis patrolman Bobby Hester. While alcohol and drugs were fine for Sanders, he forbade his acolytes from eating pork, wearing hats or drinking water. The string that tied this sordid mob together was a venomous hatred of police officers.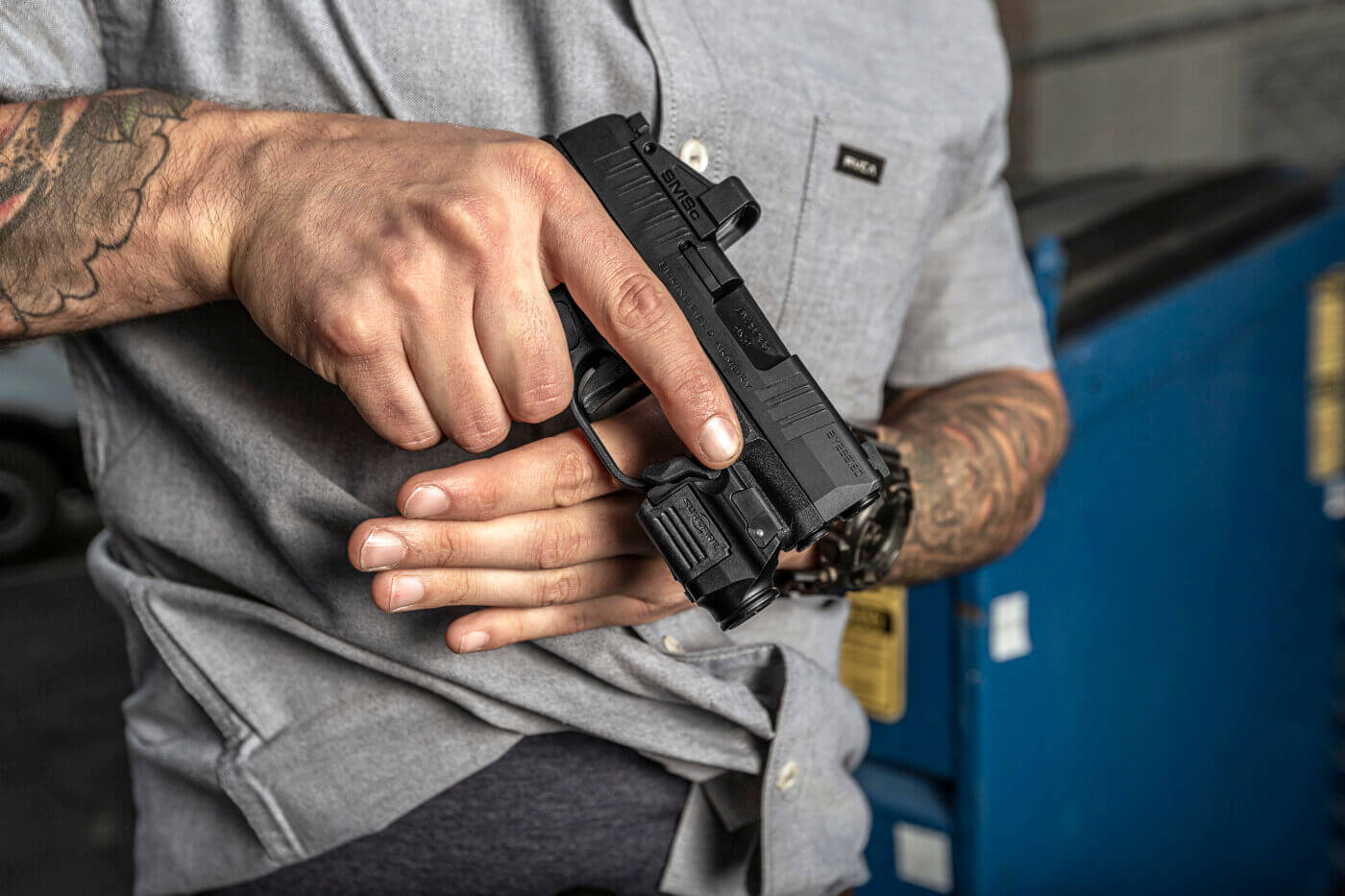 Memphis police surrounded Sanders' dwelling and initiated negotiations. Thirty hours later the Memphis TACT team finally got the green light to breach the house. The SWAT guys cut the power and hit the objective in pitch darkness, leading with tear gas and flash-bangs. They ultimately secured the domicile after a violent close-quarters gunfight.
Tragically, Patrolman Hester had already been tortured to death. Several cult members died alongside Sanders. The TACT team was armed with M16A1 rifles and short-barreled 12-gauge shotguns.
Notably, the Memphis SWAT operators had taped heavy D-cell Maglites to the triangular forearms of their M16 rifles. These bulky onboard weaponlights facilitated target identification and acquisition within the darkened confines of Sanders' house. While effective, we've definitely come a long way since 1983.
Cutting-Edge Tech
Nowadays, the Springfield Armory Hellcat shrinks service pistol-grade performance down into a package you can carry comfortably while wearing shorts and a t-shirt. Featuring up to a 13+1-round magazine capacity (or 14+1 with a Hyve magazine extension), a superb striker-fired trigger, ample automatic safety devices and a sleek snag-free shape, the Hellcat set a new standard for concealed carry handguns.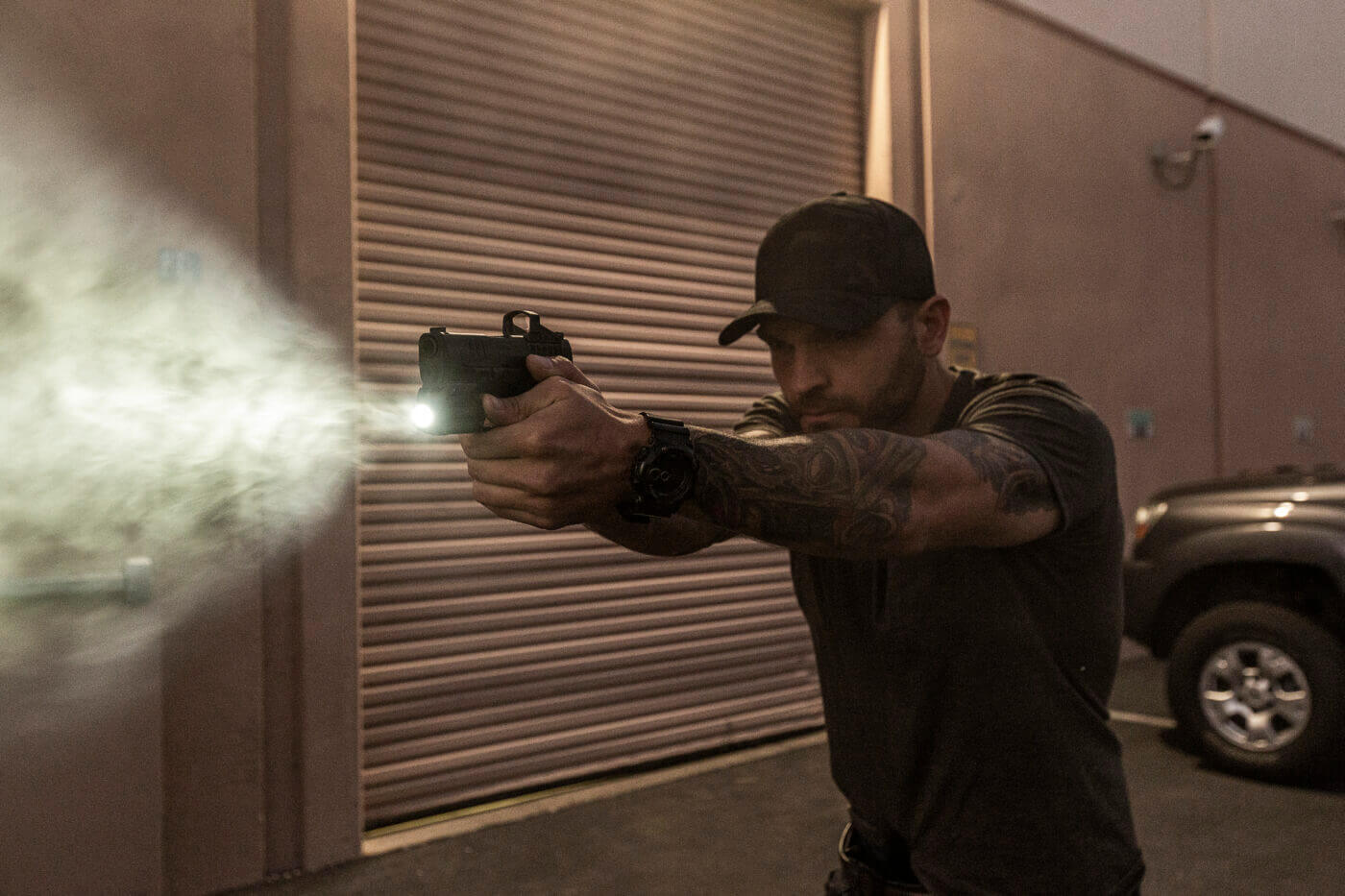 In fact, the Hellcat is so small most conventional weaponlights seem oversized by comparison. Enter Surefire and its brand new XSC WeaponLight. Contrived from the ground up to complement micro-compact concealed carry pistols like the Hellcat, the 350 Lumen XSC is tiny, robust and powerful.
It features an anodized aluminum housing that is lightweight and all but indestructible. The XSC's parabolic reflector efficiently directs the light's output into a concentrated beam to ensure positive target identification in the darkest spaces. The sleek chassis is compact enough to fit on the Hellcat's rail — measuring a short 1.94″ in length — and flows perfectly into the lines of the pistol so that it doesn't interfere with the gun's superlative concealability.
Controls
A bilateral finger switch is comparably accessible regardless of your particular handedness and offers two different illumination modes — momentary and constant. The whole device is gasket-sealed to resist moisture and the elements. This IPX 7 rating guarantees reliable performance, even after one-meter submersion underwater for half an hour. Surefire supplies illuminators to the finest military and law enforcement units on earth, so obviously their gear is designed for hard use in the real world.
XSC Battery & Runtime
The XSC WeaponLight is powered by a proprietary rechargeable 3.7-volt lithium polymer battery that exchanges quickly without tools and without dismounting the light from the gun. A battery-mounted fuel gauge helps you keep track of charge status, so you don't run dry at an inopportune time. Despite its tiny footprint, the XSC will provide half an hour of constant use on a single charge. The included charging cradle sports two charging bays to facilitate keeping any spare hot batteries handy.
How Much Does It Weigh?
To complement the light weight of the Springfield pistol, the XSC weighs a paltry 1.7 ounces. Even if you have one of the best red dots for the Hellcat attached to your pistol, the weight is minimal.
Mounting the unit is painless. Once you have it in place and charged you can forget it is there. The XSC keeps an already small gun compact and portable while hugely enhancing its capabilities.
SureFire XSC Specifications
| | |
| --- | --- |
| Total Light Output | 350 lumens |
| Runtime | 30 minutes |
| Peak Beam Intensity | 2,000 candelas |
| Beam Distance | 90 meters |
| Body Construction | Hard anodized aluminum |
| Battery | Proprietary 3.7v lithium polymer rechargeable |
| Water Resistance | Waterproof IPx7 (1m for 30 minutes) |
| Weight | 1.7 oz |
| MSRP | $329.00 |
Ruminations
My right to keep and bear arms is well-exercised, and my trigger finger is nicely conditioned. I carry daily and conceal my Hellcat in a quality holster.
I shoot all the time. However, most of that shooting is in good light when I am well-rested and comfortable. That's not typically when Very Bad Things happen.
You usually won't need a gun after a good night's sleep and a hearty breakfast. You'll want that piece in the dark corner of some empty parking lot when life has gone utterly sideways. Under those sordid circumstances there may yet be friendlies about as well.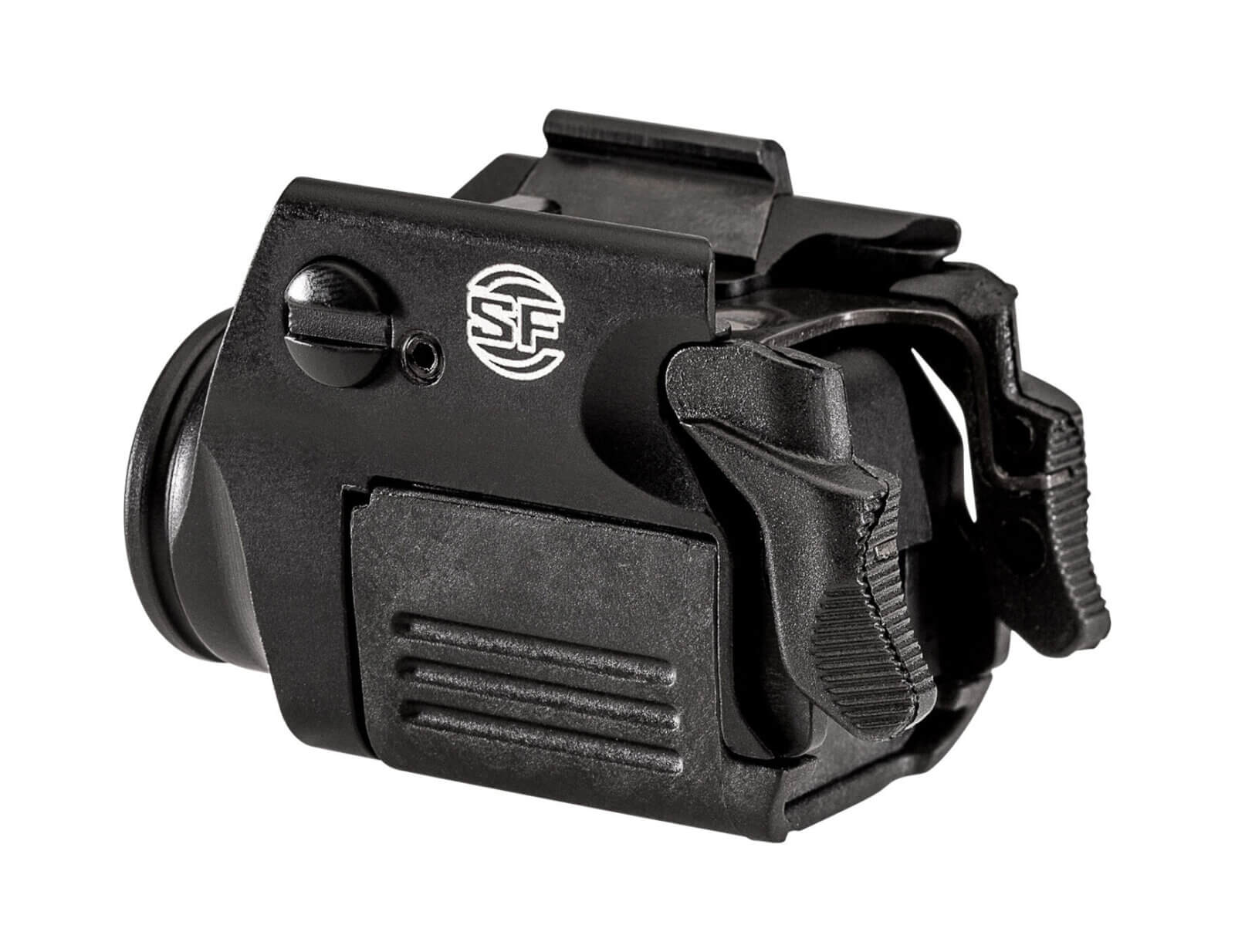 You can't hit what you can't see. Luminous sights are great, and I own several. However, a proper light can be invaluable when your heart is beating out of your chest and your opponent might very well kill you.
Previously, when it came to truly compact handguns, that meant you had a separate flashlight you had to somehow manage with an imaginary third hand while you were busy running your gun. Now, the $329 Surefire XSC WeaponLight mounts rugged and reliable illumination right onto your micro-compact carry gun with a trivial weight and bulk penalty. It seems the game just changed.
Editor's Note: Please be sure to check out The Armory Life Forum, where you can comment about our daily articles, as well as just talk guns and gear. Click the "Go To Forum Thread" link below to jump in and discuss this article and much more!
Join the Discussion
Featured in this article
Continue Reading
Did you enjoy this article?
143