On the Hunt: Predators vs. the SAINT
September 17th, 2020
5 minute read
A strong passion with firearms owners in all regions of America is using a favorite rifle for hunting. As the popularity of the AR rifle has grown and the rifle models offered to buyers have increased, more and more hunters now carry ARs on their hunt. This design offers many advantages for coyote and other predator hunters, including being quick to the shoulder and providing rapid target acquisition. The Springfield Armory SAINT rifle provides all of these advantages on the hunt — and more.
Built to Hunt
For many, the main benefit of most AR rifles is the adjustable stock, like the SAINT's BCMGunfighter Mod 0 adjustable stock. As air temperatures drop and cold winter weather arrives, hunters add clothing layers for warmth. However, layering can add problems like creating a shorter reach and a rifle that doesn't fit the shooter. The adjustable stock on the SAINT solves this problem with a quick push of the lever underneath to slide it forward or back.
This adjustable buttstock option on rifles like the SAINT provides another advantage — it can quickly be adjusted to fit a young hunter who might also have shorter arms. I adjusted the length on the SAINT's stock out more than 3″ to create a better sight picture in the scope atop its rail— another bonus.
Another benefit is that the SAINT's stock — and handguard — are made of synthetic materials which are less likely to be affected by weather (moisture) and variances in air temperatures. This can mean improved durability during what is often considered standard hunting conditions — rain and snow.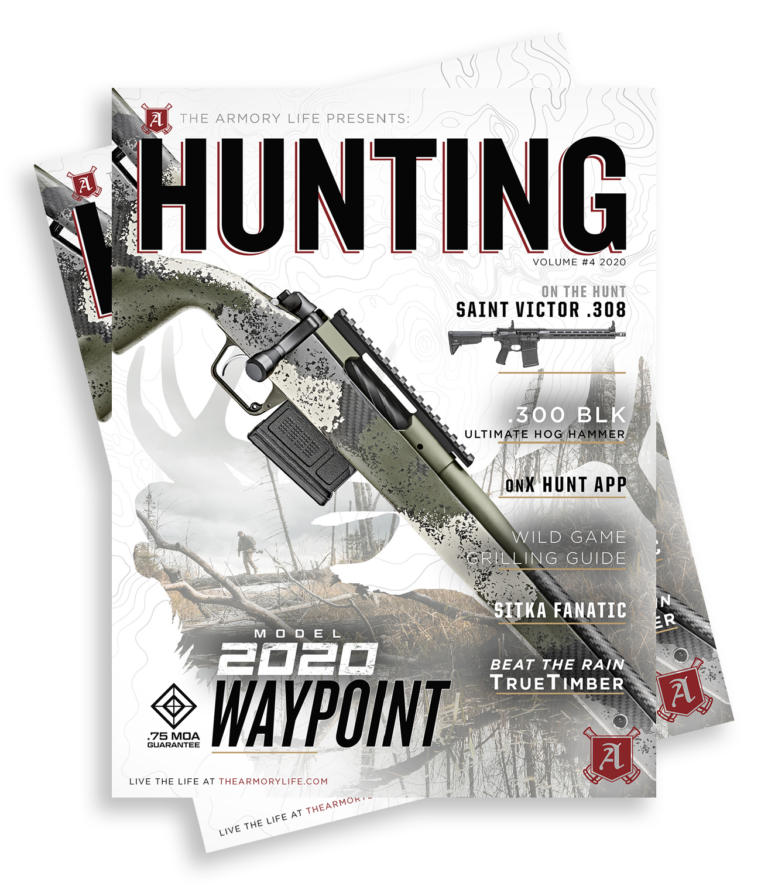 The SAINT is also short in length at approximately 32″ fully collapsed. This reduced length means increased maneuverability in the brush while hunting — or while moving to the next location. The textured surface on the M-Lok handguard also aids with secure grip and control while offering many options to add accessories if you wish. If you wish to flip the rifle's rear and front folding sights down, a rail is available atop the upper receiver to mount a scope.
I noted that the BCMGunfighter pistol grip on the SAINT rifle is rough textured and has an added bonus — a very secure door on the bottom that you can open and store parts inside like batteries for a red dot sight. If you wish to secure extra cartridges inside this space, consider wrapping those in a cloth or a paper towel to eliminate game-spooking rattling noises. Survival items could also be stored in this space.
The rifle's 16″ barrel has a 1:8 twist rate and is topped off with an A2 flash suppressor. The standard upgraded trigger on the SAINT is nickel-boron coated, and I found it to be very crisp to ensure better performance and a steady shot. Overall the rifle is simply matte black, and that will make it difficult for animals to spot. The rifle offers another advantage: it weighs a scant 6 lbs., 11 oz., an advantage when on a long hunting hike in search of coyotes.
After the hunt, the SAINT is very easy to disassemble and clean. These rifles are made for quick disassembly, cleaning and care. A bonus with the SAINT is the spring-activated dust cover that covers the bolt and keeps leaves, dirt and grass outside as you hunt.
Over Forest and Field
While the Springfield Armory SAINT rifle is easy to carry, sometimes you need both hands free to handle chores like setting up an electronic coyote call. Consider adding a sling, like Boyt's tactical neoprene slings. These slings stick to your shoulder, hold the rifle in place, and also help distribute the weight and keep the sling from cutting into your shoulder like some thin designed slings do.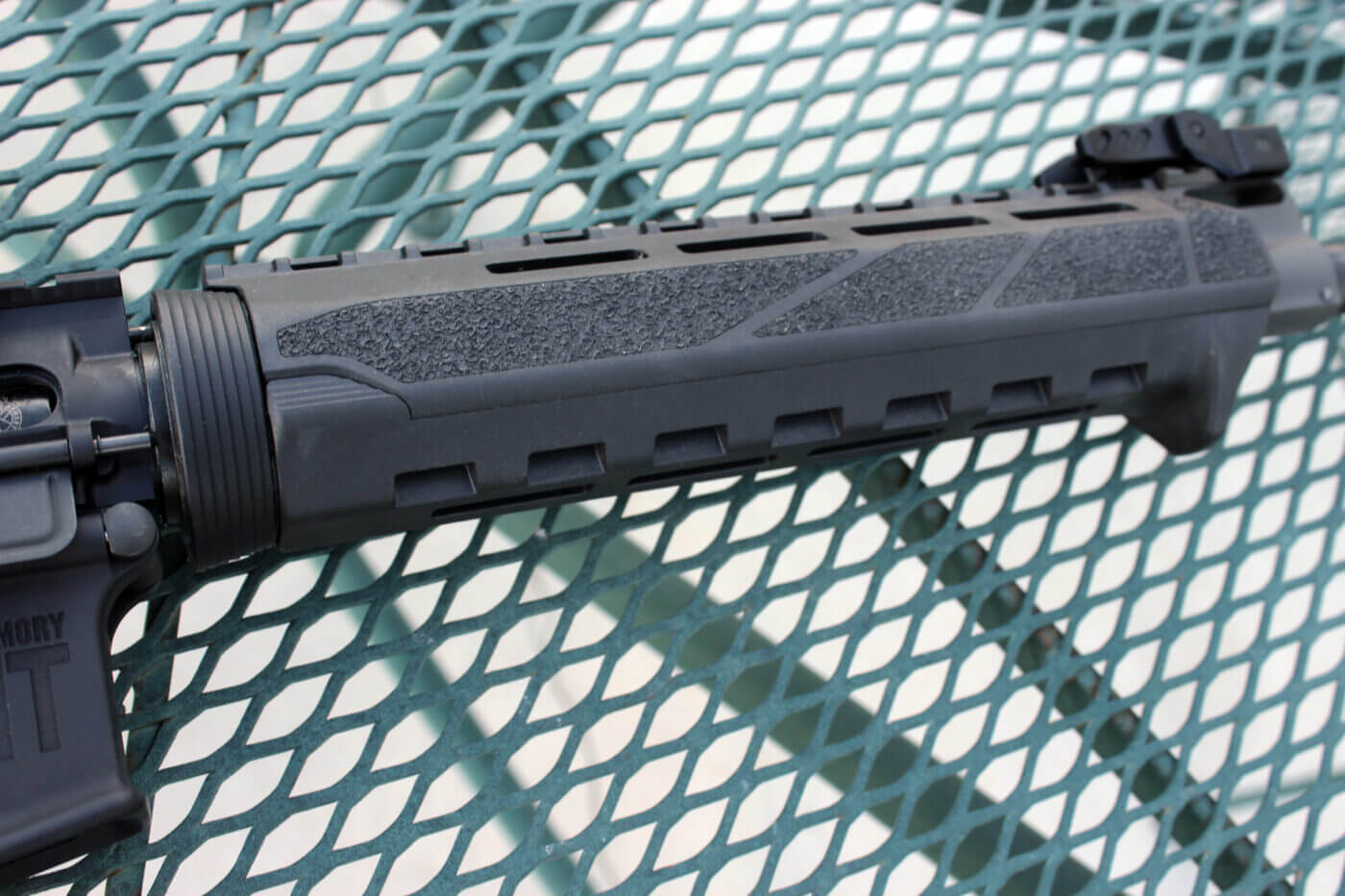 Hunters taking the SAINT on their next adventure should be aware that because of the protruding pistol grip on the AR rifle design, it will not fit in a standard slim shotgun or rifle soft case. Many states require that all rifles be cased when transported in a vehicle. Springfield Armory solves this problem by shipping the SAINT rifle with a soft case that has a sturdy zipper that will accommodate a lock. Transportation issues solved.
Range Time Bonuses
Like any new hunting rifle, before hunting I took the SAINT rifle to the range for some test shots and familiarization practice. I did find that the M-Lok handguard's internal heat shield kept the heat away from my fingers when a box of cartridges passed from the provided magazine and through the gun.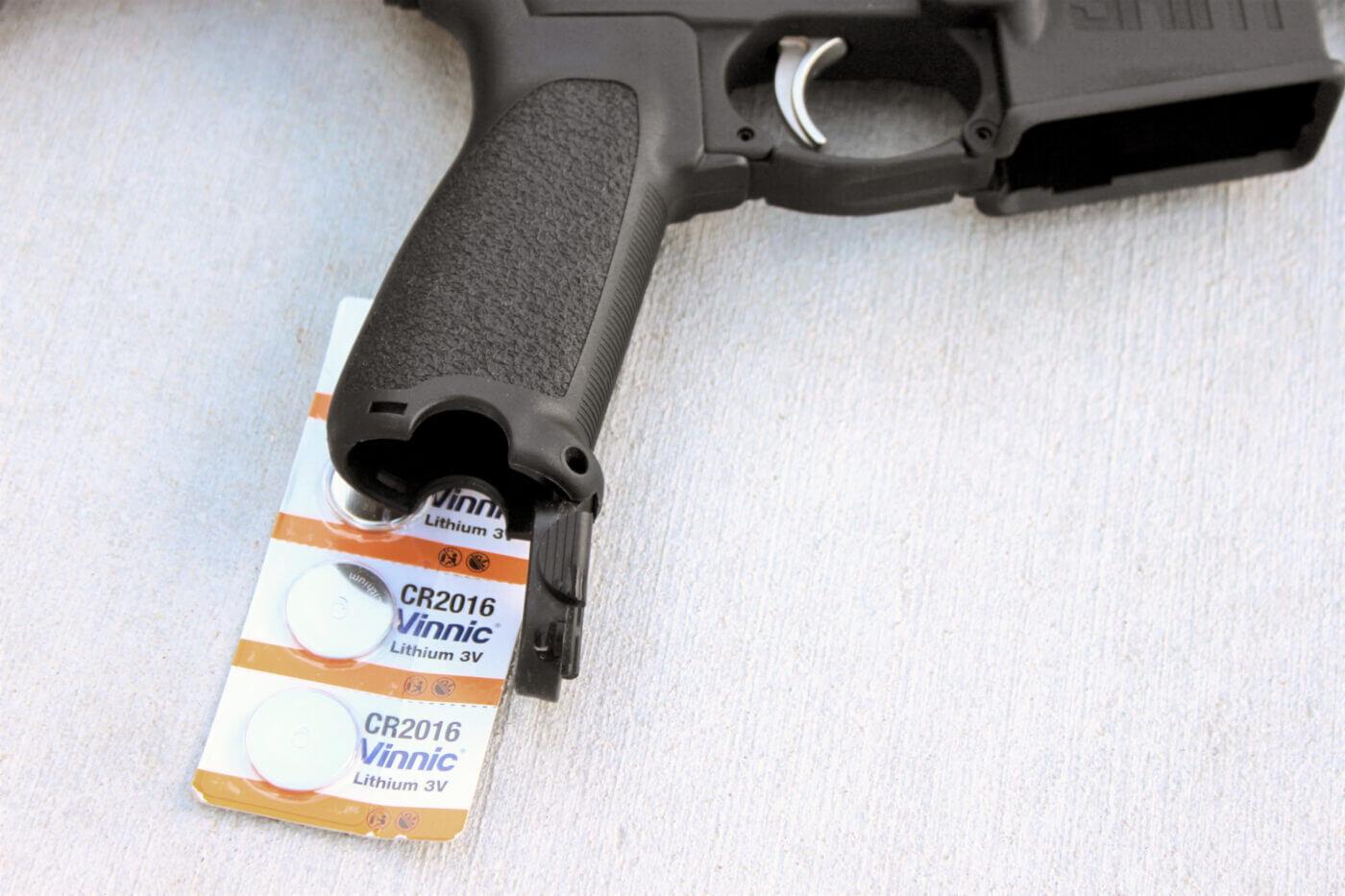 The SAINT's design makes for easy cleaning. The great news is that the SAINT's bolt carrier group is coated with durable Melonite to aid in rust resistance and also lubricity and function. There's also a forward assist on the upper receiver to move the bolt or cartridge ahead for full seating when needed as you try to be quiet when pre-loading and heading out to pursue coyotes.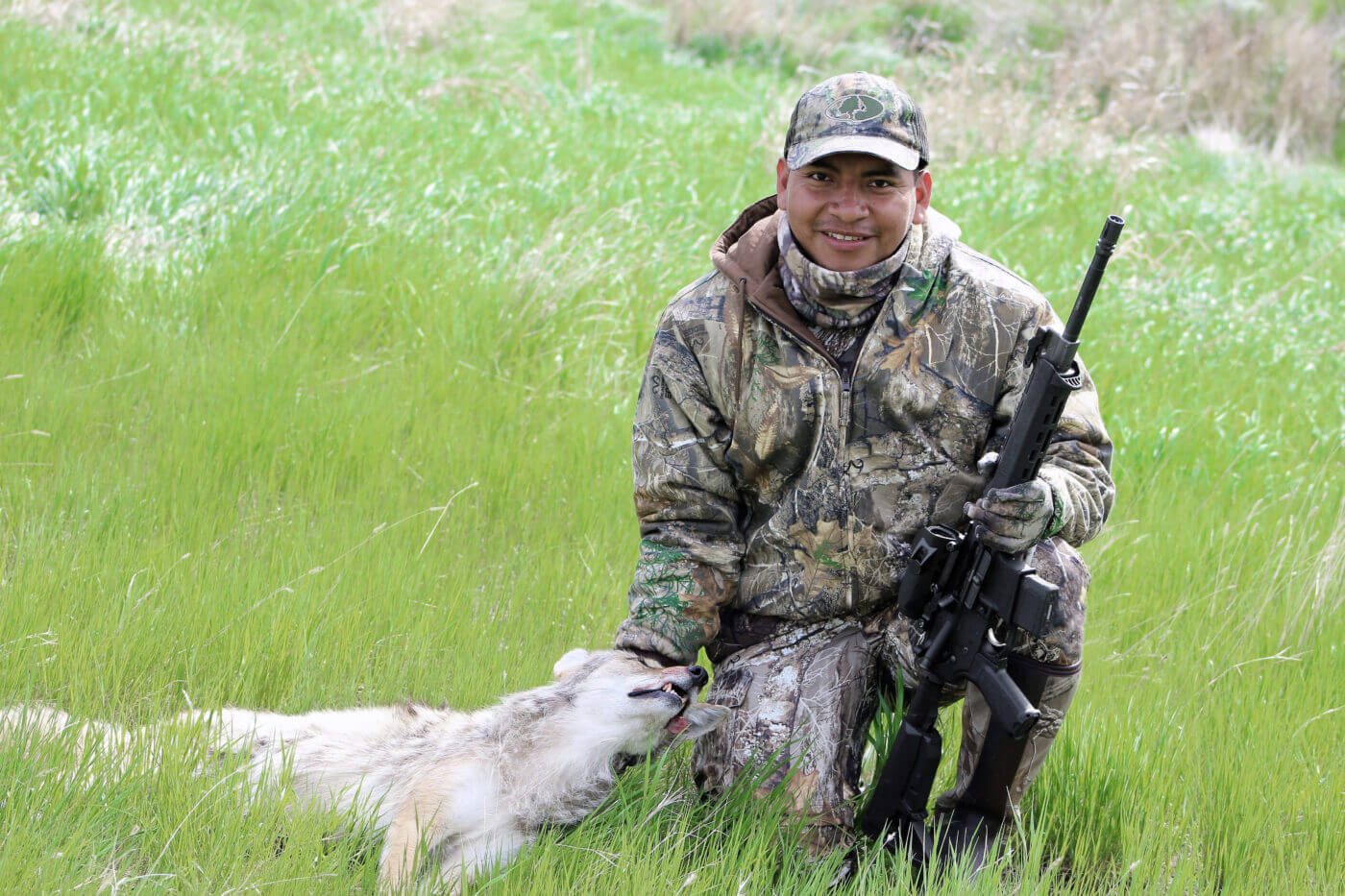 The Field Experience
I've made a couple of hunts for coyotes with the rifle and find its light weight, short length and easy-to-use controls ideal. The rifle always loaded rounds with ease, and it shot without interruption. Be sure to read Wayne van Zwoll's article "What Is the Best AR Caliber for Hunting?" to get help with selecting the right load for your SAINT.
I did lower the front and rear sights and installed a red dot sight to increase rapid target acquisition — a bonus for wary coyotes that tend to pop up, take a quick look and instantly disappear when being called. One successful shot was ranged at more than 225 yards on a western coyote. A pretty successful test, if you ask me!
Editor's Note: Please be sure to check out The Armory Life Forum, where you can comment about our daily articles, as well as just talk guns and gear. Click the "Go To Forum Thread" link below to jump in and discuss this article and much more!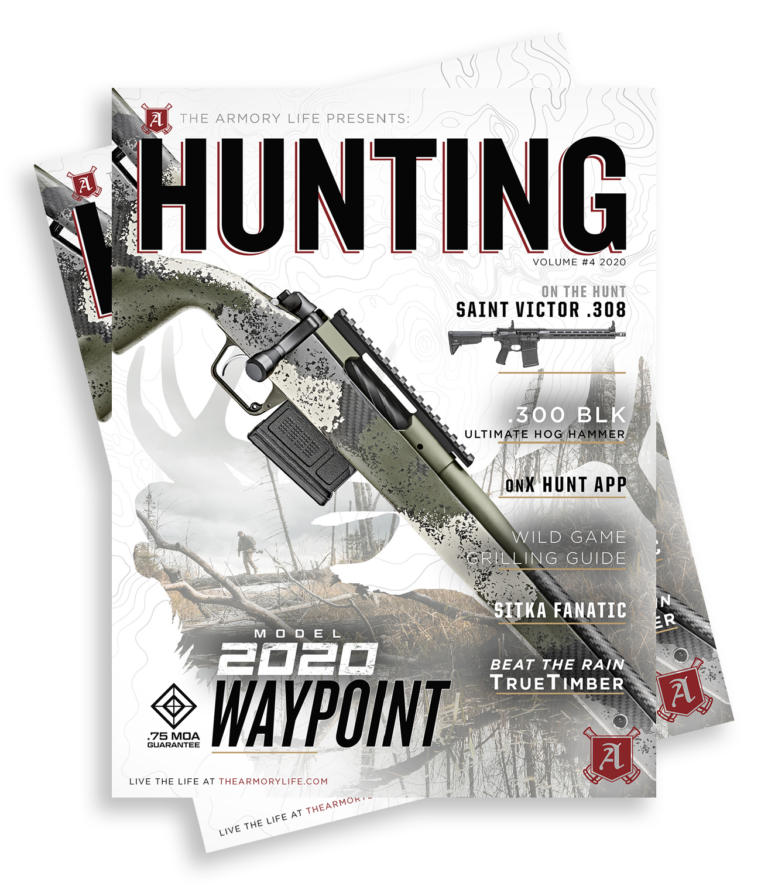 Join the Discussion
Featured in this article
Continue Reading
Did you enjoy this article?
69