Original or RDP: Which One Do You Need?
January 24th, 2022
5 minute read
Right now, we are experiencing a renaissance period of high-capacity, micro-compact pistols like never seen before. And for many, the current king of the mountain is the Springfield Armory Hellcat.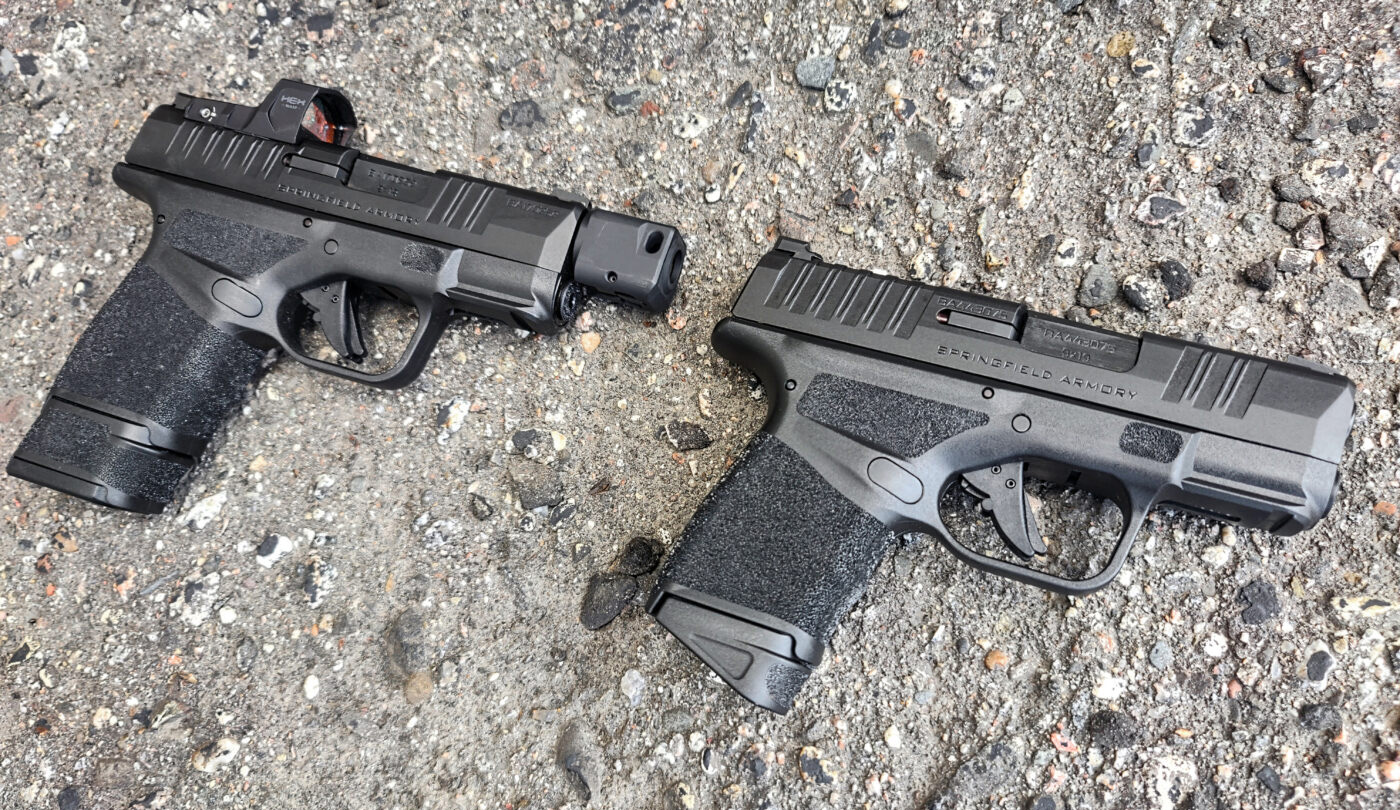 Within Springfield's own Hellcat portfolio lies two excellent choices: the original Hellcat and the much-upgraded Hellcat RDP (Rapid Defense Package). Based on the price and feature set for each, either one could be a perfect match for your needs and budget when it comes to everyday carry (EDC).
We'll look to see what is different between the two contenders, their similarities, and which one I've personally come to appreciate the most.
The Differences
When comparing the Hellcat and Hellcat RDP side-by-side, the biggest difference and elephant in the room is the RDP having a micro-sized red dot optic versus the original Hellcat having none. The RDP is outfitted with a HEX Wasp — a micro-sized red dot optic designed to pair perfectly with the Hellcat. However, there is the Hellcat OSP (Optical Sight Pistol) variant that can accept micro-sized red dot optics as well.
Through the lens of the Wasp, you can see the red dot as well as co-witness your factory tritium/luminescent U-Dot sights. The added benefit of a red dot like the Wasp is speed. Your faster sight acquisition can mean quicker splits when shooting steel and a swifter response to danger when presented before you.
While the factory U-Dot sights offer a fantastic iron sight picture, the rapid deployment of a red dot gives the RDP the edge overall, with the co-witnessing sights affording you the best of both worlds. The only potential downside to the micro-sized red dot optic is it could impede your ability to select a holster with some manufacturers, but not all.
An additional benefit of the Hellcat RDP is the addition of Springfield's compact and capable Self-Indexing Compensator. With it being self-indexing, it is always installed properly and will vent gases upward to mitigate muzzle rise and the felt recoil impulse, all positive attributes to your shooting experience for recreation, self-defense, or otherwise.
Moreover, if you opt to not utilize the compensator, you still have a factory threaded muzzle that is ready to accept a silencer. The only downside is the compensator and/or threaded barrel could be an impediment to your holster selection in some situations.
The Similarities
While we have noted a lot of differences between the original Hellcat and RDP, there are actually more similarities than distinctions between them. The weight is nearly the same – the original Hellcat is 17.9 oz versus 19.3 oz in the RDP. This is surprising because there are so many additional accouterments to the RDP. There is also a manual safety option for either model if you prefer to have that on your carry guns.
Also, both versions of the Hellcat boast Springfield's Adaptive Grip Texture for a sure grip on the sidearm in all types of conditions. While thinking of the grip, the actual dimensions of the frame; thus, the grip, are the same. So, if you are comfortable shooting one you will do just as well with the other.
To aid in that further, Springfield Armory also now produces extended 15-round magazines that give you a boost in capacity and very slight amount of additional length if you prefer a longer handle. This gives concealed carry holders full-size capacity in the micro-compact category. The included magazines of one 11-round and one 13-round extended magazine come with both the original Hellcat and RDP.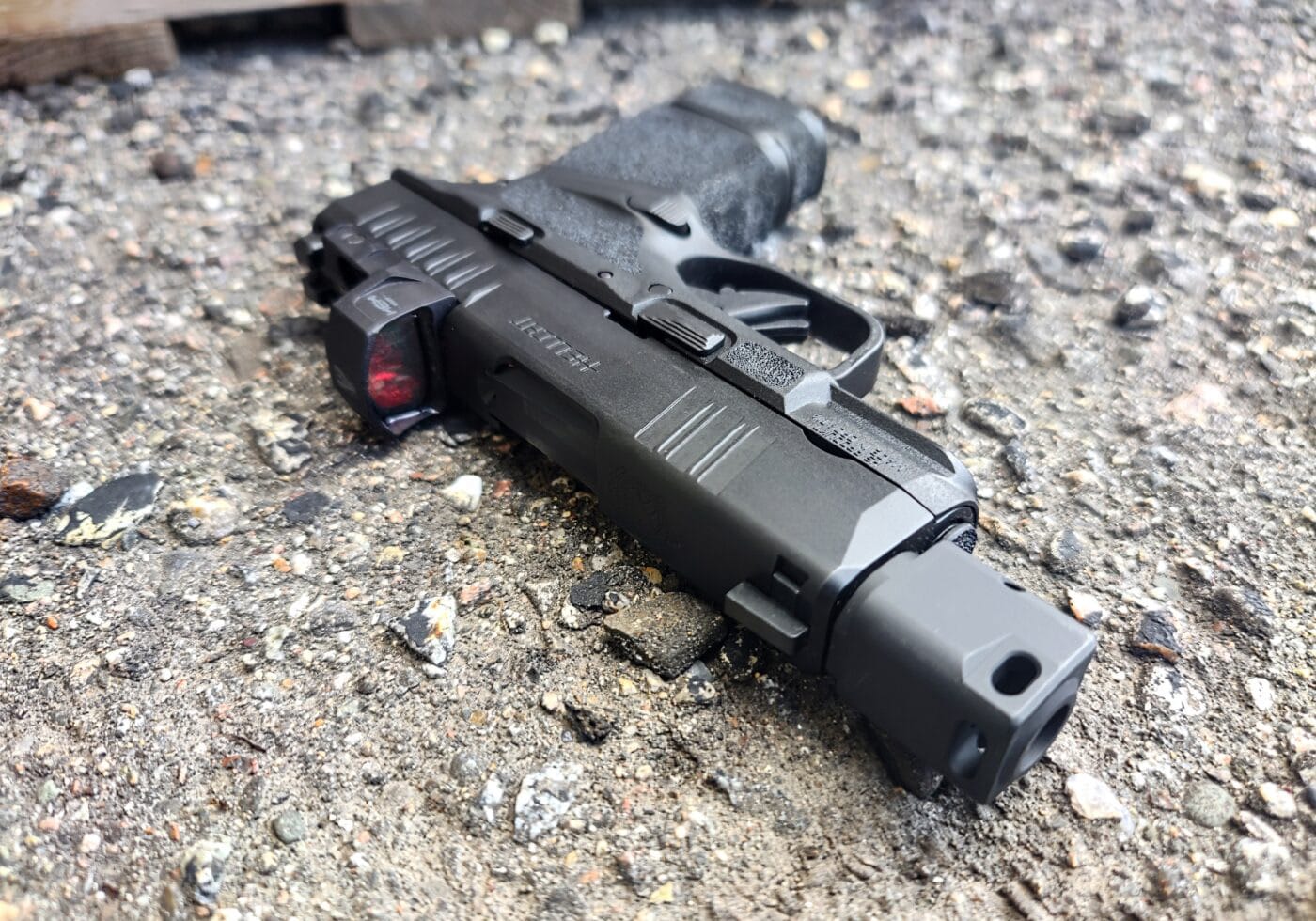 Another element both guns share is the tritium/luminescent U-Dot sight set, which offers a great sight picture. Additionally, the "Tactical Rack" rear sight can be used to rack the firearm in a time of need. Finally, there is an accessory rail on both for flashlights, lasers, or whatever accessory floats your boat.
Conclusion
So, the only question that remains is which pistol should you get? The original Hellcat in its purest form, or the RDP (Rapid Defense Package) with its bevy of upgrades? I believe the price-points for each put them into two different categories — as far as budgets are concerned — so they both have tremendous value for their asking price.
The original Hellcat has an MSRP of $587 and, compared to competing micro-compacts, it offers more features than most if not all of its competitors for a competitive price. The RDP with its included optic and compensator, likewise, has a list of quality features that would imply a $1,000+ asking price, but it retails for less with an MSRP of $962.
I believe if you are getting your first micro-compact, you should grab the original Hellcat. If your current arsenal is busting at the seams and you're looking for an upgrade, reach for the RDP. Both offer a lot of value for their asking prices. I would know because I bought both — a good option if you cannot decide!
Editor's Note: Please be sure to check out The Armory Life Forum, where you can comment about our daily articles, as well as just talk guns and gear. Click the "Go To Forum Thread" link below to jump in and discuss this article and much more!
Join the Discussion
Featured in this article
Continue Reading
Did you enjoy this article?
129