Review: Springfield Armory Stainless 1911 Mil-Spec .45
September 20th, 2021
6 minute read
When John Moses Browning first contrived the 1911 pistol telephones were rare, the size of modest beer coolers, and tethered to the wall. The 1911 predates the television, antibiotics and Silly Putty. By modern technological standards, the 1911 handgun should be a dinosaur relegated to a museum and forgotten.
However, some mechanical devices are simply transcendent. Browning's extraordinary 1911 embodies some kind of ethereal mechanical perfection. Even this deep into the Information Age, certain rarefied special operations units still opt for tricked-out 1911 pistols over much more modern plastic guns.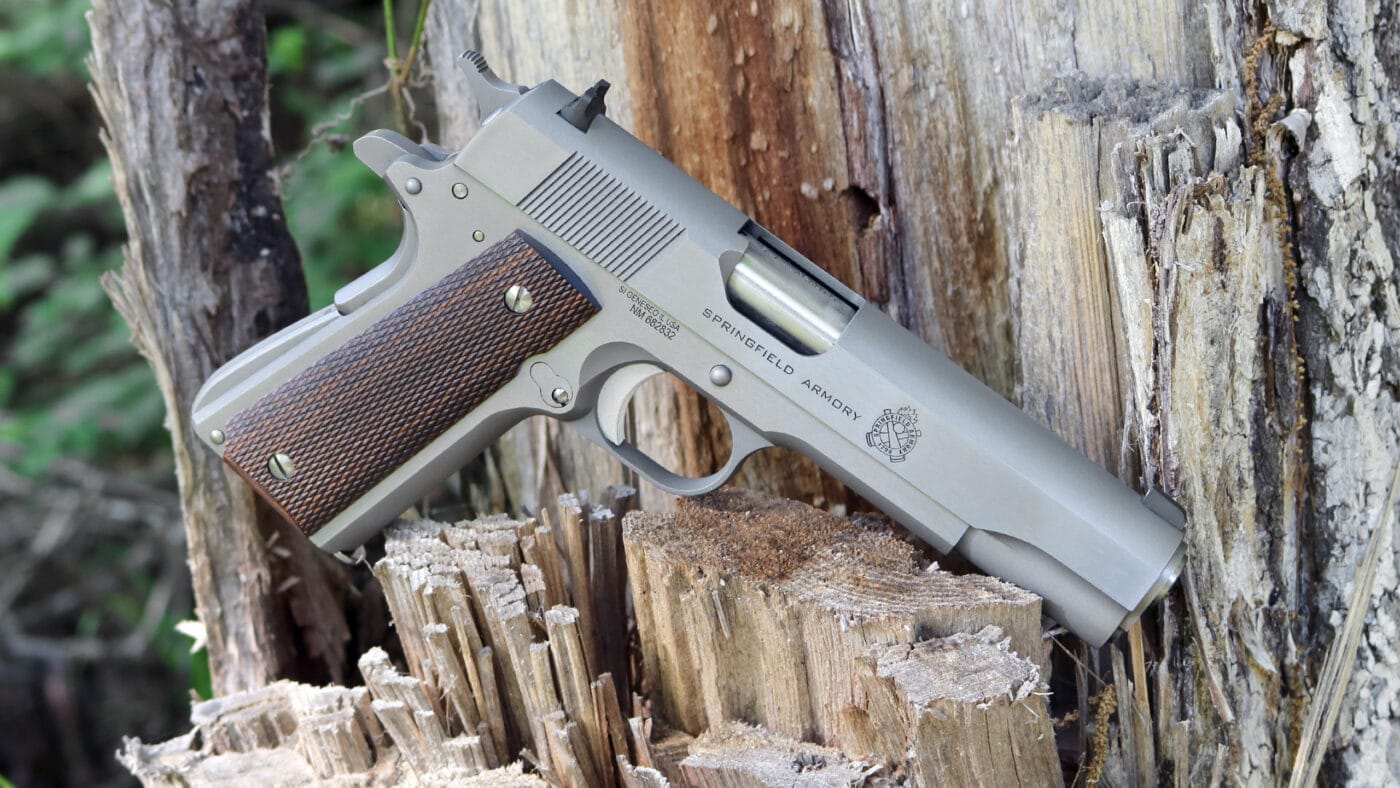 In few other aspects of contemporary society does the market cater to the many-splendored whims of the consumer better than does the modern American gun industry. Capitalism drives trends and innovation like lawyers chase money. If your proclivities wander to a chartreuse striker-fired pistol with an electronic sight, a built-in smartphone and a detachable bayonet, somebody out there will likely make it for you. However, despite all that simply breathtaking variety, there yet remains a solid niche for John Browning's classic centenarian masterpiece.
Is It Still Relevant?
My wife's grandfather sure thought so. His name was Eddie. He's passed on now, but Eddie was one of my heroes. He enlisted in 1940 as a homeless out-of-work hobo because the military was a reliable source of food. He left the U.S. Army in 1945 as a Master Sergeant with a whopping four years' service. That's because every single person he worked for was killed.
Eddie fought as an infantryman in North Africa, invaded Sicily with Patton, and drove up the Italian peninsula past places like Anzio, Salerno, and Monte Cassino. Along the way a 1911 pistol was his constant companion. Unlike most of us today who prattle on incessantly about guns, this guy actually used his.
A consummate craftsman, Eddie formed a new right grip out of a piece of Plexiglas harvested from a downed German Fiesler Storch observation plane. He sandwiched a picture of his young beaming bride underneath and kept her ever at arm's reach throughout more than two years in combat. He also built himself an extension for his holster that carried his pistol on his thigh in the manner of special operators today. He always was a man ahead of his time.
Eddie revered the 1911 for its reliability, pointability and knockdown power. He could get the gun into action quickly and trusted it with his life. Those same peerless attributes are made thoroughly manifest in the Springfield Armory Stainless Steel 1911 Mil-Spec pistol today.
Particulars
The Springfield Armory Stainless Steel 1911 Mil-Spec is the same pistol Eddie carried in combat with a few nods toward modern technology. The forged stainless steel construction keeps the gun essentially impervious to inclement weather and nasty spaces. Wipe it off periodically and give it a dab of lube whenever you think about it, and it should outlive your grandchildren's kids. This stainless steel hogleg is tougher than you are.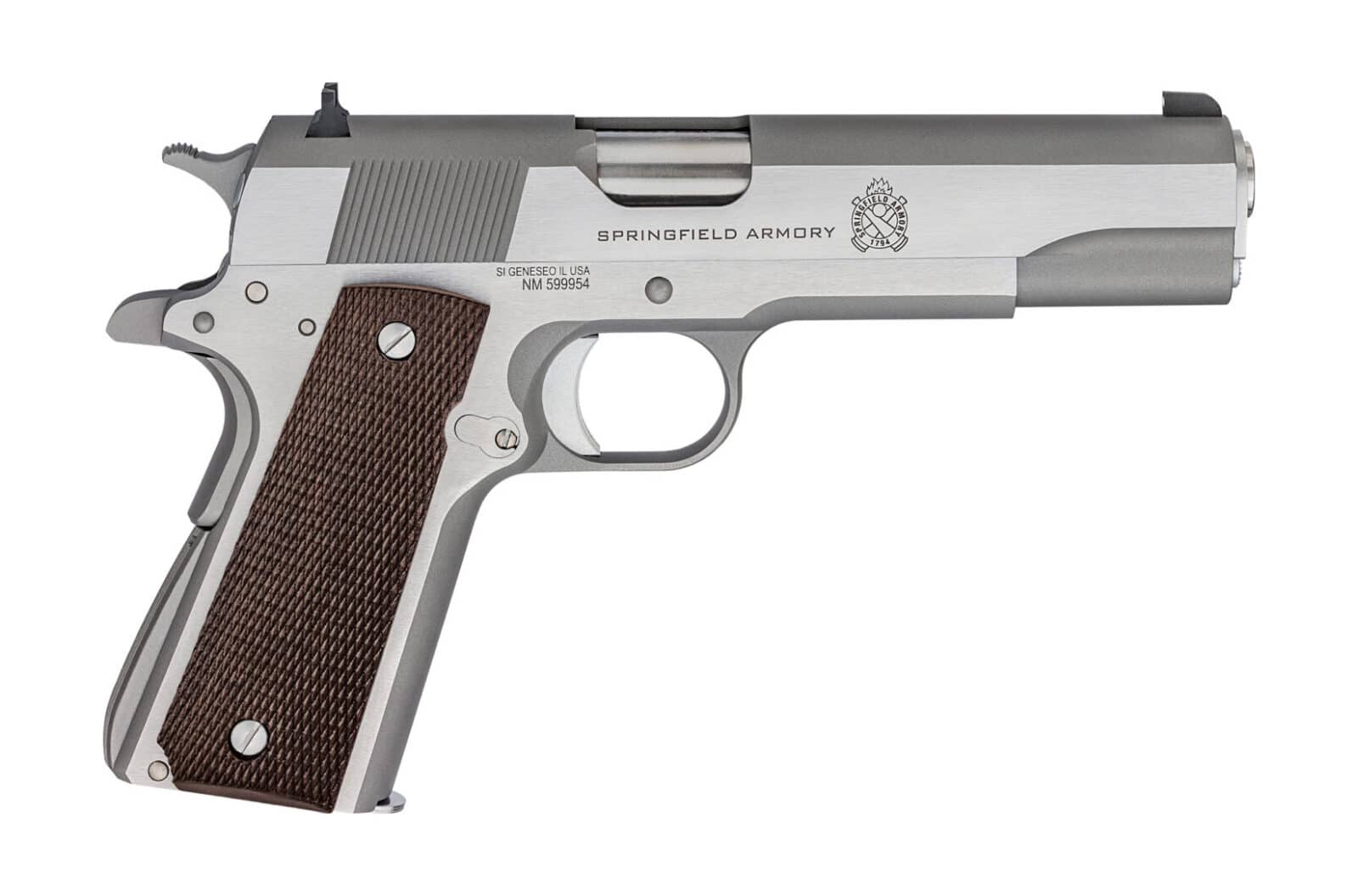 The ejection port is lowered and flared for enhanced performance. The practical result of this upgrade is that the gun ejects comfortably and reliably out to the right. For all its simply undeniable magnificence, a G.I. 1911 pistol consistently drops its empties right on top of my head. The Springfield Armory Stainless Steel 1911 Mil-Spec doesn't.
The blackened fixed combat sights feature three white dot inserts. Original G.I. sights circa the early 1900s were almost afterthoughts. There were too small and too nondescript for easy acquisition. By contrast, these Springfield Armory sorts draw your eyes, especially in a hurry.
The mainspring housing is arched just like that of Eddie's gun, and the short trigger accommodates any and all hand sizes as well. The spur hammer is easily accessed should you need to cock or decock the pistol manually. The thumb safety is mounted on the left side and perfect. The slide release is of the G.I. configuration and left side-only. The magazine release rides underneath your right thumb as it should.
The gun comes with a single-stack seven-round box magazine. Springfield Armory mags are as good as they come. Empty magazines leap free like a bullfrog out of the microwave.
Specifications
The specs on the Springfield Stainless Steel 1911 Mil-Spec are:
| | |
| --- | --- |
| Chambering | .45 ACP |
| Barrel Length | 5″ |
| Overall Length | 8.6″ |
| Magazine Capacity | 7 |
| Weight (unloaded) | 39.0 oz |
| Action | Single action |
| Finish | Stainless |
| MSRP | $849 |
How Does She Run?
The Springfield Armory Stainless Steel Mil-Spec 1911 is for a particular sort of shooter. At 39 oz, the gun is heavier than a polymer-framed micro-carry pistol like the Hellcat, to be sure. However, what you get for that mass is proper recoil management and a serious sensation of power under control.
Generations of soldiers, armed citizens and law enforcement officers have safely carried 1911 pistols in Condition 1. This means the chamber is hot, the hammer is back, and the safety is on. When I was first issued a 1911 pistol as a soldier this was strictly prohibited. Eddie told me that was the case back in his day as well. However, he also said he didn't care. He told me he placed his 1911 in Condition 1 whenever trouble seemed imminent even back in 1944. He said he skeletonized his leather G.I. holster to accommodate the hammer. He was the only soldier of his era I have ever heard of who did that.
Packing a full-sized 1911 pistol in Condition 1 gives you the best trigger on the fastest platform the industry can produce. Doing so safely requires training. However, it's not like time on the range is actually work.
Recoil even with those heavy 230-gr. bullets is not unpleasant, and magazine changes set the standard for everything else. The crisp single-action trigger is the stuff of dreams. So long as I did my part, this Information Age rendition of John Browning's classic combat beast easily grouped inside of a juice can lid at typical defensive handgun ranges. The gun was naturally reliable with everything I fed it.
Practicalities
The Springfield Armory 1911 Mil-Spec is a big steel gun. However, the state of the art in carry gear is up to the task.
During this review, I packed the Springfield 1911 in an Alien Gear Cloak Tuck IWB holster underneath my surgical scrubs at work and was quite comfortable. A proper stiff belt keeps the weight distributed, and the neoprene Alien Gear design is comfortable, safe, and fast.
If ever you have to use a gun for real, this one will reliably do the deed. For the fan of all things retro, the Springfield Armory Stainless Steel 1911 Mil-Spec offers Old World craftsmanship and sex appeal along with Information Age performance. It's heavier than some, but should you ever have to throw down nobody will ever accuse you of not bringing enough gun. The pistol moves quickly, shoots straight and hits like a freight train downrange.
They tell us that little mouse guns pushing super awesome high-tech bullets are nasty enough to bet your life on. However, there yet remains something to be said for simple Newtonian Physics. One half mass times velocity squared translates into raw kinetic energy. In the rarefied world of combat handgun cartridges, the .45 ACP has plenty of it.
As cool as Steel McQueen's hair gel and as rugged as John Wayne's underpants, the Springfield Armory Stainless Steel 1911 Mil-Spec is right at home on your belt or in your nightstand. It's classic iron for the Information Age. Make sure you check out Massad Ayoob's review of the Mil-Spec 1911 with a black finish.
Editor's Note: Please be sure to check out The Armory Life Forum, where you can comment about our daily articles, as well as just talk guns and gear. Click the "Go To Forum Thread" link below to jump in and discuss this article and much more!
Join the Discussion
Featured in this article
Continue Reading
Did you enjoy this article?
284