I don't know if you've noticed, but the Springfield Armory Store has some pretty ridiculously awesome shirts. In particular, I love the Men's Springfield Armory 2022 Hawaiian Gun Shirt. The bright-colored shirt features several "tacticool" and quirky bits of artwork that cover the shirt.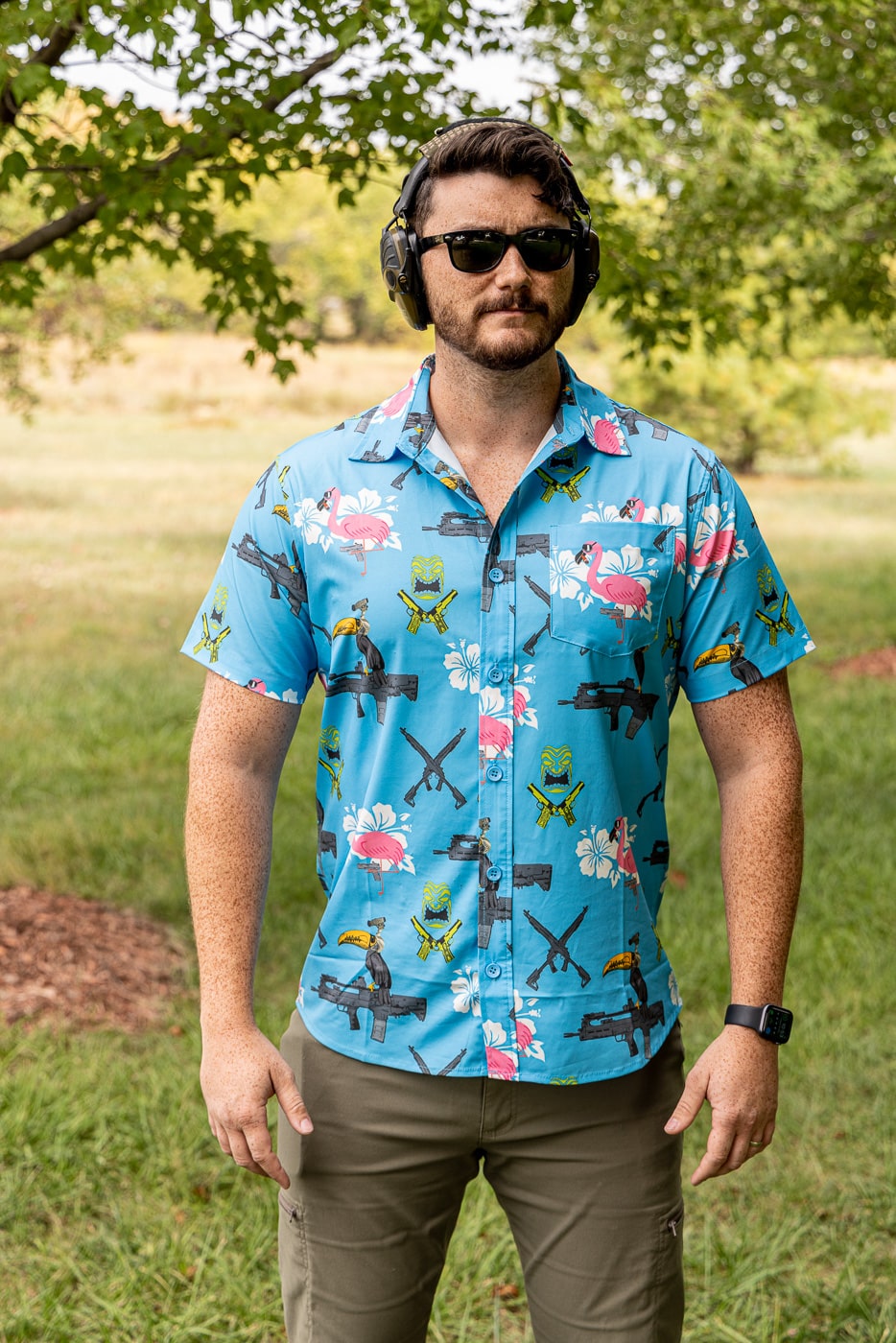 For example, there is a pink flamingo standing on one leg, and with a Hellcat held by the other foot. Also, there is a Hellion bullpup with a toucan atop its rail — and wearing a tactical helmet with a mounted PVS-14, no less! And what would a Springfield Armory Hawaiian shirt be without the venerable M1A? Don't worry, there is a pair of crossed SOCOM 16 rifles on there as well, along with some 1911 pistols. It's also important to mention that the shirt's material is light, making it perfect for hot summer days.
Springfield Armory Hawaiian Shirt Review
While this shirt is certainly cool, the real point of this article is not to talk about just one shirt, but instead to offer some advice for your concealed carry lifestyle. One thing that annoys me to my core is seeing gun-tubers with their concealed carry pistols in videos where they draw it and it's a full-size handgun with an SRO plus the lengthy Surefire X300 and an extended mag base plate with a flared magwell.
At this point, I've probably struck a nerve, but bear with me. The actually annoying part is that in the video they are wearing a skin-tight fitted muscle shirt, but you can see the gun and holster printing so badly it leaves them looking as if they have the world's biggest Walkman shoved in their waistband. This leaves me thinking "Yeah right there is no way they carry that, at least not in that shirt."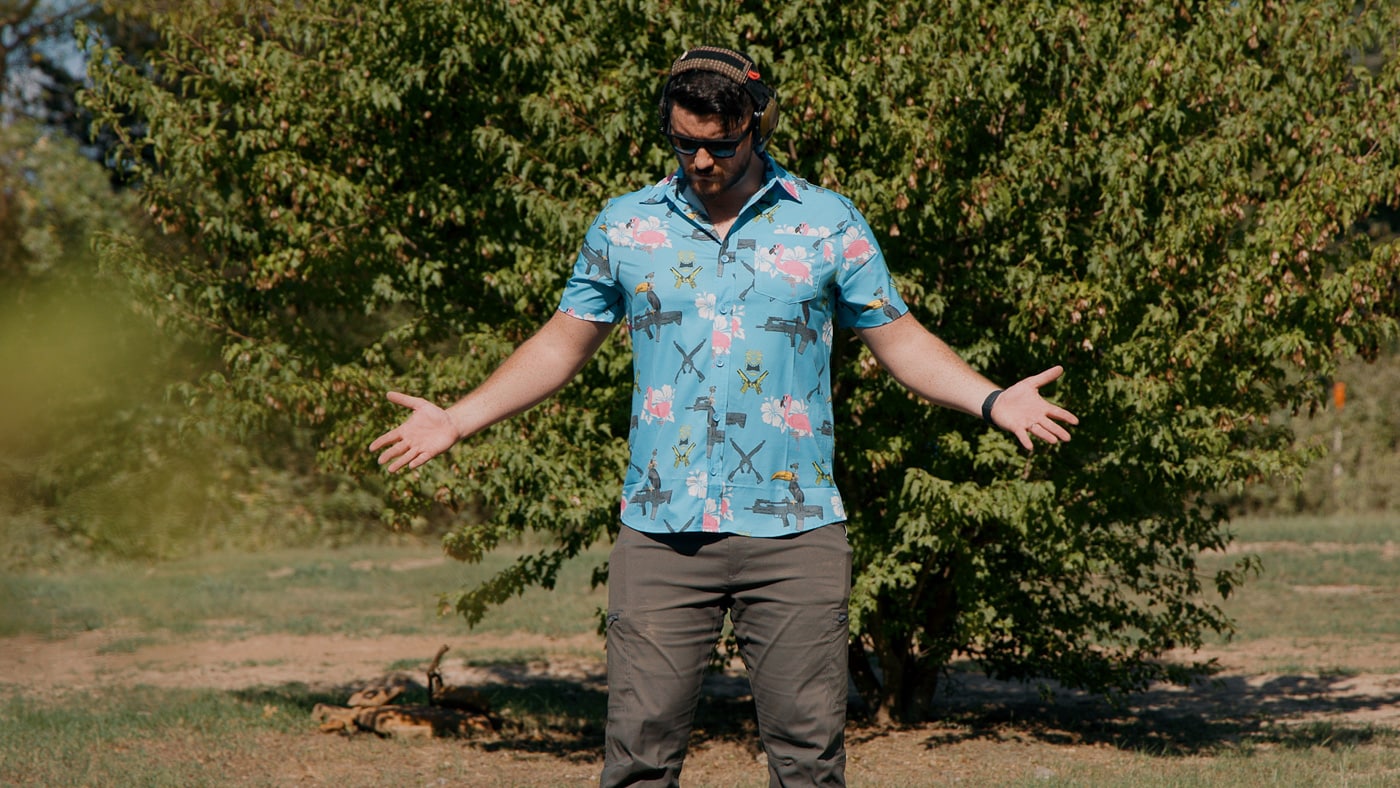 I mention this to say, whether you want to carry a micro pistol like the Hellcat or a full-size 5" double stack 1911 like the Springfield Prodigy, just be sure that you dress for success. If you want to carry a gun like the Prodigy with an optic and light, that's perfectly fine. Trust me, I carry both the Prodigy or my Hellcat regularly. Whatever you are going to carry, just dress appropriately. If you want to wear slim-fit t-shirts, carry a micro gun; if you don't care about looking as thin as possible, wear something loose and flowing to conceal your larger pistol.
My Choice in CCW Shirts
You might be wondering what I choose to wear. Well, I wear t-shirts that are loose-fitting, to a degree, which enables me to conceal my pistols comfortably. However, when I am looking for extra coverage, I choose a tactic that many before me have adopted. I wear a patterned shirt.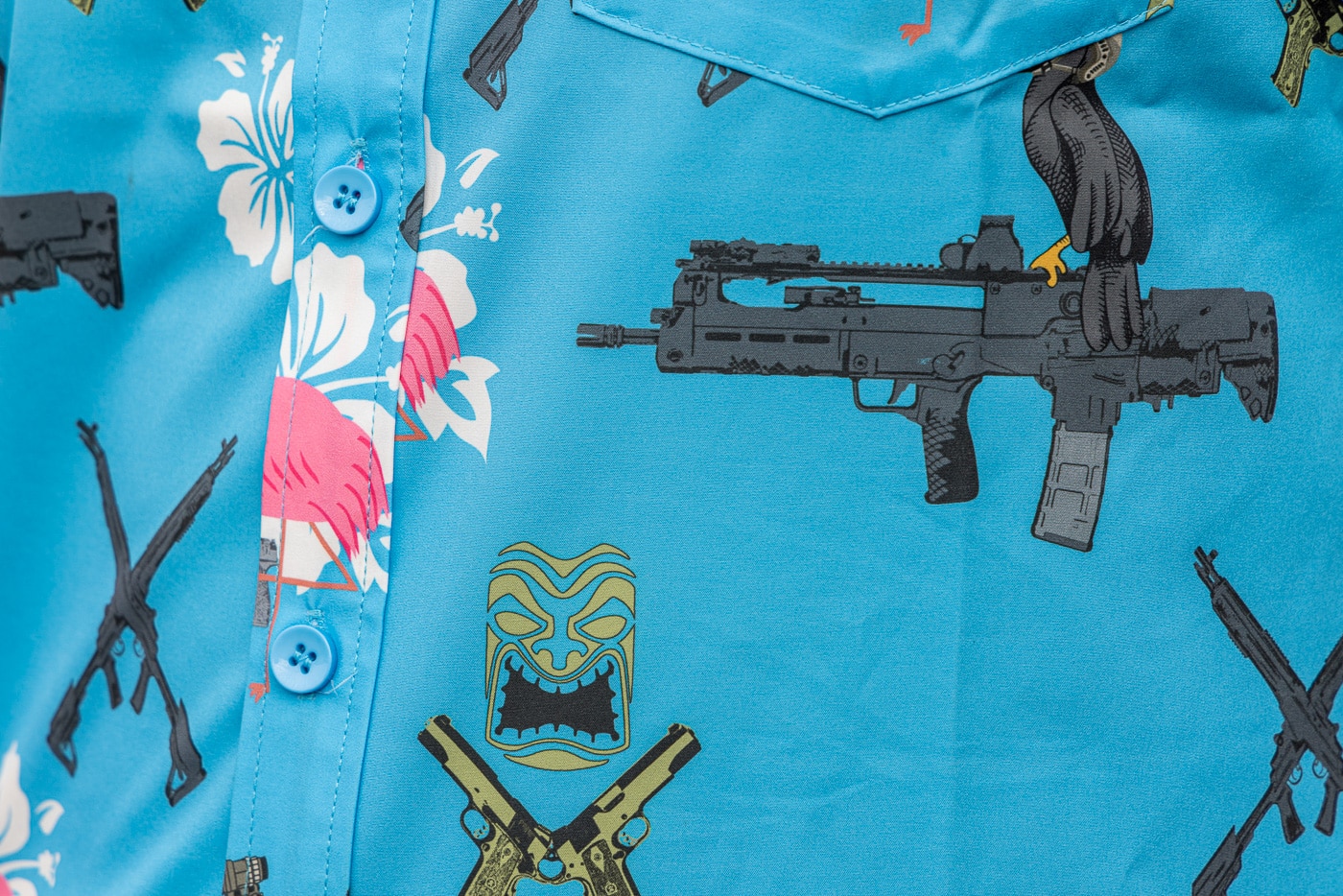 This brings me back to the floral shirt I mentioned at the beginning of the article. It does a superb job of hiding any printing that may occur with my pistol. The reason why is that the shirt pattern is so busy that any edges printing are swallowed up whole by the busy design on the shirt.
Hawaiian shirts are perfect for doing this and, if you don't want a bright-colored one or if you want to stay away from shirts with "gun stuff" involved in the print, fret not because shirts like this are popular amongst a wide range of people. That said, you can find ones that don't have guns and are monochromatic.
Other Clothing Options
I have had several people tell me that anytime they see a guy wearing a floral shirt, they just know he's a guy packing a gun. Well, I don't think that's true. I know for a fact I have several friends in my age group that wear floral shirts, and they do not carry a pistol.
But, if you are still of that belief system, don't worry — there are tons more options. As a rule of thumb, button-down shirts conceal better due to the buttons in the front. Patterns on shirts, no matter what the pattern, will also help in concealment.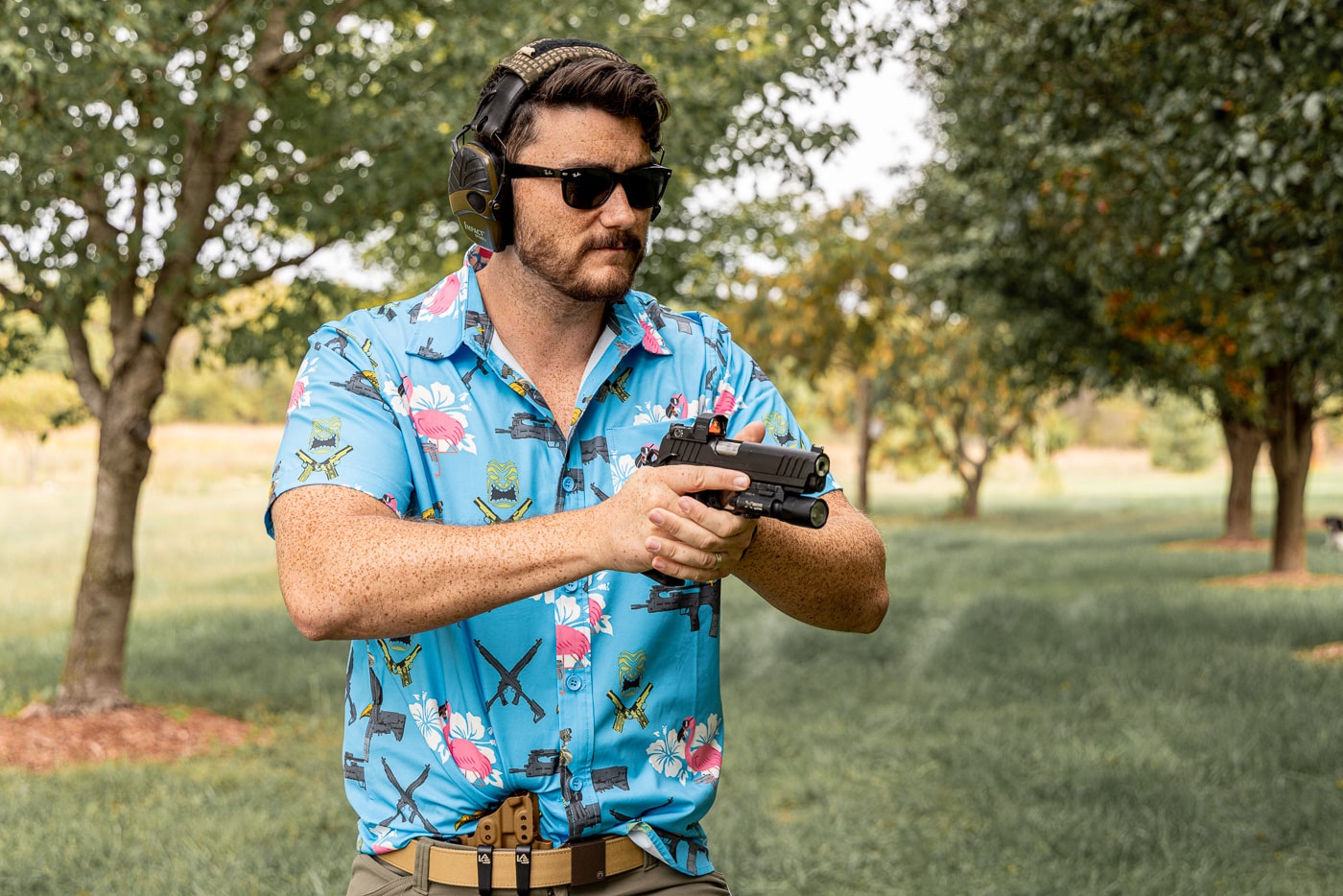 Here are a few patterns for which to look: plaid, stripes, polka dots, paisley, houndstooth, checkered, camo and even tye-dyed shirts. Other options are all the seemingly "goofy" ones, like patterns consisting of movie characters, donuts and other sundry things.
Conclusion
Hopefully, this piece has given you some ideas on how to conceal more comfortably and not be printing or outright accidentally flashing your pistol in public. Just remember, concealed carry is a lifestyle. To be at our best and have adequate performance, we need to train, be in good shape, be watchful of our surroundings and dress for success. If that means saying goodbye to wearing fitted tees a size too small, then so be it.
Editor's Note: Please be sure to check out The Armory Life Forum, where you can comment about our daily articles, as well as just talk guns and gear. Click the "Go To Forum Thread" link below to jump in and discuss this article and much more!
Join the Discussion
Featured in this video
Continue Reading
Did you enjoy this video?
223