The Armory Life Interviews:
Sen. Neil Anderson,
2A Patriot PAC Founder
February 8th, 2022
8 minute read
The Armory Life is honored to recently have had the opportunity to conduct an interview with Illinois State Senator Neil Anderson, a fervent supporter of all our Second Amendment rights and founder of the 2A Patriot PAC (political action committee).
We would like to thank Senator Anderson for taking the time to do this Q&A session with The Armory Life.
The Armory Life (TAL): Please tell us a bit about yourself, to introduce you to our readers.
Senator Neil Anderson (SNA): My "day job" is as a 15-year professional firefighter and paramedic for the City of Moline, where I hold the rank of Engineer. In terms of my public service, I'm a two-term member of the Illinois Senate where I have a record of common sense, bipartisan efforts promoting fiscal responsibility, supporting middle-class working families, and fighting for key Constitutional issues. I am a strong advocate for economic development and lead the way to promote public safety and support first responders. Currently, I am the Republican Spokesperson for both the Senate's Licensed Activities and Public Safety Committees and a member of the Senate's Commerce, Criminal Law, Energy & Public Utilities, and Transportation committees.
I was originally elected in 2014, and re-elected in 2018, and I currently represent the Illinois 36th District which includes all of Rock Island and parts of Whiteside, Carroll, and Henry counties. I was recently redistricted into the IL-47th District where I am seeking re-election in 2022. The new district includes all of Hancock, Henderson, Mason, Mercer, Schuyler, Warren, and parts of Adams, Fulton, Henry, Knox, McDonough, Peoria, Rock Island, Stark, and Tazewell counties. In both the old and new district I represent Springfield Armory in the Senate, which is a distinct honor for me!
I am the founder of the 2A Patriot PAC, a political action committee focused on recruiting, supporting, and electing candidates with impeccable records on all issues related to the Second Amendment, which is how my relationship with Springfield Armory has grown.
My wife, Brandi, and I reside in Andalusia with our two children, Steel (17) and Sophia (9). We are all avid athletes and sportsmen, strong supporters of Second Amendment causes, and love to travel and enjoy the outdoors together.
TAL: Why is the Second Amendment so important to you?
SNA: I grew up with firearms. From the time I was a little kid, I could remember waiting for the day I could go hunt with the older guys in my family. I love to be outdoors, I love the connection with the food my family eats, the things I have learned about the environment and being a responsible steward of the natural world. I love to shoot sporting targets because it's fun, and it's a perishable skill that I feel like I can constantly work to maintain and improve. And now, with my wife and kids, shooting and hunting is a whole family tradition that we enjoy. It's awesome to be outdoors together, unplugged, and being still while we hunt. And it's fun to be competitive and loud and enjoying each other when we're working on our shooting skills.
My father taught me that the Second Amendment makes that lifestyle possible. It was true then, and now as I teach that lesson to my children, it is even more true.
Frankly, I believe the Second Amendment is the key reason our Republic is still a Republic. The Second Amendment is, to me, the linchpin for making sure our inalienable rights are protected. We, as individual citizens, have the right to defend ourselves, our families, and our property in a way we could not if access to firearms was prohibited. And, without fighting to defend the Second Amendment, and demanding, "…shall not be infringed…" continues to mean shall not be infringed, we are in jeopardy of losing our individual and collective freedoms. I love America, and I am in awe of the liberties and opportunities we have as people and as a nation. If we give up the ability to defend those liberties and opportunities for ourselves, we are at real risk of losing them.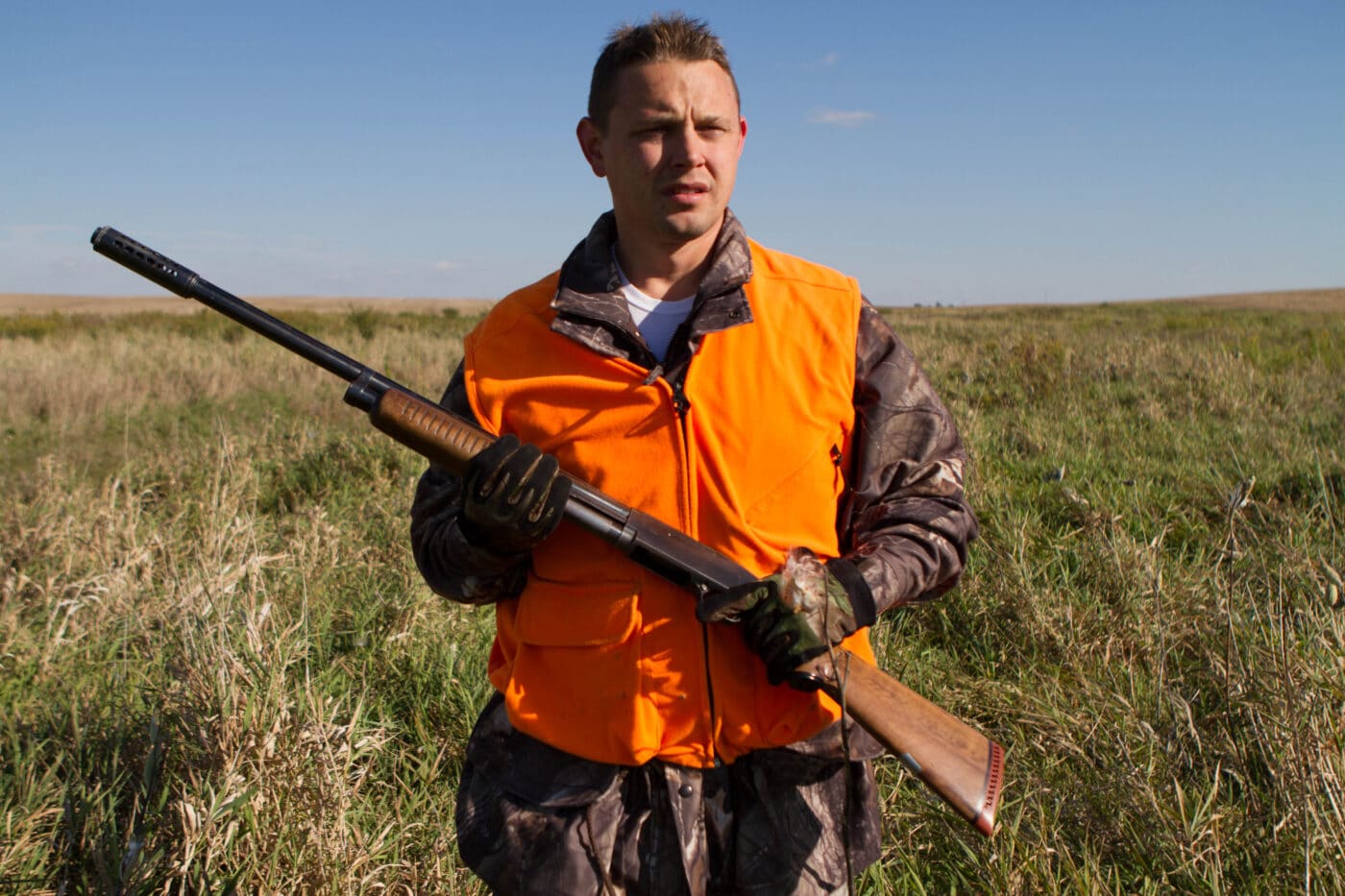 TAL: Can you tell us a little about the 2A Patriot PAC? What exactly is a PAC, and why did you create this?
SNA: The 2A Patriot PAC is a political action committee dedicated to identifying races where the Second Amendment is an issue, engaging to elect a candidate with an impeccable record of supporting the Second Amendment, and investing resources to help the candidate win the race.
PACs are formed to raise and spend money in support of electing (or defeating) a candidate. Typically, a PAC represents a corporate, labor, or ideological agenda and engages in specific messaging or logistical efforts applying to the targeted race they are engaged in.
I created the 2A Patriot PAC to focus on state legislatures and the gun policy debates raging in state government. Despite some great advocacy efforts being made to defend the Second Amendment, none of them are truly focused on state legislatures and electing 2A friendly legislators. The most egregious gun laws can be enacted at the state level and they typically do not face any scrutiny or pushback across state lines, allowing bad policies to take root and grow. I believe we have to stop the anti-firearm agenda from becoming laws only a judicial branch ruling can strike down in order to protect our rights.
TAL: While many of our readers might be aware of federal-level efforts on either protecting or restricting our gun rights, you are heavily focused on state-level efforts. Why is that?
SNA: Again, those who reject the premise of the Second Amendment are hard at work at the state level, working through their state legislators to enact an agenda infringing on our Second Amendment rights. It is crucial to create advocacy and action to support candidates who defend 2A rights and help them stand their ground legislatively as they fight to protect them.
TAL: How can our readers get involved to help this effort?
SNA: There are a lot of ways, formal and informal, to help us hold the line. Obviously, they can go online and join 2A Patriot PAC. They can engage in activism, by writing emails or filling out witness slips when legislation is being considered. They can contribute – time or money – to help our candidates. They can suggest candidates they'd like us to consider supporting, or even run for office themselves and invest directly.
The ways to help are practically limitless, really. If they have an idea and need support to make it happen, we can engage with them to see what's possible. The overarching goal is to defend the Second Amendment, and we will work with anyone who shares our goal.
TAL: What are your favorite firearms? Do you have any particular Springfield Armory favorites?
SNA: I have a shotgun, a Sears & Roebuck 12 Gauge, my great-grandfather gave me when I was a kid. It was my first firearm and it will always be my favorite because of what it represented – I was trusted enough to own and operate a weapon, I was able to put food on the table, and I was able and expected to defend our family if the need arose.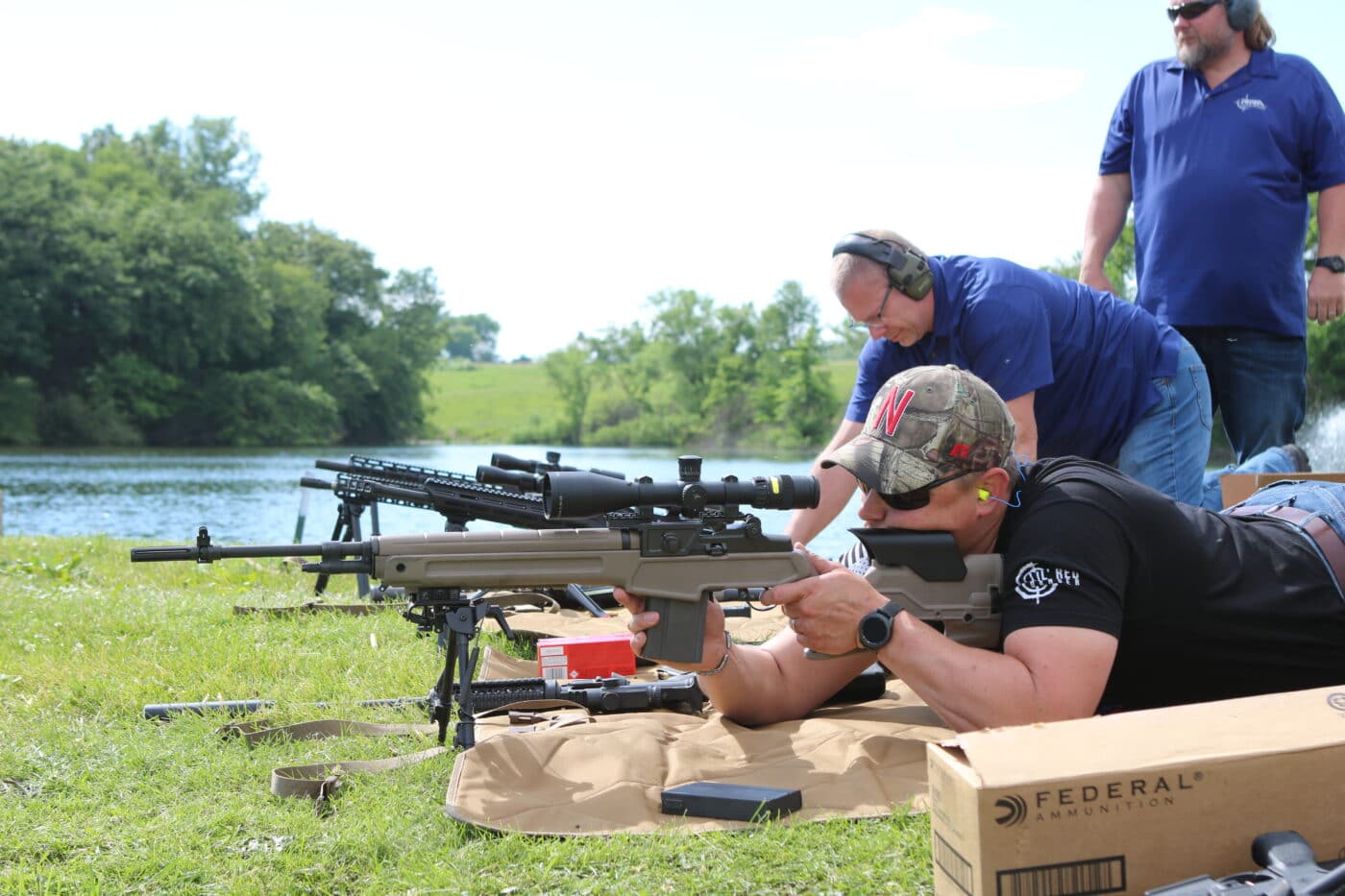 Representing the home office in the IL State Senate, I've come to love the hometown favorites made by Springfield Armory. I have a 1911, an M1A Standard Issue, a Springfield SAINT AR-15, and I've entered a raffle to win a Hellcat 3" Micro-Compact sponsored by my friend, Illinois State Representative Dan Swanson, who happens to represent Springfield Armory in the Illinois State House. I just got the chance to shoot the XD-M Elite 3.8″ Compact OSP 10mm w the HEX Dragonfly in the field with Rob Leatham a couple of weeks ago, and it will be my next purchase, for sure. There are quite a few more, and, as with my kids, they're all my favorite.
TAL: I understand that you recently had an opportunity to go shooting with Rob Leatham. How was that experience of getting to shoot with one of the world's greats?
SNA: We've developed such a great relationship with Springfield Armory, so I hope it won't be the last time I get to get out in the field with Rob. Besides getting the chance to shoot the XD-M Elite 3.8″ Compact OSP 10mm w the HEX Dragonfly in the field, shooting with Rob was amazing. His ability to teach, tweak, and train is so natural the lessons are immediately ingrained. We had fun, I learned a lot, and the knowledge he shared – without any kind of attitude or ego you might expect from one of the most successful professional shooters around – was awesome. You guys are great partners and so committed to the Second Amendment, so I just can't say enough about what your leadership means to the community.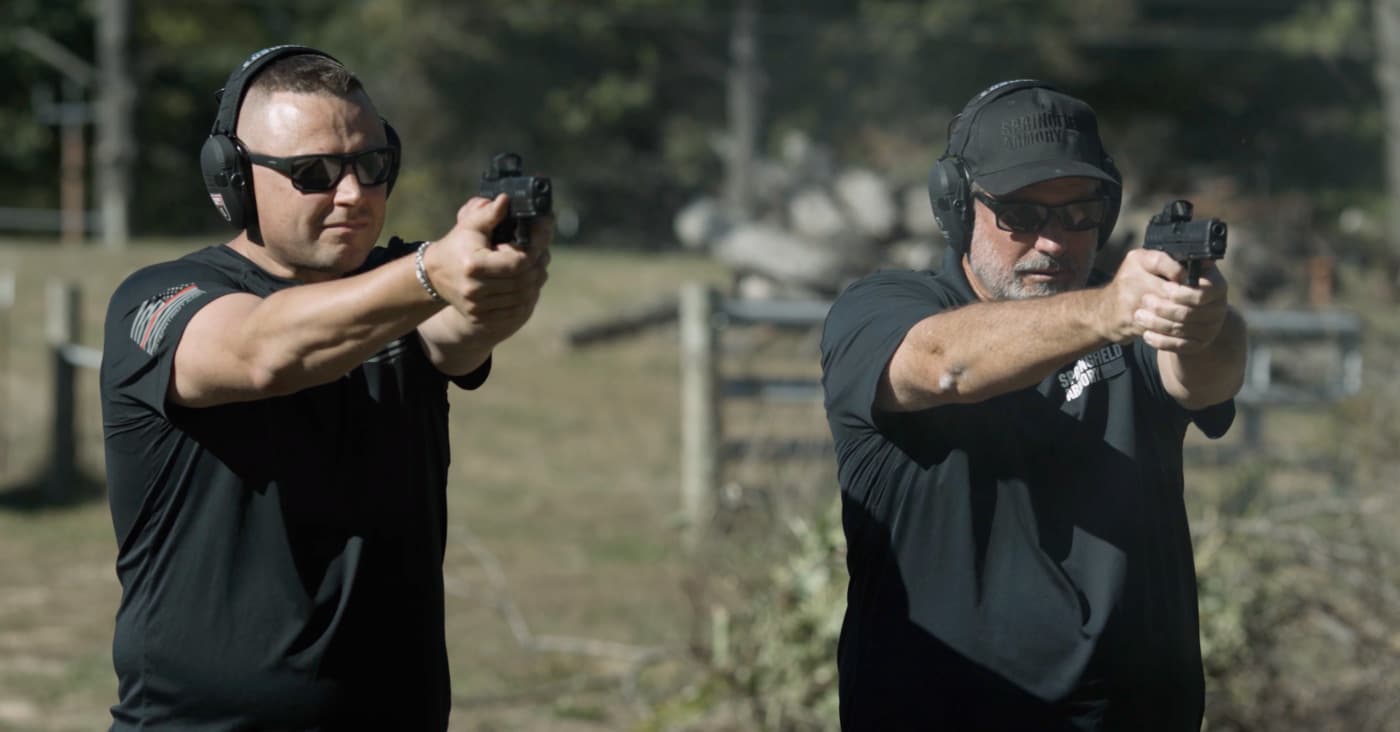 TAL: What do you see as the future of the Second Amendment? How will the efforts of the 2A Patriot PAC change things now, and into the future, in your opinion?
SNA: I wish I could be more positive, but I have to say I see the Second Amendment coming under heavy fire from now on, and it's just going to get more intense. There is such a disconnect between people and firearms, it exists more and more every day. In 1776, very few Americans didn't have firsthand experience with a gun. Today, fewer and fewer do have firsthand experience with a gun. And, as we know, people tend to fear what they don't understand.
I am glad we have national, statewide, and regional organizations dedicated to representing, teaching, and promoting gun owners and ownership. On the other side, there are more and more organizations coming on line to restrict or eliminate gun ownership by private citizens. The 2A Patriot PAC believes infringing is infringing, and it is an existential danger to our basic freedoms to allow it to happen. 2A Patriot PAC fits into a necessary niche within the group defending our rights and it is growing every day. By making sure, every election cycle, we are electing representatives who understand and support our Second Amendment rights, I am hopeful we can keep the balance on the side of gun owners.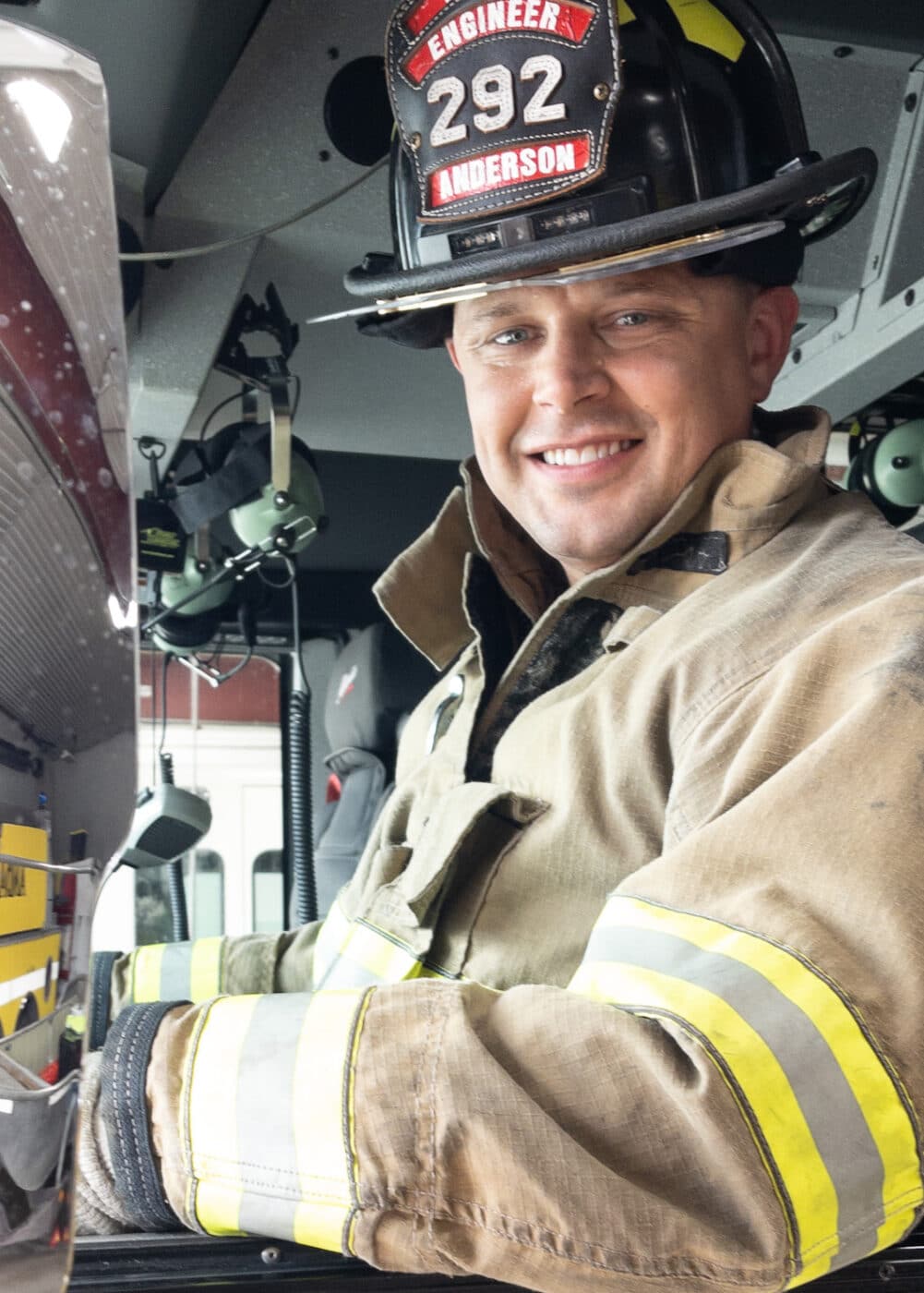 TAL: Thank you so much for your time, and for your tireless efforts on behalf of the Second Amendment.
SNA: Thank you for all you're doing and for promoting our efforts in your forum. We have to keep working together, united, to defend the Second Amendment. We can have our internal squabbles here and there about what the best ways to do it are, but we have to keep our eyes on the prize. Defending the Second Amendment is THE most important political action we can take, and electing officials who understand the foundational importance of the Second Amendment has to be our focus in every single election. People can dismiss it when we say, "The Second Amendment is the key to defending all the rest of them," but it really is the cold, hard truth. I look forward to working with Springfield Armory for a long time to promote and defend that truth, and having your readers on board is one of the long-term keys to our success in defending the Second Amendment.
Editor's Note: Please be sure to check out The Armory Life Forum, where you can comment about our daily articles, as well as just talk guns and gear. Click the "Go To Forum Thread" link below to jump in!
Join the Discussion
Featured in this article
Continue Reading
Did you enjoy this article?
84