Vortex Spitfire HD Gen II 5X Prism Scope Review
February 10th, 2021
6 minute read
One size fits all. That's a noble goal, to be sure. However, people are just so maddeningly heterogenous. Whether the consumer product is a car, a hat, a chair or a leotard, it can be a daunting task to put truly plus-sized versatility into a generic package. However, I think Vortex might have just figured it out.
In this Vortex Spitfire HD Gen II review, I examine an optic that comes pretty close to the mythical "one product for all applications" marketing pitch.
The Problem
It's a timeless quandary. We want to outfit our tactical guns with a rifle red dot sight such that they maneuver quickly and well in confined spaces. However, we also want to be able to reach out a football field or two should the hogs be rooting about at a distance. What's the point of owning a gun that will hit reliably several hundred meters distant if we can't exercise them properly?
There are lots of commercial products designed to do just that, gun sights with illuminated reticles that are spin adjustable from 1X to 6X or so. The rub is that these low-power variable optics are typically the size of a mature banana and cost more than my first car. What's a brother to do?
In the past you just had to choose. You could land a proper magnified optic or scope that was a boat anchor to hump and was always catching on stuff. By contrast, you could mount up something tiny and unobtrusive that wouldn't let you see clearly past the next room. Now thanks to Vortex you can land a shockingly compact 5X optical sight that lets you reach out to the practical limits of your rifle. They call this nifty little rig the Spitfire HD Gen II.
What's in a Name?
The WWII-era Supermarine Spitfire fighter plane helped save the British from the genocidal Nazi hordes. The Spitfire HD Gen II optical gun sight from Vortex is itself also a preternaturally capable machine. It comes in two flavors. One features 3X magnification. The other is 5X (the one I am testing here). The footprints are similar, though the 5X version is about half an inch longer.
The Spitfire HD Gen II is a fixed-power prism scope optimized for AR rifles firing 5.56mm rounds. Magnificent glass offers superb resolution, minimal color aberration, and trendsetting sharpness and light transmission all the way from one edge to the other. The red illuminated reticle features a dozen brightness levels, two of which are NVG compatible. The sight runs about forever on a standard CR2032 battery you can get at Walgreens.
The objective lens is 25mm (1″) across and offers a 23.3′ field of view at 100 yards. 1-MOA adjustments require nothing fancier than a case rim and offer a 200-MOA span in both windage and elevation. Adjustment turrets are flush and unobtrusive. Retained rubber lens covers keep everything tidy.
The AR-BDC4 reticle is a precision instrument designed to help establish quick holdovers out to 650 yards. Glass etched subtensions are measured in MOA. This thing packs as much technology as the space shuttle and in so doing offers exceptional capabilities is an absolutely tiny package.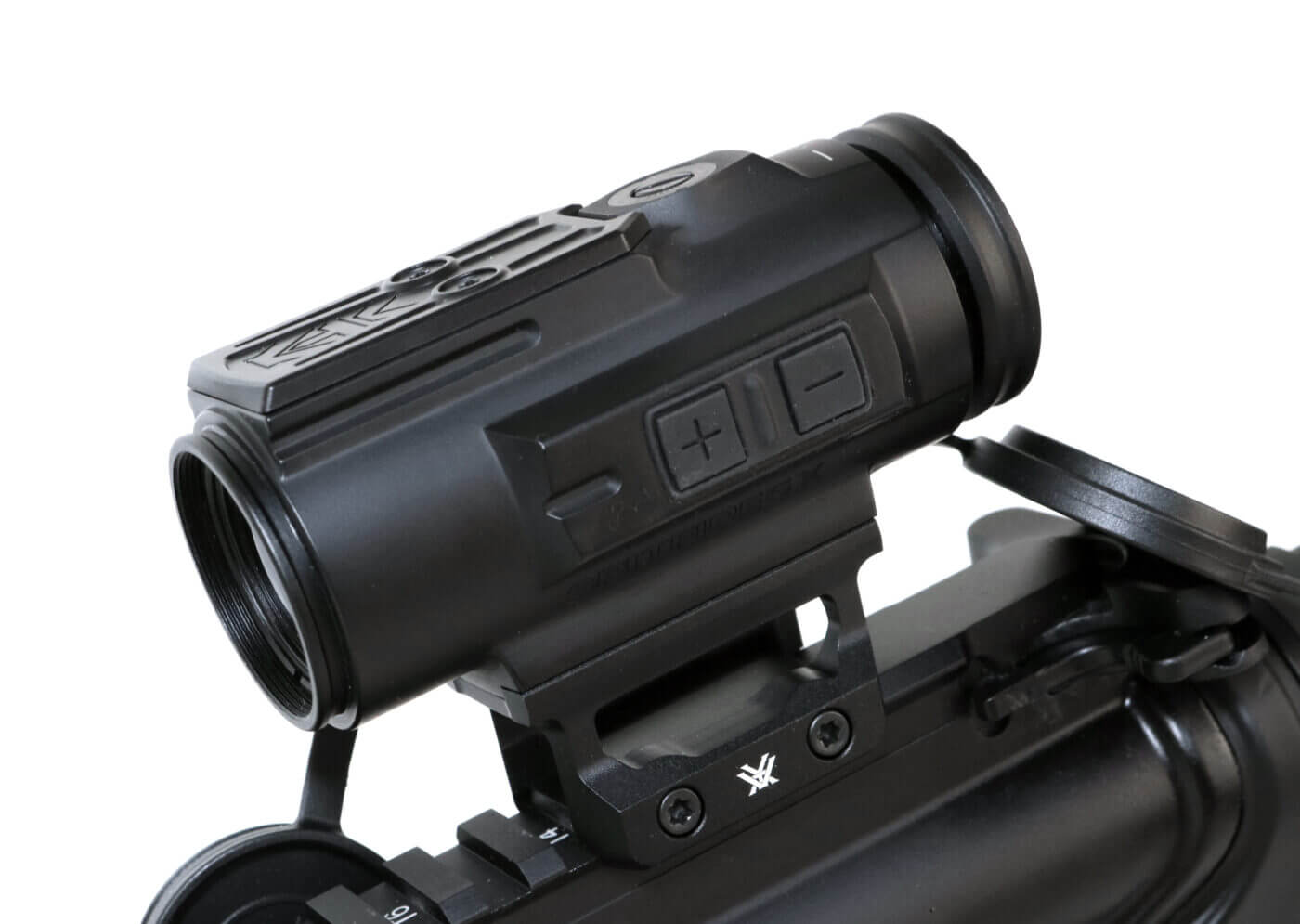 The most impressive aspect of the Spitfire HD Gen II is its compact size. Perfect optical clarity and genuine long range capabilities now come in a package most typically reserved for an unadorned red dot sight. The sight is a mere 3.6″ long and weighs a modest 10.3 oz. However, when you peek inside it really brings distant targets in tight.
The eye relief for the Spitfire HD Gen II is a generous 2.7″. Many prism sights sport an abbreviated eye relief, but the Spitfire HD Gen II offers ample breathing room. When combined with the illuminated horseshoe reticle, this makes for an exceptionally versatile device. Proper magnification lets you run the gun out to the limits of the cartridge. The 5X scope also includes a mounting shoe up top for an MRDS (Micro Red Dot Sight) should you wish to include a dedicated close range solution.
Spitfire HD Gen II Specifications
| | |
| --- | --- |
| Magnification | 3X, 5X |
| Objective Lens Diameter | 25 mm (0.98″) |
| Eye Relief | 2.7″ |
| Field of View | 23.3′ @ 100 yards |
| Mount Type | Multi-height (low mount & lower 1/3 co-witness) |
| Adjustments | 1 MOA (200 MOA max elevation & height) |
| Length | 3.6″ (as tested) |
| Weight | 10.3 oz (as tested) |
| Includes | Rubber lens caps, CR2032 battery, multi-height mount system, Torx multi-tool, lens cloth |
Home on the Range
I mounted the Vortex Spitfire HD Gen II atop my trusty Springfield Armory SAINT rifle. It has all the critical features you'd want like nickel boron-coated fire controls, a Melonite-treated barrel and bolt carrier group, and a premium 16″ tube with an optimized 1-in-8 twist, while eschewing the fluff you don't. All that can be had at a working man's price. My SAINT and I have been around the block quite a few times together.
Mounting up the Spitfire HD takes about a minute with the included riser mount and T-10 Torx multi-tool. Depending upon your application the sight can be used with or without the removable riser. Some guns need the extra height, others don't. Vortex has you covered either way. With the riser mount attached underneath the Spitfire HD my Saint accommodates my particular anatomy quite nicely.
Zeroing was painless, and I was banging out rounds in no time. The miniaturization to the whole rig is interesting, but in a good way. The reticle seems small, relatively speaking, but this keeps your optical workspace from becoming unduly cluttered. Once you get the sight synced to your rifle and take its measure the whole rig is intuitive, comfortable, capable and fast.
For CQB applications you could even activate the illuminated reticle and keep both eyes open. Having one peeper 5X magnified and the other raw is an acquired taste, to be sure. However, every AH64 Apache pilot in the world does just that as part of their day job. It might eventually give you a headache, but it's an option in a crisis.
The legendary Vortex VIP warranty is the icing on the cake. Vortex will repair or replace your sight for free if something ever fails. Their warranty is unlimited, unconditional and extends for the lifetime of the sight.
Conclusion
The Spitfire HD Gen II prism optic really is the perfect complement to the Springfield Armory SAINT rifle. During this review, I found that the lightweight, capable and shockingly compact Vortex Spitfire HD Gen II 5x is legitimately fresh and different. Sometimes big things do come in small packages.
Editor's Note: Please be sure to check out The Armory Life Forum, where you can comment about our daily articles, as well as just talk guns and gear. Click the "Go To Forum Thread" link below to jump in!
Join the Discussion
Featured in this article
Continue Reading
Did you enjoy this article?
45