An Atypical DMR? The Wylde SAINT Edge ATC
May 8th, 2022
8 minute read
I have a soft spot in my heart for accurate AR's. I've been assembling and competing with them in one way or another for a long time, so this is something that is near and dear to my heart.
The formula for most of them is pretty straightforward. Just about all of your accuracy-driven AR's follow the same format of a free floated barrel, a handguard screwed to the upper receiver, and so on. On the other hand, the Springfield Armory SAINT Edge ATC takes an out-of-the-box approach to accuracy, so I jumped at the opportunity to check out the "standard" version of the platform (make sure to read the review of the coyote brown SAINT Edge ATC Elite model).
Accurized Tactical Chassis
The first thing I noticed pulling the rifle out of its soft case was the heft. Without any accessories attached, the standard black model ATC weighs 9 lbs., 8 oz. This weight is due to the unique chassis system that integrates the handguard into the lower receiver instead of it screwing onto the upper like most conventional AR's.
The upper receiver drops down into the chassis, secured initially with takedown pins, while tension screws underneath lock everything in like the action screws on a bolt-gun. This creates an extremely rigid foundation that almost completely isolates the barrel from any outside influence.
Another unique feature of the ATC system is its Accu-Tite Plus system. This tensioning system utilizes two conical set screws to eliminate any play between the upper and lower receiver. Make sure these are snugged up to remove any excess play between the receivers, which will help maximize accuracy. The rifle ships with a long ⅛" Allen key so that the screws can be tightened up to remove any slop in the system.
Moving on, the barrel that Springfield Armory uses on both versions of the ATC is a Ballistic Advantage 18" mid-length barrel with a 1:7 twist rate. I would characterize the contour as "medium heavy", similar to a SPR profile barrel, which will help resist flexing and maintain consistency as it heats up.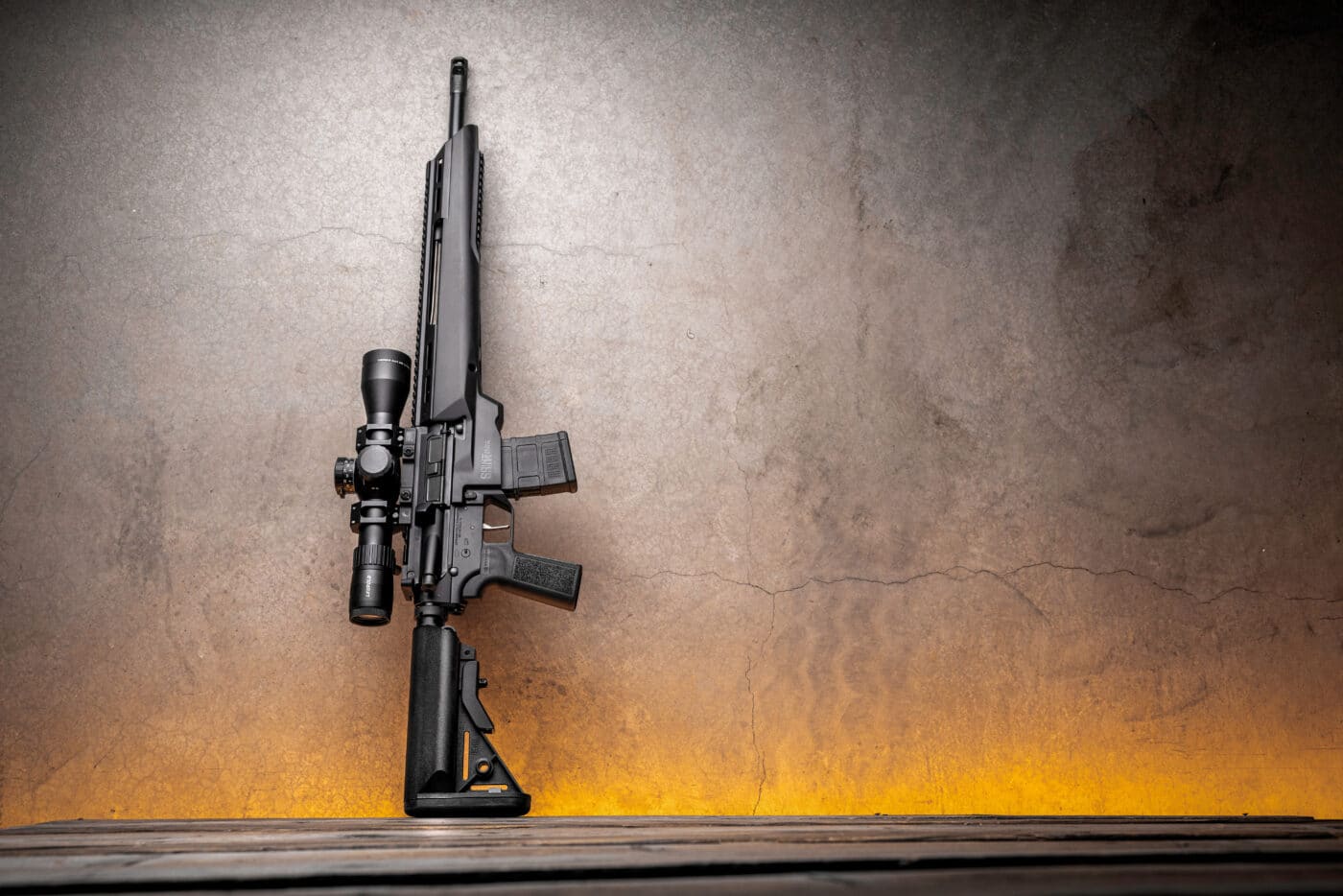 There could be some extended arguments over the efficacy of 1:7 vs 1:8, but in my experience the difference in twist rates doesn't truly matter. The individual barrel characteristics (every barrel is a rule unto itself), the ammunition quality and the shooter's own skill level are going to have a greater impact on performance than twist rate in my opinion (to read the author's article on the 1:8" twist rate of the SAINT Victor, click here).
In breaking down the gun, it looks to me as though the ATC shares some familial connections with my SAINT Victor rifle, with a similar muzzle brake, gas block, gas tube, BCG, barrel nut, receiver extension, etc. That being said, all of those components are pretty bombproof, and I wouldn't necessarily change a thing about them — except for the trigger.
The standard ATC differs primarily from the ATC Elite in the color, the buttstock assembly type and the trigger. The trigger in the Elite model is a LaRue Tactical MBT flat two-stage trigger, while the standard ATC has what is described as a flat modular match trigger.
For me, I didn't feel like the OEM trigger was going to allow me to get the most out of the rifle's performance, so I swapped it out. Triggers seem to be the first things that get swapped out on an AR, so I didn't see it as that big of a deal to drop in one of my Schmid Tool 2-stage triggers with a JP Enterprise spring kit.
One could budget about $100 or more for a new trigger, or simply pony up $350 more over the $1,549 MSRP of the standard ATC to upgrade to the ATC Elite that provides the LaRue MBT trigger, a fully adjustable B5 stock and the cool-looking Cerakote finish. Considering that the cost of those options by themselves would equal over $500, it's not a bad deal.
The Set-Up
For testing, I fitted the ATC with a Burris RT-25 optic resting in a 20 MOA one-piece mount from Badger Ordnance. Thanks to the integral rail in the forend, I was able to attach my Atlas CAL bipod. This gave me plenty of magnification for anything I wanted to shoot at and a stable foundation for consistency. All kitted out to hit the range, the total weight of the rifle was now 12 lbs., 7 oz., unloaded.
I used some Federal Gold Medal Match loaded with 77-gr. Sierra MatchKings (SMK) as well as some Federal Match loaded with 69-gr. SMK. I would've liked to have had a larger selection of ammunition for the review, but I had to make do with what was available.
Range Time
Springfield Armory guarantees the ATC rifles to shoot sub-MOA at 100 yards with match-grade ammo and a skilled shooter, so I was anxious to put that to the test. I first got the gun on paper with some Winchester 55-gr. ball; nothing special, but it did produce a respectable 1.5" group.
Switching over to the match ammo really showed what this rifle could do. I'll spare you the blow-by-blow of each shot, but this rifle lived up to its accuracy guarantee by a generous margin. To be honest, I thought I was going to have to work hard to get the best groups I could for the article, but the ATC easily hovered right around ½" for a majority of the groups.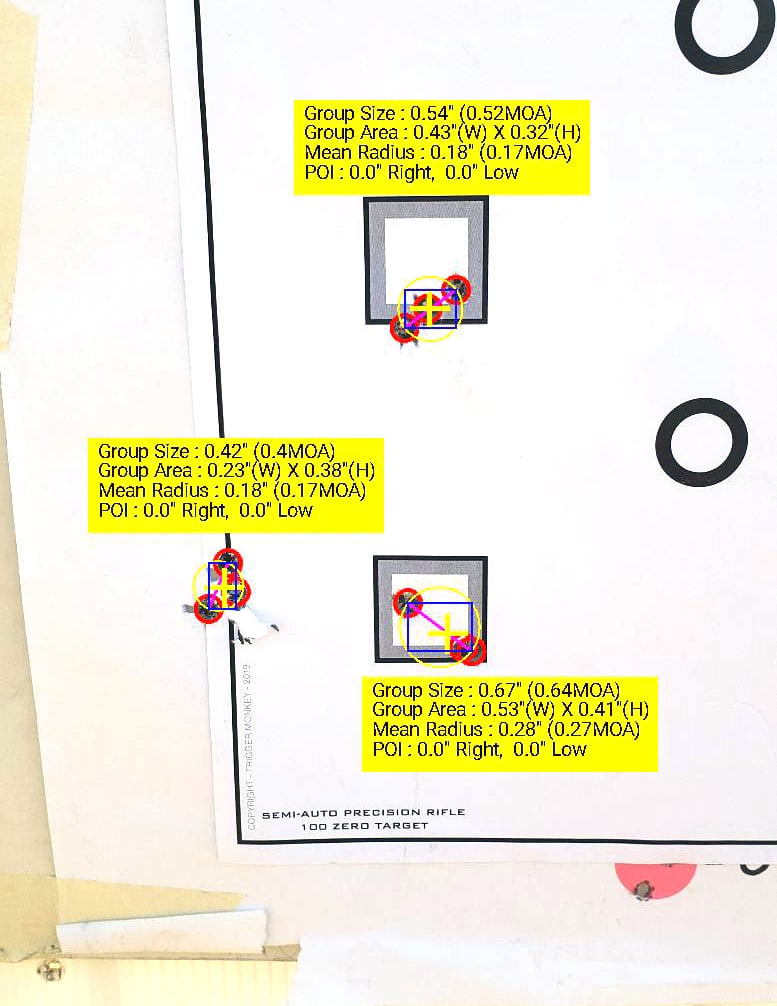 Both types of Federal Gold Medal Match ammo were .223 Remington spec, so their muzzle velocities were on the low end of what I would've preferred for long range. But, they still got it done out to 400+ yards. I was able to easily stack five rounds on a half-size IPSC target at 474 yards that was about the size of a softball.
I finished off the last of the match grade ammo by working on shooting drills using my tripod and Armageddon Gear Game Changer, where the wide, fat forend lends itself well to being stable. It also helped that the chassis has a built-in barricade stop to keep the magazine from getting fouled if I decided to push the rifle hard into the bag or directly into a barricade.
| | | | |
| --- | --- | --- | --- |
| Ammunition | Muzzle Velocity | Best Group (3-shots) | Average Group (9-shots) |
| Federal 77-gr. GMM | 2,341 fps | .42" | .71" |
| Federal 69-gr. GMM | 2,554 fps | .42" | .54" |
Groups were measured center to center fired from the prone at 100 yards. Velocity is the average of five shots fired over a MagnetoSpeed chronograph attached to the muzzle.
In addition to the match grade ammo, I still had a couple of boxes of the standard Winchester ball ammo left over, so I decided to work on the closer targets. That wide, fat forend filled the hand really well, similar to a traditional bolt-action target stock, so shooting both kneeling and sitting was pretty comfortable. The integral sling mount at the 6 o'clock position was also in the perfect spot to attach my loop sling to give me some more stability, making hits on the 300-yard torso target seem effortless.
M-Lok

Attachments

While the ATC chassis features M-Lok attachment points for accessories, and it is a great feature, I would have liked to have seen more of them on there. If the end-user needs to attach a light or laser using the M-Lok slots, some pre-planning is needed when selecting the mounts. Due to the location of the slots, traditional accessory rails can't be used because there wouldn't be enough clearance for a rail grabber to fit between them.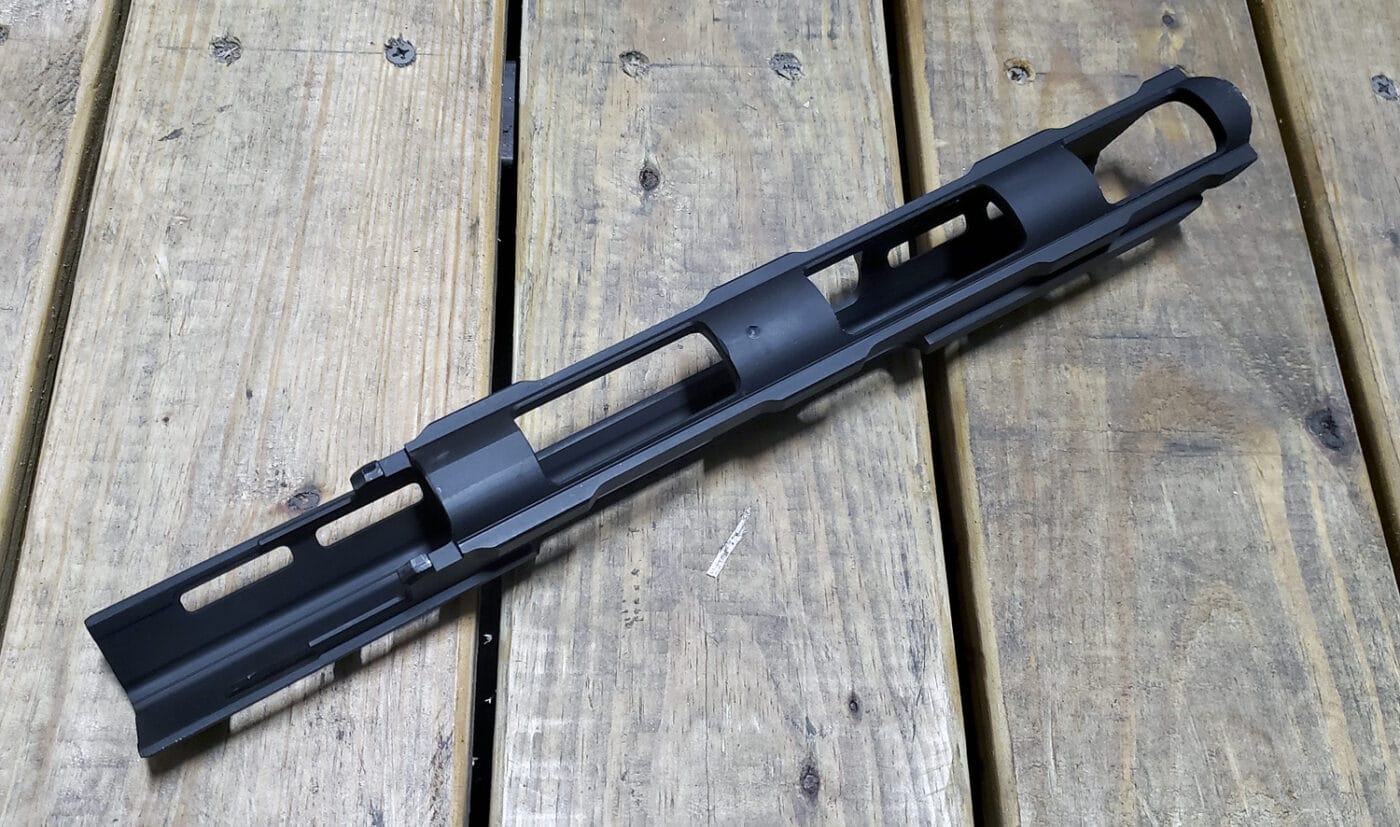 Frankly, this is the case with most handguards that have similar 45-degree mounting locations, though, so offset light mounts or offset accessory rails are really the best option. I was able to take a Magpul Scout Light mount, invert it, and mount a Streamlight weapon light, which put the light at almost the 9 o'clock position in relation to the barrel.
The chassis also has a single M-Lok location on the bottom. Again, I would've liked to have seen at least one more slot here to make it easier to run accessories for tripod attachments like those from RRS or Magpul. It's still possible to rig something up, but we're getting into the realm of stacking accessories.
Closing Thoughts
I believe some people are going to be skeptical about the rifle's capabilities as a long-range and competition rifle because it doesn't look like a traditional AR. Some time ago, people had similar misgivings about what would become the M16 because it didn't really look like a traditional rifle — and look how that attitude has changed.
While the ATC is a little heavy for a run-n-gun rifle, for DMR-type matches the heft of this rifle can be forgiven due to its performance. In fact, the trend in precision rifle shooting for a while now is for rifles to be heavier to soak up recoil and be more stable for barricade stages. Likewise, for varmint or predator hunting from a fixed position, with next to no recoil, it would be easy to spot any misses and make immediate corrections.
For me, the performance of the Springfield Armory ATC can't be denied. The accuracy is phenomenal, the ergonomics are good and, with an MSRP of $1,549, I think it's a very good deal.
Editor's Note: Please be sure to check out The Armory Life Forum, where you can comment about our daily articles, as well as just talk guns and gear. Click the "Go To Forum Thread" link below to jump in and discuss this article and much more!
Join the Discussion
Featured in this article
Continue Reading
Did you enjoy this article?
55