Blackhound
2-12X

Emerge Review
May 18th, 2023
8 minute read
In this Blackhound Emerge 2-12×44 review, Wayne van Zwoll examines the scope's features, including its versatile power range, 34mm main tubes with illuminated reticles, and reasonable price point. Initially skeptical, van Zwoll delves into the Emerge's details with a hands-on evaluation informed by a lifetime of experience.
Sometimes I'm wrong. Less often, I'm surprised I'm wrong.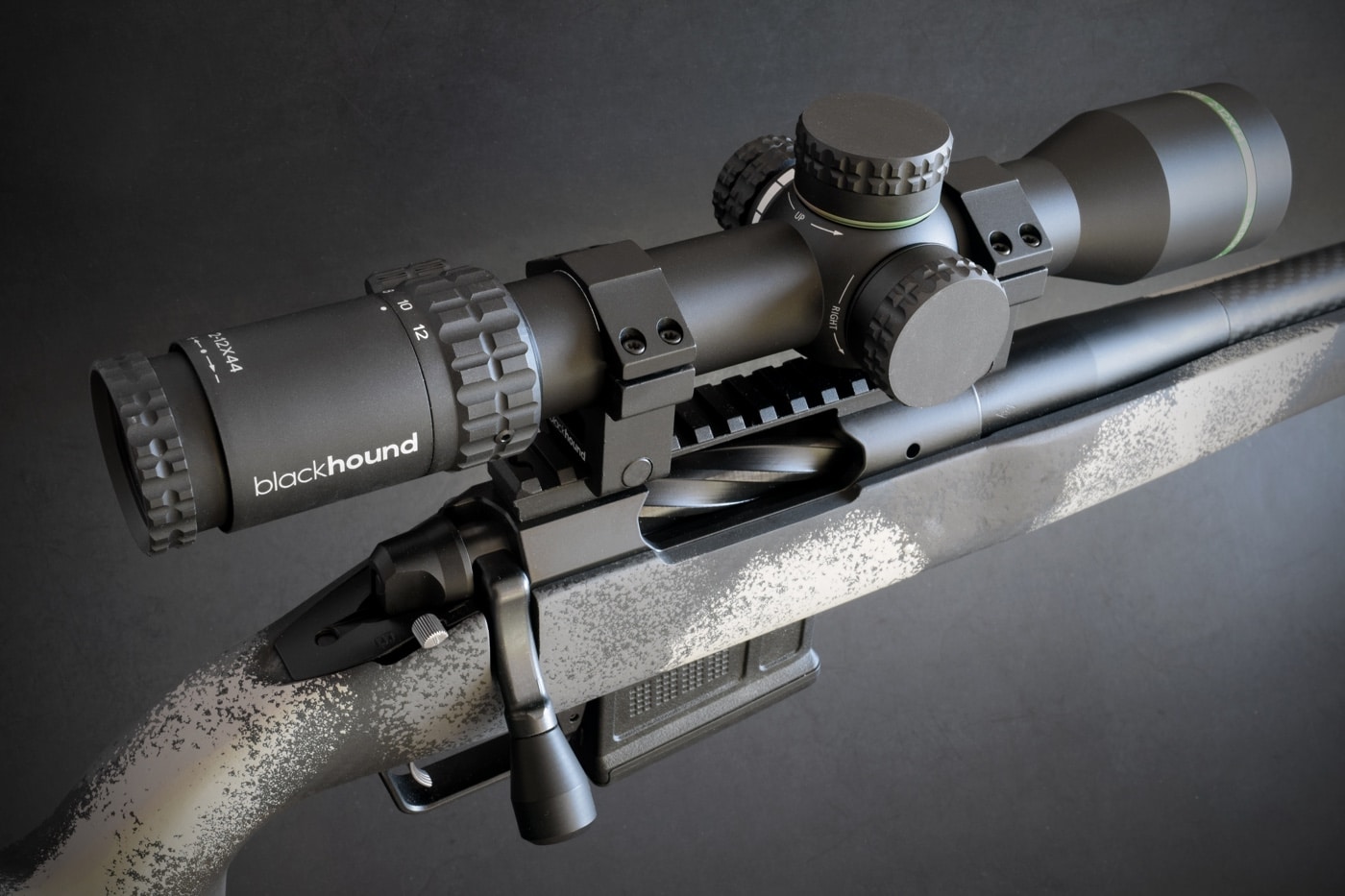 "Yes, I'd like to see that scope. But honestly, it may not be my type." The Blackhound label was new to me. It had a, well, tactical ring. I've tired of the word. Webster's pairs it with short-range military objectives or "cleverness or skill" applied to such ends. As riflescopes have no will, they neither plan nor execute military action.
To explore this riflescope with clarity and charity, I put name aside and assumed its purpose was simply to help me send bullets accurately.
First: The Details
The 2-12×44 Blackhound Emerge is one of a series of three. The other two? A 3-24×56 and a 4-32×56. All feature 34mm main tubes with illuminated reticles in the front or first focal plane (FFP). You can choose MIL or MOA (milliradian or minute of angle) graduations on the W/E (windage/elevation) dials and the reticle. The 3-24×56 and 4-32×56, you've surely noticed, have "eight-times" power ranges. That is, top magnification on the power ring is eight times bottom magnification. The 2-12×44 not only has a tidier 44mm objective but a more limited "six-times" power range.
Now, describing a six-times power range as limited can mislead. Until recently, six times was an impossibly broad span! For decades, the three-times range of 3-9X scopes was adequate. Then, threatened by marketing teams and accountants, optics engineers managed to cram a four-times spread into scopes. Hence the 4-16x and 6-24x.
"More! More!" clamored sales departments, noting shooters couldn't wait to empty wallets for wider ranges and necessarily bigger tubes. Five-times and six-times scopes followed. The 1" tube that had wowed shooters raised on 7/8" Lymans and Noskes was all but relegated to second-tier sights. Recent 34mm, 35mm, 36mm and 40mm scope tubes beg the question: Why? The law of diminishing returns and economy of scale whistle for a halt to this bigger-is-better scrum. Scopes now dwarf rifle actions, add pounds, not ounces to rifle weight, and are priced higher than many hunting rifles. Scope rings for these giants fetch more than I once paid for new scopes!
Enough venting. A big tube does have advantages. All else equal, bigger internal lenses improve resolution. If bigger lenses don't follow a boost in tube size, the erector assembly has more room to move, so you get a wider range of adjustment from W/E dials. Either way, people who put the innards in scopes get additional space for tools and fingers. That makes them smile. And long-range shooters fret little over thicker, heavier hardware.
Upsizing the 30mm tube to 34mm is a logical step, equivalent to the jump from 1" (25.4mm) to 30mm. Blackhound has committed to it — not just for the Emerge series, but for FFP Evolve variables (3-18×50 and 5-25×56, MIL or MOA) with adjustable objectives, and for a Genesis 1-8×28 hunting scope with fixed parallax zero and half-minute W/E clicks. These retail at $450 to $900.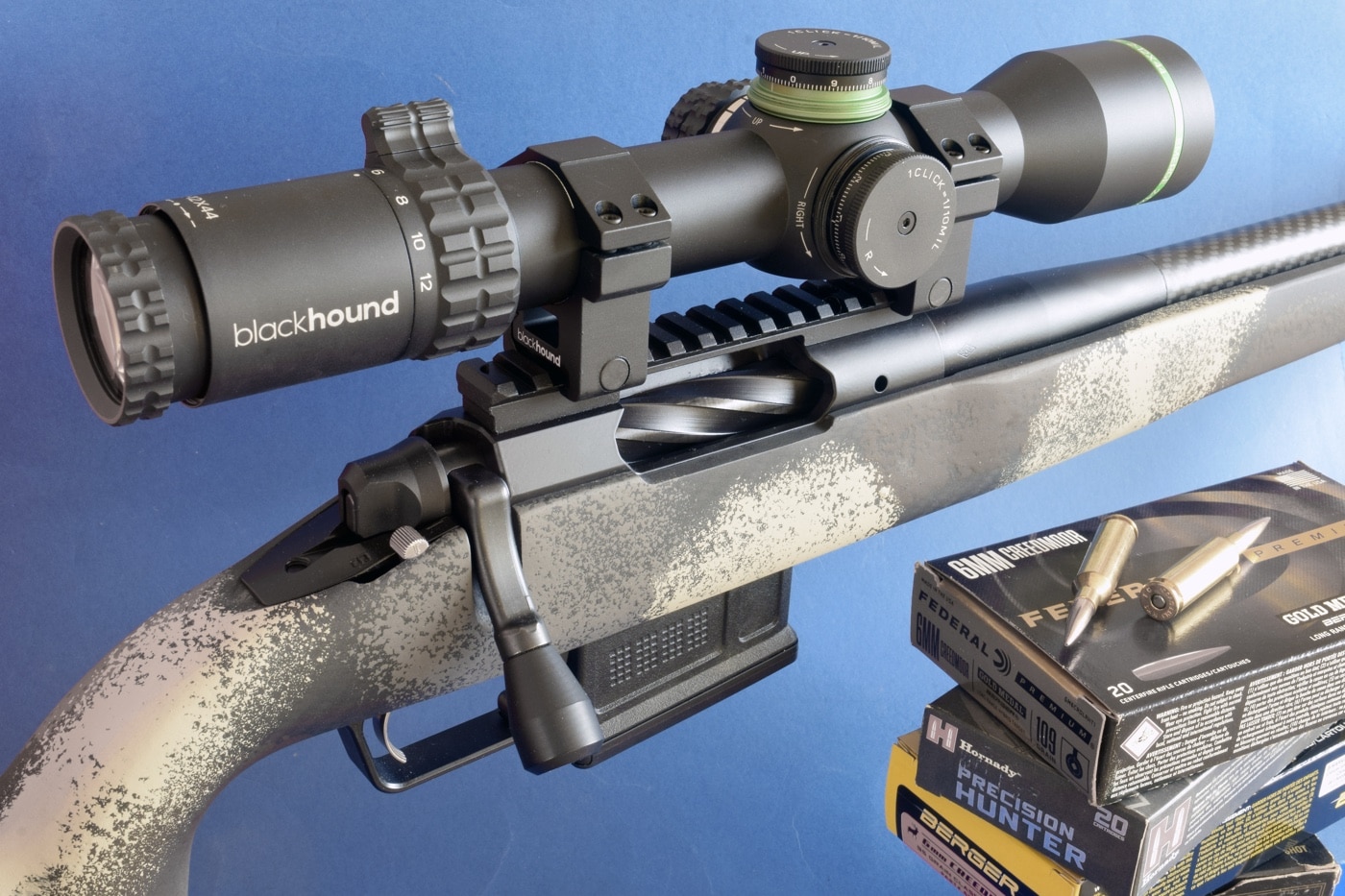 Such prices surprised me. Most 34mm scopes with similar features cost more, some much more.
List prices for the top-tier Emerge trio brought another surprise: At $1,300 to $1,800, could these scopes match the quality of sights tagged above two grand?
Hands-On
A 2-12×44 Blackhound soon arrived. I preferred it to its more powerful siblings for three reasons. Except in rimfire prone competition or long-range events, I've seldom used more than 12x magnification in riflescopes. Even for pestering prairie dogs, it's enough. As high power makes targets grow, it boosts the bump of pulse and distortion caused by mirage. In dim light, it reduces brightness. The 2-12's modest 44mm objective lens permits use of lower rings than needed under 56mm glass. At 29 ounces, this scope weighs 6 less than its brethren. Finally, only the 2-12's W/E dials wear caps, a must on a hunt.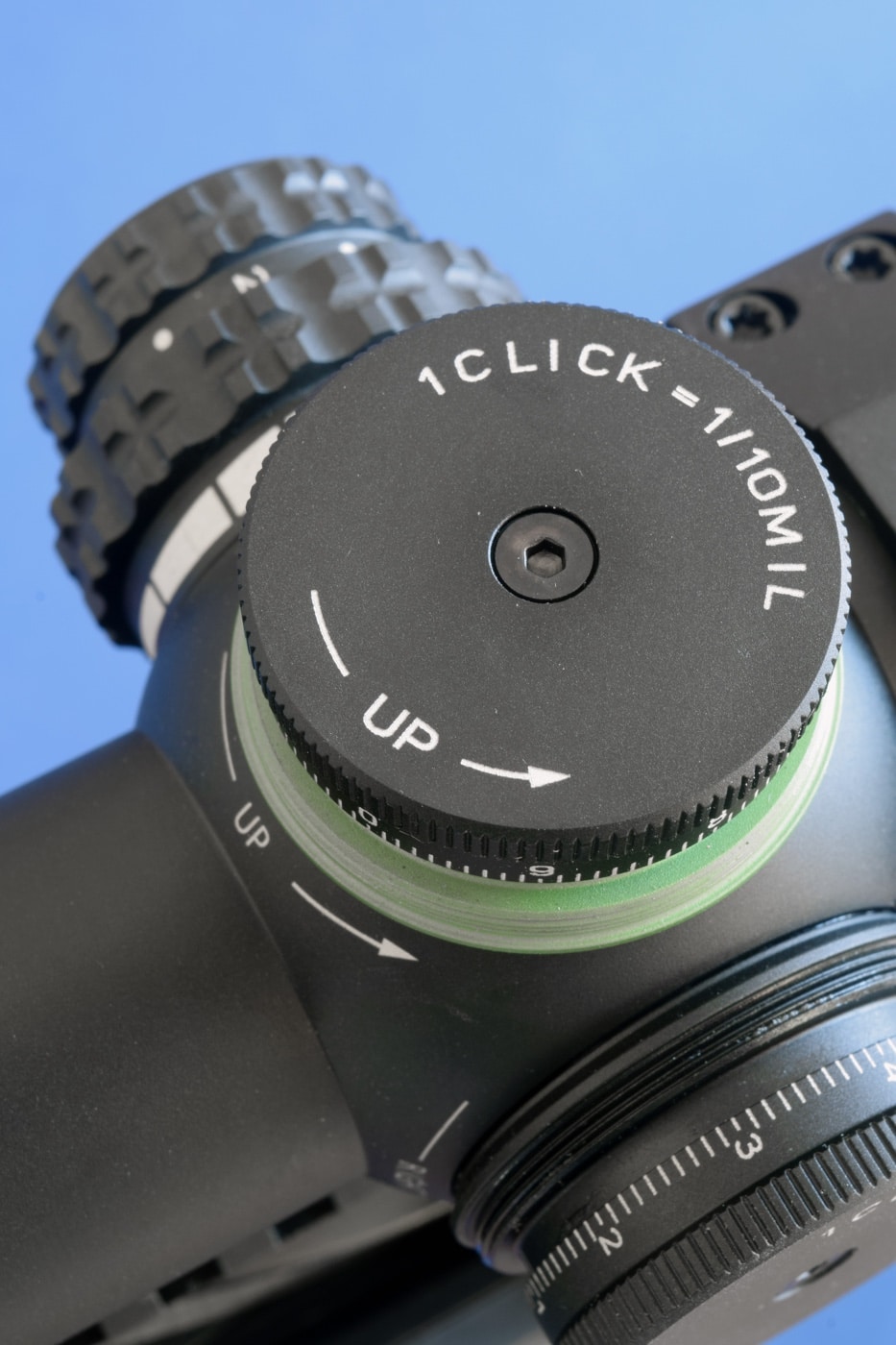 This scope quickly found the rail of my Springfield Armory Waypoint rifle in 6mm Creedmoor. Well-balanced and lighter than it looks, the Waypoint has a slick, reliable action and a good trigger. The 6mm Cm is one of my favorite new cartridges, efficient and easy in recoil. Like the Waypoint, it seems to favor snug groups. I scrounged a few match loads from Berger, Hornady and Federal, with bullets of 95, 103, 105 and 109 grains.
After scope-mounting, bore-sighting and a 35-yard shot for rough zero, I began firing "around the square" at 100 yards to check the repeatability of the Blackhound's W/E adjustments. Dials clicked at .1 MIL intervals as I moved the sight 24 right, then fired again with my original hold. Next, it was 24 down, then 24 left and finally 24 up, firing at each setting. After 96 clicks in all four directions, my final shots formed a half-inch knot with one of the first two. Scolding myself for nudging its mate 3/4 inch out, I was mighty pleased with the essentially perfect return to zero.
My limited supply of each load denied me three-shot groups in this exercise. But rifle and loads shot tightly enough to show W/E adjustments were consistent as well as repeatable. I pay little mind to how closely point-of-impact shift in MOA or MILs matches specs. If POI moves 8.9" instead of an expected 8.6, I note it — also if vertical and horizontal displacements differ, one from another. But unless a sight is destined for competition and handfuls of clicks to nail targets at widely varying distances, I care only that it moves POI predictably and returns to zero. The Blackhound Emerge has a resettable zero, so after zeroing, the "0" on the elevation dial can be set at the turret's witness mark. There it's easy to check at a glance. Changes are easy to make and reverse in the field.
Impressions
Unarguably a big scope, the Blackhound 2-12×44 is also handsome, with a clean profile and crisp but unobtrusive lettering on tube and dials. The black finish is neither dull matte nor glossy. A steep angle to the objective bell and relatively short eyepiece yield ample free tube — 1.6" in front of the turret, 3.1 behind. The turret's location and the Waypoint's generous rail also ensured I could place the sight for my stock-crawling shooting style without limiting shooters of other build and habits.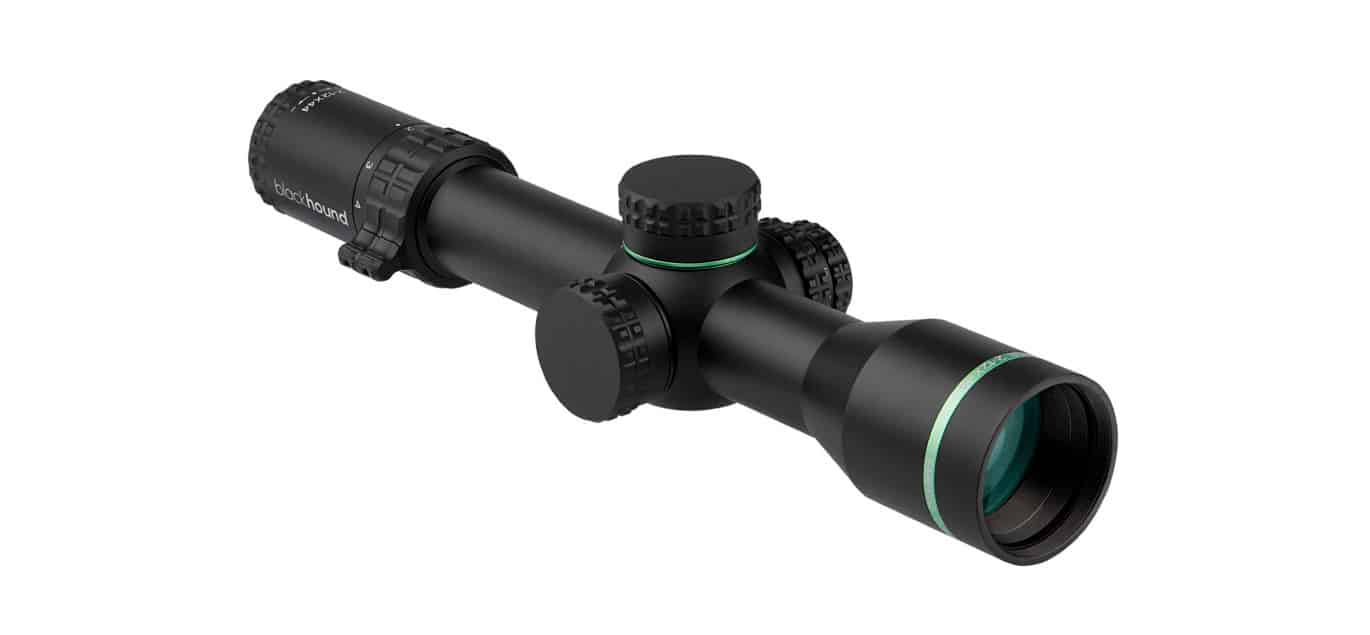 A scope with 2-12X magnification range suits just about any hunt I'll take, and suffices for most long-range competition. At 7X, the Blackhound's 44mm front lens delivers an exit pupil of over 6mm — as big as the human eye can use in the dimmest shooting light. Field at 100 yards: 55 to 9 ½ feet. Eye relief is generous (3½") and non-critical (a little head movement doesn't suddenly pull the shades).
ER commonly shrinks at high power settings, in some scopes to an alarming degree. I noticed very, very little change in ER across the Blackhound's magnification range. Also, the field remained flat, sharp and color-true to the rim from 2X to 12X, unlike fields of many scopes, which show curvature at low magnification.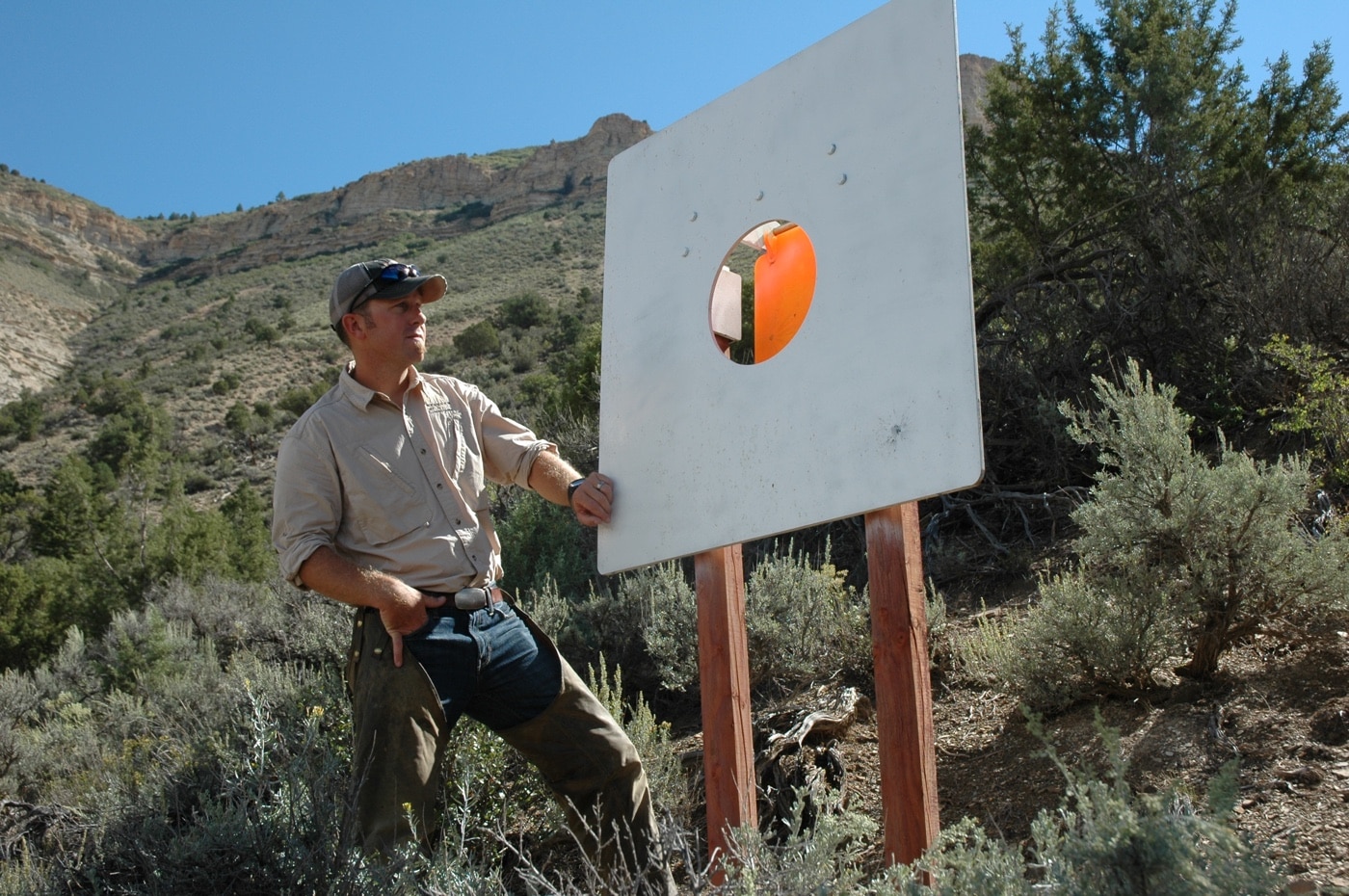 Numbers on these W/E dials are easy to read and thoughtfully placed to be visible with the rifle cheeked. Big enough to grip easily, the dials move with snappy precision. There are 30 MILs of elevation, 30 of windage, 10 MILs per dial rotation. The caps spin smoothly on and off, but snug up securely.
Useful reticle graduations on this Blackhound help with off-center holds. First-focal-plane design eliminates the possibility of reticle shift along the power scale and enables the reticle as a rangefinder at any magnification. Six illumination settings bracket "off" detents on the brightness dial, so any setting is a click from "off" or a return to the last position. Like the focus/parallax dial, the brightness dial is deeply knurled. The two are adequately separated for no-look adjustment. Both turn smoothly, but with enough resistance that neither will yield to an accidental nudge.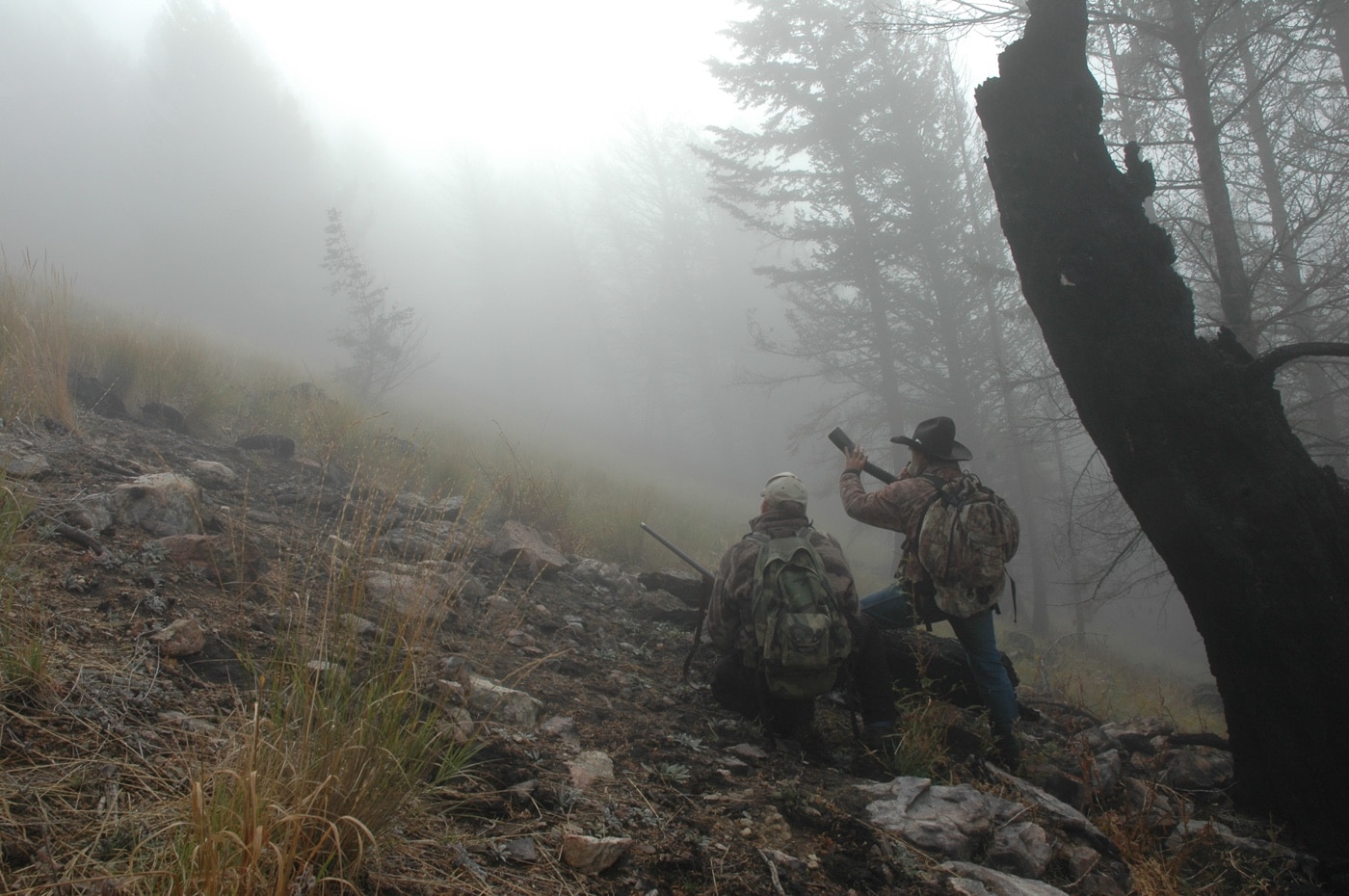 Each Blackhound Emerge is boxed with fitted, hinged lens caps, a sunshade, a CR2032 battery, a lens cloth and accessories you might not expect. Bubble levels help with scope mounting, so the reticle is truly square with the world. There's a tool to remove the battery housing's slotted cap without marring it, also allen wrenches for zero reset and to snug Torx screws on the supplied 34mm scope rings. Yes, those big split rings are included! They fit any Pic rail and are tall enough to ensure the objective bell clears the barrel on any rifle.
Blackhound Emerge Specifications
| | |
| --- | --- |
| Magnification | 2-12x |
| Objective Lens | 44mm |
| Eye Relief | 3.54″ |
| Focal Plane | First Focal Plane (FFP) |
| Tube Size | 34mm |
| Click Value | 1/10 mil |
| Travel per Rotation | 10 mil |
| Elevation Adjustments | 30 mil |
| Windage Adjustments | 30 mil |
| Length | 12.72″ |
| Weight | 1.82 lbs |
| Power Source | CR2032 lithium battery |
| Country of Origin | Made in Japan |
| MSRP | $1,299.99 |
Conclusion
In sum, the Blackhound Emerge 2-12×44 is indeed a big scope. But I erred in thinking its size and heft would outshine its practical design, its optical and mechanical excellence, and a package of included features that, to my knowledge, is unmatched industry-wide! In profile and performance, it's a perfect fit for rifles like Springfield's Waypoint. I can't imagine a shot, long or short, that it wouldn't make handily!
Editor's Note: Please be sure to check out The Armory Life Forum, where you can comment about our daily articles, as well as just talk guns and gear. Click the "Go To Forum Thread" link below to jump in!
Join the Discussion
Featured in this article
Continue Reading
Did you enjoy this article?
41