Review: Leupold Mark 5HD
3.6-18X

Scope
September 3rd, 2022
5 minute read
When choosing an optic, there are so many factors that should affect your choices. Optical clarity, ease of zeroing, holding zero, tracking, magnification range, reticle options, and locking turrets are just a few.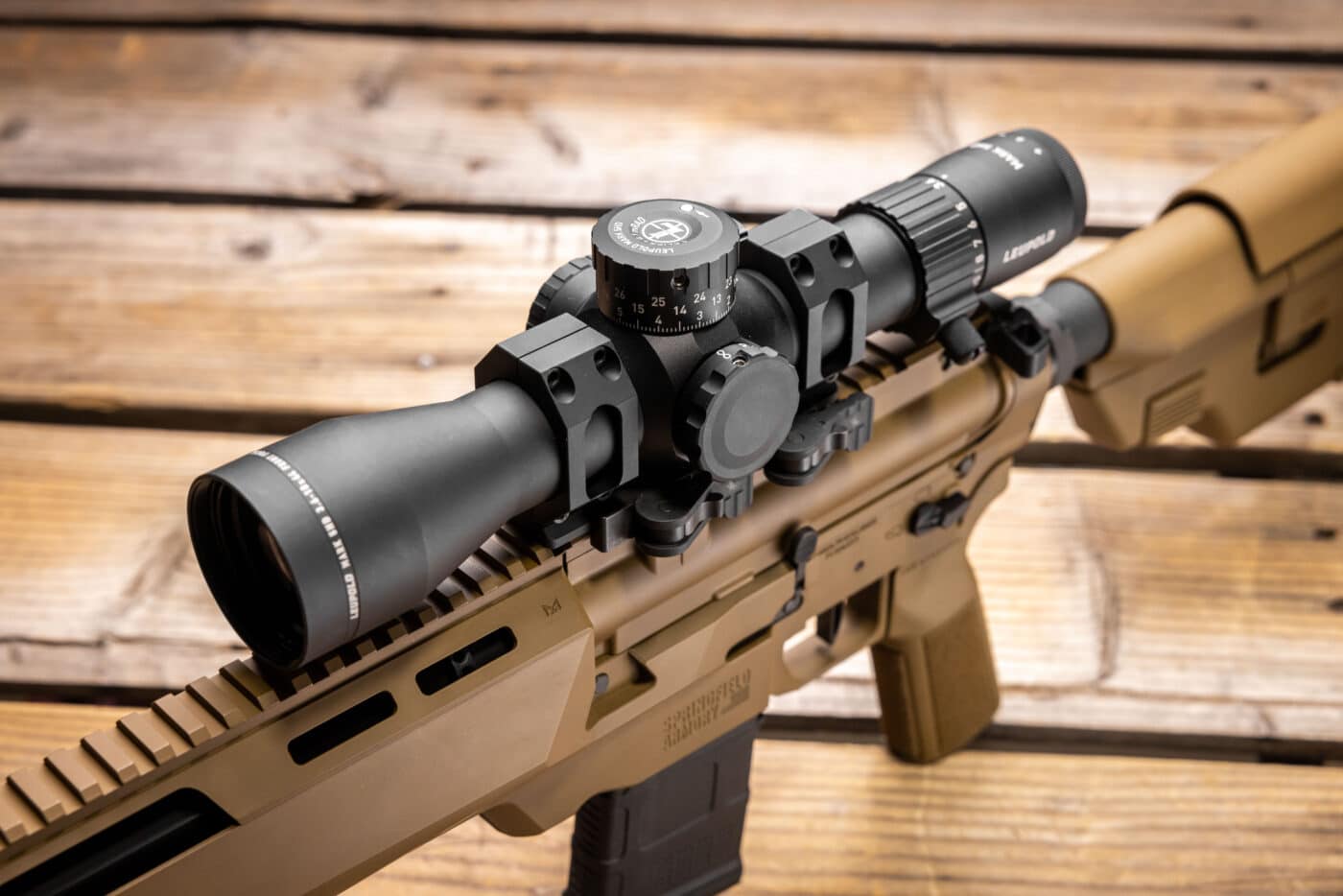 I've had the pleasure of using quite a few great scope options out there, and one of my favorites is the Leupold Mark 5HD 3.6-18x44mm. Let's break down the features and what they mean to the practical shooter.
Leupold Mark 5HD: The Details
My experience with this optic was doing some accuracy testing at 100 yards, and then shooting steel at distance from 200 yards all the way out to 1,300 yards with a Springfield Armory Saint Edge ATC (see him do it in his Edge ATC review). So, from a practical shooting perspective, let's look at the scope and why I think it's one of the best options on the market.
The optical quality of this Leupold scope is fantastic, which is not surprising. The Mk5 3.6-18 is built around Leupold's Professional Grade Optical System, which is exactly what it sounds like … professional. When shooting tight groups at 100 yards on 10X, it's crystal clear. Even when stretching out to hit steel at a staggering 1,300 yards on 18X magnification, the image was still plenty clear enough to make accurate hits on the ISPC targets. I didn't get a chance to test the low-light capabilities, but I imagine they are as stellar as the clarity.
How about the ease of zeroing and floating your turrets? Now, this may sound silly, but I've seen some scopes with some real silly ways of doing this. I like to keep things simple. Dial your zero in, back out some screws, pop the turret, set to zero and tighten screws. This is exactly how the Mark 5 3.6-18X works, and in my opinion is how all scopes should work.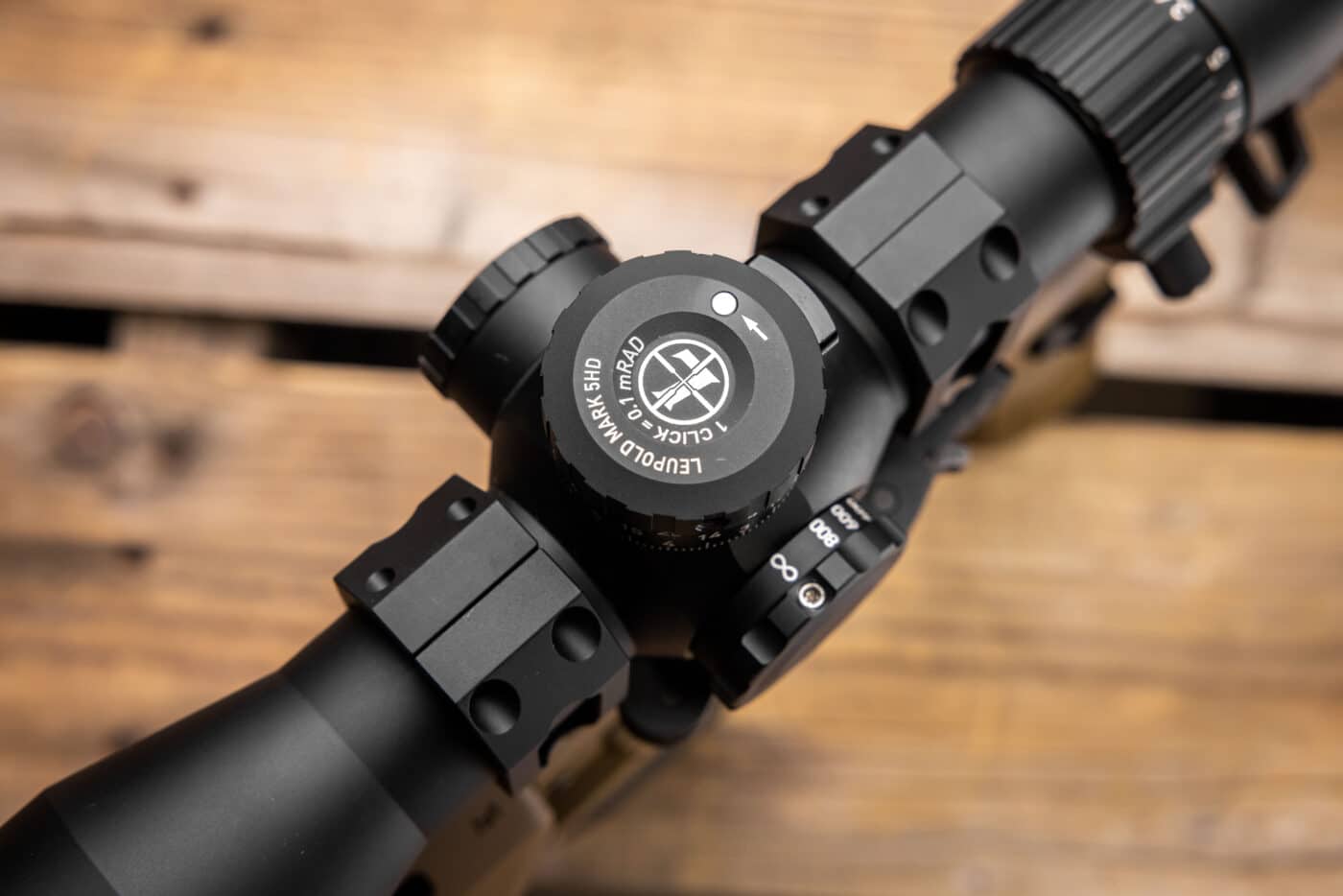 Holding zero will tell you how durable and dependable your optic is. If you are on a hunt and your rifle gets banged up by either taking a tumble on a steep hill or you throw your rifle in a bag in the back of your truck and it gets bounced around, this is a major concern. How well is that optic built, and can you trust it to be zeroed when you need it? Without destroying the scope, I was not easy on it throughout my range trips, and the optic never needed to be re-zeroed.
Tracking is how well an optic can make adjustments with precision while also returning to a proper zero. I ran this optic at 100 yards on my confirmed zero, and then shot from 200, 400, 600, 800 and, finally, 1,300. Then I shot back at 100 yards, and I made consistent hits at each distance, maintaining zero back at 100 yards.
Why You Need
Magnification range really has a lot to do with where you are shooting and what you are shooting. If you are mostly hunting in dense wooded areas, then something like a 1-10X or 3-18X deer scope is more than enough. If you are out west with miles of expanse, you may want a 5-25X or higher. For me, the do-all-range seems to be the 3-18X. It's low enough to get accurate shots sub-100 yards, yet it still has clarity and magnification for accurate hits out to 1,000 yards and beyond.
Reticle options are a big one. You can have the finest optic in the world, but if the reticle is too busy, too sparse or in the wrong format, you won't have as good of an experience. Personally, I prefer Mil-dot reticles, which is exactly what the Mark 5 3.6-18X comes in. Information is awesome, but when you are on high magnification and all that info is occluding your target, it's not so helpful. This optic uses the TMR reticle, which has just enough information to be useful, while not making the reticle too busy. The Leupold scope is a first focal plane design.
Locking turrets are, in my opinion, a must for any optic that has decent magnification ranges — particularly if you plan to move around a lot with your rifle. There is nothing worse than having to take a quick shot after some movement only to realize you missed the shot entirely because your dial moved when taking the rifle out of a bag or off your back. Having locking turrets is just one more way to ensure they only move when you want them to.
Review Conclusion
All-in-all, I am excited to get more time in behind the Leupold Mark 5 3.6-18x44mm, and I think it'll find a permanent place on one of my bolt-guns for precision shooting or hunting trips where I must implicitly trust it to put the rounds exactly where I intend them. And that is the story of Leupold's history: building scopes for riflemen who put the bullets exactly where they want them to go.
Editor's Note: Be sure to check out The Armory Life Forum, where you can comment about our daily articles, as well as just talk guns and gear. Click the "Go To Forum Thread" link below to jump in!
Join the Discussion
Featured in this article
Continue Reading
Did you enjoy this article?
48