Top 10 Guns & Gear Holiday Gift Guide
November 27th, 2020
7 minute read
It's that time of year again when we rack our brains in order to find that perfect holiday gift. For that special shooter in your life, Springfield Armory offers a wide selection of firearms and accessories that can even put a smile on the face of Ebenezer Scrooge. So, skip that striped necktie or bathrobe and check out the following. Whether you're looking for a world-class firearm or a stocking stuffer, Springfield Armory has you covered.
Also, there is a special event going on November 27, 2020, through November 30, 2020 with the Springfield Armory Webstore, which is offering a site-wide 20 percent off Black Friday Sale (some exclusions apply — firearms not included). Simply go there on one of those days, pick out the accessory/clothing/part you want, and the discount is automatically applied against your purchase.
Burris Fullfield TAC30 1-4X 24mm Scope
A generation ago, it was rare to see any sort of optic affixed to a self-loading tactical rifle. The game has changed 180 degrees and, while red dots are the most popular choice, there is still a niche for a magnifying optic. Like many commodities, the sky's the limit with optics and many scopes command a price well beyond the cost of the rifle itself. A very cost-effective alternative is the Burris Fullfield TAC30 1-4X 24mm, which is affordable, yet delivers the goods.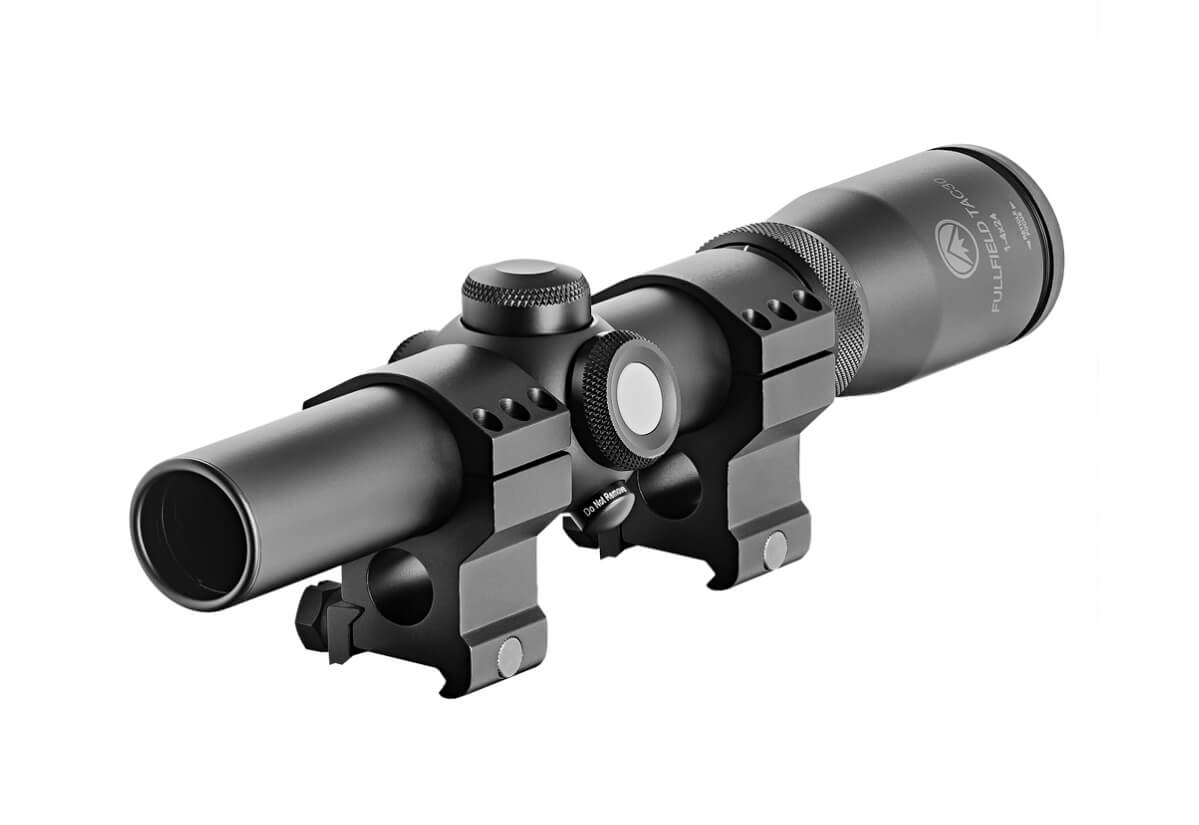 Built on a rugged 30mm tube, this scope features an illuminated center dot and a large, bright circle reticle design for near instantaneous target acquisition. The TAC30 offers generous eye relief and is well-suited for engaging targets from close to mid-range distances.
Hellcat 13-Round Magazine
Looking to pick up a spare magazine for your favorite Springfield Armory firearm? Then be sure to swing by and check out the Springfield Armory Webstore. All you favorite Springfield firearms are represented here, from the M1A to the Hellcat. Speaking of the latter, you're seeing the 13-round magazine for that pistol here.
It features stainless steel construction for durability, numbered round count witness holes and a black polymer follower. The magazine's black polymer extension gives you extra gripping area and has a pattern that matches the Adaptive Grip Texture of the Hellcat's polymer frame.
Springfield Armory Multi-Purpose Duffel
The best way to stow and organize all that gear for trips to and from the range is to utilize a purpose-designed bag. An outstanding candidate would be the Springfield Armory Multi-Purpose Duffel.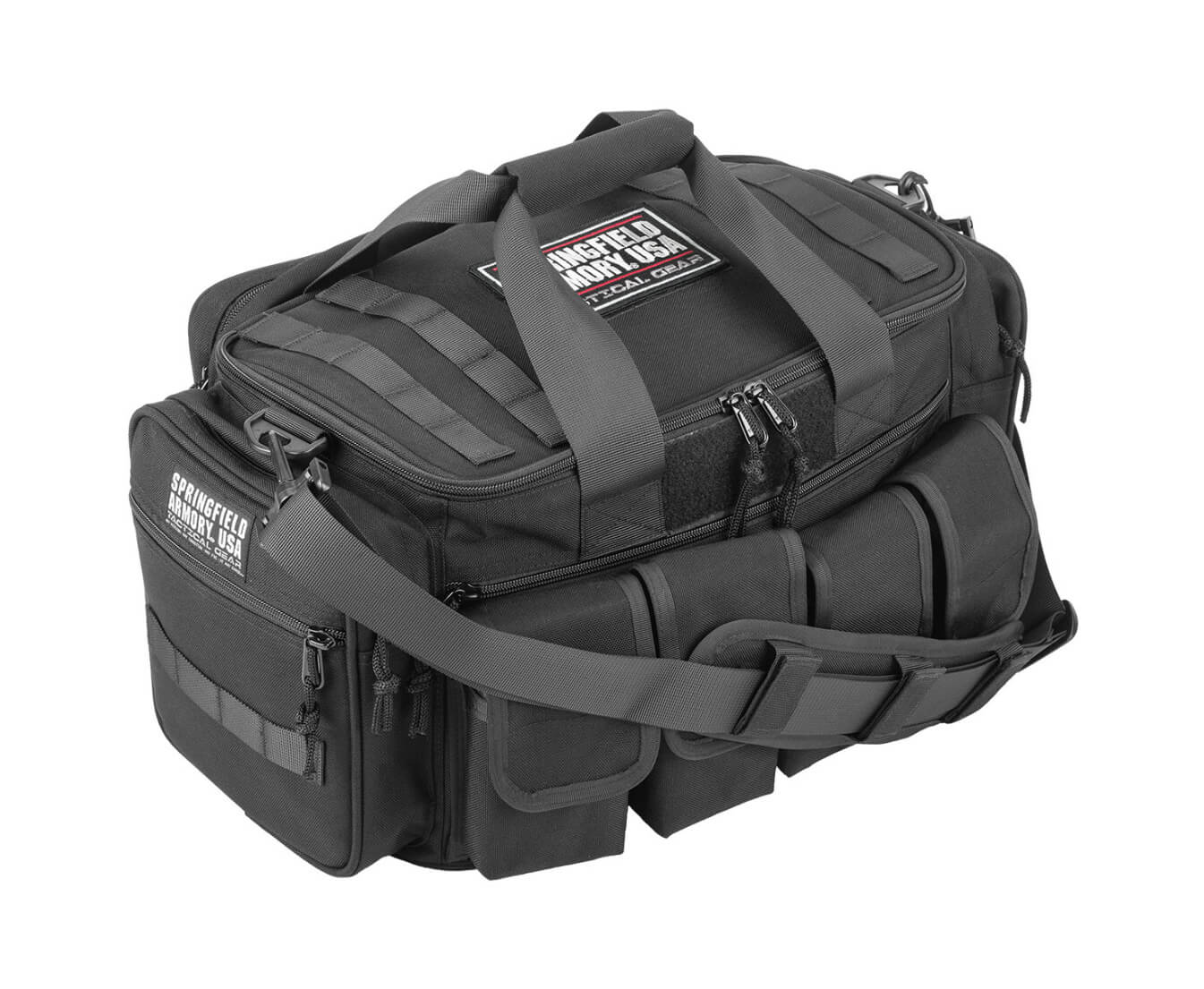 The Multi-Purpose Duffel is crafted from rugged 1000D nylon and sewn together with high-strength nylon stitching. YKK zippers are utilized to secure the main and side compartments. Internal dividers can be configured according to user needs. The pockets are padded, and fully functional webbing is available on the top of the lid, lid underside and exterior pocket.
The Multi-Purpose Duffel can accommodate handguns, ammunition, holsters, shot timers and all that other range gear we can't live without. No matter what your needs, the Multi-Purpose Duffel has you covered.
Crossbreed Mini-Tuck Holsters
The most discreet way to carry a handgun in polite society is to utilize an inside-the-waistband (IWB) holster. For years I used this tried and true formula but after doing so for a couple of decades, my strong side hip revolted. The discomfort became unbearable. Then, I discovered the Crossbreed Mini-Tuck IWB which got me back into the swing of things. To cut right to the chase, this is the most comfortable IWB holster I have ever utilized.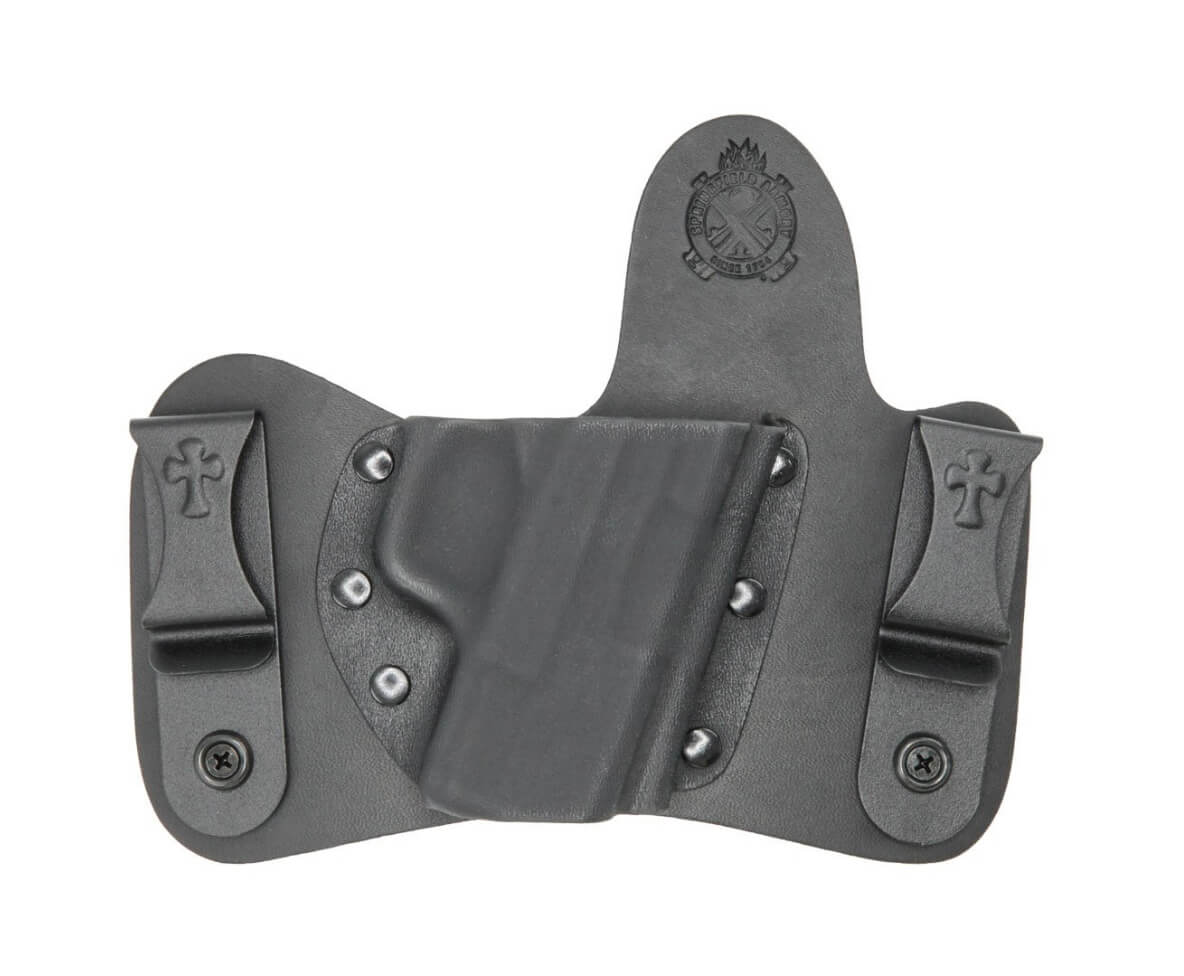 The Mini-Tuck is available for many Springfield Armory pistols (XD-S model is shown here), for both traditional behind the hip as well as appendix carry. As the name implies, a loose-fitting shirt can be bloused around the clips to conceal the holstered pistol.
Kershaw Jens Carabiner
The Kershaw Jens Carabiner remains one of those things you really don't realize you need until you try it out. I am forever misplacing things, so I rely on carabiners to keep my gear where I can find it later. But this is no dime store carabiner, as it offers much more and may be best described as a multi-purpose tool.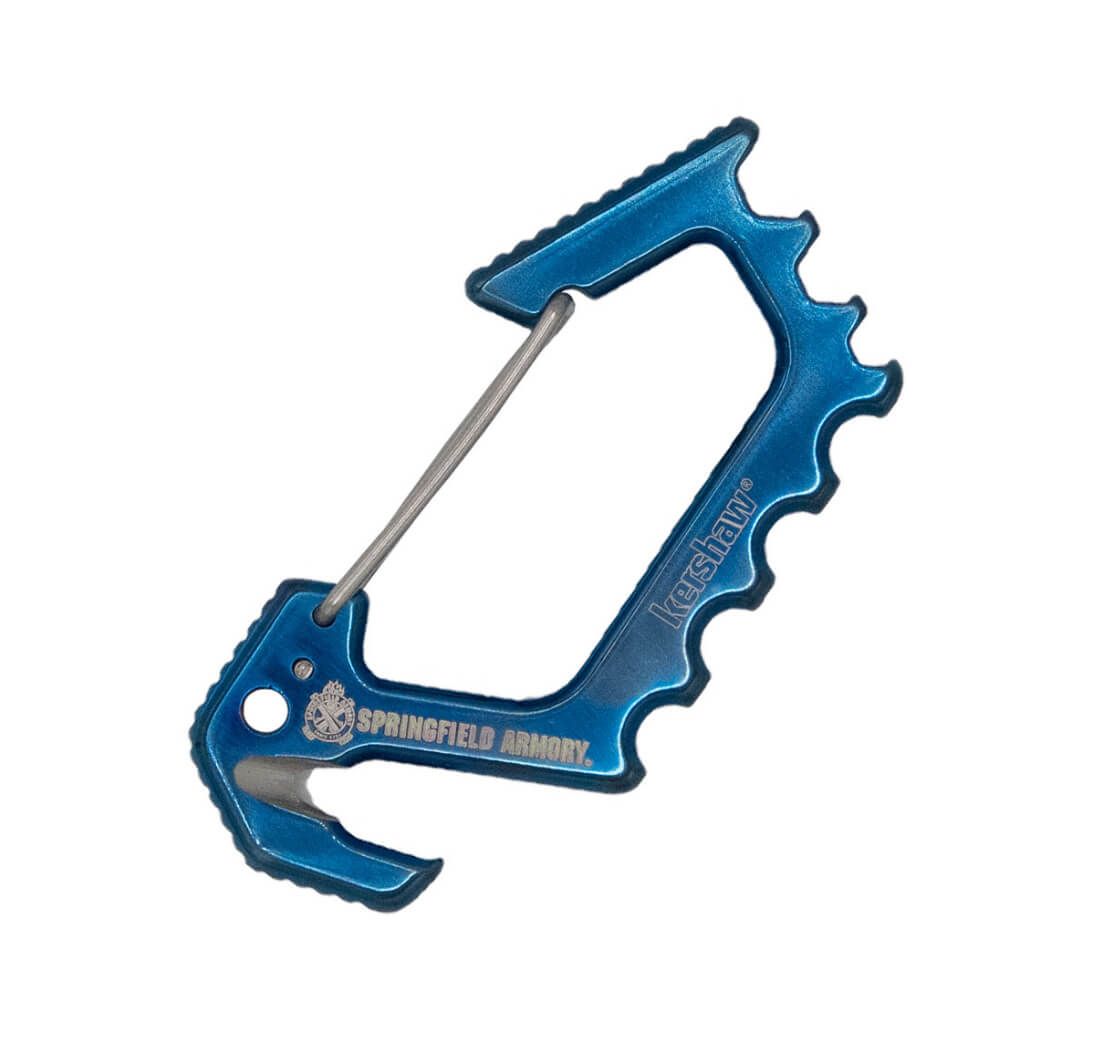 A seat belt/cord cutter, bottle opener, a trio of hex drives, and a key ring hole are all part of the package. Heavy jimping provides solid traction when using the tools, and stainless steel construction ensures it will hold up over the long haul.
Waypoint Model 2020 Rifle
Recently, Springfield Armory entered the very competitive bolt-action rifle market and the new Waypoint Model 2020 will not disappoint. This American-made bolt-action is loaded with features that will strike a chord with the most discriminating rifleman. Although designed as a hunting rifle, the Waypoint can fill any number of roles including tactical applications. Right at the top of the list is a .75 MOA guarantee. Not too long ago, that level of accuracy was pretty unheard of in factory production rifles.
The new Waypoint is available in 6mm Creedmoor, 6.5mm Creedmoor, 6.5mm PRC and .308 Winchester. Without question, Springfield Armory hit it out of the park with the Waypoint rifle.
Hellcat OSP 9mm Pistol
Since its introduction back in late 2019, the Springfield Armory Hellcat continues to receive rave reviews and was recently named handgun of the year by Guns & Ammo. In a crowded world of concealed carry handguns, the Hellcat is indeed a standout. While the Hellcat is yet another polymer-framed, striker-fired pistol, it is not a chopped and channeled version of an earlier design. Only 1″ wide, the Hellcat can accommodate 11+1 rounds with a flush-fitting magazine, making it the highest capacity pistol in its class. A slightly extended 13-round included spare magazine is included in the package.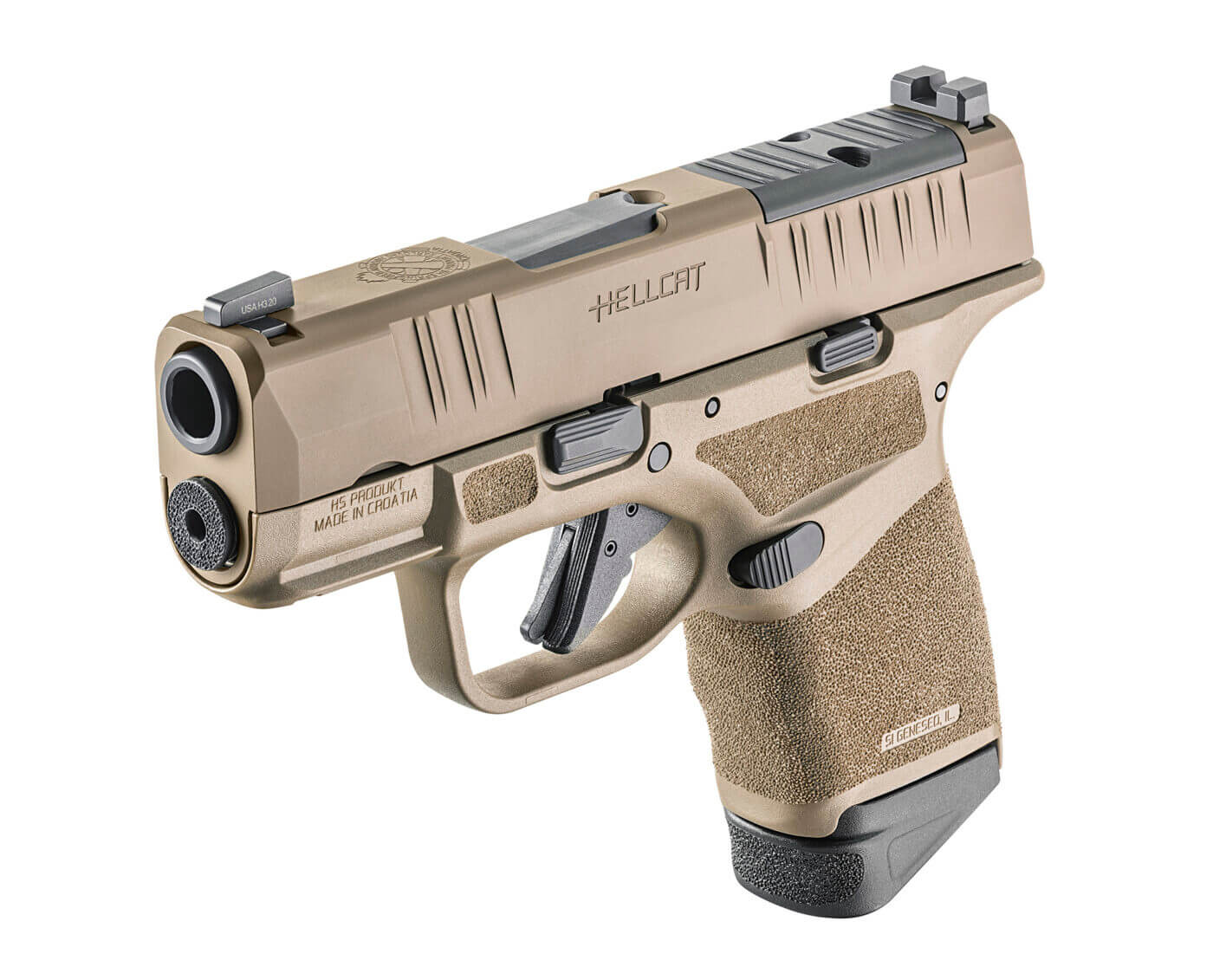 Based on its immediate popularity, it was inevitable that the Hellcat line would expand. In addition to black, it now includes versions in Desert FDE as well as OSP models that can be fitted with an optic. In hideout pistols, the Hellcat is in a league of its own.
Ronin 1911 in 10mm
The Springfield Armory Ronin pistol combines classic styling with modern touches and remains a best buy for shooters who fancy the 1911. Originally available in 9mm and .45 ACP, the Ronin line now includes the hard hitting 10mm cartridge. And the Ronin may very well be the optimum launching platform for this high-performance cartridge.
A stainless steel frame matched to a blued slide make the Ronin a very handsome package. But make no mistake about it, the forged steel frame, slide and barrel make for a very durable firearm, perfect for the powerful 10mm.
Saint
AR-15

Pistol, B5

One of the hotter tickets in today's market would be pistols based on the iconic AR platform. The Springfield Armory line of SAINT Pistols transforms America's favorite firearm into a compact, yet easy to manage package ideally suited for personal, home or vehicle defense. A personal favorite is the B5 variant which includes a number of enhancements, yet is available at very reasonable price point.
The Saint B5 Pistol splits the difference between a conventional size carbine and a traditional pistol. Performance of this 5.56mm NATO package is quite impressive.
XD-S

Mod.2 OSP 9mm Pistol

The red dot revolution is in full swing and now one can take advantage of this breakthrough technology with the optics-ready Springfield Armory XD-S Mod.2 OSP 9mm pistol. This ultra-discreet 9mm single-stack features a factory milled slide which will accept a number of miniature red dot optics sights (MRDS). To sweeten the deal, Springfield Armory is offering this pistol with a factory mounted Crimson Trace red dot optic as an option.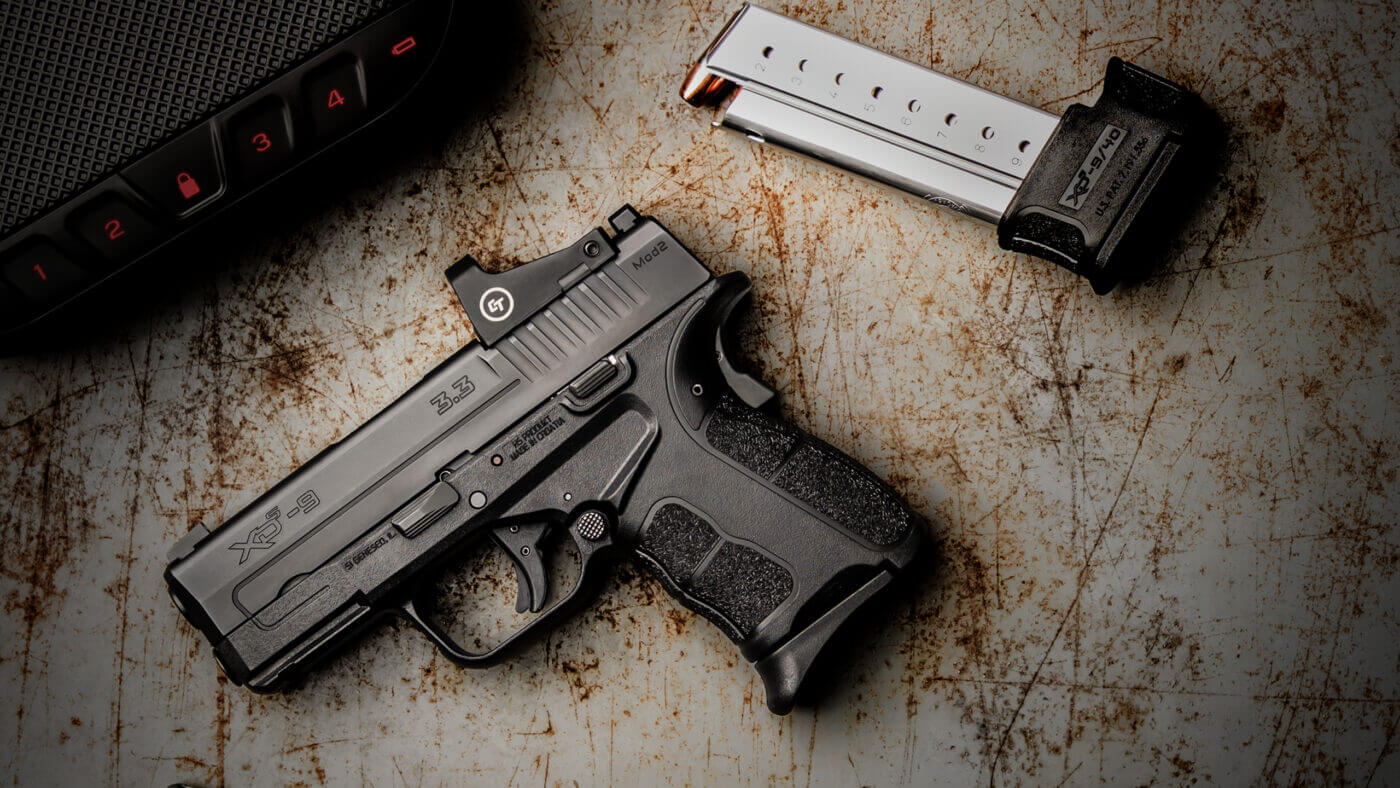 The XD-S pistol has been on the scene for several years now and the Mod.2 improved version is among the best in its class. Those in need of a discreet carry pistol would do well to consider the XD-S Mod.2 OSP.
Conclusion
So there you have it, a round-up of 10 top holiday gift ideas from Springfield Armory. From the Waypoint rifle to the Hellcat 9mm to holsters to multi-tools and much more, Springfield Armory and the Springfield Armory Webstore have everything you need. And don't forget the Webstore's site-wide 20-percent discount on its offerings from Friday, November 27th through Monday, November 30th (some exclusions apply). Simply go there, pick out the product you want, and the discount is automatically applied to your purchase.
Editor's Note: Please be sure to check out The Armory Life Forum, where you can comment about our daily articles, as well as just talk guns and gear. Click the "Go To Forum Thread" link below to jump in and discuss this article and much more!
Join the Discussion
Featured in this article
Continue Reading
Did you enjoy this article?
64