California Legal CCW 1911:
Springfield's EMP 9mm
February 18th, 2022
6 minute read
The 1911 is an iconic staple in the firearms world. Everyone knows the platform and, even if they don't necessarily love it, there is always a high level of respect for it. The 1911 was designed and built in 1906 for the military to begin evaluating the design against a few other options as well as the new .45 ACP round. Designed by John M. Browning, that pistol eventually became the 1911 after it was officially adopted by the U.S. Army on March 29, 1911.
Fast forward 111 years to the year 2022. The 1911 is still going strong and really hasn't seen a whole lot of change in all that time. Obviously, there have been many manufacturers that have offered the design and many have chambered it in different calibers over the years. However, no one has taken the 1911 and rebuilt it from the ground up — that is, until Springfield Armory decided to a few years back with the 1911 EMP line of pistols.
The world is much different than in 1911. Today, many states have seen unfortunate success in eroding the fundamental right of self-defense. However, Springfield Armory continues to support these Americans trapped "behind enemy lines" with a variety of firearm options.
Today I review the California legal 9mm 1911 EMP handgun.
A New Take
The EMP, or Enhanced Micro Pistol, from Springfield has been offered in several configurations over the past few years. A compact concealed carry gun that still features the same basic design as its grandfather, the original 1911, but is sized down for the 9mm round.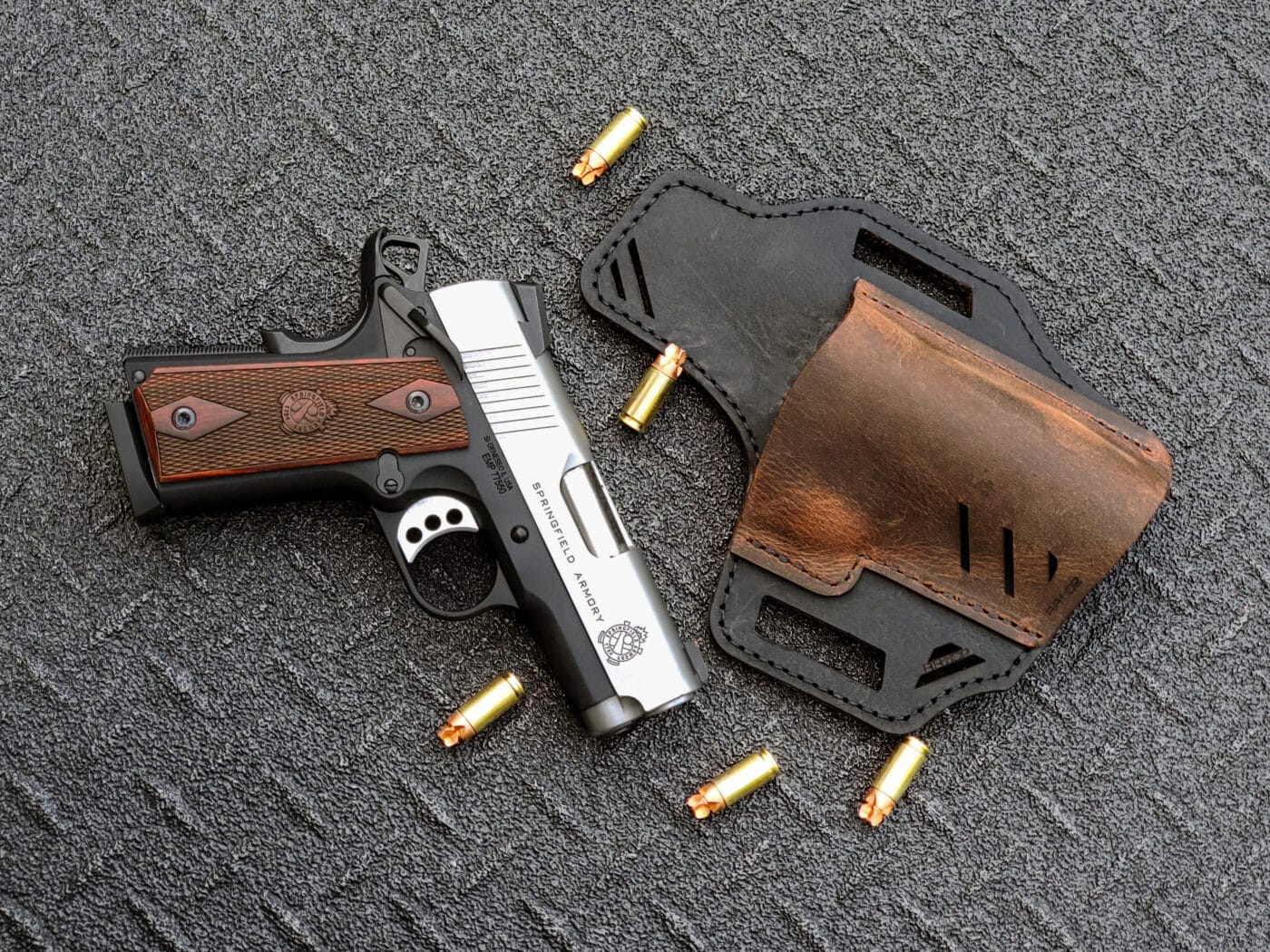 The gun is not just adapted to shoot 9mm from a 45 version. Springfield actually designed this gun from the proprietary magazine out to be a purpose-built 9mm 1911 pistol. The model I tested featured a very short 3″ stainless steel bull barrel designed with concealability in mind, while still retaining 1911 accuracy.
A forged aluminum frame and indestructible forged stainless-steel slide not only look fantastic and classy, but work together to combine strength with light weight. The slide-to-frame fitment is actually very tight and smooth for a factory 1911 pistol, and something you would expect to see on something custom built. On top of the slide, Springfield throws a great set of steel tritium night sights with a very easy to acquire three-dot set-up.
On the frame, you will find a beautiful set of crossed cannon Cocobolo grip panels as well as all your standard 1911 controls like a beavertail grip safety as well as an ambidextrous thumb safety. The trigger in the EMP is very 1911ish. I like it, but it isn't anything crazy fancy. It breaks around 5 lbs. and has a small amount of take-up, a nice wall and a good, clean break. Reset is short and sweet as well.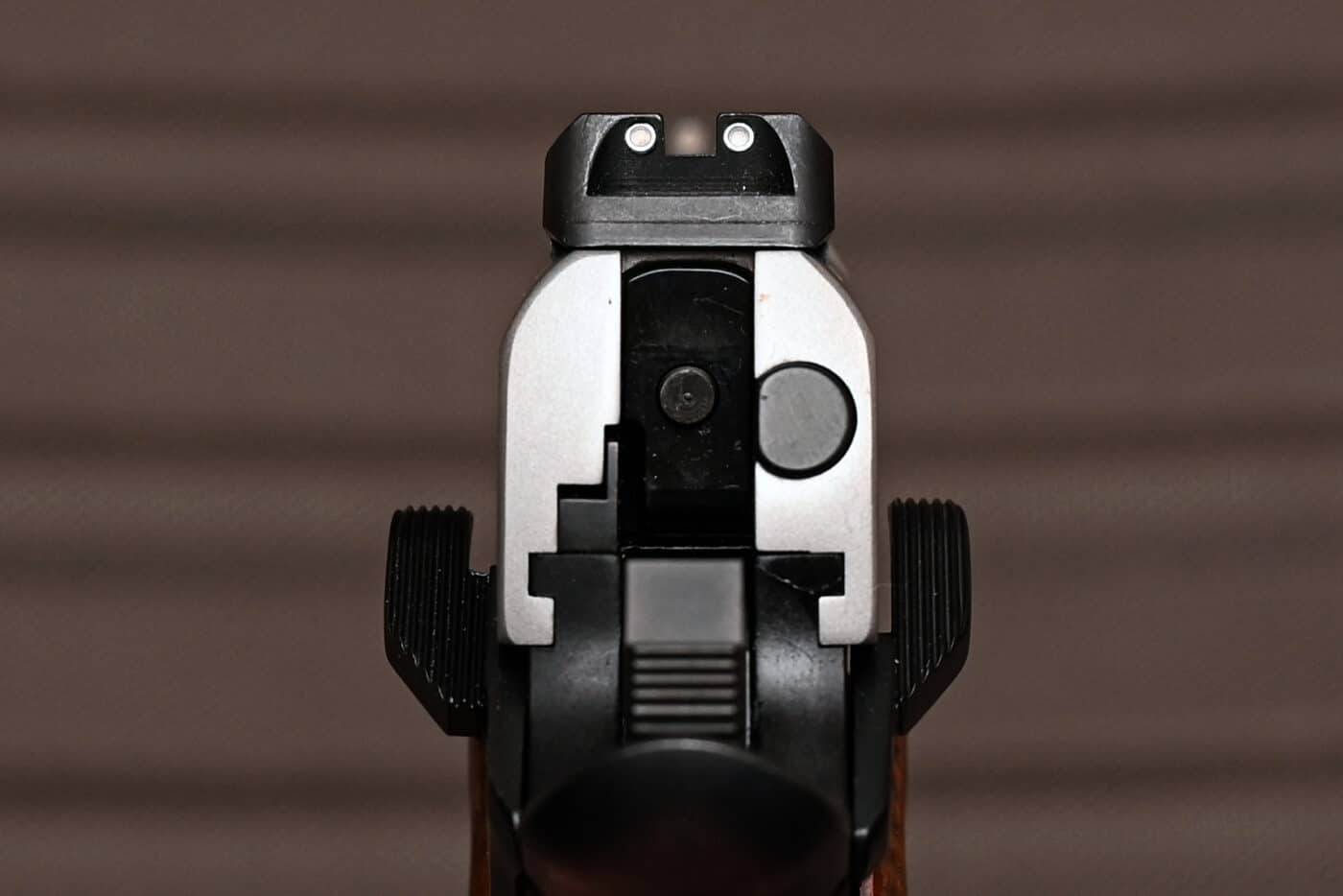 Also, the fact the pistol is designed specifically around the 9mm cartridge means that you have a smaller grip circumference, making the pistol not only easier to conceal but also easy to grip — especially for smaller hands.
California Legal
Editor's Note: As many readers might know, California is not a gun-friendly state. In fact, many people might argue it is one of the most hostile states toward gun owners. Consequently, the state has a plethora of laws and regulations that affect what kinds of guns a citizen can purchase there.
One of the tools California uses to regulate firearms is a roster of handguns that it deems acceptable for citizens to buy. Without getting into the nitty-gritty, many of the firearms available in the U.S. are not legally available to residents of California.
This Springfield 1911 EMP is, however, legal to purchase in that state.
Springfield Armory decided not to abandon the citizens of California and continues to offer this, and other California legal pistols, there. The gun can be purchased in other states. However, I want to emphasize that this is a California-compliant handgun. Please read the article "What Is California Compliant" for additional information on this.
Range Time
On the range, the EMP shoots extremely smooth and was surprisingly accurate for such a small package. It really felt like the perfect combination of weight and physical size for the caliber. I ran the gun through the paces straight out of the box with no cleaning or lube to see what it would do. It chewed up and spit out everything I could throw at it.
After about 300 rounds, I decided I would break the gun down to clean it. I love the fact that the EMP breaks down by simply pulling the slide stop lever out of the frame after aligning it with a small notch to release it. So much easier than dealing with barrel bushings and springs flying through the roof of your house like a traditional 1911 breakdown.
After cleaning it up, I headed back to the range where I pushed another 300 rounds through the gun. I was able to do a little accuracy testing and was able to easily achieve under 2" groupings at 21 ft. I look at this gun as strictly defense-oriented, so I didn't bother doing testing past 21 ft. At closer distances, I was able to achieve sub-1" groups with really everything I fed it.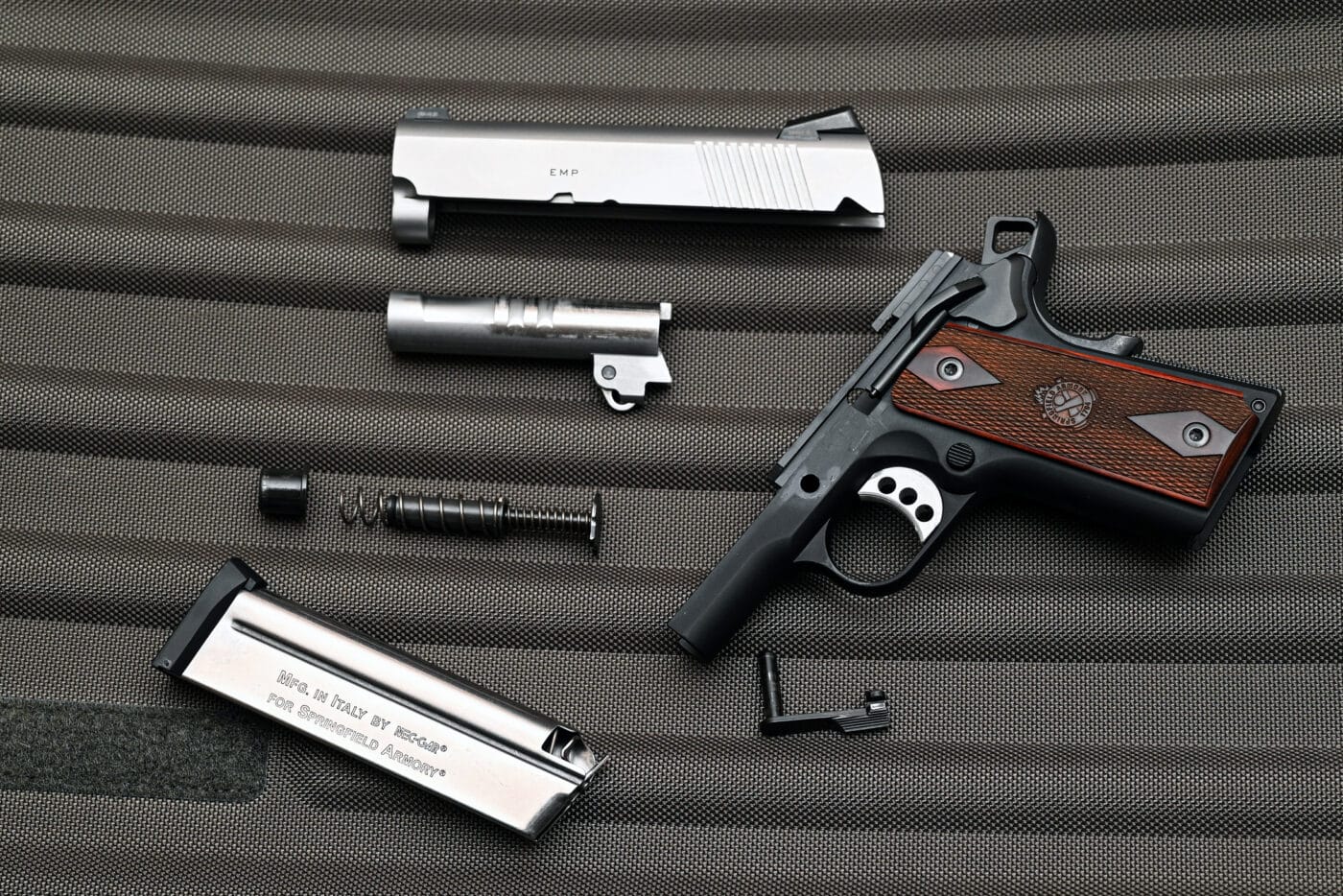 I shot some reloads, some defense ammo and some factory target loads. Ammo is not easy to come by right now, so I took what I could get. Honestly, I think that is actually a great representation of how well the gun functions, when I can grab anything and load it into a mag, and it is going to run it flawlessly and accurately.
I did find that basic 115-gr. Winchester white box seemed to pull the best groups of the day. After a good break-in of 600 rounds, I switched to my favorite carry ammo, Black Hills 124-gr. Honey Badger, to see if the EMP had any issues with the aggressive design of the rounds. I have found some guns like the stuff and others don't. The EMP didn't care at all, chewing the rounds up and spitting them out.
Field Testing
I was now confident in putting the 3" EMP into carry rotation and giving my Springfield Hellcat RDP a break from everyday carry on my hip for a little bit. The EMP carries very well in several different holsters I have tried out, but I really love the Versacarry Rough Rider holster. It not only looks amazing, but there is just something about a 1911 in a leather holster that feels right to me.
The gun is large enough that you know you have something there when carrying, but small enough that it is easily concealed inside the waistband or carried outside the waistband. Plus, a 9+1 round capacity and two extra magazines that carry well if you carry backup magazines offers peace of mind knowing you have the rounds needed to stop a threat.
Conclusion
The 3″ EMP is completely built around the 9mm cartridge, making it a perfect pistol for the 1911 fan looking for a small, lightweight compact gun to carry every day. The gun only weighs 27 oz and only stands 5" tall and 6.6" long. It shoots very well and feels just like a regular, full-size 1911 just smaller.
With a plethora of holster options on the market and the gun chambered in the most popular carry caliber in the country, it just makes sense to start carrying the Springfield 1911 EMP. The MSRP is $1,287 which is on the higher end of what I normally look for on a carry pistol, but I feel for the features and quality it is spot on.
Editor's Note: Please be sure to check out The Armory Life Forum, where you can comment about our daily articles, as well as just talk guns and gear. Click the "Go To Forum Thread" link below to jump in and discuss this article and much more!
Join the Discussion
Featured in this article
Continue Reading
Did you enjoy this article?
129