The "red dot" has become ubiquitous. While not that long ago an electronic optic on your rifle would have been rare, today it's unremarkably common. But, while we tend to call them all "red dots," is that always an accurate description? Not in the case in today's review of the new Viridian GDO 22 optic.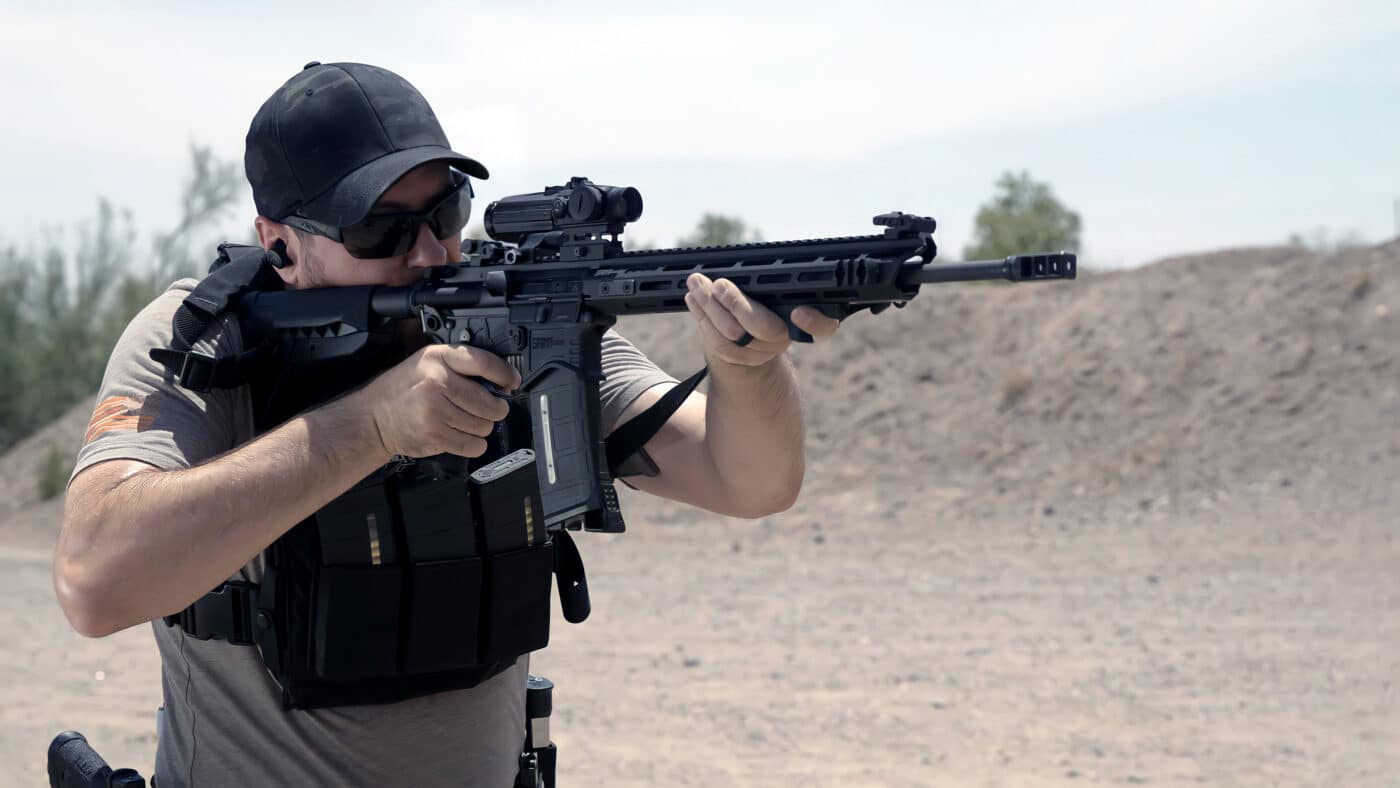 For those of you familiar with Viridian Weapons Technology, you can probably make an educated guess about what makes this optic unique. For the rest of you, Viridian has made a name for itself by offering an expansive line of green laser units for pistols and long guns — as well as red for those who prefer that color. (Read my thoughts on red dot vs. green dot here.) Viridian argues that green is much more visible to the human eye than other color options, and based on my own testing, I would say I agree.
New to the Viridian line is the Viridian GDO 22, or "Green Dot Electro Optic" with a 22mm objective lens. Let's take a look.
Green Dot Details
If you are familiar with "red dot" optics, you'll be right at home with the green dot GDO 22. The Viridian GDO 22 is a 3 MOA green dot that comes with both high and low Picatinny mounts included, both of a "quick-detach" (QD) design with a throw lever. The taller mount offers 1/3rd co-witnessing with back-up iron sights on an AR.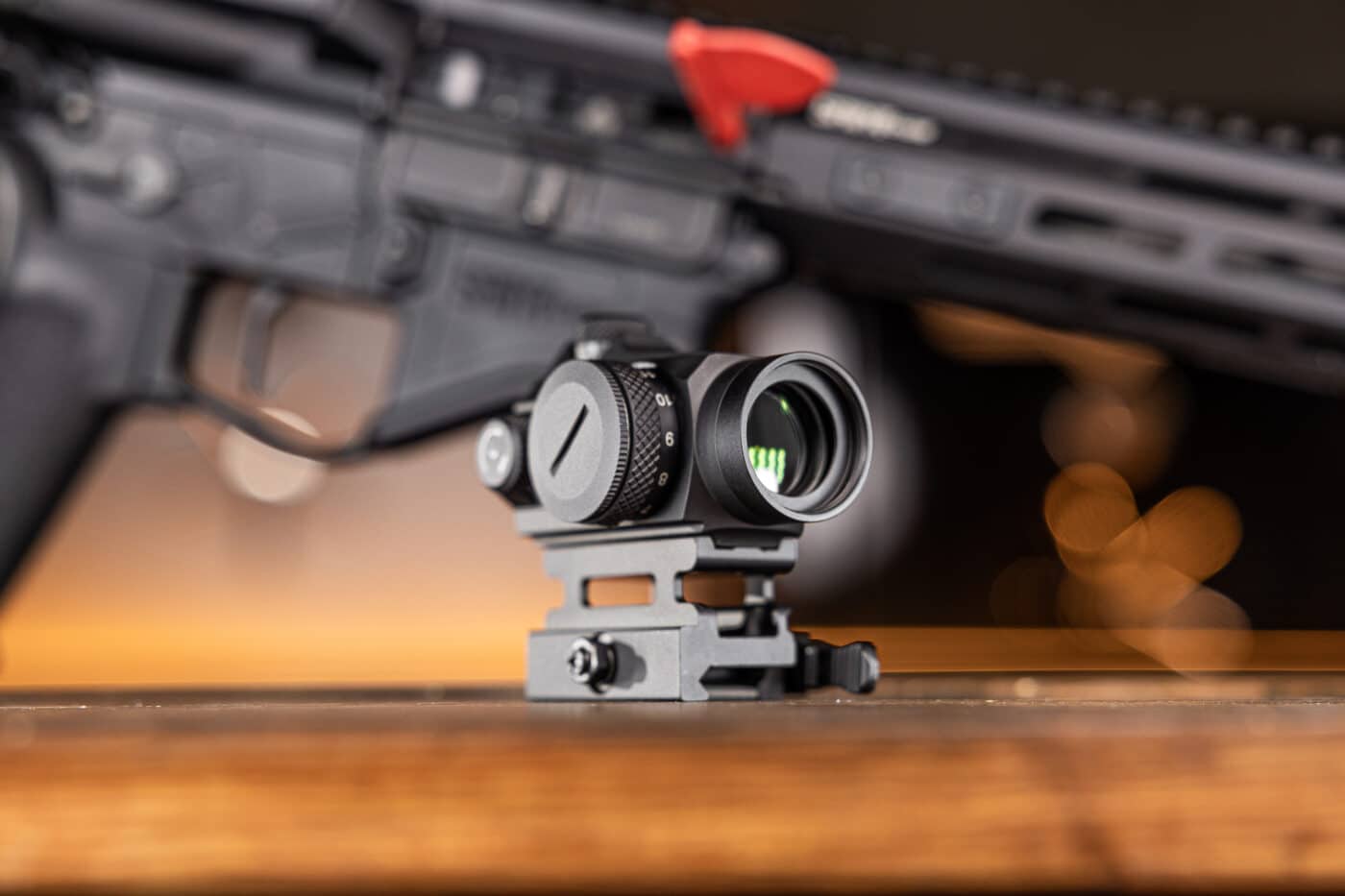 The body of the optic is made of high-grade aluminum for light weight along with rugged durability. Adjustments to the 1X, parallax-free and unlimited eye relief optic are made with 1 MOA guarded windage and elevation turrets that are finger-adjustable.
The optic is powered by a single CR2032 battery that, according to Viridian, offers more than 30K hours of use at the middle setting. Speaking of settings the GDO 22 features one night vision-compatible and 10 visible settings. Operating temperatures of the optic are rated from -4 °F up to 125 °F.
GDO 22 Specifications
Here are the specs on the GDO 22 green dot optic:
| | |
| --- | --- |
| Activation | Manual knob |
| Mount | Picatinny QD high & low mount |
| Battery Type | CR2032 |
| Battery Life | 30,000+ hours (middle brightness setting) |
| Objective Lens | 22 mm |
| Body Construction | High-grade aluminum alloy |
| Operating Temperature | -4˚F – 125˚F |
| Waterproof Rating | IPx4 |
| Weight | 6.6 oz |
| Warranty | 7 years |
| Dot Size | 3 MOA |
| Dot Color | Green |
| Magnification | 1x |
| SKU | 981-0029 |
| MSRP | $179 |
Reaching Out
To my eye, the glass appears crystal clear and displays no parallax. The optic's green dot is extremely vibrant and crisp, with zero blooming or artifacting detected in varying lighting conditions both during my indoor and outdoor testing. Setting up the GDO unit on one of my SAINT Edge rifles was a breeze with the tall QD mount, and the highly visible green dot was easy to acquire rapidly. I also noted that it did allow for the 1/3rd co-witness with the Edge's back-up iron sights.
As a perfect pairing to the GDO 22, I also took the opportunity to try out Viridian's GDO MAG 3X Magnifier unit. The GDO MAG 3X Green Dot Electro Optic Magnifier provides 3X magnification for your dot, and also features the 22mm objective lens for optimal paring with the GDO 22 unit. It includes a push button-style flip Picatinny mount and is adjustable to fit and align with your optic. The body of the optic is made from aluminum and features a rubberized armor coating.
The clear 2.7" eye relief and multi-coated glass for clarity and light transmission were extremely easy on the eyes. The aluminum alloy body felt well-designed and rugged. It did take me just a little bit of practice to re-train my muscle memory to activate the locking push button release design before being able to flip the unit over during transitions from the dot to magnified set-up.
However, after some training and manipulation, I did appreciate the positive feedback and locking aspect of the push-button design, which in theory could eliminate the possibility of accidentally bumping the unit into an active/inactive position. The one feature I think would offer an added benefit to this unit would be having a similar QD-style mount with a throw lever as the green dot optic.
A Handy Option
The last Viridian accessory that I added to the Edge rifle before heading out to the range was the company's HS1 green laser handstop. This ergonomic handstop is touted as the world's first AR hand stop with an integrated laser sighting device. It utilizes an M-Lok mounting interface and features adjustable windage and elevation.
The laser itself is extremely bright and crisp, and also very easy to activate. Testing the unit in the studio, I was curious if accidental activation — and potentially giving up your position, unintentionally — was going to be an issue with this unit. Although it is easy to activate when desired, the tuning on the unit's push button is such that it does require conscious effort and adequate pressure to engage.
Like all the tools in your toolbox, the difference between engaging the HS1 unit to be active versus not is going to rely on the amount of training and time you invest into understanding and running this particular piece of kit. Personally, I really dig the design and benefits it presents, especially for such a compact handstop.
Range Time with GDO 22
At the range the units ran well. The GDO 22 green dot was crisp and bright, and was very easy to acquire and place on target — even when running the unit in the harsh afternoon sunlight here in Arizona. The 3X magnifier was easy to manipulate both with and without gloves, and the enhanced capability of the magnification to identify and zero in on the steel target was a real benefit.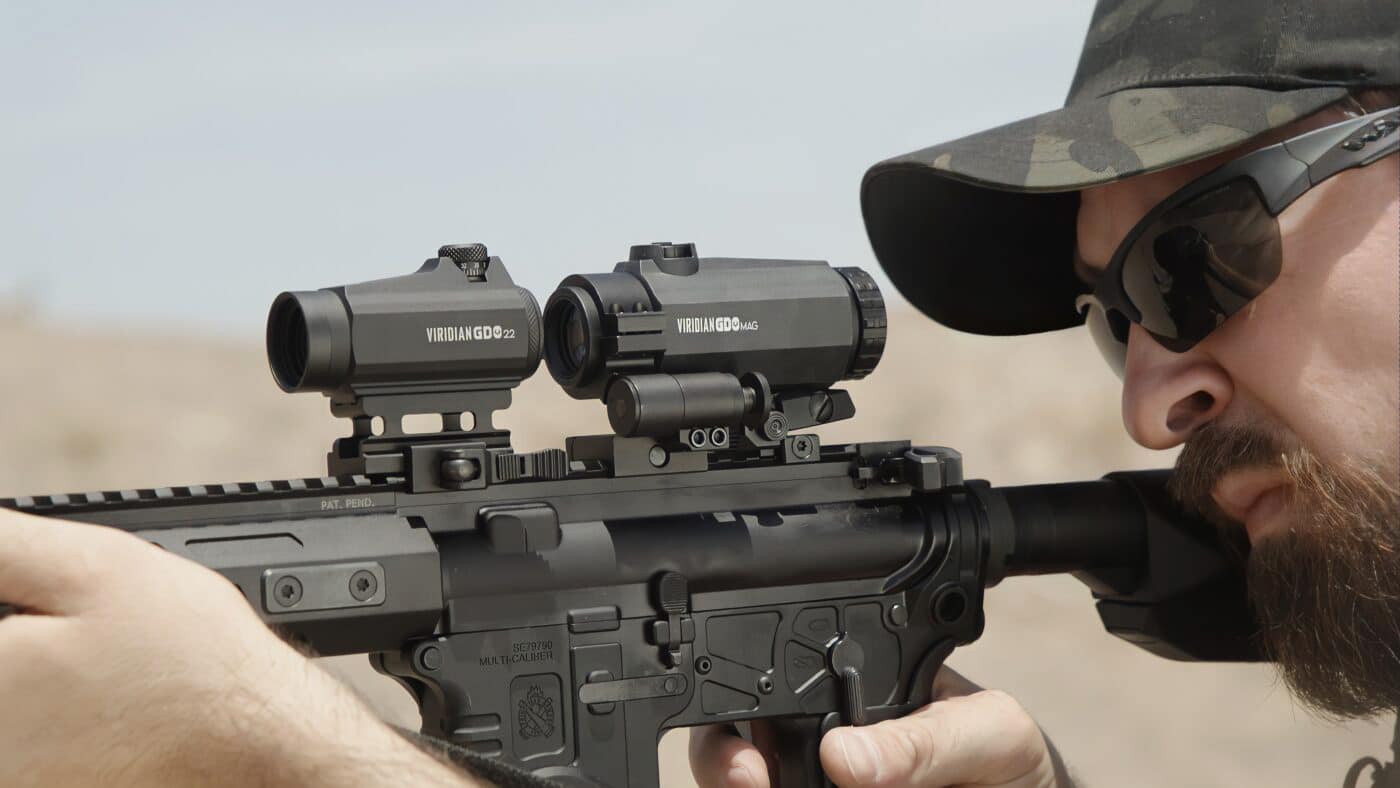 The HS1 handstop was ergonomic and a true benefit in terms of hand placement on the handguard for me. At dusk and then during some low-light testing, the laser's presence was a great benefit and an additional point of reference for shot placement and target acquisition.
Conclusion
All in all, this suite of products from Viridian proved to be extremely complementary to one another and, when run in tandem, really added to the overall capability and performance of the Edge at the range for me. If you're seeking to enhance your capabilities with your AR, and if you're a high-tech gear junkie like me interested in innovative new designs, I would recommend checking out these products. Who knows, maybe we'll all be calling them "green dots" here soon!
Editor's Note: Be sure to check out The Armory Life Forum, where you can comment about our daily articles, as well as just talk guns and gear. Click the "Go To Forum Thread" link below to jump in!
Join the Discussion
Featured in this video
Continue Reading
Did you enjoy this video?
57