Top Five Father's Day Gift Guide
June 15th, 2020
4 minute read
So, you want to get just the right gift for Father's Day, but don't know where to start. Well, we here at The Armory Life have you covered. We've compiled a list of five top choices for Father's Day for your favorite firearms enthusiast!
Viridian
E Series

Laser

Do you have a Springfield XD-S pistol and you want to put a nice red laser unit on it, but don't want to break the bank? Then check out the Viridian E Series Red Laser Sight for the XD-S and XD-S Mod.2, priced at just $132. The unit clamps around the triggerguard and has easy-to-use, ambidextrous activation buttons. Check out our full review of it here.
Crucial Concealment IWB Hellcat OSP Holster
The Springfield Armory Hellcat OSP, with its ability to accept a micro red dot optic, has revolutionized the way we view CCW guns. Now, an 11+1 9mm with a red dot that can carry and conceal easily is a reality. But how do you discreetly carry an optic-equipped micro-9mm? Look no further than the Crucial Concealment Covert IWB Holster. Rugged, capable and affordable (at just $59.99), this is a great choice for CCW'ing your Hellcat OSP. Read our full Covert IWB review.
Mantis X3
Do you want to closely analyze your shooting to work out any weak points or bugs that are keeping you from being your best? Then look no further than the Mantis X3, a handy little accessory that collects thousands of data points per second, analyzing your shooting in real-time. It works on both pistols and long guns, and helps you with dry fire, live fire, airsoft/CO2 and simulated weapons systems. It is designed to mount to a standard Picatinny rail, while additional adapters are available. It's priced at $169.99.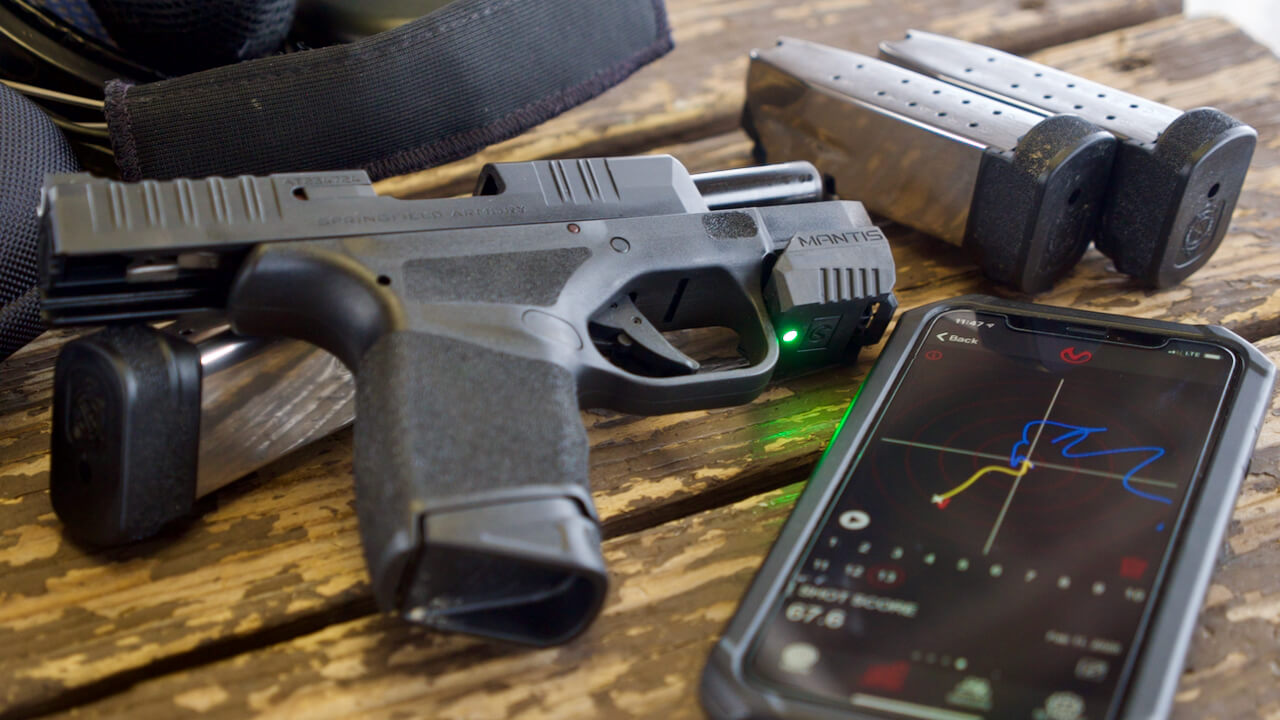 Spartan Harsey TT Knife
There's nothing quite like a quality fixed blade knife, for its ruggedness and also its simplicity. And if you're looking for a top-notch multi-role knife, then be sure to check out the Spartan Blades Harsey TT. Designed by legendary knifemaker Bill Harsey, the knife is equally at home as a tactical knife and also a general field-use blade. Priced $350, it's not cheap, but you get what you pay for, and you get a lot with this knife. Check out our full review here.
SSP Eyewear Top Focal Ultra Kit
The Top Focal Ultra Kit from SSP Eyewear is a modular eyewear kit that comes with everything you need for shooting, to view your sights and your target in a range of lighting conditions. The kit comes with six pairs of lenses in amber, clear and smoked, with bifocal magnification lenses at the top and also at the bottom. That is a total of 12 lenses in the kit. It is priced at $129.99, and you can read our full review here.
Conclusion
So there you have it, a round up of five great Father's Day options for that guy out there who loves guns and the outdoors. We're sure he'd be happy with any and all of them, so be sure to take a look at all of them!
Editor's Note: Please be sure to check out The Armory Life Forum, where you can comment about our daily articles, as well as just talk guns and gear. Click the "Go To Forum Thread" link below to jump in!
Join the Discussion
Featured in this article
Continue Reading
Did you enjoy this article?
25