Springfield Armory's FIRSTLINE: Discount Program for First Responders
May 2nd, 2022
5 minute read
The name Springfield Armory has long been associated with the concept of duty and service. With a history dating back to 1794 when the original Springfield Armory began manufacturing muskets for the defense of the young American republic, Springfield Armory functioned as a firearms supplier for every major conflict facing American armed forces until 1968.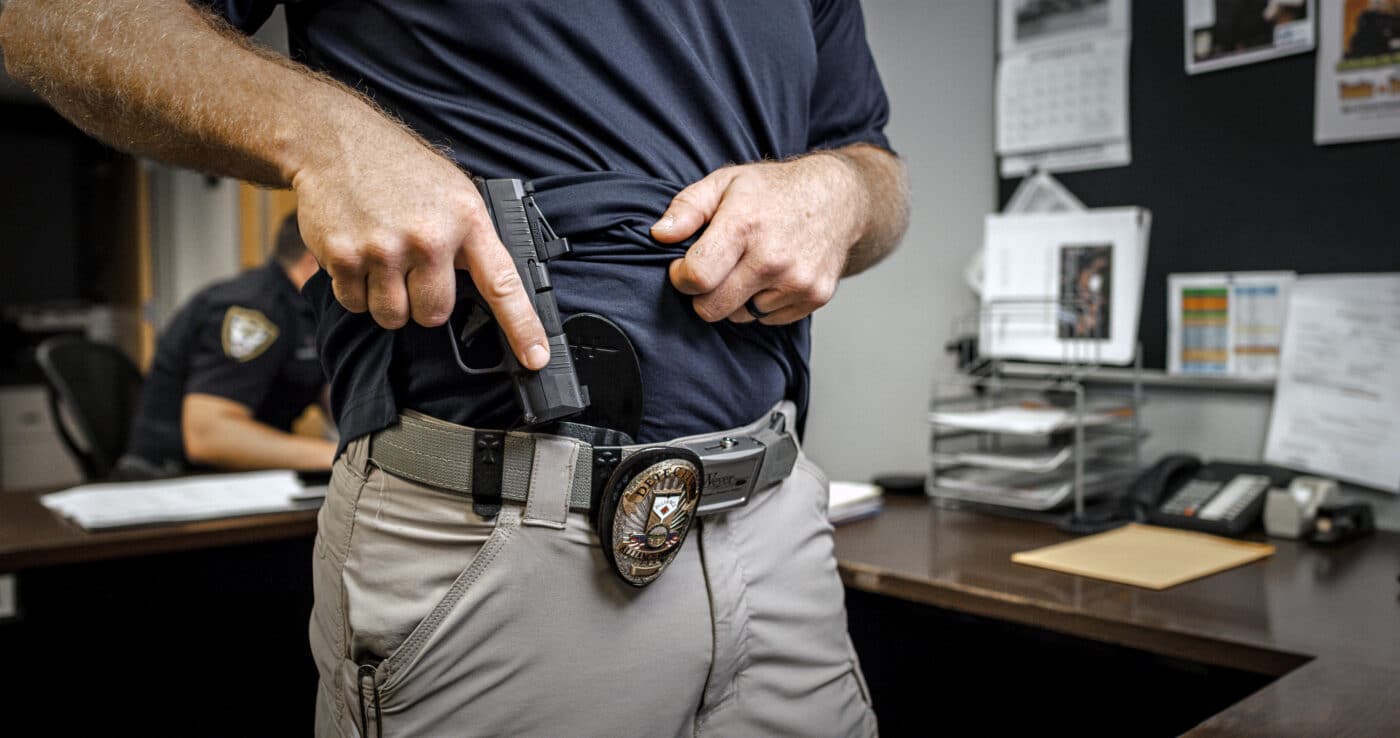 And with the founding of the Geneseo-based Springfield Armory, Inc. in 1974, that legacy would continue, with firearms manufactured to the highest quality standards and enabling responsible citizens to preserve their right to keep and bear arms in the defense of life, liberty and the pursuit of happiness.
Defending the Defenders
Clearly, Springfield Armory has strong connections to those that serve both our nation and its citizens. And with its FIRSTLINE program, it has a new way to thank them for their service — as well as support them in the important work they do.
"Here at Springfield Armory, we are proud to support those who serve and protect our great nation with the new FIRSTLINE program," says Phil Rawlings, Vice President of Sales and LE for Springfield Armory.
This program, open to a wide range of qualified professionals, is designed to offer a select listing of Springfield Armory firearms at discounted pricing in a simple, streamlined process. Following is a listing of those who qualify for the FIRSTLINE program:
Sworn Law Enforcement Officers: This includes federal, state, county and city officers. Also includes retired law enforcement officers with retired credentials. (LE agency picture ID, front and back.)
EMT's, Fire Fighters, Volunteer Fire Fighters and Paramedics (Agency picture ID, front and back. Certifications alone are not authorized and do not qualify.)
Military personnel including Reservists and National Guard: Also includes retired military with "retired" credentials. (Military picture ID, front and back.)
Honorably Discharged Veterans: Excludes contractors and civilian employees. (DD214 and driver's license.)
Correction Officers, Parole and Probation Officers (Agency picture ID, front and back.)
State Licensed Armed Security Officers employed by State-Licensed Companies: Certifications alone are not authorized and do not qualify. (Company employee picture ID, front and back.)
Commercial Pilots and Federal Flight Deck Officers (Commercial airline ID required.)
Court Judges and Prosecutors (Employment ID, front and back.)
LE Academy Cadets (Enrollment documentation from the academy.)
The Process
Unlike comparable programs, the FIRSTLINE program from Springfield Armory is designed to be as simple and non-cumbersome as possible, ensuring qualified first responders can access the benefits as easily as possible.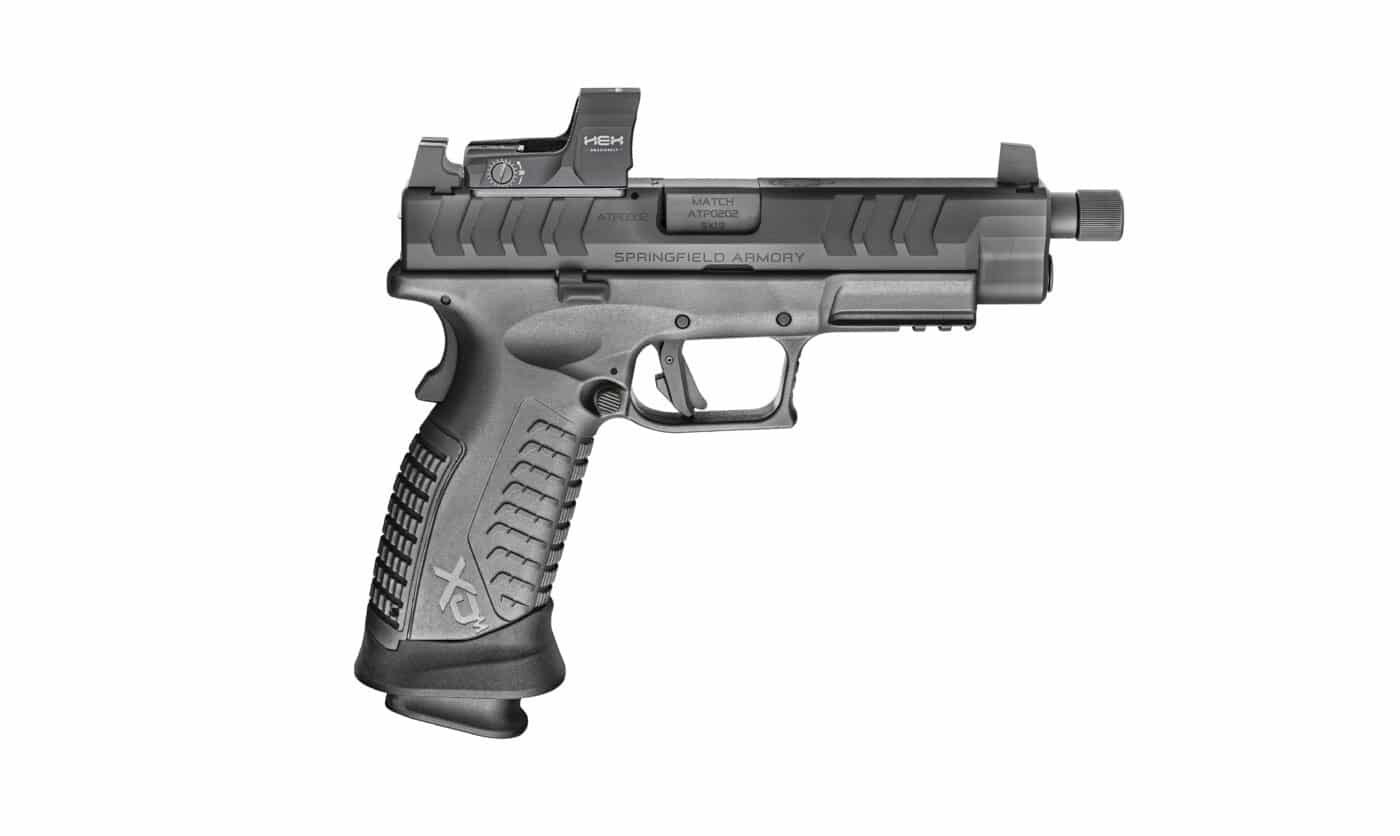 Rather than involving complicated rebates or post-purchase discounts, FIRSTLINE is designed to be dealer direct with immediate discounts and offerings. Rather than requiring an approval system or accounting program or a web portal to be logged into, the program allows qualified users to simply visit one of nearly 200 authorized dealer locations nationwide and purchase the firearm of their choice.
Top Options
The select line of FIRSTLINE firearms from Springfield Armory includes 37 specific models and variants, and all pistols offered in the line come with three magazines. The products offered in the FIRSTLINE program come from the Hellcat, 1911, XD, SAINT, Hellion and M1A families of firearms.
At its launch in late 2019, the Hellcat quickly earned a reputation as the micro 9mm to have. Combining compact dimensions with a class-leading capacity of 11+1 with a flush-fitting magazine, the Hellcat makes for a fine EDC or back-up pistol. Add in the OSP (optical sight pistol) variants and their ability to mount micro-side red dot optics like the HEX Wasp, and you have an exceptional option for those looking for a packable and powerful defensive pistol. And with the new Hellcat Pro, you have a variant that combines a 15+1 capacity and slightly enlarged dimensions in a still extremely concealable package.
Springfield Armory's line of 1911 pistols are highly respected for their performance and their durability. All Springfield 1911 pistols feature forged major components for strength and durability. With offerings in a range of chamberings and sizes, there is a 1911 in the line for practically any application.
The XD pistol line, since its launch in 2001, has proven to be an extremely popular duty-pattern pistol. Ruggedly built, utterly safe and extremely reliable, the XD line has grown to include the XD-M and XD-M Elite families of pistols. With a wide range of chamberings and configurations available — from compact to tactical and competition models ­— the XD line offers a variant for practically any application.
Springfield Armory's line of AR-pattern SAINT firearms are also featured in the FIRSTLINE program. The SAINT series of rifles offers upgraded features where they matter most and is the foundation of Springfield Armory's AR line-up. The SAINT Victor builds on that foundation with enhanced components and features for duty-grade performance.
The new 5.56mm Hellion features a "bullpup" design where the action is located behind the trigger, giving it an overall length of just 28.25" at its shortest while still possessing a 16" barrel. The Hellion sports ambidextrous controls that work in concert with a reversible case ejection system, allowing it to be easily fired from either shoulder.
The M1A line builds on the solid foundation forged from the U.S. military's M14 rifle. The semi-automatic M1A is offered in variants ranging from Standard Issue models to the Scout Squad to the ultra-compact SOCOM 16, offering a wide range of powerful and capable 7.62 NATO rifles.
Participants are limited to one purchase of each type of firearm (Hellcat, 1911, XD, SAINT, Hellion or M1A) per calendar year. All FIRSTLINE purchases must be made through a Springfield Armory-authorized FIRSTLINE dealer.
The How
Springfield Armory recognizes the extremely important role America's first responders play in protecting the public, and takes its duty and commitment to supporting them very seriously. The FIRSTLINE program aims to help them by offering them generous discounts on popular Springfield Armory firearms.
Editor's Note: Please be sure to check out The Armory Life Forum, where you can comment about our daily articles, as well as just talk guns and gear. Click the "Go To Forum Thread" link below to jump in!
Join the Discussion
Featured in this article
Continue Reading
Did you enjoy this article?
339